he was afraid to look at God // Exodus 3:6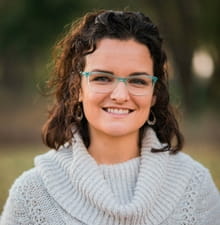 And he said, "I am the God of your father, the God of Abraham, the God of Isaac, and the God of Jacob." And Moses hid his face, for he was afraid to look at God. Exodus 3:6
There, Moses stood before God Almighty. Finally, he had nothing to prove, nothing to perform. The desert season in Midian had transformed this proud Egyptian prince with an ax to grind into a barefoot, humbled servant. And, all his self-elevating motivations to help God do something great had crumpled and burned like the bush before him.
Moses hid his face, for he was afraid to look at God.
He feared God, in the same sense as the midwives in Exodus chapter one. As with the midwives, this type of reverence would bring life and justice soon enough.
But sometimes I've found myself with a different type of fear of God. It isn't reverence; it's just fear, and it's rooted in an incorrect understanding of God's character.
True fear of God that is based on His indescribable power and holiness. It leaves us more hope-filled and more grace-clinging than before because, while we revere Him, we also trust Him and know His character to be good, loving, and just.
True fear of God produces awe, not anxiety, and humility, not humiliation.
And, while we bow before Him, His arms wrap around us in acceptance, comfort, and always love.
Prayer
Lord, we bow before you as you are mighty, just, and worthy of all honor. We fear you because we know your ways are above ours. We can't begin to wrap our minds around you. And, we thank you, Jesus, for being a God that isn't understandable or able to be manipulated; you are beyond us, and that makes us fear you out of reverence. Lord, please replace any misunderstanding we have of your goodness and your righteousness. Reveal yourself to us, and help us trust you more completely today. In Jesus' name, amen.
---
31 Days of Purpose: Devotions from the early life of Moses
From a boat-basket to a burning bush, Moses' call to leadership is filled with everyday people and situations, all divinely orchestrated for God's divine purpose. As we study the early years of Moses, we see a consistent theme of God raising up the unlikely and transforming the average with His anointing. That's me, and that's you - common people, yet commissioned for a high calling. Let's step into it this together. Click here for the whole series.
---
---