Laurie Coombs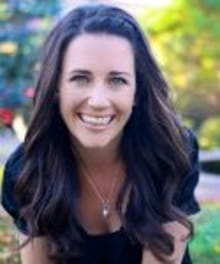 All through the book of Deuteronomy, the people of God were told to remember. Remember where God found you. Remember His faithfulness. Remember that He spared no expense to deliver you out of slavery that He might bring you into your promised land.
Each time I read Moses' words to the Israelites as they stood on the edge of their promise, I cannot help but hear these same words spoken over me.
"Remember."
We are all prone to forget. One moment we stand in praise of Jesus after He did some crazy awesome thing in our life. And the next moment, fear comes when we face uncertainty, and we forget that Jesus had just parted the Red Sea on our behalf.
Just like the nation of Israel, we are called to remember. Remember who our God is. Remember His heart toward us. Remember the gospel and the cross. Remember His mercy, His love, His kindness, and His grace toward us.
John 1:16 tells us, "…from [Jesus'] fullness we have all received, grace upon grace." The grace of God is often spoken about in church circles, but how often do we stop to consider the significance of that grace? Again, John 1:16 says we have received grace upon grace. Grace greater than anything we can think or imagine.
Think about that for a moment.
It was the grace of God that relentlessly pursued us in our rebellion. God had every right to abandon us, but instead, He made a way back to Himself––a way that required Him to lay down the life of His Son––that we might be with Him.
We are called by His grace.
It is by grace that we believe and are saved.
It is by grace that we are forgiven and reconciled to God.
We are justified by grace.
We are strengthened and sustained by grace.
All the promises of God rest on His grace.
And His grace is given in spite of us. Truly, how many times have we turned away? How many times have we sought other things? How many times have we turned to the world or other people or ourselves or things to satisfy our longings that only He can satisfy?
Instead of going to Jesus, we call a friend. We go shopping. We go to our pantry looking for something sweet or salty when we're feeling a bit overwhelmed. Or maybe we have an extra glass of wine or take those sleeping pills or pain pills.
All to in an attempt to feel full. Complete.
And yet He's still there. He's been there all along, just waiting for us to turn and be saved.
Saved from our sinful ways.
From the lies were told by Satan or the world.
From ourselves.
We were once rebels and enemies of God, but we have been adopted into the family of God. Let that sink in for a moment. Jesus loved His enemy, both you and I, to the point of death, and because of that, we are now children of God. We're chosen, made holy, and set free as the mysteries of the great exchange take place within out heart, mind, and soul. We've been made clean––white as snow. His righteousness is now ours.
Jesus tells us as He told Paul, "My grace is sufficient for you, for my power is made perfect in weakness" (2 Corinthians 9:8). And so we rest in His grace. We allow Him to cover us. To fill us. And we remain in Him. Because after all, this is the place of blessing. The place where the grace of God is poured out.
Grace upon grace.
And in this place, I pray each of us echo Paul's words when he said, "But by the grace of God I am what I am, and His grace toward me was not in vain" (1 Corinthians 15:10).
Remember, God is so very good to us. He is for us in ways we can hardly fathom.
"Let us then with confidence draw near to the throne of grace, that we may receive mercy and find grace to help in time of need." – Hebrews 4:16
I'd love to hear your thoughts! Share them in the comments.
---
Isat with some family members a number of years ago to tell them what Jesus was doing in my life. How He was redeeming all the losses we share. Taking our moments of indescribably pain and using every bit of it for good not only in my life, but in the lives of others as well. My hope was that Jesus would give them eyes to see Himself for who He truly is, to see what He was doing in my life, and to want it for themselves.
I told them about it all. How I was bought to my knees when the anxiety and depression threatened to pull me under. How I was quite literally drawn "up from the pit of destruction" and was saved (Psalm 40:2). How my faith ignited the moment I answered Jesus's call to follow Him and was transformed by the power of His Word. How He called me to love and forgive my family's common enemy, the man who murdered my dad, which led to correspondence that still continues to this day. And how our God had not only healed me in the process but had brought this man to his knees in repentance and was now living to the glory of God in prison.
They all looked a little stunned, when I finished my lengthy monologue. I'm not sure they knew what to do with what I had shared. This was a weighty topic no one really cared to discuss in my family. And so my aunt seemed to search for words for a moment before she finally said, "I'm glad you've come to a good place again, Laurie."
But then my cousin jumped in to say, "No Mom. Laurie's not saying she's come to a good place again. She's saying she's better than she ever was before."
You see, the world often labels the ability to overcome hardship with the word resilience. It's a fine word, I think, but it doesn't take the work of God in our lives into account. Webster defines the word resilience as 1. the ability to become strong, healthy, or successful again after something bad happens 2. the ability of something to return to it's original shape after it has been pulled, stretched, pressed, bent, etc.
But what if when something bad happens we were never intended to return to our original shape? What if the very thing we thought would destroy us is the thing God intends to use to strengthen us and allow us to live more fully? What if it's the platform God intends to use for us to bring light and hope to others?
What if it's grace disguised?
My pain has made me better, there's no question about that. And I am beyond thankful we get to walk with a God who gives purpose to our pain. A God who works all things for good for those who know and love Him (Romans 8:28).
So, bring your pain to Him today. You will be amazed at what He does with it!
"He has made everything beautiful in its time."

– Ecclesiastes 3:11
I'd love to hear your thoughts! Share them in the comments.
---
I addressed the question, "Who do you say that Jesus is?" in my most recent article. This was a question Jesus, Himself, asked His disciples after spending some time with them during His earthly ministry. In this article, I wrote of the importance of this question. How your very life hinges on the answer you give to this question. And that if your response is that Jesus is who He said He was in scripture. That He is the Messiah. Immanuel, God with us. The living God. Our Savior. Our Shepherd. Our Counselor. Our Comforter. Our Healer. Our Peace. Our only Hope. Our very life. If this who you define Jesus to be, then it demands every bit of us.
We're to be all in. Not wishy-washy. Not lukewarm. But all in.
Shortly after Jesus posed this question to His disciples, we read, "From that time Jesus began to show His disciples that He must go to Jerusalem and suffer many things from the elders and chief priests and scribes, and be killed, and on the third day be raised." (Matthew 16:21).
Peter took Jesus aside and rebuked Him, saying, "Far be it from You, Lord! This shall never happen to You" (16:22).
To which Jesus replied, "Get behind Me, Satan! You are a hinderance to Me. For you are not setting your mind on the things of God, but on the things of man" (16:23).
Peter rightly confessed Jesus as the Christ a few short verses before this. But like the rest of the Jews of his day, and perhaps you and I, they still had many misconception about what that meant. This is the first of three times that Jesus told the disciples He would suffer, die, and rise again, dispelling the worldly notions of who the Christ or the Messiah would be. You see, the ways of God don't often make sense to our earthly, fleshly way of thinking. First Corinthians 1:18 tells us, "For the word of the cross is folly to those who are perishing..." The cross didn't make sense to the people of Jesus' day nor does it make sense to many today. But as the second half of 1 Corinthians 1:18 tells us, "...but to us who are being saved it is the power of God."
The Cross is the power of God.
Understanding who the Christ was and why He had to come is humbling. It requires us to understand the depth of our own need. As John Piper once said, Christ coming to die for the sins of man, "...means I'm cursed and need a savior. Lost and need a shepherd. Sick and need a physician. I'm a rebel, and I need a reconciler. Dirty and need a purifier" (sermon title unknown).
This is who we are. Both you and I stand in desperate need of a Savior. In desperate need of Jesus. He is our Greatest Treasure. Our Pearl of Great Value.
And it is only when we take Jesus for who He really is and understand the implications of what He has done for us and what that means about who we truly are apart from Him that we can truly be saved. These difficult truths lead to repentance and forgiveness of sins. They lead to humility and surrender, which is the foundation of the abundant life promised to us. These truths are messy, yes. But this is the incredibly messy, amazingly wonderful redemption of God. Redemption looks like God taking a bunch of dirty, cursed, lost, sick, rebels and turning them into His redeemed people who are His chosen, precious possession (1 Peter 2:4, 9).
By grace we have been saved! And how thankful I am for that.
"For consider your calling, brothers: not many of you were wise according to worldly standards, not many were powerful, not many were of noble birth. But God chose what is foolish in the world to shame the wise; God chose what is weak in the world to shame the strong; God chose what is low and despised in the world, even things that are not, to bring to nothing things that are, so that no human being might boast in the presence of God. And because of Him you are in Christ Jesus, who became to us wisdom from God, righteousness and sanctification and redemption, so that, as it is written, 'Let the one who boasts, boast in the Lord'" (1 Corinthians 1:26-31, emphasis mine).
But you are a chosen race, a royal priesthood, a holy nation, a people for His own possession, that you may proclaim the excellencies of Him who called you out of darkness into His marvelous light. Once you were not a people, but now you are God's people; once you had not received mercy, but now you have received mercy" (1 Peter 2:9-10).
I'd love to hear your thoughts! Share them in the comments.