Christina Fox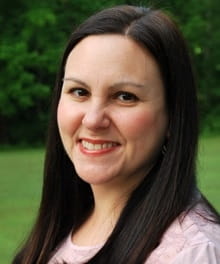 Are you currently in a place of waiting? Perhaps you are waiting for a job, for healing, for restoration in a relationship, or for wisdom to know where you should go next.That place of waiting is a place we are all familiar with. It's a place we find ourselves in often over the course of our lives. Though it's a familiar place and one we know well, we can often grow wearing in our waiting. Sometimes our hearts grow heavy with worry and doubt. Sometimes we might wonder if God has forgotten about us or given up on us.
The Psalmist knew that place of waiting as well. His cry of "How long, O LORD? Will you forget me forever? How long will you hide your face from me? (13:1) is one that resonates with our own heart. The Psalmist cried out to God in prayer and so should we. If you are in a place of waiting, this prayer is for you.
I come before you with my heart filled with so many different thoughts and feelings. I am tense and uncertain about what I should be doing and where I should go. I feel weak and helpless. Powerless. I am worried about what happens next and whether I have the strength to handle it. Deep down I wonder, how long will I be here? Will I be stuck in this place of waiting forever? And why am I here to begin with? What's happening, Lord? But most of all, I wonder, where are you? Why haven't you responded to my cries for help?
But even as I pray that, I know you are right where you've always said you would be. You've never left me and you will never forsake me. You hear all my cries. In fact as David wrote in Psalm 139, you know my thoughts before I even think them. You know exactly what is happening in my life and what will happen next. All things are in your control and nothing can happen apart from your will. Not a sparrow falls to earth without your willing it to and you know the number of hairs on my head. You are never surprised. Even about this issue in my life today. You know why this is happening and will use it for your glory and my good.
Forgive me for how I have worried about this situation. Forgive me for doubting your love and care in my life. Forgive me for my discontentment as I wait for what happens next. Forgive me for being impatient. Forgive me for not seeking after you and for allowing these circumstances in my life to seem greater than your grace and goodness. Create in me a clean heart. Help me to see the counterfeit loves and idols in my heart. Help me to see all the things I cling to that I think will make my life happy and complete apart from you. Help me to repent and turn back to you and my one true love.
As the prophet wrote in Lamentations, "It is good that one should wait quietly for the salvation of the Lord" (3:26). Help me to remember that it is good to wait for you. In this place of waiting, help me to remember all that you have done for me through Jesus Christ. Help me to remember that your grace is sufficient to not only save me from sin, but to sustain me each and every day. Your grace is at work in me right now, transforming me and making me more like your Son. Nothing can separate me from you. I am safe in your love.
Help me to know more of the joy that comes from knowing you. Grant me joy in Jesus, joy in being your child, and joy in knowing that you are always with me. May I find hope in your word for as the psalmist wrote, "I wait for the LORD, my soul waits, and in his word I hope" (Psalm 130:5).
May I live for you even while I wait. Help me to obey and remain faithful, no matter how long I am in this place of waiting.
In Jesus' name I pray,
Amen.
photo credit: © Getty Images/Wavebreakmedia
---
This article is part of our larger Prayer resource meant to inspire and encourage your prayer life when you face uncertain times. Remember, the Holy Spirit intercedes for us and God knows your heart even if you can't find the words to pray.
Prayer for God's Help
Prayer for Strength
Prayer for Protection
Morning Prayers
Good Night Prayers
Now available is our new Daily Prayer devotional! An easy way to find start your day with prayer, read today's prayer and sign up to receive by email.
---
The last few years, I've found myself speaking on a topic I didn't anticipate speaking on. Yet, I've found myself speaking to college students, participating in panel discussions, and leading workshops on this topic. I've mentored people in person and answered questions via email on the subject. And though it was unexpected, I've enjoyed it. I've loved helping people find their place and encourage them in the journey. What is that topic? Writing.
People write for many reasons. Some find it therapeutic. It's a way of releasing emotions. For some, writing is the way they process their thoughts. There's something about putting your thoughts onto paper that helps you see and understand them in a way you didn't before. Some, like me, don't even know what they think about a topic until they write about it. The very process of writing helps them think through an issue.
For others, writing is an art form. It's a way of painting a picture, but instead of using a paintbrush, they use words. The craft of taking 26 letters and arranging them into words, phrases, sentences, and paragraphs is a creative act.
For still others, writing is a way to teach and instruct. It's used to communicate a message. Such writing compels people to think differently about something, differentiates truth from fiction, and helps solve a problem. Writing is a means to an end rather than the end itself.
For all believers who write, whatever form of writing we do, and whatever context we do it in, it's all for the glory of God. "So, whether you eat or drink, or whatever you do, do all to the glory of God" (1 Corinthians 10:31). Whether we write fiction, non-fiction, poems, or newspaper articles, each word is for the honor and praise of God. We magnify him in our writing when we work hard and write well. We highlight his wonder and majesty when we use words to point readers to who he is and what he has done. We reflect him when we write for his praise and not our own. When we craft beauty out of words, it's a way of imaging and reflecting our Creator God to the world around us. In all these ways, we write for God and his glory.
Like all things in life, we can do nothing apart from Christ (John 15:5). Writers must abide in him and rest in his grace, wisdom, and strength. One of the ways we do that is in prayer. Like all the things we submit to our Father, we must submit our writing to him as well, asking him to use it for his glory and praise.
A WRITER'S PRAYER
Father in Heaven,
You are the Maker and Creator of all things. You spoke this world into being and keep it in its orbit. By your word, all things exist. You watch over each creature and know the stars by name. Your word made flesh, Jesus Christ, shows us who you are. And your written word feeds, strengthens, and sanctifies your children.
As your image bearer, you made me to reflect you to the world around me. You gave me gifts and abilities to use in my life and work. One of the ways I image you is in my writing. I thank you for this gift. I thank you for the joy I have in weaving words together. Words are an amazing thing, they have the power to build and the power to destroy. They can point to you or away from you. They can honor and glorify you or honor and glorify ourselves.
Forgive me for the ways in which I have stolen your glory in my writing. Forgive me for the ways in which I have not glorified you in the words I have written. Forgive me when I fail to use the gift you've given me in a way that honors you, when I waste the gift and horde it, or when I fear what others think of my writing more than I fear you.
Help me to continue to grow in this gift. Help me to use words to build and not destroy. Help me not to worry or fret about how you will use my words, but to entrust them to you, knowing you will use them in the right time and for your eternal purposes. Whether one person reads them or many, may they be used to exalt and magnify you.
In everything I write, may it be for you.
Because of Jesus I pray, Amen.
Photo credit: Unsplash/Green Chameleon
---
Prayer fascinates me. I'm intrigued by its mystery, its form, and its function. I love learning about prayer: how to pray, why we pray, and how God uses our prayers. I love what prayer does in my heart and how it draws me into sweet communion with my Father in heaven.
Recently, I heard someone pray and noticed that they ended the prayer with a simple "Amen." It felt like something was missing, like shutting a book closed with one paragraph left unread. Like leaving the movie theater five minutes before the end. Like pulling out the pie from the oven before the crust is golden brown.
And then I realized, the prayer was missing an ingredient: in Jesus' name. That got me thinking, why do we pray in Jesus' name? What happens if we don't? Is it an essential part of our prayers?
Jesus taught the disciples in the Upper Room Discourse that when they ask for something in his name, he will provide it. "'Truly, truly, I say to you, whoever believes in me will also do the works that I do; and greater works than these will he do, because I am going to the Father. Whatever you ask in my name, this I will do, that the Father may be glorified in the Son. If you ask me anything in my name, I will do it'" (John 14:12-14). "'You did not choose me, but I chose you and appointed you that you should go and bear fruit and that your fruit should abide, so that whatever you ask the Father in my name, he may give it to you'" (John 15:16).
Some prosperity gospel advocates claim that if you don't pray in Jesus' name, you won't get the blessings you ask for. It's like having an all access pass or an invite to an invitation only event. If you don't have it, you don't get in. They use it as a stamp of approval for their prayers. It's the final number in a series of codes that opens the door to blessings and prosperity. It's more like a magic formula than coming to our Father in heaven and asking him to meet our needs.
That's not why we pray in Jesus' name.
We pray in Jesus' name because he is the one who broke down the barrier between us and God. When he hung on the cross and cried out his last breath, the curtain in the temple was torn in two. That curtain symbolized the barrier between God and mankind. We couldn't pass through it to be in his presence because he is holy and we are not. But because of Jesus' perfect and complete sacrifice for us on the cross, that barrier was removed. The curtain was torn.
Through faith in what Christ has done for us in his perfect life, sacrificial death, triumphant resurrection, and ascension, we are united to him. We are now clothed in Jesus' righteousness and have access to God's presence. We can come to him in prayer through Jesus. "In him and through faith in him we may approach God with freedom and confidence" (Ephesians 3:12, NIV). Our Father is now our Abba; we come to him as children, as his children, seeking help for what we need. That's why the author to the Hebrews encourages us to come to the throne with confidence, "Let us then with confidence draw near to the throne of grace, that we may receive mercy and find grace to help in time of need" (Hebrews 4:16).
John Calvin said this about prayer in Jesus' name: "Since no man is worthy to present himself to God and come into his sight, the Heavenly Father himself, to free us at once from shame and fear, which might well have thrown our hearts into despair, has give us his Son, Jesus Christ our Lord, to be our advocate and mediator with him, by whose guidance we may confidently come to him, and with such an intercessor, trusting nothing we ask in his name will be denied us, as nothing can be denied to him by the Father." (Institutes, XX.17).
Calvin also points out that those who call on God in any name other than Jesus Christ, have no promise of receiving anything. All of God's promises are confirmed and fulfilled in Christ alone. "For all the promises of God find their Yes in him. That is why it is through him that we utter our Amen to God for his glory" (2 Corinthians 1:20). 
Praying in Jesus' name reminds us why we come to God in prayer. It reminds us of what Jesus did for us. It reminds us that all of the promises and blessings God has for us, comes to us through Christ alone.
Now, as to what we ought to pray for in Jesus' name, that's for another post, another day.