Kim Jones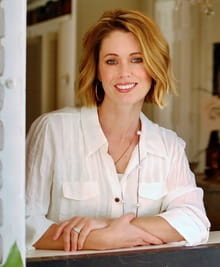 My mom and I were hunting for old sweaters when I came across the FREE box at a local thrift store. It was one of those moments when God spoke to me instantly. I was bothered by these items being free. That sounds so weird. You're looking at a girl who loves free stuff more than the law should allow. But nonetheless I was taken aback because I saw such potential and value in this box of glass vases.
I immediately retrieved five vases from the box and paid for them on my way out. I had to.


I literally couldn't walk out without giving something for them.
I'm telling you. WEIRD.
In full disclosure this is the second round of painting happening to these freebies. The first ended up with one of those Pinterest fails you laugh about. So I moved to plan B. Of which I had none.
That lead me to rummaging through my craft room and closets until an idea hit. Thankfully an idea grabbed hold and it was an easy one…
My favorite kind.


Have you ever used Krylon's Looking Glass spray paint? This is not a sponsored post, but it should be. I love this stuff. It really is AMAZING.
Here is an affiliate link for Looking Glass paint if you are interested, it can be hard to find in stores.
I took my five vases outside and spray painted them. This stuff drys so quickly! You can use it in a multitude of ways. It's also great for creating faux mercury glass.


I didn't do anything fancy, just painted and I think they turned out fabulous. They look like silver or pewter vases!
Now to really use them to their full potential I worked them into a Fall tablescape that anyone could easily duplicate.



The vases got turned into candlestick holders. I filled the vases partially with sand to hold the candlesticks straight.


Clippings from my yard and some dried Milo (or Maze) made the rest of this simple centerpiece.
Layering different trimmings for a greenery arrangement was a cinch.


Sprinkle a few extra candles and votives alongside mismatched plates and an effortless table comes together in no time.
To add a special touch to one of my new vase friends I tied some dried grass plumes to it with jute, then hot glued a few acorns for a sweet little vase corsage.


Just look at what these "free" vases added to this table scene.



For the rest of Kim's post, including images of her fully decorated table, please check out her post at huntandhost.net.
---
This post first appeared at huntandhost.net. Used with permission.
As I disrobed the mantel I stood back and announced to my husband I was feeling a symmetrical scape coming on. "I don't like symmetry" he said. "Me neither" I replied.



We are not people who decorate or do much all in a row, balanced and in symmetry.


It's just not in my wheelhouse. Nonetheless I plugged on scavenging my house for anything in sets of two. My source list is below.



The lack of balance isn't only in my decorating. It's a reflection of my life at times. We all struggle with balance.


 
When I look at the one pinecone in the middle of this fall mantel it represents Christ in our life. All else should radiate outward from there. The bowl and platter are our family and friends. Moving to the outer edges, our other to-dos hang out there. Perched on top of those pumpkins. Piling up and up and up.
One more to-do and BAM – out of balance.



As I marinated on this mantel scenario the last few days I waited for God to tell me what to do about this problem we all have. The problem of getting our self out of symmetry. Tipping the scale out of whack.



This morning I had the rare occasion of waking up all alone in my house. My people scattered out in various places. When I opened the back door to let the dog out I was greeted by the first cool morning of Fall. I decide to plop myself outside to enjoy my coffee and soak up this surprise gift.


 
That's when I saw my little friend. A hummingbird that has racked up some frequent flier miles back and forth to the flowers on our back patio.

Have you ever tried to photograph a hummingbird?

I'm sure you can imagine – there is nothing easy about it. As I sat and prayed I kept my camera close by and tried repeatedly to get a good shot of greased lightening.



"I wish she would just sit still for a moment, " I thought, "so I could see how beautiful she is."


 
And there you have it.
That's what God wants for us to do. He wants us to just sit still every once and a while so he can relish in us. There in lies the key to balance.

For the rest of Kim's post, including images of her fully decorated living space and her source list of materials for her simple fall mantle, please check out her post at huntandhost.net.
---
Kim Jones is a wife and mom to three young children, ages 10, 9 and 6. She spends her spare time shopping curbside, junkin' and turning trash to treasure. God has given her unique eyes to turn her projects and finds back to the Word. She desperately wants to share the freedom only Christ can bring with others. You can follow her decorating, DIY and love of the Lord on her blog, Hunt & Host or join the fun here: Facebook | Pinterest | Instagram