Asheritah Ciuciu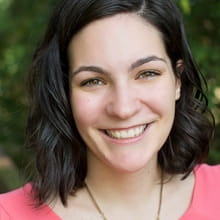 Do you ever wonder what Jesus would do if He were given a triple chocolate cream-filled cupcake?
Would He eat it?
Or would He politely pass?
Maybe it's just me and my WWJD-bracelet memories from junior high years, but sometimes I look at the food in front of me and wonder: What would Jesus do?
Would Would Jesus Eat?
If Jesus were living in the 21st-century western world, would He be on the Atkins Diet? Or Paleo? Or vegetarian? Or gluten-free?
Would He grab a Diet Coke with a fast-food meal?
Would He indulge in decadent dessert?
Would He linger over a farm-to-table meal with friends?
Would He go to an all-you-can-eat restaurant?
Would He look up ingredients on the packaging of His breakfast?
You might chuckle and dismiss this article as irrelevant, but actually, I believe we should study how Jesus treated food in Scripture to correct the way we use food in our own lives. Recent statistics reveal that over 50% of American women are obese, with many more overweight. And those numbers inside the church are worse, not better. Young adults who regularly attend church are 50% more likely to be obese by the time they reach middle age (read the news story here).
Ouch.
That should make us pause for a moment.
There's something very wrong with that statistic.
Not Just a "Worldly Problem"
Obviously, we have a food problem. And it's just as bad inside the church as it is outside the church (in fact, it's slightly worse). The Western world is facing an obesity epidemic, and the orthorexic whiplash that we're beginning to see (an obsession with healthy eating) can be just as destructive.
I know.
Because this is personal.
This "food thing" isn't just some interesting news story that I read one day while browsing Facebook. I didn't just waste an afternoon on Wikipedia following rabbit trails from the entry on orthorexia nervosa (although there was that too). I battled food fixation in my own life, and it was hard. Isolating. Embarrassing. It's just not something that a missionary kid can easily fess up to: "Hi. I'm Asheritah. And I think about food. A lot."
This obsession with food is inside our church walls, and it's affecting our testimony to an onlooking world.
Because the truth is that whether we're obsessed with eating healthy food or comfort food, carrots or carrot cake, food fixation steals our attention from the only One who should capture our affection: the Bread of Life.
Whether carrots or carrot cake, food fixation steals our attention from our souls' proper affection.
And He is the only One who satisfies. Only Jesus.
Jesus and Food in the Bible
Let's take a moment to see how Jesus related to food in the Bible, and perhaps we will begin to understand where our thinking should change:
Jesus fasted forty days in the wilderness in preparation for His public ministry (Matthew 4:1–4).
Jesus taught His disciples to not worry about food and drink because God will take care of them (Matthew 6:25–26).
Jesus dined with tax collectors and sinners, while the Pharisees called Him a "glutton and a drunkard" (Matthew 11:19).
Jesus gave instructions regarding who to invite to dinner parties (Luke 14:12–14).
Jesus had compassion on the crowds who were following Him without enough food for dinner, so He miraculously provided food for all (Matthew 14:15–21).
Jesus defended His disciples' lack of fasting during His lifetime, explaining that they will fast when He's gone (Mark 2:20).
Jesus made careful preparations to eat the Passover meal with His disciples before the crucifixion (Luke 22:7–13).
Jesus chose bread and wine as symbols His followers would use to remember His sacrifice (Luke 22:14–20).
Jesus blessed God for meals and broke bread before and after His resurrection (Luke 24:28–31).
Jesus asked the disciples if they had food to eat after His resurrection (Luke 24:41–43).
Jesus made breakfast for His disciples after His resurrection (John 21:9–13).
Jesus used dinner parties and wedding banquets as pictures of the future kingdom of God (Matthew 22:2; Luke 14:16–24).
What do these vignettes tell us about the way Jesus related to food?
Jesus didn't ignore His appetite, but He wasn't controlled by it either.
He was able to both fast and feast, and He often gathered people around the table to fellowship at a deeper level.
We could spend an entire book unpacking each of these passages and learning so much more just from Jesus' example in His relationship with food. But the overarching theme here is that Jesus enjoyed food while He lived on this earth; He knew both how to feast and to fast.
One of the clear takeaways is that food is NOT bad, but food fixation can easily become a stronghold in our lives if we're not careful.
So would Jesus eat a cupcake? There's no clear Scriptural evidence to make an airtight argument, but based on the passages above, yeah, I think He would. I think if He were sitting at my kitchen table and I offered Him a cupcake, He would receive it with thankfulness and then invite me to sit with Him, to savor the sweetness of His presence that far surpasses anything I can whip up in the kitchen.
Jesus invites us to discover that His presence is sweeter than a chocolate cupcake.
---
This post is an excerpt from my book Full: Food, Jesus, and the Battle for Satisfaction. Discover the joy of living free from food fixation so you can experience deeper satisfaction in Christ, gain a renewed sense of purpose, and yes, even enjoy good food (without regret).
A healthier relationship with food through a stronger relationship with Christ—that's the goal of Full. Read more or Take the 7-Day Truth & Dare Challenge.
---
I hit the ground running.
No sooner does the fogginess leave my brain than it's already filled with jumbled thoughts.
"I've got to finish writing this post today, and call the insurance company, and hopefully get my periscope in before Carissa wakes up. What am I making for dinner tonight? Do I need to pull anything out of the freezer? Oh yeah, it's laundry day too. I wonder if I can get that done and put away before lunch. Goodness, there's another zit on my chin. Where did that come from? And then there's the prep for Bible study this week. When am I going to fit that in?"
Before I know it, my mind is filled with chaotic ramblings as one thought after another lunges my way.
Enough. 
That is no way to start my day.
Instead, I want to give my day to the Lord before my feet even hit the floor. So I wrote this prayer for me, and I offer it to you as well, that we may learn to start our day the right way.
A Prayer for First Thing in the Morning
Good morning, Lord!
Thank You for a new day. Thank You that Your compassion is renewed every morning. Great is Your faithfulness and Your steadfast love, O Lord!
I don't know what all is going to happen today, and how much I'll get done, but You do.
So I give this day to You.
Fill me with Your Holy Spirit, Father. Energize me for Your work, because You know how tired these bones are. Awaken me to the wonder of Your salvation, and quicken my spirit to the reality of Your work in my life.
Lord, my mind is filled with creative ideas, but they're all jumbled. Holy Spirit, come and hover over my mindlike You hovered over the waters at creation and speak order out of the chaos! Help me to cease striving and to trust that You will give me all I need today to do the work You've given me to do.
You will be faithful to complete the good work You've started, and as I step out into my day, I declare Your sovereignty over every area of my life. I entrust myself to You and ask that You use me however You see fit.
This day is Yours. My body is Yours. My mind is Yours. Everything I am is Yours.
May You be pleased with me today.
Amen.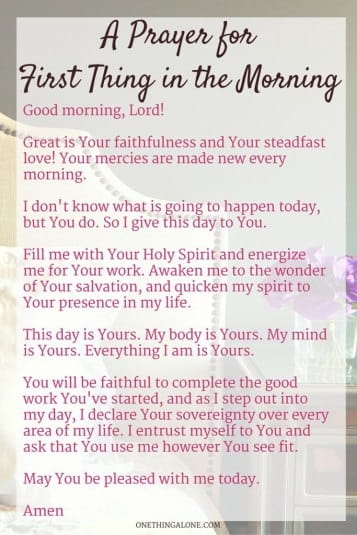 ---
If you're wanting to learn to study the Bible, this simple method will teach you how to correctly engage with the text, interpret its meaning, and apply it to your life. Get your free FEAST bookmark here.
I have a confession to make.
Even though I grew up in a Christian home, there was a time in my life fairly recently when I didn't want to study the Bible. It wasn't that I didn't have time or didn't know how. The problem was, I didn't have a desire for God's Word. I had lost my appetite for Him.
Personal tragedy combined with serious doubts and disillusionment, leaving me apathetic toward the Bible. But last spring, God began a new work in my life, and I found myself asking Him, "Lord, give me a hunger for You!" And day by day, in that gentle way our Father has toward us, He responded by pointing me to His Word.
In that season, I discovered that for years I had been studying the Bible for all the wrong reasons. I was acquiring head knowledge about God, and I was learning all the do's and don'ts of the Christian life, and I even found encouragement and comfort in Scripture. But those are not the primary reason God gave us this book.
God wants us to feast on His Word so that we will find our deepest satisfaction in Him. He wants us to grow not just in knowledge of Him but in love with Him also. And in those moments of private worship and Bible study last summer, I discovered a fullness of joy and life that I had never known was possible.
If you're in that place of longing to grow deeper in your intimacy with God, I invite you to join me in learning to FEAST on His Word.
Let's dig in.
How to FEAST on the Word of God
Whether you're new to Bible study or have been studying the Bible for many years, this FEAST method will bring richness to your personal quiet time and increase your love and knowledge of God.
Focus Your Heart & Mind
Grab your Bible and a notebook, and find a quiet place where you'll be uninterrupted. Silence your phone and other distractions, and keep a piece of paper next to you just in case you need to jot down distracting thoughts.
Begin by asking God to focus your heart and mind on Him.
Pray in your own words, or use hymns (like "Speak o Lord" by the Gettys or "Word of God, Speak" by MercyMe) and Scripture (like Psalm 139:23–24) to prepare your heart.
Then choose a passage to focus on during your study time.
Engage the Text
Read the passage and engage it by writing down observations (the 5 W's is a good place to start). Ask yourself, "What does it say?" and write down the answers.
Let's pause for a moment and recognize that we're each in different seasons of life. Some of us have a whole hour to devote to Bible study while others of us have only 5 minutes. It's okay. Read the Bible anyway. God will honor your desire to know Him deeper and He will multiply the little that you have to produce an abundance of spiritual fruit in your life. And when you have more time, give Him more time.
You can go deeper in your study by trying any of the ideas below (links lead to tutorials from last year's 31 Days to Deeper Bible Study series):
do a word study
read the passage out loud
act out the scene
identify patterns (repetition, comparison, contrast, cause and effect, etc)
check a different translation
research the cultural and historical background (author, recipients, setting, purpose, theme, tone, etc)
Assess the Meaning
Write down anything that doesn't make sense to you and check cross-references and commentaries. Consider the context and genre of the passage and then assess the main idea of the passage by answering the question, "What did it mean to the original audience?"
A simple way to do this is to ask of the passage: Is there a command to obey? A sin to avoid? A lesson to learn? An attribute of God to praise Him for? At this point, you're still working with the text, so make sure you're using "them," "there," and "then" language; you'll transition to "us," "here," and "now" in the next step.
See that pretty bookmark? It's yours free when you join my email list. Sign up here.
Spark Transformation
Ask the Holy Spirit to spark transformation in your life by applying the big idea in specific and measurable ways. Determine if the Big Idea of the passage is a pattern, principle, or universal teaching by considering how similar or different you are from the original audience. For example, just because the Old Testament law dictated that Israelites couldn't wear clothes made of mixed fabrics (Lev 19:19) doesn't mean Christians today are under the same interdiction.
As you ask, "How does this apply to me?" make the application SMART: specific, measurable, attainable, realistic, and timely.
Turn Toward God
Unless Bible information leads to God-adoration, reading the Bible is pointless. So after hearing God speak to you through His Word, respond to Him with praise, confession, and thanksgiving.
Our Bible study each day should culminate not in a list of things to do but rather in a million reasons to worship. Even as we wrap up our time in the Word of God, we continue to turn our hearts toward Him with whispered prayers and songs of praise, always mindful of His presence in our lives.
I can't help but think of Revelation 3:20 where Jesus says, "If anyone hears My voice and opens the door, I will come in and eat with him, and he with Me." I love this picture of Jesus longing to join us for a meal. Won't you sit down with Him and feast at His table today?
Dig deeper into God's Word by using the FEAST Bible study method. Download the free FEAST bookmark here.