Courtney Stanford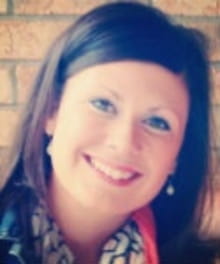 Fresh and new, a clean slate to write a new story. I love making goals and plans. I'm not at all opposed to resolutions. We might as well "try better" at some point and I think the first day of a fresh year is absolutely suitable for pressing the restart button. I love dreaming and working toward a deadline. I really do. Yet, there is a tension here the past few years.
The tension isn't a fear of failure or one of not meeting the goals. No, that isn't it at all. I am actually quite resilient about failure. I can bounce back if I don't meet a goal, because there's always something else to reach toward or a new direction to point our energy. Right? Still…I have a slight hesitation toward making my own plan, this year.
The thing is…I don't really want to write my own story, anymore. Again, this is not about anyone else's goals. Happy goal-setting! Planning is a noble and worthy use of time, sweet friends. This is about the heart idol of control that I have been striving to lay down at the feet of Jesus. This is about my own personal heart and my own struggle with sin. I only share it with you because perhaps another precious reader struggles with the idol of control, as well. Let's chat about that. Shall we?
Here is what I know for sure. I know that I could set a nice list of attainable goals and that I could chase after those with all of my might. I know that I could reach many of my goals, not because I am awesome. No, no. That is not the case. I could meet my goals because goodness, I'm a girl who trades in sleep for projects and chooses partial anxiety over peaceful rest. I go big or go home. Let me tell you a bit about the problems with this sort of ambition.
The scoop here? Friend, I may set a dozen goals for myself that God might not set for me. By golly, I would run hard and fast after those little dreams, attempting to conquer one (or three) at a time. This is not the sole problem.
The biggest problem here? Well…I might distract myself from the things God is truly calling me to do or perhaps, the things he is calling me to lay down. I'm not afraid of thwarting God's plan. God is sovereign and He is on His throne. And that's just it. I want to focus on God on HIS throne before I set out pursuing my own endeavors.
I need to focus my heart on God first. I need to chase after His own heart before I chase after the dreams in mine. There will be goal making and a whole pile of to-do lists this year. But sweet friend? I am not fully prepared to tell God what I want to do this year, simply because I am not spiritually prepared for such a task. I need more time to spend in His presence.
And really? That is what I need more of each year. I need less time checking off the tasks and more time spent at the feet of Jesus. I need to wake up early to be with Him before I set my mind to anything else. I need to pray about His direction before I can fully pinpoint my own. This has never really been the Courtney Stanford way. The Courtney Stanford way? Oh, sisters. I have exhausted myself of that. I've reached a type of weariness that can only be refueled by more of Him and less of me. I need to refill the pitcher before I pour anything else out. My own goals? They shall come. Right now on this first day of a brand new year? I just need Jesus.
Come to me all you who are weary and burdened and I will give you rest."

~Jesus in Matthew 11:28 NIV
I need more of Jesus and less of me. I need to rest in His perfect peace and be fueled by His grace so that I can hear His voice. I want to be so full of His love that I thrive. The rest will proceed the thriving, I do believe.
I am going rest in His goodness and allow the dry pitcher of my soul to refuel with His truth and grace. When the empty parts of my life become so full of His word, what will happen? Perhaps my life will burst into a flood of the goodness of God. Perhaps. Maybe the goals will become so clearly His and so fully a calling on my heart. May goodness and mercy flow from the spaces of dry and weary emptiness. Resting on that.
What about you? Perhaps you are so full of Him that the overflow is on the paper, ready to be checked off: one by one by one. This is so good! Run your race. Don't hold back! Thrive. We were made for this. But maybe? Maybe you need a time of rest. Yeah, me too. Let us lay down the checklists to spend time in the quiet. May our souls be refilled. Refueled. May the wellspring of our lives be the overflow of hearts preparing Him room. Let every heart. Your heart and mine? Let us be found at the feet of Jesus today and everyday of this beautiful, fresh, clean year. His love endures forever and there is room for us at the table. Pull up a chair. Our God is a God with us today and tomorrow. Checklists will wait. Our hearts are meant for Him.
May your days be a beautiful communion with our Savior. In times of resting and in times of thriving, let us be after His heart.
From my heart to yours,
~Courtney
---
She finds a seat at the big, white table in my kitchen and I share my warmest blanket with her, a recent gift from a precious friend, because I read recently that heavy blankets calm anxieties. We both hold our cups of coffee, letting them warm our cold hands as if they could heal our hurting hearts. We're both recovering from major life-wounds and someone she loves called with more desperate cries earlier in the morning.
If only her loved one would take her advice, she knows the difference the words might make. Not everyone hears wisdom when it's lovingly given. The wisdom givers can feel helpless as they watch someone self-destruct. The truth? We can't change everyone. We cannot make good choices for those who can't find their way. We can only be present. We can pray. It never feels like it's enough. Friends, it's enough.
We may have all the advice and experience and wisdom and empathy that one person can muster…and that may not make a lick of difference to a life as it destructs. We may feel helpless, but our helpless, desperate prayers may be all God ever asked us to give.
Loved ones with the best intentions and the biggest hearts cannot heal every hurt. Because Jesus is the healer.
Good advice and plans written down with twelve wise steps? They may not save a life. Because Jesus is the Savior.
And God didn't ask us to solve every problem. He never asked us to heal every hurt. He didn't promise we'd change this whole fallen world. He gave Himself as the only One that would save this world.
And He's already won the battle.
He has already conquered death. He has already risen victoriously over the destruction of evil.
Jesus is on His throne and my job is to surrender to Him.
When all we can do is bow our head and pray over a hurting heart, then that is enough. Surrendering our hurt to the true Savior? That's the wisest move yet.
When we are not meant to save them, prayer is more than enough because we give the burden to Jesus. And Jesus is more than enough because He is the Savior.
Jesus is the Savior.
We find a song on YouTube and we send the link in a text message with words that say we are praying and joining her in her breaking heart. The message we are sending is to "Just Be Held." We are believing that God will meet her where she is. We are trusting His will and His timing for her. We are carrying her burden with us, knowing that there is One who loves her far bigger and deeper than any earthly relationship could ever love.
And we point her to Jesus. Point them to Jesus.
From my heart to yours, ~Courtney
---
You know her. She is strong and resilient. She loves so big and fully, with her eyes on the finish line of eternity. She speaks up about her struggle first so that others won't be afraid to speak up about their own. She doesn't hold back. She gives every bit of her heart to the things that break the heart of her Heavenly Father. She loves the least, the marginalized, the weary, and the forgotten. They are precious to her because they are precious to Jesus.
She opens her hand to the poor and reaches out her hands to the needy." ~Proverbs 31:20
She loves those who may not love back, because Jesus loved her first. She forgives without fear of being hurt again, because He first loved us. She is brave with her life so that others can be brave with theirs. I know her too. She is the woman I long to be.
She is the definition of real beauty because she has hidden His word in her heart. There is a light within her that shines more radiantly than the sleekest hair, best nail color, or trending fashions. Her Savior's love is her true beauty. The words of the Lord direct and redirect her again and again. The truth of scripture drives her to live beautifully free like it is her divine superpower, because Jesus is her true strength.
Your word is a lamp to my feet and a light to my path." ~Psalm 119:105
She can get her hands dirty, as she jumps into the broken pieces of someone else's life because she knows the heart of the mighty Rescuer. She doesn't run from pain. She leans into the broken place. She calls it what it is. She knows of the schemes of the enemy. She whispers the name of her Redeemer again and again, knowing the enemy will flee at the sound of Jesus' name. Jesus. He is the King of her heart. She embraces the refining fire of sanctification knowing that Jesus brings joy in the morning. Sometimes the pain is changing her, stripping her of the old bondage. She belongs to the only One who turns a mess of ashes into true beauty. She hears His voice and believes His truth in the midst of tribulation. She seeks Him in the darkness.
And He who was seated on the throne said, "Behold, I am making all things new." Also He said, "Write this down, for these words are trustworthy and true." ~Revelation 21:5
All things new. Trustworthy words.
She is courageous because of His perfect peace. She isn't afraid of the unknown future because her hope rests in the hands of a Sovereign God. She is free. She is free to dance. She is free to smile or to cry. She isn't bound by perfectionism, worry, or fear because Jesus has broken every chain. She has been set free from all bondage by His amazing grace. Neither death nor guilt weigh her heart for too long. She knows the pain of this life is temporary and fleeting, for nothing can separate her from the love of Christ. She is free to laugh with hope. Brave and free; all because of her Savior.
She is clothed with strength and dignity; she can laugh at the days to come." ~Proverbs 31:25
Laughter. May we be women of brave laughter, peaceful hearts, courageous faith, and bold freedom. May we know the power in the name of Jesus. Jesus has set us free. May our lives tell this story again and again. We are no longer slaves to sin and death, rather we are the daughters of Christ. May our lives be living testimonies to the merciful grace of God. We are His creations. He is making us new. His loving kindness draws us again and again to redemption, reconciliation, and perfect love. May we walk boldly in the way of freedom with exuberant joy in our hearts!
It is for freedom that Christ has set us free. Stand firm, then, and do not let yourselves be burdened again by a yoke of slavery." ~Galatians 5:1
May we trust our lives in the hands of our perfectly faithful God. May we embrace each day with hope because He is the creative author of our life stories. May His incomparable grace and unconditional love flow from His truth to our hearts and into the hearts and lives of those around us.
Because of Jesus? Sweet sisters, we can be brave and free.
From my heart to yours, ~Courtney