Anchored Voices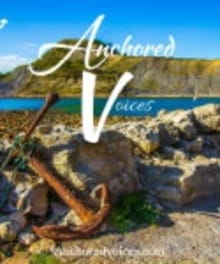 He has saved me from death,

my eyes from tears,

my feet from stumbling.

And so I walk in the Lord's presence

as I live here on earth!

Psalms 116:8-9 NLT.
If only someone had told me
It was never my fault
Someone else was to blame
For this horrible assault
If only someone had told me
To my attacker belonged the shame
For innocence that was stolen
Leaving me never the same
If only I had been assured
That I would heal someday
Perhaps it wouldn't have taken
So long to find my way
If You, oh God, once told me
But I failed to listen well
And spent far too many years
In what seemed a living hell
I'm thankful now You've declared
Your grace is all I need
To heal and grow compassion
Your love the perfect seed
Now I will tell to others
The power of my story
To reveal the truth I now know
And bring to You all glory
---
Linda L. Kruschke is the author of My Name Is Beloved, winner of the Unpublished Memoir category of the Oregon Christian Writers Cascade Writing Contest, as well as a self-published author of two poetry books. She is a wife, mother, active member of her church, former Bible Study Fellowship leader, and recovering lawyer. She works as the Director of Legal Publications for the Oregon State Bar. But her real passion is sharing God's healing grace with others, especially those haunted by sexual trauma and abortion. She struggled with major clinical depression for many years, but through the power of forgiveness has become a fearless follower of Christ, living in the assurance of her salvation and God's love. She blogs at Another Fearless Year and Broken Believers.
---
Step through my front door, and you're greeted by shoes. Running shoes. Slides. Rubber boots. Loafers. There are shoes for playing soccer, shoes for playing baseball, shoes for church, and shoes for band performances. Oh, we can't forget, shoes for stuffing your feet in when you have to run through the rain real quick to grab the mail from the mailman because someone has once again let the dog into the front yard. All these shoes, and this morning my youngest still managed to go outside barefoot and pick up a glass shard with his toe.
Currently, there are no fewer than fifty-eight shoes massed up into four giant piles around our front door. We don't even have a "no shoes in the house" rule. I'd be thrilled if each member of the household would wear their shoes all the way through the door, up the stairs, and into their rooms. Maybe even all the way to their closets? But, no. The shoes never make it past the threshold.
Sometimes I bark at the owners of all these shoes to come pick them up, and sometimes I enlist a child or two to help, but all too often I take the path of least resistance and just swoop through myself, tossing shoes into cubbies, rows, closets, or even straight into the garbage can. The front hallway looks clear again, finally—for an hour or two, until everybody runs back inside and starts kicking off their shoes.
Lately, with everyone home all the time, the shoe situation has felt especially out of control. We're not even going to church or soccer or the beach these days, so why are all these shoes even out right now? The whole house feels out of control, really—everybody running in and out all day long, to ride their bikes or go for a run or play in the backyard—and this introvert mama, who ordinarily relies on the regular school schedule to provide at least a few hours of sanity-restoring quiet each week, is feeling inundated by people, their noises, and their shoes.
Picking up shoes is a metaphor for my life right now: repetitive, domestic, insignificant. Everything that used to feel like it gave purpose to my life is on hold. There are no more appointments, workdays, meetings, or speaking engagements. There are only shoes. There are days when my kids wear four different pairs, and I never put on a single pair, myself. I never make it out the front door. I just stay behind, constantly reshuffling the mess left behind by everyone else.
Then, a few days ago, I got an email from my friend Janay. "Are you open to receiving a word from the Lord?" she asked me.
I don't belong to a faith tradition that proffers frequent words from the Lord. I was raised on cautionary tales about people who claim that God wants you to go off your medication or give away all your money. But I trust my friend Janay, whom I met in grad school a few years ago. And I was curious, surprised that she had been thinking of me at all. "Of course!" I wrote back.
So she sent me a voice memo. "Here's what I saw when I was praying the other day," Janay told me. "I pictured you bending over in a dark hallway, arranging and organizing tons and tons of shoes."
I was stunned. Janay has never been to my house before. She has never seen our shoes.
"And you were feeling like what you were doing was useless," Janay's voice continued. "Like you were so tired of doing the same thing over and over again. And I think God wants you to know, what you are doing is important. I see you. You are precious to me."
Well. That was a word from the Lord, all right. I felt like Hagar, in the book of Genesis—"You are the God who sees me!" How gracious of God, how unexpected, to send word through a friend I hadn't spoken to in a year, that He sees exactly what I'm up to these days.
In the days since I heard from Janay, I've been mulling on the importance of shoes. Two Bible verses, in particular, keep coming to me: Isaiah 52:7 and Ephesians 6:15. In both verses, people are able to run and spread the good news of God's peace because their feet are fitted properly (even, in Isaiah, beautifully).
We buy shoes for our children to equip them for many different activities. Shoes for soccer, shoes for baseball, shoes for church, and band. But ever since I heard from Janay, I've been asking myself: how am I equipping my children to run through the world, spreading peace?
Shoes were never insignificant, of course. As my youngest found out with his glass shard, they're essential. But when the shoes piled up in the hallway serve to remind me of the importance of my children's spiritual footing, they are more significant than ever.
Neither this stay-at-home-time or this kids-at-home-time will last forever. Someday, I'll go back to tending things other than shoes. Someday, my children will walk out that front door, and they won't come back—not to live here again, anyway. Meanwhile, it's valuable to be reminded of the significance of every little shoe.
Meanwhile, it's good to know that I am seen.
---
Sarah L Sanderson is a writer, speaker, pastor's wife, and mom of four. Find more of her work—including updates on the memoir she is currently writing about abuse, mental illness, faith, and her great-great-great-great-great-grandmother—on www.sarahlsanderson.com, or follow her on Facebook, Instagram, or Twitter.
---
During this time of pandemic, we are living in our own little worlds within our own four walls. How deeply we miss the familiar bridges to community that join us together. As we live physically distanced from each other, we can live unseen. It is both challenging and strange.
There is some comfort in knowing this is a problem for all of humanity, and that we are not alone in hardships we might be facing. But it is also isolating. We feel lost in the big picture, certain that this pandemic is not about us, and yet undeniably our lives have been completely turned upside down. We all are living through the same threat, yet each story is unique, and how the catalytic threat has impacted our lives varies. We long for someone to see our stuggle,–our heart and the particulars of our hard.
I recently re-read the story of Hagar and was freshly struck by her story. Hagar was the slave of Abraham and Sarah. They were becoming impatient with God's timeline for fulfilling His promise of a son, so Sarah proposed to Abraham something which was a common custom in their culture: she would give her maidservant to Abraham that they might have a son together, but the child would legally be Sarah's. Hagar became pregnant through this scheme, and haughty, so Sarah began treating her harshly. In desperation, Hagar fled into the desert, a pregnant slave, all alone with no plan or provisions. She sat down at a spring to weep, and there she was visited by an angel of the Lord. He spoke to her, calling her by name, counseled her, and sent her back to her former situation with a promise of blessing.
Genesis 16:13 says Hagar gave the name El Roi to the Lord who spoke to her. "You are the God who sees me…I have now seen the One who sees me." This is the only time that the name El Roi (the God who sees) is used in the Bible, but God's character trait of seeing, of intimately knowing, people is woven throughout scripture.
How comforting would it be, how miraculous would it seem, in a land of stone idols to have a personal encounter with the God who sees? How would it feel for a slave who was probably never seen – who was probably looked at with contempt, scorn, and shame, but never seen? How much Hagar must have longed to be seen.
And how much do we long for the same thing? Alone in our homes, living through unprecedented world events, dealing with challenging children, struggling to pay bills, grieving the bitter disappointments brought on by this pandemic, we wonder like Hagar, "Does anyone know what I'm going through? Does anyone care?"
The answer to that is an unequivocal, YES! El Roi sees me and He sees you. In fact, His gaze is fixed on you. God's seeing you is an extension of His great love for you. The God who created the universe and sustains it by His mighty hand, stoops down to see you and meet you in your challenging human circumstances. He loves you and longs to offer you the gift of Himself.
God seeing Hagar allowed Hagar to see Him. He revealed Himself to her in her greatest moment of need. As she said, "I have seen the God who sees me." In the same way, we have direct access to the God who sees us, and He graciously allows us to see Him as well. He longs for us to draw near to him, to rely on His wisdom, comfort, and guidance, and to give us the grace to live the life He's unfolding before us.
Like Hagar, we have no choice about the situation we are in. We are under submission to our leaders' decisions, and even if they are the right decisions, they are causing us hardships. Hagar tried to run away, but God saw her there at the spring and sent her back. I have to think that after a personal encounter with El Roi, she returned a changed woman. We cannot run away either. Nor can we quit. We must stick it out here in this pandemic-world. We have no choice. But we can choose to fix our gaze upon the God who sees us in our pain, in our worry, and in our fear. We can cling whole-heartedly to the God who sees us and whose strength and peace will see us through. When we emerge from this, may we be changed as well.
---
Kara is the wife of 20+ years to Caleb and the mother of 5, including 2 through the miracle of adoption. She and her family live on 8 acres, raising cows, goats, chickens, and turkeys, as well as a large garden. She is passionate about hospitality, mothering, the intersection of farm-life and faith, and finding beauty in the commonplace. She enjoys her classics bookclub, walking her country road, and traveling with her large family. She occasionally blogs at goodgiftsfarm.com, but you can keep up with her more regularly on Instagram @good_gifts_farm.