Anchored Voices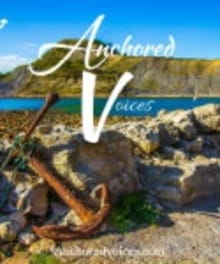 In the first year of my firstborn's life, I remember sitting in the rocking chair late at night, scrolling my phone while I fed him. I remember headlines of awful happenings in the Middle East. I specifically remember reading a post about ISIS beheading Christians who would not renounce Christ. I can still see that picture in my mind, a lineup of men with their heads and faces covered, their executioners standing behind them. I doubt I will ever forget it. I remember feeling crippled by anxiety and fear for the world my child would grow up in. That very possibly, in my lifetime, we would see such atrocities committed against Christians, but this time, perhaps, on the continent on which we live. I would sing and pray over that child, asking that God would spare him from persecution, that somehow my feeling of deep sorrow and premonition would be inaccurate. That it wouldn't be the truth for his life.
I always sang all the verses to I Have Decided to Follow Jesus over my baby. As I sang, I prayed those words to Jesus. Asking again and again that no matter what, this boy would follow Jesus with all his heart and never stray–even if it meant death. As I sang, I sang the words over myself as well, praying that I would have the courage to stand when it was asked of me. When the time came to choose Jesus, regardless of pressure or those around me, I would stand. "Though none go with me, still I will follow, no turning back. The world behind me, the cross before me, no turning back." Never have I felt the weight of those words the way I did on those nights, when the world was heavy and the darkness swam around me.
Never, that is, until lately.
Headline after headline blares horrors, tragedies, people losing it all–some people willingly giving their all for the lives of others–many of whom are ungrateful. Some for the sake of the gospel, some because it's the right thing to do, some because a natural disaster has struck, some just because we live in a sin-ridden world that is broken. I find my heart just as heavy as it was in those first days of motherhood. Feeling isolated, feeling humbled that I am in a place in the world that isn't yet in that type of crisis. Feeling the weight of it all–the hurt, the sorrow, of the world as well as the decisions and circumstances that face my family, in our own type of crisis.
I know that the world won't get better. I know that the decisions that face me and face my children as they get older aren't going to get easier or more black and white. People are going to be less happy with my choices the more I stand for truth and righteousness. Until Jesus returns, truth is going to be harder and harder to come by. I temper those thoughts with remembering that I can trust my God. I know that His word is true, and I can hold on with all I have to that.
Psalm 77 says:
"I cry aloud to God, aloud to God, and he will hear me. In the day of my trouble I seek the Lord; in the night my hand is stretched out without wearying; my soul refuses to be comforted. When I remember God, I moan; when I meditate, my spirit faints. You hold my eyelids open; I am so troubled that I cannot speak. I consider the days of old, the years long ago. I said, 'Let me remember my song in the night; let me meditate in my heart.' Then my spirit made a diligent search: 'Will the Lord spurn forever, and never again be favorable? Has his steadfast love forever ceased? Are his promises at an end for all time? Has God forgotten to be gracious? Has he in anger shut up his compassion?' Then I said, ' I will appeal to this, to the years of the right hand of the Most High.' I will remember the deeds of the Lord; yes, I will remember your wonders of old. I will ponder all your work, and meditate on your mighty deeds. Your way, O God, is holy. What god is great like our God? You are the God who works wonders; you have made known your might among the peoples. You with your arm redeemed your people, the children of Jacob and Joseph. When the waters saw you, O God, when the waters saw you, they were afraid; indeed, the deep trembled. The clouds poured out water; the skies gave forth thunder; your arrows flashed on every side. The crash of your thunder was in the whirlwind; your lightnings lighted up the world; the earth trembled and shook. Your way was through the sea, your path through the great waters; yet your footprints were unseen. You led your people like a flock by the hand of Moses and Aaron." (Emphasis mine)
What I see in this psalm is that I'm not alone in my human feelings, and I can't pull myself up out of the mire of my mind, and honesty with God is imperative to my spiritual health. I can cry out to Him and He will hear me! While I can't pull myself up by the bootstraps and carry on, He can. He can enable that change that will help me take my mind off of myself and turn it to Him. When I remember all He has done; when I meditate on His works, my mind is put to rest, and peace reigns in my soul.
The other lesson that I take from this psalm is that God's way is through, not around. His way is through difficulty and the seemingly impossible so that we can learn to trust. My way never includes the choice to walk through deep waters. I like the warm shallows of familiarity. I don't like the reminder that I. AM. OUT. OF. CONTROL. Of everything. I don't like to hurt–emotionally or otherwise, but God's way is always through the deep. He wants me to trust Him and praise Him for what He has already done, how He has already worked. He wants my heart right, not my life comfortable. He wants to lead me, and He can't if I stay in the shallows. I don't like the deep of fear, anxiety, depression, and hurt–but I like that I know Him better because of it. I don't like not knowing, but I like the peace of trusting the unknown to an all-knowing God.

I don't know what this lifetime will hold. I don't know what sickness will come next, or what a corrupt politician will do. I don't know the next inevitable natural disaster, or what cruelty will come again across the headlines. I can't keep my boys safe from this world. Only God can protect their souls, and I pray that they will hang onto Jesus with all they've got.
What I do know and hold tightly to, is the God who sees and hears, the God who answers me. I can rely on His steady character to be the same yesterday, today and for a thousand tomorrows. He's proven Himself time and again to be faithful and true. It's my own heart that is faithless and fickle. I continue to pray that I would be found faithful. "Though none go with me, still I will follow…" That my faith would stand in the face of hardship and persecution. "The world behind me, the cross before me, no turning back…" That my family would choose Jesus. No matter the distraction, no matter the trial, no matter the cost. I'd rather muddle through the deep with a trustworthy God, than frolic in the shallows without Him.
---
Laci Steed is a stay at home, homeschooling mom of two boys. She is passionate about motherhood, truth, and creating community around God's Word. She serves in women's ministry at her church and recently wrote her first booka Christmas devotional called Emmanuel: 25 Days of Anticipating Jesus. Laci enjoys doing house projects, reading, and finding ways to be creative in the chaos that is the little years of parenthood.
---
2020 changed me. Most of us can say the same. Our world became an unfamiliar place that few imaginations could have even conjured. But a decision I made on January 1st, 2020, before any of these unprecedented events were a reality, changed me the most. That New Year's Day I read Genesis 1:1,
"In the beginning God created the heavens and the earth."
And every day of 2020 I continued reading, until on December 31st, 1,034 pages later, I concluded with Revelation 22:20-21,
"He who testifies to these things says,

'Yes, I am coming soon.'

Amen. Come, Lord Jesus.

The grace of the Lord Jesus

be with God's people.

Amen."
In God's sovereignty, the Spirit moved me to commit to reading through the entire Bible in a year, while at the same time, this un-sovereign human had no notion just how much she would need its truth, encouragement, and perspective. In a year that turned the world upside down, my foundation was daily strengthened as I burrowed deeper into the rock that is my faith.
Most 2020 mornings found me on my favorite corner of the couch with a steaming mug of coffee, my Bible, and a pencil. While I labored through the first couple of months and occasionally fell behind, consistency became considerably easier. When the world stopped in March and I no longer had to get five kids out the door to school each day, the routine and structure of my morning Bible reading became a balm to my overwhelmed soul. The truths I read anchored me in uncertain times.
As a Christian since childhood, I have often participated in Bible studies or read select portions of my Bible, but not daily. Sometimes I would struggle to decide what I should read, occasionally resorting to the old "close-my-eyes-open-the-Bible-and-read-whatever-my-finger-lands-on" method, hoping it would be applicable to what I was dealing with in my life. Sometimes, I would struggle with how any of what I was reading (particularly in the Old Testament) had any relevance at all to my life or the world I lived in. Sometimes I just felt bored and uninterested. (Are Christians allowed to admit that?)
What my daily perseverance and the process of reading beginning-to-end taught me was that the Bible isn't about me at all.
It does not exist for me to find myself in its pages (unless it's to recognize my striking resemblance to those rebellious, ungrateful Israelites).
It does not exist to offer pithy inspiration and encouragement (though I do believe that I can do all things through Christ who strengthens me).
It does not exist as an encyclopedia of rules for me to laud over people (though in my home you may still hear me quote Ephesians 6:1, "Children obey your parents in the Lord, for this is right."). No, its purpose is that I might know God and His character.
The Bible, beginning to end, is a seamless story about God:
His creation

His great love for fallen humanity

His pursuit and redemption of us

His grace

His mercy

His power

His patience

His forgiveness

His faithfulness

His holiness
I am not in these pages at all, except as the one in desperate need of rescuing. Reading the Bible is the perfect antidote to the self-focus that I so often struggle with.
Reading through the entire Bible has helped give me a more complete picture of God. It has given context to many verses I had previously read in a vacuum. I now know that the comforting promise in Jeremiah 29 where God promises to prosper and not to harm, to give hope and a future, are not actually promises for general humanity (i.e. me). They were for the Israelites. While they do reveal God's great love for His chosen people and His sovereignty over their circumstances, I may want to reconsider writing it in high school graduation cards.
Most importantly, reading through the entire tapestry of scripture has more deeply revealed and reminded me whose world I am living in. This is my Father's world. He has ruled and reigned since the beginning of time and nothing that has ever happened or will happen surprises Him. It has all passed through His sovereign hands. And while I know the end of the story and anxiously await Jesus' return, His word is here to sustain and nourish me until I meet my Savior face-to-face.
Reading the Bible from beginning to end is not something I merely checked off a bucket list. It is a way of life for me now. On the last day of 2020, I felt grateful that God had helped me succeed and kind of wanted to revel in the accomplishment and catch my breath for a few days. But I also didn't want to fall behind on the reading plan, and part of me knew that I still needed this, would always need this. And so January 1st, 2021, I began all over again. I now have a new chair in a new corner with a lovely view of the birds and the trees. But my same tattered Bible awaits me each morning, and I continue reading that I might know God better.
Blessed is the one

who does not walk in step with the wicked

or stand in the way that sinners take

or sit in the company of mockers,

but whose delight is in the law of the Lord,

and who meditates on his law day and night.

That person is like a tree planted by streams of water,

which yields its fruit in season

and whose leaf does not wither—

whatever they do prospers.

Psalm 1:1-4
Notes:
I have used the Bible Recap podcast and reading plan. It breaks the reading into about 3 chapters per day and is a chronological plan, so rather than read straight through the Bible as it has been compiled, there is a bit of hopping around. I have really enjoyed this method. The podcast offers about eight minutes daily of summary and helpful historical context for the day's reading. It does not shy away from hard questions or varying perspectives. I cannot recommend this resource highly enough. And good news! We are beginning the New Testament on October 1st, which is a great time to jump in.
---
Kara is the wife of 20+ years to Caleb and the mother of 5, including 2 through the miracle of adoption. She and her family live on 8 acres, raising cows, goats, chickens, and turkeys, as well as a large garden. She is passionate about hospitality, mothering, the intersection of farm-life and faith, and finding beauty in the commonplace. She enjoys her classics book club, walking her country road, and traveling with her large family. She occasionally blogs at goodgiftsfarm.com, but you can keep up with her more regularly on Instagram @good_gifts_farm.
---
But when you are praying, first forgive anyone you are holding a grudge against, so that your Father in heaven will forgive your sins, too.

Mark 11:25 NLT
Hard and fast I held a grudge
Buried long and deep
Other's actions I would judge
All my rights to keep
Each wrong plainly recorded
Built a mighty wall
Behind which pain I hoarded
Shrouded in death's pall
Darkness loomed for many years
My wall blocked all light
I might have drowned from my tears
Despair held me tight
In this wall one day I found
A fair open door
Forgive was etched all around
From top jamb to floor
At this door I lingered long
Pondering my choice
Through it came a lovely song
Made my heart rejoice
I chose right then to walk through
Leave my grudge behind
God refreshed my soul anew
Sweet peace I did find
If my wall, my record stands
With God may truth rest
I'll forgive and in His hands
Trust His mercy best
---
Linda L. Kruschke is the author of My Name Is Beloved, winner of the Unpublished Memoir category of the Oregon Christian Writers Cascade Writing Contest, as well as a self-published author of two poetry books. She is a wife, mother, active member of her church, former Bible Study Fellowship leader, and recovering lawyer. She works as the Director of Legal Publications for the Oregon State Bar. But her real passion is sharing God's healing grace with others, especially those haunted by sexual trauma and abortion. She struggled with major clinical depression for many years, but through the power of forgiveness has become a fearless follower of Christ, living in the assurance of her salvation and God's love. She blogs at Another Fearless Year and Broken Believers.