Anchored Voices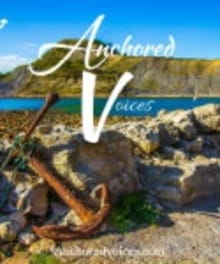 "Behold, to the Lord your God belong heaven and the heaven of heavens, the earth with all that is in it."

Deuteronomy 10:14 ESV
Since I was a child, I have been fascinated by the twinkling of stars and the shining of the planets. I would often look into the sky on dark nights and try to take in the details and beauty. In every space of the night sky dots upon dots of light were sparkling against a pitch-black background. The longer I looked the more dots would appear. Some tiny points were almost invisible to the naked eye. Some larger shots of lights demanded my attention. Some nights, I would find the Milky Way and stare up at it, mesmerized by its wonder and beauty. Other nights I searched for the few constellations I was familiar with. What a thrill when I discovered how to identify Mars, Venus, Jupiter, and Saturn.
The stars were a source of reflection and filled my young heart and mind with awe; they still do.
When doubt sneaks into my mind, I can look up into the night sky and remember that my Creator is far greater and far more imaginative than I give him credit for. The sky has always been a reminder of my finite existence as compared to an infinite and immeasurable God.
This universe, the stars, the planets, the particles of dust, the speed of light, black holes, time, gravity, matter…fascinate me. The relationship between physics and mathematics makes my head spin in exhilaration and speaks to me of things I am not able to fully comprehend. It also reminds me that there is a God who thought it all up and then…made it.
How great and mighty and wonderful and exhilarating is God! I am filled with joy and excitement when I contemplate God design of the heavens and careful way he labors over the details.
God is the mater of minutiae. If we look at just one simple plant, organism, or cell we don't have to look hard to see how intricate creation is.
Have you ever heard of Einstein's field equation for general relativity? Simply, to the best of my understanding, it is the equation that sums up a group of equations that reveals to us that space-time is able to be altered. John Wheeler in Geons, Black Holes, and Quantum Foam, said it this way, "Space-time tells matter how to move, matter tells space-time how to curve." Curve! Space and time curve!
The part that really got me excited was the idea that this field equation has been used to show that the universe is expanding at a much more accelerated rate than scientists once thought. Rather than the expansion of the universe slowing over time, it has sped up and this was contrary to what scientists initially expected to see.
I don't begin to pretend I understand it all. It simply exhilarates me to know that God created things that we are still trying to figure out. The things that perplex us – He knows.
He is bigger than I am.
He is smarter than I am.
And I am glad that he is.
I can rest in peace knowing that he is capable and has things under control. Because I trust that he loves me, I trust that he will see me through when things are hard. I don't understand everything that happens, or how this world and this life work all of the time. Some things don't make sense. However, I can sleep in peace at night, while the stars twinkle above my head because I trust that my Heavenly Daddy, the one who laid the foundations of the world, is going to take care of me and all my worries in this world.
"Sing for joy, O heavens, and exult, O earth; break forth, O mountains, into singing! For the LORD has comforted his people and will have compassion on his afflicted."

Isaiah 49:13 ESV
---
Jacqi Kambish is a mom to three spirited children striving to balance the daily demands of parenting a child with special needs, homeschooling, and writing. She earned a Bachelor's of Science in Bible Theology and Youth Ministry from William Jessup University. Jacqi lives with her family in the San Juan Mountains of Colorado and enjoys reflectively writing about parenting, faith, and the joys and trials of life while leaving her readers with hope and encouragement. You can find her on Facebook.
---
Have you ever stood at the edge of the ocean? Felt the tide lap at your feet? Heard the roar of the water as the waves crash? Maybe you've seen the sun slip lower and lower on the horizon, turning from gold to pink to fiery red, fading into purple, and finally the dark blue of night, unable to distinguish water from sky. When I stand and stare at that giant expanse of water, it reminds me that God is constant and faithful. Wave after wave—they don't stop. The tides roll. The sun rises and sets day after day, constant and true; all of them mirroring an aspect of the character of their Creator.
I don't know many who aren't impacted by the greatness of the ocean; who don't feel small next to the pounding surf. I don't think this is an accident. Romans 12:20 tells us that God made creation to shout His glory, that all mankind would see and believe in the Creator—ultimately expressing glory to God, reveling in the beauty of what He made, understanding that we, ourselves, have nothing to do with the beauty we see. (Psalm 8:1, 3-4)
When I think of what nature has taught me about God, my first thought is "what hasn't nature taught me about God?!" For me, nature enhances my faith, setting on display God's character, His creativity, His glory. When I am beholding the works of God's hands, my heart is buoyed, my soul stills, and the eyes of my heart are turned up to behold a God of majesty and greatness. When I am in nature, I see glimpses of God that I might not notice elsewhere. There is something about feeling small that puts into perspective the greatness and awesomeness of the God we serve. The verses from Psalm 19 reveal to me that creation's purpose was for just that! Creation helps us to know the Creator.
"The heavens declare the glory of God, and the sky above proclaims his handiwork. Day to day pours out speech, and night to night reveals knowledge. There is no speech, nor are their words, whose voice is not heard. Their voice goes out through all the earth, and their words to the end of the world."

Psalm 19:1-4
While God is in complete control of the vast oceans, the tides, the rising and the setting of the sun, mankind holds no such control. The thought of being out of control might send you into a panic; but might I present another scenario? The God of creation, the God of nature, who brought order to chaos holds this all in the palm of His hands. He holds nature—and He holds me and you. The same big God that draws my attention when I stand at the edge of the ocean and makes me feel small with His greatness, is also the intimate, personal God who knows every thought and forms every cell in my body.
My human nature is weak, simple, and fallen. I am right to feel small when confronted by the enormity of God. Any other response would be quite presumptuous, offensive, an affront to the God Most High. To see myself, and Him, rightly, I must be able to acknowledge my weakness and see Him as holding all control, all power, and all worthiness. Despite my smallness, He loves me. He reaches down from His throne and pulls me from my worthlessness to the glory of His name.
Even though mankind's meagerness can't compare to the glory of heaven, God has always desired our hearts. Since the fall of man, God has promised a Savior. Redemption would come in the form of His only Son arriving as a baby, living a perfect, sinless life, and dying a criminal's death on the cross. The story didn't end there but would culminate with Him raising from the dead after three days in a tomb—forever defeating sin and death, and securing a heavenly eternity for all who would believe. Even though His creation had nothing of worth to offer the God of the Universe, He drew near and sacrificed Himself for a relationship.
You see, nature sings a song of redemption. Nature draws me in, shows me God's greatness and exposes my great need. Nature proves to me the existence of a holy, perfect God, and solidifies the knowledge that I can do nothing to save myself—I am at His mercy. The amazing thing is this: it's the best possible place to be. When I am at the mercy of God, I'm at the end of myself. I can rely only on what He has already done and His character. Since His character is proven and infallible, I can trust it. His character tells me that even though I'm unworthy, I am loved and cared for by the God of the universe, bought and made worthy at the costly expense of the blood of His Son, and welcomed freely into relationship with Him.
---
Laci Steed is a stay at home, homeschooling mom of two boys. She is passionate about motherhood, truth, and creating community around God's Word. She serves in women's ministry at her church and recently wrote her first booka Christmas devotional called Emmanuel: 25 Days of Anticipating Jesus. Laci enjoys doing house projects, reading, and finding ways to be creative in the chaos that is the little years of parenthood.
---
Why, my soul, are you downcast? Why so disturbed within me? Put your hope in God, for I will yet praise him, my Savior and my God.

Psalm 42:5 NIV
When rain falls like tears
Drenching parched landscapes
I know God sees my heart
When flowers burst like hope
Brightening winter's decay
I know God is faithful
When clouds hide the sun
Like worries obscure peace
I know I need my God
When tree branches sway
Towering timbers give in
Displaying God's power
Clouds hold back angry, black
The storm they unleash
Destroys all peace
Tempest surges
Until stillness again appears
Raindrops falling falling falling
From sky of gray
A steady rhythm on the earth
And still words won't come
To express the dampness
of my soul, the gloom
in my sunless heart, the sorrow
like puddles in the mire
And still tears don't come
For I fear they will wash away hope
And without hope is a place
I cannot bear to go
Another day dawns with sun
Bright and warm, mist rising from
Drenched landscape
I see at last
God allows grief without
Relinquishing hope
---
Linda L. Kruschke is the author of My Name Is Beloved, winner of the Unpublished Memoir category of the Oregon Christian Writers Cascade Writing Contest, as well as a self-published author of two poetry books. She is a wife, mother, active member of her church, former Bible Study Fellowship leader, and recovering lawyer. She works as the Director of Legal Publications for the Oregon State Bar. But her real passion is sharing God's healing grace with others, especially those haunted by sexual trauma and abortion. She struggled with major clinical depression for many years, but through the power of forgiveness has become a fearless follower of Christ, living in the assurance of her salvation and God's love. She blogs at Another Fearless Year and Broken Believers.