Anchored Voices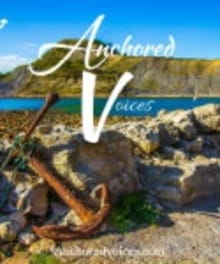 "Therefore we do not lose heart. Though outwardly we are wasting away, yet inwardly we are being renewed day by day. For our light and momentary troubles are achieving for us an eternal glory that far outweighs them all. So we fix our eyes not on what is seen but on what is unseen. For what is seen is temporary, but what is unseen is eternal."

2 Corinthians 4:16-18
Our physical lives are an arc, and from the moment we are born we are growing, developing, strengthening…until we're not. And then we're aging, wasting, and decaying. The science of the how, and the timeline of the when are complex, but the reality is inescapable. Outwardly we are wasting away. Yet all the while, if traversing those days, months, and years hand-in- hand with Christ and His word, we are being renewed from within.
In our homeschool, my children and I were working on memorizing the above verses when my beautiful, vibrant mother was diagnosed with stage 4 ovarian cancer. We witnessed firsthand the outward wasting away of her physical body while inwardly she was renewed by the hope and strength of her savior. Ten months later she was with Him, and today, exactly two years later, I still take comfort in knowing that she is enjoying that eternal glory and that her pain and suffering were indeed light and momentary when compared to eternity.
A few of the Apostle Paul's "light and momentary troubles" shared in 2 Corinthians 11:23-28 included whippings of 39 lashes (five times), beatings with rods (three times), being stoned, shipwrecked (three times), adrift at sea, frequent journeys, all types of dangers from rivers to robbers, hunger and thirst, cold and exposure, as well as the daily pressure and anxiety for the spiritual well-being of his newly planted churches.
Yet Paul's eyes were not on the misery of these hardships, but on what they were achieving in him. They were teaching him, training him, increasing his faith, and allowing him to participate in the sufferings of Christ. They were creating in him a vision of the intangible, unseen, eternal reality of that future glory. Paul wrote,
"Now if we are children, then we are heirs—heirs of God and co-heirs with Christ, if indeed we share in his sufferings in order that we may also share in his glory. I consider that our present sufferings are not worth comparing with the glory that will be revealed in us."

Romans 8:17-18
As humans in physical bodies living in a specific time and place it is easy to become trapped in this tangible, temporal world. We allow circumstances to define us, to defeat us. We easily forget that there is a whole unseen spiritual realm in which God is on His throne, daily offering His grace and strength to us and that the finished work of Christ on the cross means the victory has been secured.
"Christ Jesus who died—more than that, who was raised to life—is at the right hand of God and is also interceding for us. Who shall separate us from the love of Christ? Shall trouble or hardship or persecution or famine or nakedness or danger or sword?… No, in all these things we are more than conquerors through him who loved us."

Romans 8:34-35,37
I don't always feel like a conqueror. Outwardly I am wasting away. I had a total hip replacement at 41 and visit the chiropractor often. I am wearied by Covid-19, destructive riots, divisive politics, a faltering economy, churches not meeting, and school not beginning this fall. I very much need the reminder to not lose heart and to fix my eyes on the unseen and eternal. I desperately need to be renewed day by day. And I look with hopeful longing to that promised eternal glory that will far surpass it all.
---
Kara is the wife of 20+ years to Caleb and the mother of 5, including 2 through the miracle of adoption. She and her family live on 8 acres, raising cows, goats, chickens, and turkeys, as well as a large garden. She is passionate about hospitality, mothering, the intersection of farm-life and faith, and finding beauty in the commonplace. She enjoys her classics bookclub, walking her country road, and traveling with her large family. She occasionally blogs at goodgiftsfarm.com, but you can keep up with her more regularly on Instagram @good_gifts_farm.
---
Did you ever play the game "Trust"? The "victim" stands facing away from a group of people and is to freefall into the arms of the "trusted" and be caught. A popular game in my high school youth group, but I never could muster the courage to fall.
When I attempted this game, I would instinctively take a step backward to catch myself. Every single time. My friends would hoot and holler and I would laugh at my own inability to trust even my closest circle.
As small children, learning to walk with shaky steps, we reach out our hands for something to grasp. Our arms stretch for the solid support of our wobbly legs. The thrill of taking the first steps bring elation as a new perspective is gained.
I often watch as my children tackle something new with the same amount of trepidation. They each have their own fears and insecurities about the unknown. They look for something solid to hang onto as they take those tentative steps.
As our family has transitioned into the sea of pandemic uncertainty these past months, I have been reminded of Proverbs 3:5-6.
"Trust in the Lord with all your heart and lean not on your own understanding. In all your ways acknowledge Him and he will make your paths straight."
Within these timeless verses trust is the pivoting point of our faith. Trust is being confident and sure. The blessing of this comes in our assurance that He will guard and protect. This dependence brings us to a place of solemn worship.
Trust comes with a price. Our trust requires us to let go of our own desires and be willing to live in obedience to the guiding of the Holy Spirit.
Raising my children allows me to understand the simplicity of trust. As they allow my wisdom to be infused into their young lives, they grow and develop character. Likewise, as I allow God to fill me with Himself, I continually am being changed to be more like Him.
Timothy, a student of the apostle Paul, learned at a young age how important it is to trust and listen. Walking closely with a man deeply in tune with the gospel, Timothy learned that submission and faith are key foundations of our faith.
The words that Paul penned to Timothy in his letters are full of parental encouragement and tender guidance. Second Timothy 1:13 says "By the Holy Spirit who dwells within us, guard the good deposit entrusted to you."
Just as we put our trust in God, He trusts us with His message of redemption, hope, and eternal peace. For those who belong to Christ, the precious gift of the gospel has been deposited into our lives. Not only are we given it for safekeeping, but we are to actively guard and protect it, just as God guards and protects our paths.
This relationship that is vertical in nature, immediately becomes horizontal, as well. While the vertical nature of it is most important, we cannot forsake the privilege of carrying out the work God invites into here on Earth. When our reliance rests in God, we find the strength and confidence He has given us to carry out His good works.
The never-ending love and grace of God pouring into our lives is where all the fuel to pour into others comes from. We can fall back into his arms, take a step of faith into the unknown, and share this trust, knowing it is our story to share with a broken world in need of hope.
---
Laura Sumpter is a native of the Pacific Northwest. She has been a teacher for over 20 years and she loves teaching children and women of all ages how to practically apply Scripture. She counts her husband and three children as the greatest blessings of her life. When she is not writing or teaching you can find her at the beach, in her garden, decorating her home, or playing with her family. Laura lives each day believing that God is faithful, no matter the circumstance. She desires to express the deep and satisfying hope that only Jesus can bring. You can find the lessons God is teaching her at her blog for-this-reason.org or on Instagram
---
They triumphed over him by the blood of the Lamb and by the word of their testimony; they did not love their lives so much as to shrink from death.

Revelation 12:11 (NIV)
I could tell you my story as a tale of woe
Highlighting trauma from ages ago
I could tell you my story as a tale of fear
Of barely subsisting in a world so drear
I could tell you my story as a tale of despair
Recounting loss that seems more than my share
But instead I will tell you my story of grace
How Jesus came in with a loving embrace
And I will recount my story of hope
How Jesus provided the strength to cope
I want you to hear my redemption story
How Jesus healed me and received His due glory
For no story's worthwhile that ends in death
We need resurrection and God's holy breath
---
Linda L. Kruschke is the author of My Name Is Beloved, winner of the Unpublished Memoir category of the Oregon Christian Writers Cascade Writing Contest, as well as a self-published author of two poetry books. She is a wife, mother, active member of her church, former Bible Study Fellowship leader, and recovering lawyer. She works as the Director of Legal Publications for the Oregon State Bar. But her real passion is sharing God's healing grace with others, especially those haunted by sexual trauma and abortion. She struggled with major clinical depression for many years, but through the power of forgiveness has become a fearless follower of Christ, living in the assurance of her salvation and God's love. She blogs at Another Fearless Year and Broken Believers.