Anchored Voices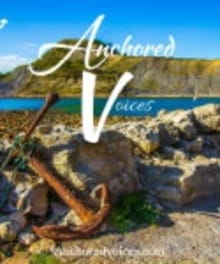 Christ is the visible image of the invisible God. He existed before anything was created and is supreme over all creation, for through him God created everything in the heavenly realms and on earth.

Colossians 1:15-16a NLT.
In winter all stands bare and stark
Days fall short and nights bathed in dark
Snowflakes light on branches of trees
In this image beauty I see
Heather before it's spring does bloom
Chasing away winter's dark gloom
For warmth and more flowers my plea
In this image beauty I see
Crocus sprout next from cold ground
Spring has come when sunshine abounds
I smile to hear the buzzing bees
In this image beauty I see
Hummingbird calls my yard his home
Not far from nectar source to roam
Chasing rival he buzzes me
In this image beauty I see
Cooper's hawk soars high in the sky
Spying songbirds with his sharp eye
Though sometimes his lunch they will be
In this image beauty I see
Gray hair and wrinkles come with age
Life of man and beast turn a page
Death comes to all we must agree
In life's image beauty I see
For our sins He hung on the cross
Loved ones wept and mourned this great loss
Yet because of Him death does flee
In His image beauty I see
Behold creation and you'll know
Jesus is God from long ago
At His throne all will bend the knee
In His beauty we are set free
---
Linda L. Kruschke is the author of My Name Is Beloved, winner of the Unpublished Memoir category of the Oregon Christian Writers Cascade Writing Contest, as well as a self-published author of two poetry books. She is a wife, mother, active member of her church, former Bible Study Fellowship leader, and recovering lawyer. She works as the Director of Legal Publications for the Oregon State Bar. But her real passion is sharing God's healing grace with others, especially those haunted by sexual trauma and abortion. She struggled with major clinical depression for many years, but through the power of forgiveness has become a fearless follower of Christ, living in the assurance of her salvation and God's love. She blogs at Another Fearless Year and Broken Believers.
---
"If I take the wings of the morning and dwell in the utmost parts of the sea, even there your hand shall lead me, and your right hand shall hold me."

Psalm 139:9-10
Two years ago my husband's job came to an unexpected end. We had just relocated to take this job four months earlier and had just bought our first house when everything seemed to come crashing down.
I had dreamed of owning a home since junior high and after 14 years of marriage, it had finally happened. We were settled and I was excited to be putting down roots.
The kids were happy. I was happy.
My husband was not.
Then the job loss happened.
I didn't know why God was allowing us to walk through such an uncertain time, but initially, I was positive that I could do something about it. I was working part-time and focusing on our young children, but I was sure that I could take more on until my husband found new employment.
For three weeks I searched diligently for anything that would work with the current job I had. It was only part-time, but I loved it. I also wanted something that wouldn't cause my children to miss out on having their mom around.
I searched and searched.
My husband was also seeking employment without success.
We were going to lose the house. I knew it.
The house I had always wanted. The house I had never felt I deserved because it was the perfect house in the perfect neighborhood. I had made friends. Our kids had made friends. That was important.
I was afraid.
And then the Lord spoke to me, "Will you give up the house for me?"
I knew it wasn't just the house. It was everything. Everything I had ever wanted was finally within my grasp…and yet, not at all within my grasp. I could sense it slipping through my tightly gripped fingers.
I thought about it for a few days. The Lord was patient. But, finally, he asked again while I absently folded laundry and fretted.
"Will you give it all to me?"
I truly wanted to be able to.
And, then with grace not from myself, I realized that I could.
Yes, I could give the house, and every other comfort and dream, to God. I knew that it was already his anyway. I was simply relinquishing my grip.
And then there was peace.
I didn't want to lose my home or go bankrupt, but I had peace that God was taking us through a storm that we would survive. And with peace came assurance. Even if it didn't look the way I wanted it to, God would direct our path.
Guess what? It did not look the way I wanted it to.
My husband found a job that paid less, and we squeaked along for a couple of months while we tried to figure out what to do. Three months later my husband received a job offer that excited him but made my heart sink. Another move would be required, but not just any move. A move back to a place I had longed to escape. A place I felt alone, hurt, and unhappy. A place I wasn't sure could ever be home.
Yet I knew.
I knew God was calling us back in a different capacity and for a different season. While my husband pined for a job he really wanted, God began to move my stubborn, cold heart. Nearly a year after we had first moved away we moved back with new hearts, new direction, and new purpose. A purpose that, in the end, was far grander than either of us could have ever dreamed. I don't know how long this new season will last or what is down the road. What I do know, is that God is good and faithful, and even in uncertain times, I can always be certain of Him.
---
Jacqi Kambish is a mom to three spirited children striving to balance the daily demands of parenting a child with special needs, homeschooling, and writing. She earned a Bachelor's of Science in Bible Theology and Youth Ministry from William Jessup University. Jacqi lives with her family in the San Juan Mountains of Colorado and enjoys reflectively writing about parenting, faith, and the joys and trials of life while leaving her readers with hope and encouragement. You can find her on Facebook.
---
In the past, as I closed out one year and welcomed another, I would plan, set goals, and resolve. And while I acknowledged a certain element of the unknown ahead of me and desired to "hold my plans loosely", I generally felt confident that the story of the coming twelve months was mostly mine to write. However, 2020 shattered any illusion of predictability and control that I might have claimed. I imagine many people can say the same.
In 2020 the seemingly untouchable pillars of our American lives crumbled. Churches and businesses are shuttered, kids are not allowed to attend school, foreign borders are closed to us, gatherings in our own homes are illegal, and most human interactions occur with faces covered. Is there anyone who held last year's New Year plans loosely enough to account for this? With this fuller understanding of how unknown the future truly is, how should we enter 2021?
In the book of Exodus, we read the story of God's spectacular rescue of the Israelites. He dramatically led them out of slavery, oppression, and cruelty, and into the vast unknown. His very presence guided them in a pillar of cloud by day and a pillar of fire by night, but within six weeks the Israelites were reminiscing about those good old days under Pharaoh's brutal rule when they had all they wanted to eat (Exodus 16). The mystery of how God might provide for their basic needs had them longing for the comfort of their familiar bondage. Later in their journey, the uncertainty of how God would deliver the Promised Land into their possession made the Israelites doubtful, fearful, and again, longing for Egypt, the place of their enslavement.
"Why is the Lord bringing us to this land only to let us fall by the sword… we should choose a leader and go back to Egypt."

Numbers 14:3-4
The Israelites had a traumatic past and were living in a present where they were not always privy to the details of God's provision, but their future was secure! God was with them, and He had promised them goodness and blessing, not because of who they were, but because of who He is. None of the obstacles they encountered surprised Him. They need only trust and obey Him, and He would supply their every need.
In a similar way, we have just exited a challenging and difficult year, and the details surrounding 2021 are tenuous and murky. The unknown chafes at my desire for control. But 2020 taught me that when the things I usually control are stripped away, I am left with God himself, and that is always enough. I don't know the exact ways that God's provision will find me this year, only that it will. He will supply all my needs (Philippians 4:19), He has given me everything I need for life and godliness (2 Peter 1:3), and He is working all things for my good (Romans 8:28). 2020 was not a surprise to Him and 2021 holds nothing that has not been sifted through His gracious and loving hands.
Psalm 119:105 says, "Thy word is a lamp unto my feet and a light unto my path." I don't have a physical manifestation of God as the Israelites did, but I do have His Word and His Spirit. I imagine 2021 as an obscured path leading only God knows where. I will simply be putting one foot in front of the other, keeping my eyes on the One who holds the future, and my hand clasped in His. As the old gospel song says:
I don't know about tomorrow

I just live for day to day

I don't borrow from the sunshine

For its skies may turn to gray

I don't worry o'er the future

For I know what Jesus said

And today I'll walk beside Him

For He knows what lies ahead

Many things about tomorrow

I don't seem to understand

But I know who holds tomorrow

And I know who holds my hand

Ira Stanphill
---
Kara is the wife of 20+ years to Caleb and the mother of 5, including 2 through the miracle of adoption. She and her family live on 8 acres, raising cows, goats, chickens, and turkeys, as well as a large garden. She is passionate about hospitality, mothering, the intersection of farm-life and faith, and finding beauty in the commonplace. She enjoys her classics bookclub, walking her country road, and traveling with her large family. She occasionally blogs at goodgiftsfarm.com, but you can keep up with her more regularly on Instagram @good_gifts_farm.