Anchored Voices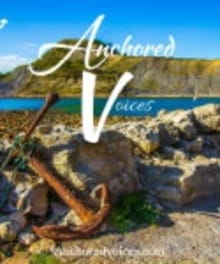 I have been reprimanded several times lately, by different individuals. Even though not all were harshly delivered, they took me by surprise and bit into my fragile ego. I instantly felt like an eight-year-old, caught with my hand in the cookie jar. I'm a grandma for goodness sake! Shouldn't I be past the age of getting scolded?
Each time it happened I had to process how I would respond. I could let it grow and fester into an angry fire of resentment. I could dwell on the scenario until it grew all out of proportion. Or, as I often do, I could let it bully me into a simpering heap. But I decided I wanted to let God use these words from others to help me grow and mature.
I want to be moldable in my Savior's hands. The phrase "stiff-necked" is used In the New International Version of the Bible to describe people who refuse to follow God's instructions. I never understood this expression until I had children. The first time my sweet baby girl got in trouble her body went rigid and she stiffened her neck in defiance of the impending discipline. Ah, so that's what it looks like I nodded.
The Father sums up our propensity to resist correction: "…they did not listen or pay attention; they were stiff-necked and would not listen or respond to discipline" (Jeremiah 17:23). Not every biting or sarcastic comment is a message we need to hear, but sometimes they have a nugget of truth; even more so, loving words of correction from those who know us.
My hope in the midst of unasked for rebuke is that in Christ I can become better. I'm not who I was yesterday, and tomorrow I will not be who I am today. I am constantly being made into the likeness of my Savior—an admittedly painful process—like coal under intense heat and pressure on its way to becoming a diamond.
Usually, my first response when chastised is to defend myself and make excuses, either mentally or verbally. If the reproof is unkind I want to discount it as invalid. But it doesn't matter how the reprimand comes—with loving intent or in a backhanded verbal assault. It doesn't even matter who delivers the reprimand, whether they know me, or understand my motives. All that matters is what I do with what I hear.
So, still bleeding a little, I limped to God in prayer and poured out my heart. I told Jesus what they said, which He already knew, and how much it hurt, which He already knew. And He helped me sift past my humiliation to find the truth:
What did I need to hear in what they said? (Have I been self-absorbed, prideful, ungrateful, annoying?)
What do I know about the speaker? (Are they mature, wise, under pressure, worried, in pain, discerning?)
What is true about my Savior? (Is He bigger than my big mouth, more faithful than any friend, forgiving and gracious, kind and merciful, able to create beauty from ashes and diamonds from coal? Can He effect change in me even now?)
The book of Proverbs is full of warnings about what happens when we refuse to listen to Wisdom's rebuke and the blessings that come when we do. There is no age limit on spiritual growth. We all need an occasional "talking to" when we fail to recognize our own destructive habits, skewed beliefs, or dishonoring behavior. It's easier to accept a rebuff when the wounds come from a friend, but God can even use the words of a stranger to speak to us when we need to hear it.
I'm not volunteering for more, mind you. But after mulling things over, I am grateful for these opportunities to trust God again with my heart. He never fails to use the hurtful things in life for good.
---
Beth Vice is a wife, author, speaker, mom, mother-in-law, grandma, and Jesus seeker. She loves taking care of her husband Kelly and the home they share on the Oregon coast. She teaches their Sunday morning small group and leads critique workshops at Oregon Christian Writers conferences, where she serves as the In-Person Critique Group Coordinator. Beth has six books currently available and is working on the next two—a divorce recovery book for women and a Bible study on Revelation. Beth has a heart for women; she has found new delight in leading retreats at she and Kelly's vacation rental at Black Butte Ranch, and wherever else God might lead her. She blogs at Epiphany: http://www.bethvice.com/. Beth loves getting outside for hikes and gardening, but prefers snuggling inside with a good book or coffee with a friend, in nasty weather
---
I sat at a chic bistro table on a sunny back patio sipping iced coffee with three other women. I'd asked a friend if she wanted to start a Bible study with me, and she'd invited two of her friends, and here the four of us sat, trying to work out the ground rules of our new group. I'd never met my friend's other friends, so our conversation quickly filled with getting-to-know-you questions. I soon found myself spilling the details of my past year.
It had been the worst year of my life. After birthing my fourth child, I'd recovered awareness of past child sexual abuse, spun into postpartum psychosis, and endured a psychiatric hospitalization. After I got out of the hospital, an over-medicated stupor descended, followed by a deep depression, another manic episode, and an eventual diagnosis of bipolar disorder. I was just, that month, beginning to regain an uncertain equilibrium.
The two strangers were a bit stunned by this tale, as anyone would be. Then one of them—I'll call her Krista—spoke up. "Your story is reminding me of a Bible verse," she said. "Isaiah 48:10-11." And she flipped to it in her own Bible, reading it out confidently as birds chirped in the trees behind us.
See, I have refined you, though not as silver;
I have tested you in the furnace of affliction.
For my own sake, for my own sake, I do this.
Krista didn't know it yet, but she was about to endure her own season of affliction. Shortly after that first Bible study meeting, a routine ultrasound would reveal that the baby she carried in her womb suffered from a fatal genetic disorder. She would carry the baby to term, struggle through several incredibly difficult months in the NICU, and finally say goodbye to her second child.
And there on that pleasant sunny day on the back patio, poised between the worst year of my life and the worst year of hers, Krista named for us both one of the most challenging theological lessons of all: sometimes, God tests us in the furnace of affliction. For his own sake.
How is this good news?
Before I go on, let me stop and say that I do not believe God causes terrible things to happen. Child sexual abuse, mental illness, fatal genetic disorders—these are not the works of God's hands. Yet when God allows these things to happen to us, he is allowing his children to be tested. And he does this, Isaiah says, for his own glory.
I believe this is a hopeful word for one simple reason: the God of this universe has tied himself to us. If God, the Almighty Victorious Ruler of All, has bound his own glory up with the way that we, frail children of dust, endure suffering, then we are more important to God than we can ever imagine. If our affliction reveals something about the glory of God, then we are part of a much larger and more mysterious story than we ever knew.
Verse 11 continues:
How can I let myself be defamed?
I will not yield my glory to another.
Beloved: whatever furnace of affliction you are being tested in right now, know this: God himself is with you in the fire. God himself will make it all come right in the end. Because God himself has bound his reputation, his glory, up with your story. And he will not let the story end badly. He will not yield his glory to another.
Krista moved back to her home state after her baby died, and I lost touch with her. Our little Bible study only met a few more times after that first meeting in the sunshine. I don't know if Krista remembers that conversation at all. But I have held onto Isaiah 48:10-11 ever since. Somehow, I find it incredibly comforting to know that whatever furnace of affliction I find myself in, God is still in control. God has bound his glory up with me, and he will not yield it to another. I am safe—perhaps not comfortable, or free of pain—but safe, in an ultimate and trustworthy way, in his arms.
---
Sarah L Sanderson is a writer, speaker, pastor's wife, and mom of four. Find more of her work—including updates on the memoir she is currently writing about abuse, mental illness, faith, and her great-great-great-great-great-grandmother—on www.sarahlsanderson.com, or follow her on Facebook, Instagram, or Twitter.
---
In him was life, and that life was the light of all mankind. The light shines in the darkness, and the darkness has not overcome it.

John 1:4–5 NIV.
Darkness pours from the TV screen,
news of chaos, hate, and death.
Hope is a tiny light.
It may be dim
but the faith it brings
gives clear sight.
Darkness seeps into my mind,
thoughts of despair, grief, and fear.
Hope is a holy light.
It stays with me
and combats unrest
with truth that's right.
Darkness shrouds all that is good,
concealing peace, faith, and love.
Hope is eternal Light.
It never dies,
nor is it overcome
but wins the fight.
With hope held tight,
darkness is never complete,
hatred never wins,
death He does defeat,
and love shines ever bright.
In the midst of darkness, seek His light.
In the midst of darkness . . . hope.
---
Linda L. Kruschke is the author of My Name Is Beloved, winner of the Unpublished Memoir category of the Oregon Christian Writers Cascade Writing Contest, as well as a self-published author of two poetry books. She is a wife, mother, active member of her church, former Bible Study Fellowship leader, and recovering lawyer. She works as the Director of Legal Publications for the Oregon State Bar. But her real passion is sharing God's healing grace with others, especially those haunted by sexual trauma and abortion. She struggled with major clinical depression for many years, but through the power of forgiveness has become a fearless follower of Christ, living in the assurance of her salvation and God's love. She blogs at Another Fearless Year and Broken Believers.