Anchored Voices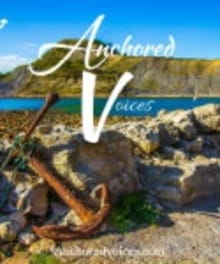 There is little that comes more naturally in life or is taken for granted more than breathing. It is something that I don't thank God for enough or even contemplate the nuances of. I took a walk earlier and as I was walking and asking the Lord what he had to say through me about breathing, He was once again faithful to put many thoughts in my head. I stopped by a coffee shop to jot down notes before they left the quiet places of my mind, and I was overcome with gratitude for all the ways God has used this seemingly simple yet complex word physically and spiritually in my life.
Physically Breathing
Genesis 2:7 says, "Then the Lord God formed the man of dust from the ground and breathed into his nostrils the breath of life, and the man became a living creature." God literally gave us breath. It's because of the life that He gives that we breathe without even thinking about it. He created our complex bodies to be able to breathe the air around us.
My newest niece was born. The miracle of birth has always been something that fascinates me. As I sat in the hospital holding this tiny girl, I couldn't believe that I could finally look at the face that I had wondered what would look like for so many months. Even more than her precious face, I was fascinated that this tiny human body has all the same complexities as the one that I've been living in for 30-some-odd years. Her tiny little breaths were breathing the same air as I was, and only hours old, her body knew instinctively how to breathe outside of the womb. Her Creator had designed her so intricately, beautifully, and profoundly.
After that day, it would be a couple of weeks before I got to cuddle that sweet girl again. About a day later, I thought my allergies had flared up but it turned into a nasty chest cold. I'll spare you all the details, but between that, and the true allergies that living in the Pacific Northwest bring this time of year, I quickly realized how much I take being able to breathe (and sleep) normally for granted. I encounter people quite often who need assistance breathing, and I know that my illness was nothing close to what they encounter.There were definitely times when my coughing attacks worried me and those around me. What a relief that first breath was after the coughing stopped.
Spriritually Breathing
Just as physically breathing comes easily and is often taken for granted, the Lord has been faithful to point out some spiritual "breaths" in my life. These are things that I almost do without noticing, or that He does in and through me that I take for granted on a daily basis.
There is a song that I haven't thought of in at least a decade that has been going through my mind a lot lately. "Breathe" was originally written by Marie Barnett in 1995, and has been recorded by many Christian artists over the years. It's hard to remember when I first heard it, but it was definitely a staple in my youth group days. The lyric that keeps repeating itself in my mind goes, "This is the air I breathe, Your holy presence, living in me."
As a follower of Christ, I am truly blessed to have the Holy Spirit living in me, directing me, and comforting me in many ways. Breathing in His presence, His guidance is something that I do more often than I realize sometimes, and it's something that others notice about me. One day recently at work, a regular customer asked me to keep him in my prayers. I have never mentioned my faith to him, but he said that he knew I was a believer from previous interactions we had. That, my friends, is His presence in me, flowing out of me like the air that I breathe.
You better believe I said a quick, silent prayer for that man, and just as God's presence is like a breath of fresh air, our prayers can be too. I've said before, both in writing and in person, that prayer is hard for me. It's an area that the enemy uses to get me down. I often think my prayers aren't big enough, grand enough, or even scheduled enough. I regularly find myself praying, "Lord, teach me to pray, to desire to spend time in prayer." While these are not bad things to ask for and desire, God has been generously pointing out the small prayers that I am continually praying.
1 Thessalonians 5:16-18 says,"Rejoice always, pray without ceasing, give thanks in all circumstances; for this is the will of God in Christ Jesus for you." Because of the Holy Spirit's work in my life, I find that this happens more naturally than the enemy would like me to believe. There are definitely times that we need to sit in His presence and spend extended time in prayer with the Father, but praying can also be like breathing. The seemingly small, in-the-moment, shorthand prayers, are effective too.
Breathing, both physically and spiritually are things that we often taken for granted. Exercises can be done for both to improve the efficiency, but I can't help but think there's a reason God created us to breathe. Without this reminder of these gifts that come so naturally we often take them for granted, we'd miss seeing the blessings God places in every moment.
Where do you see God breathing life into you today?
What is He providing for or doing in your life that you often don't realize or take for granted?
Inhale, exhale, open your eyes, and look for the God who gives you each breath.
‭‭
---
Karly Grant is a 30-something, single, enneargram 9, follower of Jesus who likes to keep life entertaining and real. The circumstances of the last few years of her life have held many twists and turns, but she can't wait to see where God leads. She has a heart for adoption and is waiting to see where the Lord guides her on this path. She can often be found in a coffee shop, curled up with a good book, or spending quality time laughing and having fun with her family and friends.
---
When I think of legacy, I remember being snuggled in my bed, surrounded by the soft comfort of an old down blanket, I stared at my phone watching the playback of an old live-stream from Inglewood Baptist Church.
My Great Uncle Don Jones and his friend (another retired missionary), in a beautiful crescendo, gloriously sang the words:
"No more death when we get to heaven. No more death when we get to heaven…Hallelujah, Hallelujah…no more death! No more death, but life forevermore."
Earlier that day my Great Uncle stepped into that life forevermore; for him death is no more. He is in the presence of the Savior to which he dedicated his life, and for him there could be no better day. Those of us left behind feel the pain of loss; for him there is no more pain. I am so thankful for the prayers he prayed for me, and the support he gave me in the ministry I have had the privilege of being involved in. My thoughts of him that night were tainted with grief, yet sweet and hopeful for his new home. As my eyes became heavy with slumber, my last thoughts settled on, "What a well lived life."
He was 88 and was still teaching, singing, and serving others because of the love first given to him by Jesus. Prayers swelled in my heart to my Savior, that I too would live a life with that type of legacy. Loving God and loving people, knowing God and making Him known, a legacy of Philippians 1:21, "To live is Christ, to die is gain."
His wife Nita was likewise filled with bold gentleness, and together they were missionaries in South Korea for 36 years as they raised their two children. I still remember her hugs… for some reason that is my clearest memory of her. It wasn't really the hug itself but the feeling of deep comfort wrapped within them. She died in 2004, but the love they shared didn't. You still saw and felt it when he spoke of her.
I remember sitting with my grandmother and my mother huddled around our giant box of a TV watching the 1988 Seoul Olympics where Don and Nita were serving as translators. Every time their event would come on someone would yell, "Hit the record button!" as we tried to catch a glimpse of our family members on the sides of the diving pools of the world-wide competition. With such a small view of his life and his impact for God's kingdom, I naively thought this was the coolest thing about my Uncle Don. I shrugged my shoulders at the work he was doing in Korea, that he held a Masters and a PhD, and that he had walked faithfully with Jesus since childhood. The Olympics, that was what impressed 6-year-old me. But what sticks with me now, and will remain until my own walk into eternity, is the race of faith he ran.
I look to them, this generation that went before and I dream for my children and their children. When we lose a family member who reaches the end having truly glorified Christ, we are compelled to ask: "How did they get there, and how can I do the same?" My Great Uncle and Aunt did it, my Grandparents did it, and I want to do it. Legacy doesn't mean dying after a long life and being fondly remembered, but living well and making an eternal impact.
Now he sings a new song, one too beautiful for me to yet comprehend; it harmonizes with what his life sung of the grace and glory of God.
"If then you have been raised with Christ, seek the things that are above, where Christ is, seated at the right hand of God. Set your minds on things that are above, not on things that are on earth. For you have died, and your life is hidden with Christ in God. When Christ who is your life appears, then you also will appear with him in glory." Colossians 3:1-4
---
Chara Donahue enjoys freelance writing, Biblical counseling, and speaking to women when her four kids are out playing with dad. She holds a MSEd from Corban University and is passionate about seeing people set free through God's truths. She is a regular contributor at Portland Moms Blog and her words have appeared at (in)courage, Christianity Today: Women Leaders, and The Huffington Post. She longs to be a voice that says, "Hey we are in this together, and there is room for us all." You can find more from Chara at One Anchored Voice, on Facebook, and on Twitter.
---
The most transformative discipline affecting my spiritual health has been, without a doubt, spending time in God's word. I say discipline, because spending daily time in the Bible is not always easy. Roadblocks try to separate me from reaching for God's truth: time, commitments, even reading other text written from fellow believers. Why do I practice this spiritual discipline?
Here are 5 reasons why I spend time in the Bible daily:
We are in a battle folks, a battle against good and evil. A battle that is waging a war for our souls.Ephesians 6:14-18 shares, "Stand therefore, having fastened on the belt of truth, and having put on the breastplate of righteousness, and, as shoes for your feet, having put on the readiness given by the gospel of peace. In all circumstances take up the shield of faith, with which you can extinguish all the flaming darts of the evil one; and take the helmet of salvation, and the sword of the Spirit, which is the word of God, praying at all times in the Spirit, with all prayer and supplication." We wouldn't go into battle without first gathering all of our equipment, and going into battle against the devil should be no different. God's word equips us with truth that will not lead us astray, even when lies and deceit are swirling around us.
Our hearts and flesh fail. Take heart though, friend. God is our strength. Many verses point us to this truth. Psalm 73:26 says, "My flesh and my heart may fail, but God is the strength of my heart and my portion forever." Filling up on verses that point us to God's strength are needed in times of trial. We can't do this on our own, but God can.
The Bible is chalk full of sage advice on topics such as wisdom. Proverbs 3:13 shares, "Blessed is the one who finds wisdom, and the one who gets understanding." Scripture will always point us back to God, no matter the topic. When we need the best advice, we can go to God's word for the clearest answers. James 1:5 states, "If any of you lacks wisdom, let him ask God, who gives generously to all without reproach, and it will be given him."
Scripture equips us for every good work. 2 Timothy 3:16-17 declares, "All Scripture is breathed out by God and profitable for teaching, for reproof, for correction, and for training in righteousness, that the man of God may be complete, equipped for every good work." Spending time in God's word prepares us to serve and love His people.
God's word is counter cultural, and teaches us to seek peace. We are living in world that constantly bombards and persuades us to reciprocate wrongdoing with more hatred or evil. An eye for an eye. Scripture, however, shows us that as Christ followers, we are to be different. We are to seek peace. 1 Peter 3:10 asserts, "Whoever would love life and see good days must keep their tongue from evil and their lips from deceitful speech. They must turn from evil and do good; they must seek peace and pursue it." The peace of God inwardly transcends our hearts, and outwardly alters the way we live our lives.
I spend daily time in the Bible because life has a natural ebb and flow of mountains of rejoicing and valleys of mourning. Life has variables, but Scripture is constant. I want to submerge myself in truth, letting it marinate my heart. Soaking in God's word eventually overflows into all aspects of my life. This spiritual act of discipline enables me to know and love God, and ultimately, love His people more.
---
Sarah Dohman is a nurse, kayak enthusiast, coffee addict, microbrew lover, globetrotter, adorer of friends and family. She has a weakness for donuts, runs in 5K races, and cannot get enough tea and books. She loves writing more than talking (and she talks a lot), can be seen at Target frequently, and is loving life in her thirties. She believes God has called her to this space to bring joy and encouragement through words to friends and family, near and far. You can find more from Sarah on her blog or on Instagram.
Sarah Dohman is a nurse, kayak enthusiast, coffee addict, microbrew lover, globetrotter, adorer of friends and family. She has a weakness for donuts, runs in 5K races, and cannot get enough tea and books. She loves writing more than talking (and she talks a lot), can be seen at Target frequently, and is loving life in her thirties. She believes God has called her to this space to bring joy and encouragement through words to friends and family, near and far. You can find more from Sarah on her blog or on Instagram.