Anchored Voices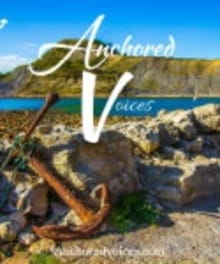 Sacred romance embrace my heart. Desire
ignite the flame. No fear of being hurt.
A love affair, silent and bare. Inhale
to stand alive. I run to play with fire.
Untamed, so wild, the danger tempts, I come
to You oh Lord. Embrace my spirit, I'll taste
the life You died to give. I will not waste
the zest, the zeal. I breathe, no longer numb.
The thunder storm, the lightning chase, vibrant
I pace the pulse of joy. Exhale in shouts,
In praise I sing. To learn I want it all.
To turn away, is sin. I won't, I can't.
Resound the heart of God, with faith, not doubt,
Not safe, but worth the risk. Answer the call.
---
Chara Donahue enjoys freelance writing, biblical counseling, and speaking to women when her four kids are out playing with dad. She holds an MSEd from Corban University and is passionate about seeing people set free through God's truths. She is a regular contributor at iBelieve and her words have appeared at Christianity Today's Women Leaders, Crosswalk, (in)courage, and The Huffington Post. She longs to be a voice that says, "Hey we are in this together, and there is room for us all." You can find more from Chara at One Anchored Voice, Facebook, and Twitter.
---
No one has seen God at any time;

if we love one another, God abides in us,

and His love is perfected in us.

1 John 4:12 (NASB)
A decade's worth of family
Enough to fill the heart
With hope, love, and happiness
Even when we are apart
A decade's worth of hugs
Enough to go around
At least one for every day
Will make our joy abound
A decade's worth of prayers
Enough to hear from God
If we pause to listen close
To discern the Spirit's prod
A decade's worth of kindness
Enough to make another's day
All our actions steeped in grace
Helping neighbors find the way
A decade's worth of love
Enough to vanquish hate
Even when it taunts us
Love never takes the bait
A decade's worth of writing
Enough to tell the story
To touch someone's heart
And bring to God all glory
What a decade is worth
Depends on how you spend
Each day and precious moment
From its beginning to its end
---
Linda L. Kruschke is the author of My Name Is Beloved, winner of the Unpublished Memoir category of the Oregon Christian Writers Cascade Writing Contest, as well as a self-published author of two poetry books. She is a wife, mother, active member of her church, former Bible Study Fellowship leader, and recovering lawyer. She works as the Director of Legal Publications for the Oregon State Bar. But her real passion is sharing God's healing grace with others, especially those haunted by sexual trauma and abortion. She struggled with major clinical depression for many years, but through the power of forgiveness has become a fearless follower of Christ, living in the assurance of her salvation and God's love. She blogs at Another Fearless Year and Broken Believers.
---
As excited as we get during the Christmas season, as thankful as we feel for the perfect gift of God's son, there's some dead space, some apprehension between the warmth and glow of the manger and what we believe God may have in store for us in the future. As we move from "Merry Christmas" to "Happy New Year," many of us (myself included), face the new year with a great deal of apprehension.
Maybe last year didn't turn out how you hoped. Perhaps tragedy played a big part in your year. Sometimes wondering what God has in store for us is a terrifying thought. We start to think—what will He spring on us next?
I believe this is a false view of the God we serve. This is a picture of a capricious god, a sadistic prankster, who sticks a foot out to trip us, plays roulette with our lives, and then laughs. Or perhaps we just see a god who doesn't care, who is busy with something else and might be careless with our lives.
Episode #220 of Jamie Ivey's podcast "The Happy Hour" with Tara-Leigh Cobble. In this episode, Jamie and Tara talked at the end about the kindness of God. It was actually pretty remarkable they ended there because Tara has recently experienced a great deal of personal tragedy including the death of two family members. During the conversation, Jamie says, "We don't deserve anything besides God's wrath…and then look what he continues to do. He's so kind. He's the nicest!"
What does this have to do with the future and a new year? As we look forward, we aren't promised it will be easy or pleasant, but I know for certain we can trust in the character of our God. He isn't capricious or sadistic or bored or careless.
I will tell of the kindnesses of the Lord,
the deeds for which he is to be praised,
according to all the Lord has done for us—
yes, the many good things
he has done for Israel,
according to his compassion and many kindnesses.
Isaiah 63:7 (NIV)
Our God saved us because of His kindness, because of His love, because of His compassion. As we look toward the coming year, to the future, let's temper our trepidation with trust that God loves us as His children. Not a hair falls from our head that He doesn't know about. He is full of kindness and compassion. I love the story from the Bible that illustrates God's fatherly care found in Luke 11:11-13 (NIV),
Which of you fathers, if your son asks for a fish, will give him a snake instead? Or if he asks for an egg, will give him a scorpion? If you then, though you are evil, know how to give good gifts to your children, how much more will your Father in heaven give the Holy Spirit to those who ask him!
Be on the lookout for God's kindness because it is who He is. A God rich in mercy, compassion, and loving kindness.
Reader: In spite of the really hard things in life that either lie ahead or that you will continue to face, where is God showing His kind, gentle hand toward you?
---
SARAH CLEWS LOVES BEING THE WIFE OF CARSON AND MOTHER TO THREE LITTLE GIRLS. SHE RECEIVED HER DEGREE IN ENGLISH FROM CORBAN UNIVERSITY AND STILL LOVES THE CRAFT OF WRITING. SHE ALSO HELPS HER HUSBAND RUN A MARTIAL ARTS SCHOOL. IN HER FREE TIME, SARAH ENJOYS TALKING WITH GROWN-UPS (!), FINDING NEW AUTHORS, DOING ONLINE RESEARCH, AND READING HER FAVORITE CHILDHOOD STORIES TO HER GIRLS.