Lindsey Carlson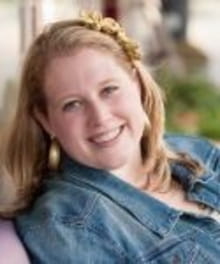 One of my greatest pleasures in this writing world is having the privilege of relationships with other writers. When they write the book, I pray for them. When they release the book, I rejoice with them and celebrate. But most obviously, I read their books and learn from their wisdom.
Today I am thrilled to introduce you to my sweet friend Trillia Newbell and her new book:
United: Captured by God's Vision for Diversity
Trillia Newbell has lived life in a way I haven't; as a black woman. No matter how hard I try to empathize, I haven't lived in her skin and faced the same challenges and trials. With grace and kindness, this book offers me the chance to see through her eyes and peek into experiences, thoughts, and hurts – ones I might not naturally bump into in my own daily life. Trillia's life and her love for Jesus equips her to write passionately and wisely on what she calls "God's Vision for Diversity."
I haven't devoted much thought to diversity over the years and I'm probably more ignorant than knowledgable on many racial issues. If it wasn't for a friend writing a book, I probably would not have sought out a book about ethnic diversity on my own. But I'm just the person Trillia is probably aiming for; the people who don't know they could benefit from a conversation about unity in the church. She hits the nail on the head when she assesses oneproblem many may relate to:
"…more often than not, we choose apathy before we aggressively seek to learn about others (p. 133)."
United prompts Gospel-dependent believers to consider their ways in regard to how they relate to those who are different: "Could it be that you are partial to those who are just like you? Could it be partiality that hinders your pursuit of diversity (pg. 108)?" How we answer these questions could indicate problems deeper than apathy and ignorance. She writes:
"We cannot live redemptive lives and hate our neighbor. Diversity in relationships not only shows unity to the world but also builds in our own hearts love for others. It is the same love that Christ has for all people." (pg. 63)
Reading this book helped me realize my own apathy often stands in the way of loving others. It encouraged me to seek sensitivity and intentionality with those who are different from me. It helped me to recognize my need for a heightened awareness of the ongoing struggles and challenges of my diverse brothers and sisters around me and encouraged me to embrace a working theology of ethnic diversity in the church. Trillia puts it this way:
"Diversity is worth having because diversity is about people, and people are worth fighting for. If God is mindful of man, shouldn't we be (Psalm 8:3-4)?" (pg. 135)
Trillia goes above and beyond to make the Gospel message clear and it's application tangible. She reminds readers the Gospel has broken down the dividing walls of hostility between sinners and their Holy, Righteous God. Because of this good news, we should live lives that reflect such unity. By pursuing relationships with people of every race we break down the walls still standing in our own lives. Using examples from her own life, she offers potential relational hang-ups and possible solutions for heading in the right direction.
This book isn't a history lesson seeking to fill you in on America's past. It also isn't a diatribe, shaming people like me who simply haven't put much though into diversity. This book is a peek into a young woman's personal struggle to understand her identity as a black woman, a sinner saved by grace, and a Church member seeking her sanctification and God's glory within the body of Christ. Trillia's learned the Good News should impact how we view and pursue diversity in our lives and our churches and she calls us to learn too.
Pick up your copy of United: Captured by God's Vision for Diversity, today!
**Win a copy by heading over to my blog and commenting with your name. Winner will be chosen Monday morning! (No purchase required, book will be shipped free of charge!)
---
It's been sixty days since I took up the challenge to read the whole Bible in 90 days. And so far, soooooo good. By grace, I'm right on track: 2/3 of the Bible in 60 days!
I feel like reading this quickly has helped me establish mile-markers in my understanding of the Bible's chronology. Previously, it's as though my brain had filed each Bible story on a separate sheet of paper, tossed them up in the air and filed them however they landed. When I went back to my brain to retrieve certain stories (i.e. God calling Samuel, David's anointing, or the Fall of Jerusalem), I had a hard time understanding where they were supposed to fit in. Reading through chronologically and quickly enough to recall what I've just read has helped me to clean out my brain's filing cabinet and re-file the information in the proper order.
Understanding of God
I loved reading the Psalms in chronological order. I learned more about David's emotions and how he turned to the Lord in joy and suffering. I enjoyed placing the more commonly known Psalms in their context and understanding why they were written. Watching God sustain David as he poured out his heart, reminded me of how good it is for me to pour out everything to the Lord. He wants to comfort me and is faithful to do so.
Saturating myself with stories of multiple bad kings (and a few good ones), wicked disobedience, idolatry, and God's judgment on sin, I am reminded of how bad people have always been. I often hear people talk about how "bad" things are becoming and how people are more depraved than they used to be. The only thing new about these modern lamentations is the voices. The sin and depravity are the same old song from the days of the prophets. And just as God was faithful then, we know He is faithful still. Reading these Old Testament accounts of fallen kingdoms reminds me of God's sovereign control and faithfulness to His people – amidst wicked leaders, the falling of nations, and political unrest.
Reading the prophets words to these wicked people interspersed through the historical accounts of Kings and Chronicles helped me to see how God never abandoned the people. Even in their sin, God was calling for them to return and repent. He reminded the people of His faithfulness in the past and assured them of His coming deliverance. God wants to cultivate my faith by both reminding me of his past faithfulness (throughout scripture and in my own life) and His coming faithfulness of bringing me home eternally.
Challenges
This set of thirty has been a little harder than the first thirty. First and Second Samuel, Kings, and Chronicles, Psalms and Proverbs, and flipping between the prophets is very interesting, but I'm realizing how much less familiar I am with this portion of scripture. While my unfamiliarity makes me want to learn more, the quick-paced track doesn't allow me to sit and soak it in and study more in-depth. At least now I know what I should go back and study once I'm done with the 90 days!
When I say this chunk has been harder, I also mean physically. I've been tired, the kids have been on spring break, we've had birthday celebrations sprinkled in, distractions abound. There are days I open the Bible and am fighting to keep my eyes open. Other days I haven't been able to read at all and then have had to double up the next day. I want you to know this, because I don't want you to have a rosy picture of how easy this is. Re-reading annoys me. Missing days puts me behind and makes me work harder later. But, I don't want my eyes to simply glaze over and miss the meaning of the words. So, re-reading or playing catch-up is a reality sometimes. There you have it.
The Longing
I have never longed so much for the New Testament. Sixty days of brokenness, sin, repentance, wicked disobedience, and the cycle of sin and sacrifice will make you long for the Redeemer. I've never seen so clearly my propensity toward sin and my need for lasting atonement. The Old Testament sets you up to understand your sin and need. I need Jesus and I can't wait to meet him in scripture when He steps on the scene in my reading plan just ten days from now. For now, I appreciate the longing.
The Prayer
Would you pray for my final thirty days? Pray for me to grasp more of who God is through my reading. Pray I would retain His Word as I read quickly. Pray I would continue to see fruit from immersing myself in Truth.
How's your Bible reading going? Are you ready to read and need prayer? I'd love to lift you up!
---
Consider your ways. Think about them. Think about your ways throughout your days, your weeks, your years. Why do you do what you do, when you do what you do? Perhaps you're like me and the mere question stirs up guilt, shame, or nervousness over what you aren't doing? Or, maybe it stirs up pride in what you are legalistically boasting in.
Over the past few weeks our Sunday morning Bible fellowship has been studying the book of Haggai and it's really shaken me up. The book of Haggai takes place after the people of God returned from their exile in Babylon and almost twenty years later God's temple still remains in ruins. Apparently, the people decided repairing and restoring the temple wasn'tthat important: "These people say the time has not yet come to rebuild the house of the LORD (Haggai 1:2)."
About that time, the word of the LORD came by the hand of his prophet, Haggai:
"Is it a time for you yourselves to dwell in your paneled houses, while this house lies in ruins? Now, therefore, thus says the LORD of hosts: Consider your ways." (Haggai 1:3-5)
The knife of conviction twists as I think about how often I waste time on longing after, pursuing, building, and dwelling in my own version of "paneled houses"- all those objects of my affection that don't really matter in the scheme of eternity – how I look when I walk out the door, the trendiness of my house's decor, how many friends "liked" my status on Facebook today, or how many loads of laundry I tackled. Like God's people in the days of Haggai, I often find myself sowing much and harvesting little, drinking but never having my fill, earning wages to "put them into a bag with holes (1:6)."
The Lord's strong admonition through Haggai, is "Consider your ways."
In those days, God called the people to rebuild His temple so that He may take pleasure in it and be glorified (1:8). As they work, He calls the people to be strong (2:4) and to work knowing He is with them according to the covenant He made with them (2:3-5). He reminds them to "Fear not," for He will "fill this house with glory (2:5-7)."
Every day when I consider my ways, I face the reality of my own sin and the laws I've broken and neglected. But every day, unlike Haggai and the Israelite people He prophesied to, I have the privilege of standing in the beautiful grace I've received through Christ.
"The sting of death is sin, and the power of sin is the law. But thanks be to God, who gives us the victory through our Lord Jesus Christ." 1 Corinthians 15:56-57
My desire to pursue holiness, to glorify the Lord in my earthly body, and to see the world come to the saving knowledge of Christ, requires me to regularly "consider my ways" and to keep a focused eye on eternity. But the grace I receive in Christ allows me to work diligently with a humble heart, knowing it is Christ who is accomplishing His purposes in and through me.
"Therefore, my beloved brothers, be steadfast, immovable, always abounding in the work of the Lord, knowing that in the Lord your labor is not in vain." 1 Corinthians 15:58
Consider your ways today. What do you need to ask the Lord to help you prioritize for Him to be glorified and His name be known