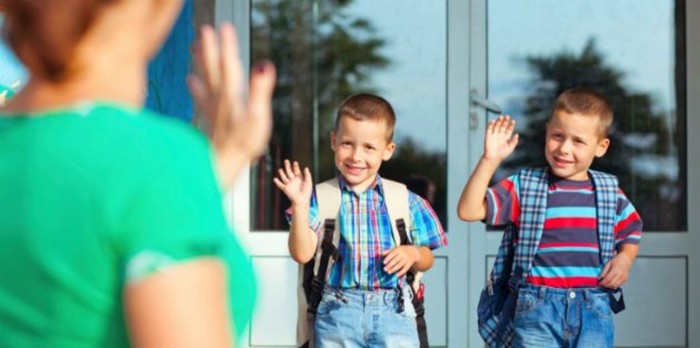 My schooling or other parenting choices should never be based on formulas and idealism, but instead on faith in God's goodness, depending unswervingly on His abounding grace.
I never planned on homeschooling.
Initially, I liked the idea of sending my kids off to school to learn from trained teachers, to make glittery crafts, and to giggle with friends on the swings at recess. But more than glitter and giggles, I also wanted to "train up my child[ren] in the way [they] should go (Proverbs 22:6)," teaching them God's Word and shepherding their hearts. I wanted them to know the gospel, that Christ died for the forgiveness of their sins. I desperately hoped they would love Jesus. And so when our first child was four, my husband and I decided to abandon our ideas of what we thought schooling would look like and instead give homeschooling a try.
The Ups & Downs
The past four years of homeschooling have been filled with fun moments and challenges. I've loved being with our kids. I've enjoyed our curriculum, the unfolding discussions, reading great literature together, and the freedom of doing school my way. I've loved studying the Bible together, memorizing scripture, and all the spontaneous silliness.
But there have also been parts I loathed.
There were many desperate days; I persevered through two pregnancies, seasons of bed-rest, and two surgeries. I taught with little sleep, screaming newborns, and with toddlers breaking things and coloring on walls, every year hoping I'd do better the next year.
Last fall, I had a second grader, a kindergartner, a three-year-old, and a one-year-old and yet my same characteristically unrealistic expectations for the year. I planned new schedules, made posters and systems, and purchased new curriculum. This year I'd try harder, focus more intently, and be more self-controlled.
This would be the year I rocked at homeschooling.
Only, it wasn't. The systems and schedules didn't help everything get done, the curriculum didn't lend itself to two wiggly babies, nothing magically changed and I remained generally overwhelmed. Living in constant survival mode, I clung tightly to my choice to homeschool, ignoring the fact that I was dying on the vine.
Then Everything Changed
When February rolled around, I overheard a friend talking about a small, classical charter (*free!) school in our area. They were hosting an open house that weekend. It sounded great, but I was hesitant because it wasn't homeschooling.
Could I still raise my children to love the Lord, even if they weren't homeschooled? Could I honor God with my parenting, even with my kids in public school? Did I trust God with my children's salvation?
As I prayed, the Holy Spirit revealed an ugly truth: somewhere along the line, I had stopped trusting God with my children. Instead, I trusted myself and my methods; clinging to homeschooling as if it were some sort of magic bullet. Unwilling to ask God if another scenario might be "the best option" for our family, I was resting in my own righteousness. After confessing and discussing with my husband, we decided we should at least attend the open house that Saturday.
On the following Wednesday (in mid-February) we called to put our kids on the wait-list for the fall. We'll "just see what happens," we thought. To my shock, they had a spot open now in second grade and my daughter could start Monday! My husband and I prayed, agreed to send her, and then I spent the next week sobbing. I cried as we bought her uniforms, her backpack, and her school supplies. I wept as I told my homeschooling friends. Then two weeks later I did it all again when the Lord opened another spot in Kindergarten for my son.
Resulting Grace
Thankfully, our whole family has thrived under the change. I've learned there really aren't one-size-fits-all, easy answers in the Christian life. By God's design, the parenting process is intended to draw us to the Holy Spirit, seeking His wisdom and His guidance. My schooling or other parenting choices should never be based on formulas and idealism, but instead on faith in God's goodness, depending unswervingly on His abounding grace.
Gospel-centered parenting is about so much more thanwhere our children learn to read and write. I pray my parenting elevates the importance of Christ's sacrifice and not my own (1 Corinthians 5:6-8). Thankfully, I can magnify Christ as a parent no matter how I choose to educate my kids. "Where the spirit of the Lord is, there is freedom" (2 Corinthians 3:17), and he is using all of these things to conform us to the image of His Son!
Just as God was faithful to save me from a life of sin, death, and eternal judgment, it is His sovereign mercy (Romans 9:16) that will save my children; not my works (Galatians 2:16) or my schooling methods. Salvation is a free gift from God (Romans 6:23). And for those who love God, all things work together for good according to His purposes (Romans 8:28) and God is faithful and good to guide and provide. He is able to do far more abundantly than all we could ask or think, for His glory (Ephesians 3:20-21). His faithfulness doesn't stop at the carpool line or the bus stop and it isn't withheld as a punishment for those who decide against homeschooling.
If you're keeping your kids at home this year or sending them off to school, and you're worried you might be ruining them, stop panicking. Don't trust the world. Trust God. Don't trust yourself, trust Christ. Don't trust in your formulas or your righteous works. Only trust in God's grace. He gives it freely at home and at school.
"Now to him who is able to keep you from stumbling and to present you blameless before the presence of his glory with great joy, to the only God, our Savior, through Jesus Christ our Lord, be glory, majesty, dominion, and authority, before all time and now and forever. Amen." Jude 1:24-2
---
---