Renee Fisher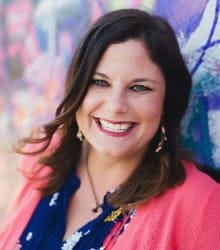 If you would have told me as a single person that I would be married and lonely, I would have laughed in your face.
Actually, many people did warn me. Various women and men I looked up to and respected told me many times that it's better to be single and lonely than married and lonely. They told me it's better to wait for the man God has for me because a man cannot satisfy my soul, only God can.
I listened.
I understood.
At least I thought I understood.
I had no clue what they were talking about until I married my husband Marc. They were right. My husband couldn't satisfy the deepest parts of me. Only God could satisfy me full to overflowing. When I began to experience loneliness, I knew.
Loneliness in marriage felt much worse than experiencing loneliness as a single person.
When I was single, I could fix my mood. I wasn't dependent on another person. If I wanted to get a massage, go out to eat, or partake in shopping therapy--it was all up to me. If I didn't like the church I was at, I could immediately find a new one. There was no discussions, no debates. Just action.
When I was single and lonely, I cried to my girlfriends. I cried at church. I cried during prayer time. I cried in the arms of my parents. I got over my loneliness because of the support and love of my community. When I was married and lonely, I cried to my husband. It felt much more difficult to me that I couldn't just fix our lack of community. It takes years to build friendships. We tried over thirty churches in less than four years of marriage and made a total of three friends.
I wasn't expecting to be miserable and happy at the same time as a married woman.
I was miserable without a community, but happy with my husband. When Marc and I got married, I thought that my loneliness in the church would end. I was wrong. I thought being single in the church was the worst position. I, again, was wrong. Being married without kids feels much lonelier than when I was single. I quickly found out how important finding the right church was important. I couldn't just find a new one. It had to suit both of us. Finding community as a married person is harder than finding community as a single person because it involves two people.
I am still trying to find my fit in God's Kingdom and His church.
When I asked Marc what he thought or if he wanted to contribute anything to my blog, he said that it's been hard for him too. He said that it was such an exciting thing to get married. He didn't want to join Men's ministry and be a part from me. He also said most Men's ministries are geared towards older men who already have kids.
I have felt the same thing about women's ministry.
A lot of it is geared towards women with children.
We both waited a long time to get married that it was pretty depressing when we couldn't find community together.
As a body of believers we all need each other. Whether we're single, married, or married with kids—we need community. Even though we had the support of both of our parents, what we craved was so much more. A small group. Friends. People to share life experiences with. It got so frustrating to find a place to worship and connect with its community that we moved. It did help to move to Texas from California because the church climate feels a lot more open and inviting.
Now that we are finding community, we are still running into the same problem: being the only married couple without kids. But instead of allowing this to hinder us from finding community, I'm diving in. Before we moved, God impressed a verse on my heart from Romans 1:11-12 that says,
11 For I long to see you, that I may impart unto you some spiritual gift, to the end ye may be established; 12 That is, that I may be comforted together with you by the mutual faith both of you and me (KJV).
The word established in Greek is sterizo. It means:
to make stable, place firmly, set fast, fix
to strengthen, make firm
to render constant, confirm, one's mind
My parents came out to visit us this past week. My dad asked me how many friends we've made since we moved to Texas. I joked with him that it was more than the three friends we made while visiting numerous churches in California. It was so refreshing to introduce them to our new friends.
I long to be friends with those who want to be friends with me. Mutual friendships.
Maybe I don't have kids yet, but I do have gifts and strengths to contribute just as much as I want to receive from others. I long to be mutually encouraged by the men and women God places in our lives during this season. I love that the word established from Romans 1:11-12 is the same word strengthen from Luke 22:31-32. Let's read:
31 "Simon, Simon, Satan has asked to sift all of you as wheat. 32 But I have prayed for you,Simon, that your faith may not fail. And when you have turned back, strengthen your brothers."
Friends, we need to strengthen others so that we can receive strength when we need it the most. Even though I am still finding my place, I love how marriage has sharpened me to see how much I desire to be in community. If nothing else, marriage has taught me that it's okay to be lonely. It's okay to cry out for community.
Question: What makes you lonely as a single person? As a married person? What do you most long for?
---
There is always a reason to celebrate!
As a Dream Coach, I often encourage my clients to celebrate whether it's completing a goal, reaching a milestone, or dreaming big. Unfortunately, there can be many hindrances, excuses, or fears as to why someone wouldn't.
Maybe it's insecurity.
Maybe it's fear.
Maybe it's thinking too highly of what other people may think.
Regardless of the answer, I do my best to help coach my clients through the process of healthy celebrating.
Me? I celebrate everything. I have been through too much not to celebrate the little things, the big things, and all the things in between.
I thought I would celebrate by making a list of gratitude to help you get started. Today, I am thankful for:
God/The Bible
My husband Marc
My family
My dog Star
My friends
My church
My new home
Living in Texas
My MacBook Air
My iPhone
Mental Health
Religious Freedom
Writing
Helping others through coaching and consulting
Laughing
Pedicures
Medication to help regulate my anxiety
Good food
Traveling
New York City (who wouldn't love it?)
Vacations
Driving fast
The ability to run (maybe not long distances but long enough for me)
Healthy skin
The internet
Shows and movies that make me laugh
Inside jokes with my husband
Facebook
Pictures (I love taking pictures)
Being self employed
My ability to parallel park
Listening to loud music (when my husband isn't around)
Praying with my friends and praying
Question: Today, do you need a reason to celebrate? What would be on your list of gratitude? Why?
---
I recently returned home from a trip to New York where I was challenged to ask the question, "How do you cling to hope?"
I had just read Romans 8 about "hope that is seen is no hope at all." The next day, we changed hotels from Brooklyn to Manhattan and I noticed it. Here was this giant HOPE sign sitting pretty across the street from our hotel in Times Square.
I believe God has a sense of humor, and that He uses all things to center our attention back on Him. I have been so busy lately that I completely forgot how much I needed to have hope in my life. Not just for the things I can physically see God changing and answering, but the things I have not seen answered yet.
Everything coordinating up to our move from San Diego to Austin to Houston was about hope. Hope for a new church community. Hope for a change of pace and cheaper living. Then, once we moved, I didn't think we needed hope anymore. Or so I thought.
We know that the whole creation has been groaning as in the pains of childbirth right up to the present time. Not only so, but we ourselves, who have the firstfruits of the Spirit, groan inwardly as we wait eagerly for our adoption to sonship, the redemption of our bodies. For in this hope we were saved. But hope that is seen is no hope at all. Who hopes for what they already have? But if we hope for what we do not yet have, we wait for it patiently (Romans 8:22-25, NIV).
Who hopes for what they already have?
No, seriously. It sounds like a simple question, but now that a lot (and I mean a lot) of my prayer requests have been answered, I am again challenged of these 2 reasons to cling to hope.
Hope for what is not yet seen.
Hope for the future.
I believe God is a God of miracles, and that He loves surprising His children with good things.
If you would have told me years ago that I would be living in Texas, in the same place I thought I had failed at serving God over a decade ago--I would have laughed. If you would have told me years ago that I would be a published author helping other first-time authors--I would have laughed.
May we choose not to be like Sarah, but instead step out of our tents of comfort into God's glorious Presence.
Let's bask in His glory even if we don't understand how God can do the impossible.
Because we don't have to.
Because God will do this for us.
Because all we need is to hold on to hope!
I am sure a lot of you can relate. When we go through periods in our life where Jesus answers our prayers, we may be tempted to think we don't need to hold on to hope.
But we do.
You never know what's coming around the corner, or when you may need hope the most. Hope isn't just for our darkest times. It's to bring our faith into alignment with Jesus Christ. To believe in who He says He is, and that He can do what He says He'll do.
I believe we are most in danger of losing our hope when we don't think we need hope at all.
During the past few months, I have been earnestly praying for purpose. Praying for what's next. Maybe instead of praying to have all the answers--I can center my hope back on God and let Him take care of all the details.
Turn your eyes upon Jesus, Look full in His wonderful face, And the things of earth will grow strangely dim, In the light of His glory and grace.
Question: How do you hold on to hope?