Jennifer Camp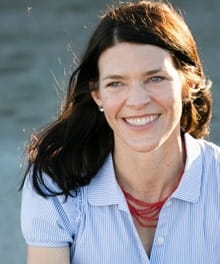 When Justin invites me to listen, to pray, asking God for a new word for this year, my head nods. I hear my voice say yes. And then I ask for my heart to catch up.
A new year's promise of new beginnings can feel heavy if we let it. Funny, isn't it, that a promise for newness. for starting over, can feel like another thing to do, to get right.
The word "beginning" suggests newness, freshness. It is the start of something, perhaps even the origination of something that has not existed before. And don't we all want that? A beginning is a positive word–usually suggesting something good: the end of a bad habit, the end of a tough situation, the end of a way of thinking that wasn't healthy and only led to a dead end.
Beginnings are the opposite of dead ends. They are the yellow brick road of possibility. What is around the corner? What new surprise, new adventure, new way of looking at and being in the world will this new beginning hold? What one word, whispered into our hearts by God, represents the new beginning God has in mind for us?
Be careful here.
To say yes to a new beginning, we first need to check in with our hearts. New beginnings are always a step toward God, not a running away from pain, not an ignoring or wishing away of a situation we wish never was.
I know this because the invitation to a new beginning used to be a way for me to try to escape a situation, ignore some deeper hurts within my heart that God wanted to heal. We must consider this: our idea of a new beginning and God's idea for a new beginning might be very different. And that's worth figuring out. Trust me. Beginnings are a charade for growth if we struggle to love ourselves, as we are, right now.
For the Loop Poetry Project prompt this week, you are invited to write a poem processing your heart's reaction to the word "beginning." When you hear this word, what is your initial reaction? Start your writing here. What images does the word "beginning" call up within you? What memories? What do you want to compare it to? What emotions are you feeling? If you are excited about a new beginning–hope-filled, enthusiastic–let your heart tell you why. And then write down, through description and images, what these emotions look like, feel like, sound like. And if you are nervous, cautious, a bit wary of this invitation to "begin" again, have your poem express that.
Another approach might be to have a conversation with Beginning, as if it were a person. Talk to this Begining as if it were in the room. Don't think too much. Don't second-guess. Let your heart speak for you. What is your heart's reaction to the word? Is it skeptical, wary? Is it optimistic, full of ideas and hopes for what this beginning will mean for you?
As you listen to your heart–and you hear the poem speaking to you–let it go where it wants to go. If your heart, your poem, wants to tell you a story about beginnings that feels kind of irrelevant to your focus–kind of side-ways and peculiar, definitely write that. Don't exclude it. Listen. Watch. See what it is, where it goes. Chase the rabbit around the room and through the hole. Let it scamper around through this hallway and then the next. Let the mystery unfold. Who said beginnings have to be clear? Who said we have to know where the ending to any beginning really is?
After you have finished writing your poem, read it aloud to yourself. Listen to it. What is your heart saying? Is it true? Then take your poem to God, this poem that you have written with Him, and ask Him what else there is to discover in it, what else He wants to show you, what else He is saying. And then….then… if you feel like this is the next good thing to do…ask Him what word He has for you this year. What adventure of a new beginning is He wanting to write on your heart?
As always, if you feel like you would like to share your writing in community, please do so here, in the comments–or, even better yet, on social media, like Instagram (using the hashtag #looppoetryproject so we can find you), or on Facebook, in the Loop Poetry Project private group. (You can join here.)
Much love to you, beautiful poets,
jennifer
This post appeared originally at jenniferjcamp.com
---
The rain pelts my hands grasping bike handles, soaks my feet inside my leather tennis shoes, freezes my shoulders bent over the handlebars. (I soon learn my raincoat is water-resistantand not waterproof. Oh, an important difference.) And my legs? Yeah, they're drenched. But my helmet visor is blocking the raindrops from my eyes–so I can see.
Helpful.
A thirty-minute bike ride door to door and the urban outdoors is wild in its beauty. I kind of love it.
I tell Justin during one of our Fridays after work that this fall (almost winter now) in the California Bay Area, where we live, is alive with texture and color. More beautiful than I have appreciated before. When we lived on the East Coast for four years, Philadelphia and then New York City, the transformation of trees' leaves turning from green to red and orange and gold was a brilliance spectacular and staggering.
I remember substituting for a school in the suburbs of Philadelphia and standing near the seventh grade English classroom's floor-to-ceiling wall of windows, amazed by golden yellow leaves raining, raining, raining down. But the trees of California, I was convinced, could never compare to the beauty of those gold leaves swirling to the ground. But this year, I think biking has helped me notice what I couldn't notice before. Color. Texture. Air. My breath. My body pushing up a hill. Sound.
The combination of writing poetry and being outside is helping me practice noticing what before I took for granted and couldn't see. And in that seeing, I am moving–not necessarily physically moving (although that is usually the case), but participating in life that feels big, potent, exciting, staggering in its beauty.
This life is all here, before us. Within us. Around us. Life singing and moving and dancing and struggling and leaping and crawling. I want to practice new ways of taking it in. I want to notice and breathe in what before I could simply observe. But it starts there, doesn't it? Living fully alive starts with noticing what we can see with our senses, experience with our minds and soul.
For the Loop Poetry Writing Prompt this week, I invite you, in this season of Advent–with its invitation to experience the waiting of our Savior–to write a poem that speaks to being alive, awake to wonder, awake to beauty, awake to pain. Write about something that amazes you or astounds you, puzzles you or bothers you. The poem can be prompted by memory, something that you have seen and experienced, or prompted by your current experience, something you are noticing and processing this week. It can be about a person too.
Share your poem here, in the comments, and/or on social media using #looppoetryproject to tag it. Bless you, this Christmas! And remember, considering joining the Loop Poetry Project private Facebook group!
I can't wait to read your poems! Merry Christmas!
xo,
jennifer
This post appeared originally at jenniferjcamp.com
---
We cut down our Christmas tree in the pouring rain a week ago, the Sunday after Thanksgiving, the bookend adventure of a multi-day trip with extended family. Drove it home on top of our car without incident and abandoned it in the front yard for a few hours while we scrambled inside to help our son, a senior in high school, submit one more college application that was due in…oh, two hours.
There was deep breathing.
An hour later, application submitted before the deadline, we finished unpacking the car, threw together some pasta and sauteed vegetables for dinner, and managed to get the tree inside the house, positioned in its stand of water in the front window of our living room, before we collapsed on the couch to watch the first half of Love Actually, not even considering having the conversation about decorating the tree.
That was not going to happen.
The tree was cute. We held no ill will against it. A sturdy Douglas fir with lots of space between the branches for ornaments. But there was not one ornament hanging from a single branch–or lights, for that matter–through Monday and Tuesday and Wednesday. Until finally, on Thursday night, we put up the lights. And then on Friday, we made a fire and opened the container of ornaments slung down from the attic and hung them in the tree.
And it was beautiful.
There are two times of day I find the tree, hailing bright and twinkly and sweet in our front room, irresistible to me: (1) the early mornings when all, except the tree's lights, is still and dark and quiet, and (2) the evenings after dinner when the rush of the day calms and we move toward rest. In the evenings, I sit on the couch near the Christmas tree. And in the mornings I lie down in front of the fireplace, the tree bright and silent against the darkness that is soon upended by dawn's light.
And I sit near it now, near the end of day. The tree's lights defy the pending dark.
For this week's Loop Poetry Project prompt, you are invited to observe an object–small or large, in your home or somewhere else–and let the object lead you down a path of story, or memory, or imagination. Let it take you on a journey from observation of the ordinary to discovery of the extraordinary.
Believe me, it is going to be a wild and beautiful ride to a place you never expected to go. Let me tell you more about what I mean.
For me, for instance, the object I observed was my Christmas tree. I was drawn to it one morning when I woke up and found the lights on the tree had been on all night. The lights illuminated the room I had expected to be dark. So, I let myself take in the tree–my senses absorbing it, recording it. But then I let my heart, my imagination, give me words to tell me something else about it. I let the tree, in a way, speak to me. Both my physical senses's (sight, hearing, feeling, smelling) and my heart's (my imagination, my memory) engagement with the tree changed the experience from mere observation to a deeper experience of discovery. I let the poem write itself–letting the tree create a poem inside my heart. My heart knew what the poem was about, and I was discovering this as I wrote.
What I am finding is that sometimes writing poetry is a journey down a rabbit hole, a phrase coined by Lewis Carroll in his iconic book, Alice and Wonderland. Just like Alice, when she followed the white rabbit through his little door, tumbling down through many zany places and meeting many unusual creatures and people, not knowing what new experience was coming next or what unpredicted outcome was around the bend, when we write a poem we can simply begin, going through one door, recording one observation, and letting ourselves tumble around a bit, letting our hearts be open to exploring what happens when we let ourselves fall, exploring one idea and then the next.
You see, we don't have to know what the poem is going to be about–or be— before we start writing it.
When we begin a poem, we probably don't know where it is going to go. How we begin, from observation and setting a scene, is not where we are going to end up by the time the poem's last lines are written and we are at the end.
I find this to be true in almost all my poem writing. And I love the sense of magic it evokes, the feeling of freedom it gives me. I can let my heart lead me; it has an entirely new and different way of interpreting the world than my mind. And when I draft a poem I want to listen to my heart. I want to learn to heed it, trust what it wants to say. My mind can edit the draft of the poem later–making edits, changing words, adjusting line breaks, listening with its very different way of hearing to make sure that the heart original plan for the poem is understandable. First, we let the heart speak to us as we draft a poem, and then we let the mind edit, making sure the poem is communicating what the heart always wanted to say.
So, this week, let an object speak to you. Let your heart lead you down the rabbit hole of magic and memory, disaster and dream. Have fun noticing that where you end up is not where you began. There is much to learn here. Listen. Listen to what your heart wants to show you and teach you how to say.
When you have written your poem, consider sharing it with the hashtag #looppoetryproject so we can find you and enjoy what you have written! If you'd like to join the hundreds of women writing poetry together, seeking encouragement and discovery of poetry together, you are welcome to join the Loop Poetry Project private Facebook group. It is a wonderful, kind and safe place to share your poetry and connect with other women poets. And please connect with me on Instagram, where I share, in my highlights, poems women in the community have written!
Finally, I would love to hear from you here, in the comments below!
From this one true heart,
jennifer
This post appeared originally at jenniferjcamp.com