Jennifer Camp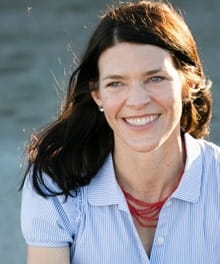 Before the bad air from the California wildfires changed how we spend time outdoors, I would run the uphill course from my house toward downtown. Running is not as easy as it used to be–when high school and college races kept me busy every week. And doing a workout inspired by an app on my phone can feel a lot less daunting than suffering the aching hips and the weight of my body, sluggish and heavy, trying to defeat gravity one step at a time.
Running, for me, can be hard. And inconvenient. And–when I'm not yet in shape–painful. But I feel like myself when I do it–like the girl in her dad's orchard, running between the almond trees, like the woman who wants to listen for God's voice and have it propel each move she makes.
What we choose to do with our time reveals to us more than just what we love and what we hate to do. What we choose to do with our moments, our days, indicates our response to God's blueprint when He made us–our living out who we are, who God made us to be. When we say yes to do the things we are made to do, things we do that bring us joy and help us feel the joy of God, in us, we are making the choice to be ourselves.
Why do we spend so much of our days, our weeks, our years, desiring to be anything–or anyone–different?
This is something I continue to think about over the years: what it might mean to more intentionally seek to be only myself. How do I choose to do only things that make me feel the most myself? How do I say no to the temptation to strive to be anything or anyone else?
I consider God whispers to my heart: how can I be more myself–just myself, perfectly myself–in every choice I make, in each decision that comes, in how I use my time?
What do you do to feel most like yourself?
I realize how tired I am trying to be someone other than whom I've been created to be: envy and insecurity sneaks in like gray fog curling quietly around my heart. There are so many moments I have trouble seeing, I have trouble feeling free. When Paul urges the Galatians to stand up for the freedom they have already been given, in Christ, I realize how often I let myself feel just the opposite of free.
Christ has set us free to live a free life. So take your stand! Never again let anyone put a harness of slavery on you (Galatians 5:1, MSG).
This has been my harness for much of my life: I look at what I don't have rather than what I have. I look at what I am bad at rather than what I am good at and what I love to do. When we wish we were more organized, more creative, more productive, more talented, more intelligent (and on and on), we're blind to who we really are. We're blind to what Christ wants to show us; we're deaf to God's whispers to our hearts.
The biggest problem with feeling insecure about ourselves is the very focus on ourselves and our own deficiencies. (What a waste of time! What a waste of a life! What a waste of freedom!) The point of our lives isn't to focus on how we need to improve. The point of our life is to love Jesus with our whole heart–and to love others, too.
And because we have Jesus right here, we have nothing in the way of living the free life of being ourselves, with Jesus, right now. Can I believe this? Can I choose to focus on who I am in Christ rather than the lies of what I am not?
Nothing between us and God, our faces shining with the brightness of his face. And so we are transfigured much like the Messiah, our lives gradually becoming brighter and more beautiful as God enters our lives and we become like him (2 Corinthians 3:18, MSG).
Christ's freedom, in our lives, is wasted, when we don't live, fully, as the person God created us to be.
We are only free, we are only experiencing Christ's freedom, when we love Christ and the Holy Spirit in us is the voice we listen to above all other voices. The voice telling us we should feel anxious, afraid, nervous, envious, greedy, lustful, impatient, critical, judgmental, unkind is the voice that needs to be silenced in our lives. Only Jesus–only choosing to love Him and let Him show us who we are in Him–will take our eyes off the imperfections in ourselves and focus on the perfection of Him. And His perfection and goodness will inspire us to live the freedom that is always there for us to experience and live.
I think I'm going to keep thinking about this–but do more than just think about it, too. But first, I want to think about my God and how He loves me. I know He is going to help me, with everything I am, to love Him back. He tells me I have what it takes. And then freedom, I bet, is going to be pretty amazing.
You have what it takes, too. So do something today that makes you feel like yourself–no one else. Because there are freedom and joy and a whole lot of good stuff coming our way–that's right here. Sister, let's not miss it.
What is one thing that makes you feel like you? What is that one thing you can do today?
And will you join me for the Loop Poetry Project this week? How about we write a poem that speaks to the investigation of our identity: a poem that explores when we feel most free, most ourselves, most unencumbered, most true. Or, of course, write a poem that explores the opposite. When do you feel most trapped, most broken, most despised, most sad?
It is an honor to read your words. Please consider sharing your poem in the comments below–or with the kind community of Loop Poetry Project. Join here.
Love,
Jennifer
---
To Love Oneself
I go to find you in the depths of me
as if that is a place to go
while I examine all the moments
of my life as if they are puzzle pieces
cut jaggedly from the whole, belonging unsure.
I want to cup the pieces in one hand,
run a finger over the rough edges,
sing lullabies to smooth their irregular shapes.
Maybe here we find home.
Maybe here we learn to be kind.
This post appeared originally at jenniferjcamp.com
---
I sit in near darkness at noon. Outside is an orange sherbert sky. We go outside mid-morning to take photos. To remember the strangeness that we hope isn't a new normal. To record the upside down. To note the unbelievable: it feels like the sun didn't rise.
Friends implore social media to pray: "We are evacuating, but we're okay." "John got up at 3 am to drive to the house to dig trenches around the property, hoping the ditches will deter the flames from reaching the house." "Pray for my parent's home. They are safe, but the fire is really close now."
I join with my friends in praying. For the wildfires to subside. For protection and peace. For hope and light to fill our hearts. For a cure for Covid. For my heart to stay connected to Jesus. For help for the hurting and the broken, the weary and the lonely. For our voices to cry out to the One who loves us. For God, our hope, to be our protection in this desperate season.
Jesus, keep our eyes on you.
I once learned from the wise and kind John Eldrege how "Henri Nouwen once asked Mother Teresa for spiritual direction. Spend one hour each day in adoration of your Lord, she said, and never do anything you know is wrong. Follow this and you'll be fine."
You'll be fine. You'll be fine.
I want to feel fine. I want to feel whole. I want to feel loved. I want to feel safe. I want to feel desired. I want to feel joy. I want to feel hope. I want to feel peace. I want to feel inspired. I want to feel encouraged. I want to feel confident. I want to feel solid. I want to feel known. I want to feel God in me.
Sons' bedroom, 11 am in California
So I look for wisdom from sages who love Jesus, and I take steps to do what they did. Adoring Jesus. Adoring God. Surrendering to him my mind, my imagination, my heart and letting God lead. Not writing anything down for 45 minutes so I am not distracted by handwriting or incoherent thoughts or trying to get details down. 45 minutes of focusing my attention on God and on Jesus: eyes closed, heart open, instrumental music often playing in my ears so I can block out noises around me. Then 15 minutes of conversing first with God and then with Jesus–and writing it down.
Because I want to feel fine.
For the Loop Poetry Project this week, consider writing a poem only after spending time in meditation first. It doesn't have to be for 45 or 60 minutes. But consider writing from an unrushed state, after having spent a period of time surrendering to God your heart–giving him your full attention. The poem doesn't have to be one of adoration. (Although, of course, it can!) But let your heart lead you. Find words for ideas that come after spending time with God. You might write about a memory, or an imaginative scene. You might write about an emotion or a specific observation or a problem or a hurt or a dream. You might write about a conversation–or your feelings about love or death or orange sky.
Write a poem about feeling or not feeing fine.
I can't wait to read it. In addition to sharing your poem as a comment below, you can also share it with the community at Loop Poetry Project, a private Facebook group for women writing for personal wholeness. (It's a very caring and kind group.)
Much love to you, beautiful friends,
Jennifer
---
How Beautiful It is
When the girls and boys in drama class gather
around each other in groups of five and three
they are not pretending to be kind
like they know how to make love look
authentic better than we do
and I am mesmerized by their care
for one another, as well as their
jocularity and their
comfortableness with quiet,
the choice to not speak a word
or paint their hair red or yellow or purple
or sing loud broadway tunes
or reach their arms around one another
when they are sad and cry
and I wonder
if I grasped this freedom when
I was younger if I would not
observe love from afar but dance around it
and let it swallow me whole
even while I melt with angst
and beg you to accept me just as I am
right now,
how beautiful it is to be loved.
This post appeared originally at jenniferjcamp.com
---
Father, empty me of myself. I want to hear Your voice.
Father, empty me of myself, I want to love with Your heart. I want nothing to get in the way.
Father, empty me of myself. Let me forget me–to love like You love.
In the slowing, let me seek You. In the memory of children's voices, hugs and conflicts, laughter and tears, let me find You.
Show me what it means to serve.
Photo: Abigail Camp
Father, hide me from the enemy and keep my heart pure. Search me to discern what in me pulls away from You.
Let nothing come between us, Father. Let Your Spirit be my breath, my beating heart, my mind. Let every thought be Yours.
There is freedom in deciding whether or not to be my own. There is freedom in belonging to You. There is freedom in being seen and known and pursued and adored.
I know who I am in You. I know what I love. You battled those fears that kept me from discovering my heart — the passions for exploring mountains and hearts, listening and writing, soaking in quiet and moving fast, in sacred song.
I hear Your voice breathing life. I see Your hands touching my heart. I behold Your beauty singing majesty and grace.
You cannot be contained, yet You reach down and hold me, Your Spirit lifting me. I am a new creation.
In the sacrifice, in the love that is love, the old falls away. I behold newness. I walk in newness. I will look up and rejoice for the new works You are doing. I will claim the gifts You bring.
In Your eyes I am cleansed. You wash away my sin and draw me to You. You do not repay me according to my choices of selfishness. You do not give me what I deserve.
You restore in me a new heart, a life that sings of joy and promise.
No matter where I am, You are there. No matter how far away from You I feel, Your eyes never leave me.
How great is Your love Father, that each child, each work of Your hands is glorious and perfectly made!
I will seek You and I will find You. I will listen for You and I will hear. I will believe and walk in Your ways, with Your guidance and love in me.
I do not go alone. My heart is protected, shielded inside Your love. I am the beloved child who is gathered up and shown how to love with a love that reaches beyond understanding.
Your kingdom lives in me. You give me life. All glory, all praise, all love comes from You.
---
Friends, I continue to pray and ask God for his perspective on significant moments in my life, moments that have shaped me. There are lots of positive and negative turns in any person's story, yes? A few years ago a group of friends and I spent a few weeks using Donald Miller's Storyline as a tool to go deeper into our stories. One particular exercise challenged us to create a story map of our lives, a timeline of significant events we've experienced–moments that shaped us in either a positive or negative way.
After we were finished with our life timelines, we spent time with God and asked Him to show us His perspective on each of those moments. For the positive turns in our life story, what did He have to say? For the negative turns, what new perspective did He have for us to see? The exercise was challenging and life-giving, requiring self-awareness, honesty, and a sincere pursuit of God. He wants to redeem every part of our stories. He is not holding out on you.
Photo: Abigail Camp
Flash forward to last week. I am returning to the moments of my story that have shaped me and asking God which ones He wants me to revisit. Specifically, I am asking Him to lead me toward memories that require deeper understanding and healing. And when He does, I ask Him to give me a verse from Scripture to further solidify the new work He is doing in my story, in me.
For the moment outside the grocery store when I was five and I believed the lie that my voice is nothing and I am not enough, He spoke John 10:27: "My sheep hear my voice, and I know them, and they follow me."
For the moment, on Sunday, when my oldest son walked away from us and down the street to begin his new life as a freshman in college and I ached with sadness and joy for the end of a chapter I loved, He spoke Ezekiel 11:19: "And I will give you a new heart and a new spirit I will put within you. And I will remove the heart of stone from your flesh and give you a heart of flesh."
And for the moment of my decision to have an abortion, in high school, He spoke Romans 8:6 and 8:15: "For to set the mind on the flesh is death, but to set the mind on the Spirit is life and peace…For you did not receive the spirit of slavery to fall back into fear, but you have received the Spirit of adoption as [daughters] by whom we cry, "Abba! Father!'"
What moments will God have you revisit? What words of Life will He speak to you?
With these longer journaling sessions in the morning, I have written less poetry but many, many prayers. I believe that the poetry is going to come. And I am excited for what deeper healing will come from it, too.
So, while I don't have a traditional poetry prompt for you this week, I invite you to continue to dive deep into specific moments of your story. Let God lead you to a moment, and then through that moment. Let Him navigate you through the details. There are things you don't remember that He will show you. There are misconceptions you've had that He wants to straighten out. And then ask Holy Spirit for a verse for each of those moments.
God wants to redeem every part of you, every moment of your story. Will you let Him? The results will be life-changing. I know it.
Will you tell me how it is going? Or share verses He has spoken over you? Or share any poetry born from these experiences with Him?
I can't wait to read lines of His life in you.
Love,
Jennifer
---
Refuse to be Sentimental
dear heart
don't run; stand here
like I taught you
This post appeared originally at jenniferjcamp.com