Jennifer Camp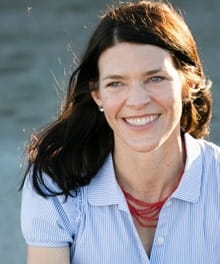 It is still, now, in my home. The washing machine—tucked into a closet in my kitchen—has stopped its thunderous whirring. The oldest college kid, home for his five-week break, college roommate in tow, pounded his feet out the door a half hour ago.
I sit in the front room, looking out onto a quiet street, watching the thin branches of abutilons under the window sway in the morning air. The only sound is the heating vent warming the room, a gentle hum I can scarcely hear. Even the dog has given up his whine for a treat and is sleeping on the rug in front of me.
It is calm, but I am not, and I focus on breathing. One deep breath. Then another. God is teaching me peace—what it means, in all circumstances, to trust Him more than me.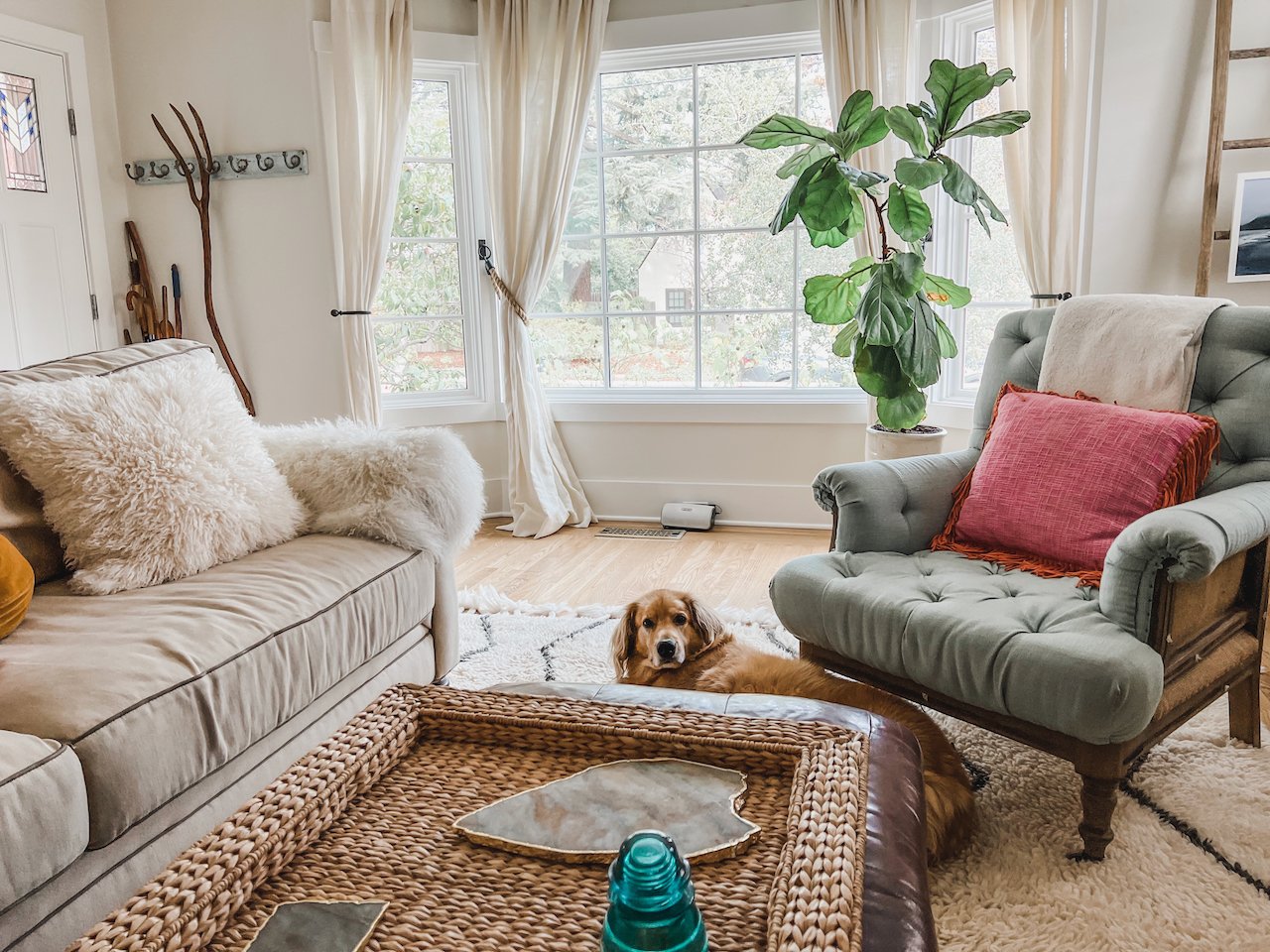 Lord, there is nothing wrong, and yet I confess that, even in tranquil moments like this one, I feel like I must fight within me to experience peace.
I remember the promises He has told me at the beginning of new years—promises to be with me in all circumstances. Two years ago, at the beginning of 2020, He whispered how He wanted to teach me stillness, that "deep knowing, peace within you, even in moving." And last January, 2021, He told me how He wanted us to do everything together. "No more will you choose yourself—and your belief that you are alone—rather than looking to Me."
I continue to surrender my heart to Jesus in these areas. My personality is not naturally akin to slowing—and yet God helps my heart be quiet. My pride that I continually surrender makes me want to be independent—and yet, in His kindness, God gently woos me back to Him.
Thank you, Lord. that your love covers me completely—it covers all my weaknesses and failures.
I told a friend this week how I used to be filled with shame when I messed up and forgot God's goodness. I struggled to look at my faults. I wanted to ignore them, cover them up—from myself and from others—as if doing that would make me "good." I am learning to be more like a child who lets herself be loved as she is—in whatever moment, in whatever state she is in right now.
With that mindset I am trying to approach this year. And in the early morning hours of January 1, He invited me to consider—and accept—another promise: His love is abundant. And it is this word "abundant" that challenges my heart's deep-seated fear: scarcity.
It challenges me to break the lie that I need to be in control because God is not in all things and that His love is small.
It challenges me to surrender to God these places in my heart that still need His healing.
It challenges me to rest in His abundance.
It challenges me to accept, in brand new ways, His love overflowing.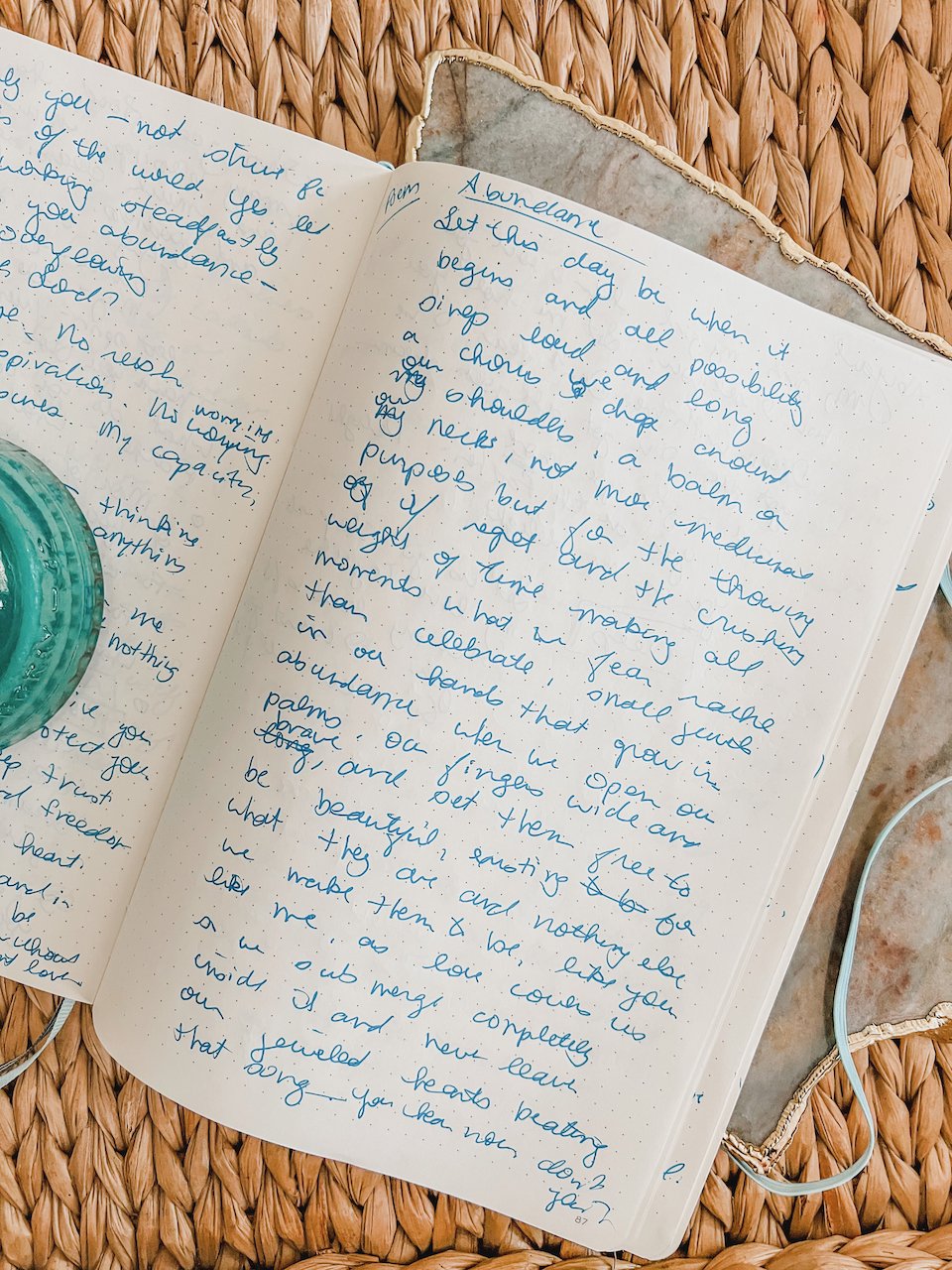 I keep listening and write down these words I hear:
Trust my abundance. In my abundant love is safety. In that love you can take new risks. In that love you can dream and offer what I freely give—more of myself.

Abundant time - there is no rush.

Abundant inspiration - no worrying.

Abundant measures - my capacity, not yours.

Abundant mindset - thinking without doubt, about anything be up to you.

Abundant rest - rely upon Me.

Abundant connection - you need let nothing come between us.

Abundant friendship - give Me your whole heart; I will protect you.

Abundant marriage - deep trust, deep joy, serving and freedom.

Abundant life - with Me and in Me and for Me; let all be measureless. My love is without measure in a life of abundant love.
Oh, Lord, thank you. Amen.
So, friend, when you ask our God what He has for you this year—when you quiet your mind and surrender your heart and take that deep breath….how do you respond to Him?
For the Loop Poetry Project this week, will you join me in writing a poem that describes what is on your heart right now, as you dream about this new year with God? What do you imagine this year holds for you? Or, what did this past year, for you, hold? Here are some ideas for getting started:
Write about your fears and worries. (When you think about this new year, what scares you?)
Write about your expectations and hopes. (What are you dreaming about or hoping for?)
Write about beginnings and endings. (How do you feel about the idea of a fresh start? Or about stories/relationships coming to a close?)
Write about a pivotal moment, an experience you feel describes your year. (What is an experience that has stuck with you, one that you know you will never forget?)
Share your poem below, as a comment, or with the community of Loop Poetry Project, brave women who believe much healing occurs when we gather together and dig deep to express our hearts. (My poem is shared below.)
Much love to you, dear ones,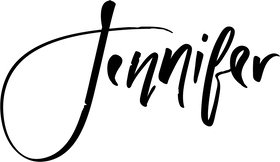 Let this day be when it begins
and all possibility sings loud and long
a chorus we drape around our shoulders
a balm on our necks
not for medicinal purposes but for
the throwing off of regret
and the crushing weight of time
making all moments what we fear
rather than celebrate,
small jewels in our hands
that grow in abundance when we
open our palms, our fingers
wide and brave,
and set them free to
be beautiful,
existing for what they are and nothing else
we make them to be,
like you,
like me,
as love covers us and we submerge
completely
inside it and never leave,
our jeweled hearts beating that song
you hear now don't you?
This post appeared originally at jennifer.camp
---
The words are air. I didn't know I needed them like I do. Gulping breaths. Into mind and heart. Space too full. Noise. Noise. Noise.
The noise of a mind unsettled. The noise of hopping around—thinking that completing one task and then another will do the settling. But all that happens is discontentedness. I am not present for….what?
So many things.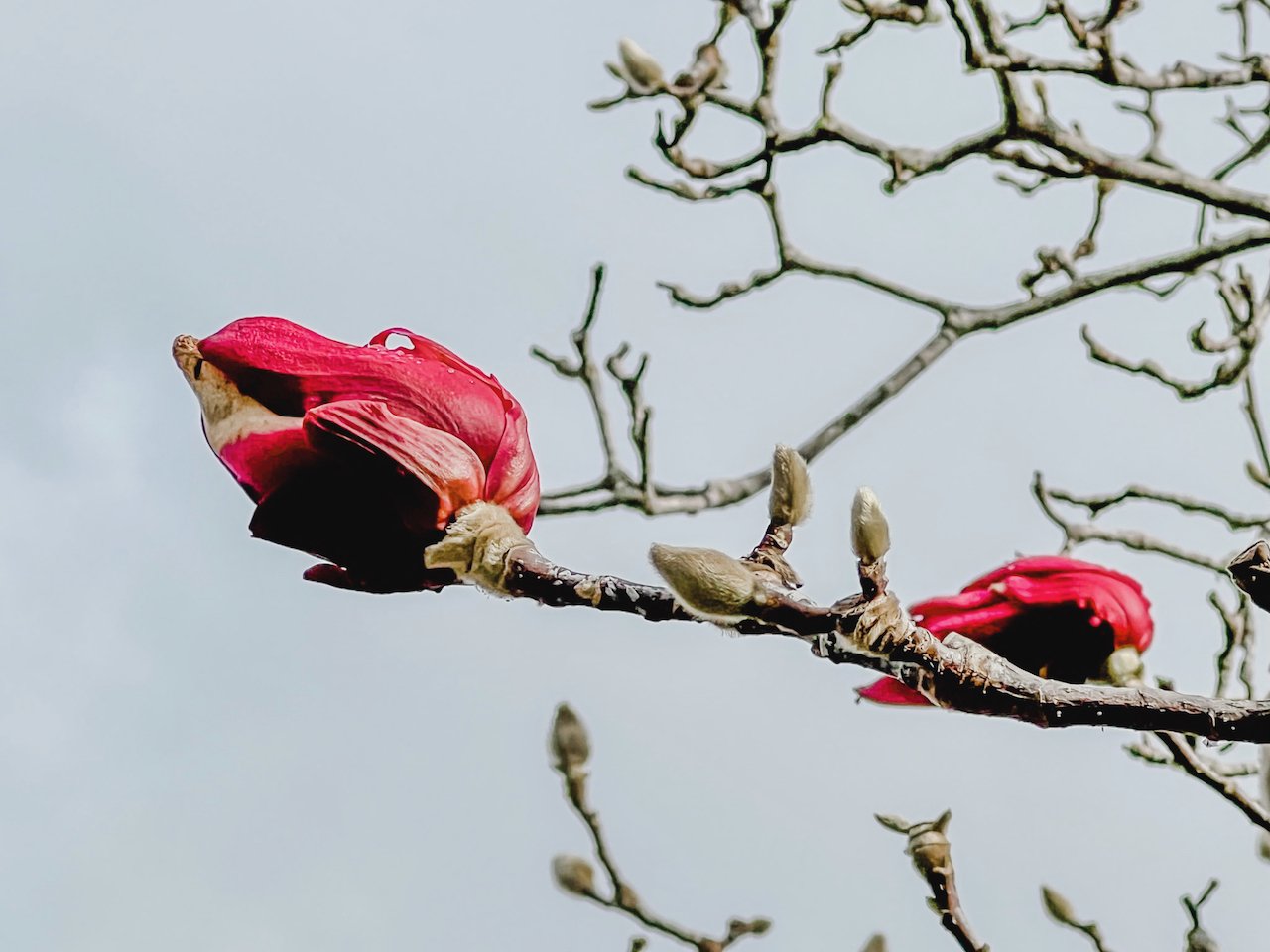 Be attentive to what is happening in you, not just around you. But yes, be attentive to what is happening around you and how that affects what is in you.
Honor your mind. Honor your heart. Honor the holiness of this day by being attentive. Eyes and ears. Breath. These fingers, these hands.
I read an article. An entire article. But I do it while standing in the kitchen, leaning over the counter like I do.
I seldom sit—so often I am caught between one thought and another, one task and another. I resist being caught up in one activity, choosing, rather, to do many things at once, in a stop-and-start fashion. Not exactly frenetic.
But.
I am not at peace.
For I am not really even here.
The article is actually an excerpt from a book: The Good Life Method: Reasoning Through the Big Questions of Happiness, Faith, and Meaning, by Meghan Sullivan and Paul Blaschko. Except, when I read the article I don't know it is an excerpt from this longer work, and I don't even care. I am stuck on these lines about love and attentiveness and empathy and intimacy and art:
"Loving someone for the sake of their own soul requires the ability to see someone's life from the inside and to empathize with the particular ways they are pursuing eudaimonia. It requires getting access to inner worlds. But it is admittedly difficult and rare to find a friend, a child, or a romantic partner who is both willing and able to bare their soul. Most of us develop such relationships over long periods of time. Until the real thing comes along, one way we get practice occupying the detailed inner lives of others is through literature and art. Excellent stories describe action "from the inside out."
"Excellent stories describe action from "the inside out." I want to live inside out. I want to tell those inside out stories—with my words, yes, but mainly with how I choose to live.
Access to the inner world of the self—one's self—and well as the self of others, requires more than self-awareness. It requires an opening up of the heart. What am I thinking and feeling? What is my friend thinking and feeling? How can I even trust my thoughts, my emotions, without a commitment to letting them settle, have a seat in the room?
Heart, speak. I am listening. Eyes, see. I am waiting. Ears, hear. I am ready.
I want to be stirred, choose to be stirred--have every action I make be one in line with attentiveness. This postures gives honor to my life. It grants it respect. It points to life of holy ground.
Breathe.
With my life I want to differentiate between (1) the act of truly loving another person—even loving one's self—and (2) the mere shallow desire of just trying to please (please him, please her, please me).
The truth is that the self will never be pleased until one's grip of trying to please—is surrendered, let go.
Surrender. Surrender. Expect. Breathe. Receive.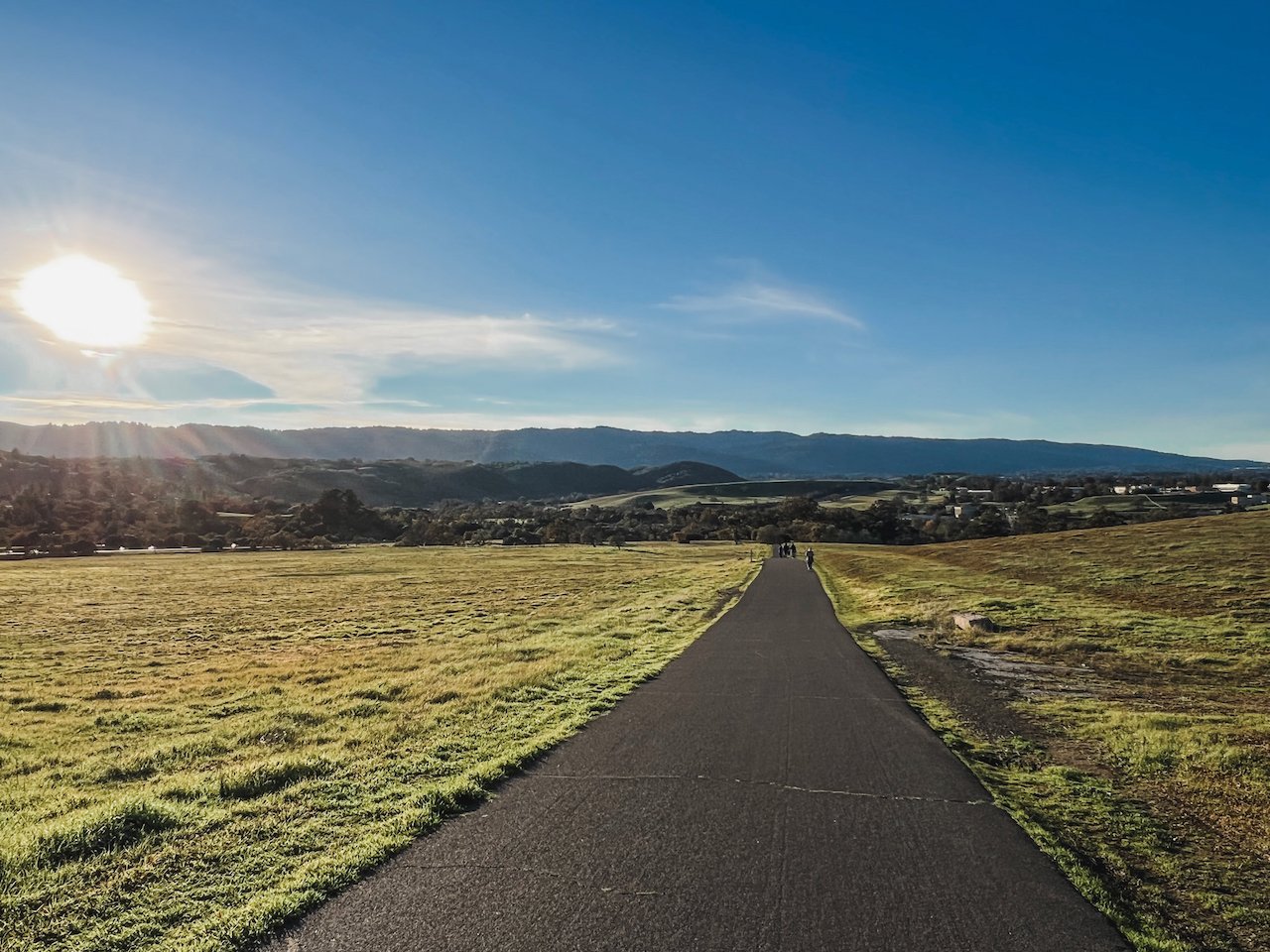 And so, as one tiny movement toward connecting heart and mind—and mind and heart—toward fostering attentiveness, I am inviting you to join me in writing poetry.
Not as a means to an end. Not as a task to complete or a goal to achieve. But as dual community. First, the community we find in the intersection of mind and heart. And then, the community of dear friends (like you), too.
Loop Poetry Project is made up of a group of women who write poetry to see their lives from "the inside out." How do we know what we are really thinking or feeling unless we help our mind listen to our heart? Poetry is an active listening, an investigation of the deeper secrets of the soul, a discovery of understanding. It is an unearthing of truth. It is an honoring of the self, an honoring of you.
Will you join us? Learn more by clicking here. And click here for a new poem. And, if you'd like to jump on in….will you consider writing a few lines on what it means for you to live "inside out"? Share them below, as a comment, or with the Loop Poetry Project community. I can't wait to read your beautiful words.
Love,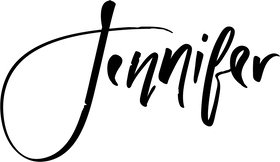 This post appeared originally at jennifer.camp
---
There might not be anything wrong. You might be okay—holding tragedy in one hand and hope in another. What if how you are—emotionally and spiritually—is not a state that can accurately be measured? What if, when a dear friend asks you, "How is your heart?" you can bumble around for a bit, do your best to share how you feel and what you think, and be okay with it? What if it is perfectly fine to not have the answers to your questions all figured out?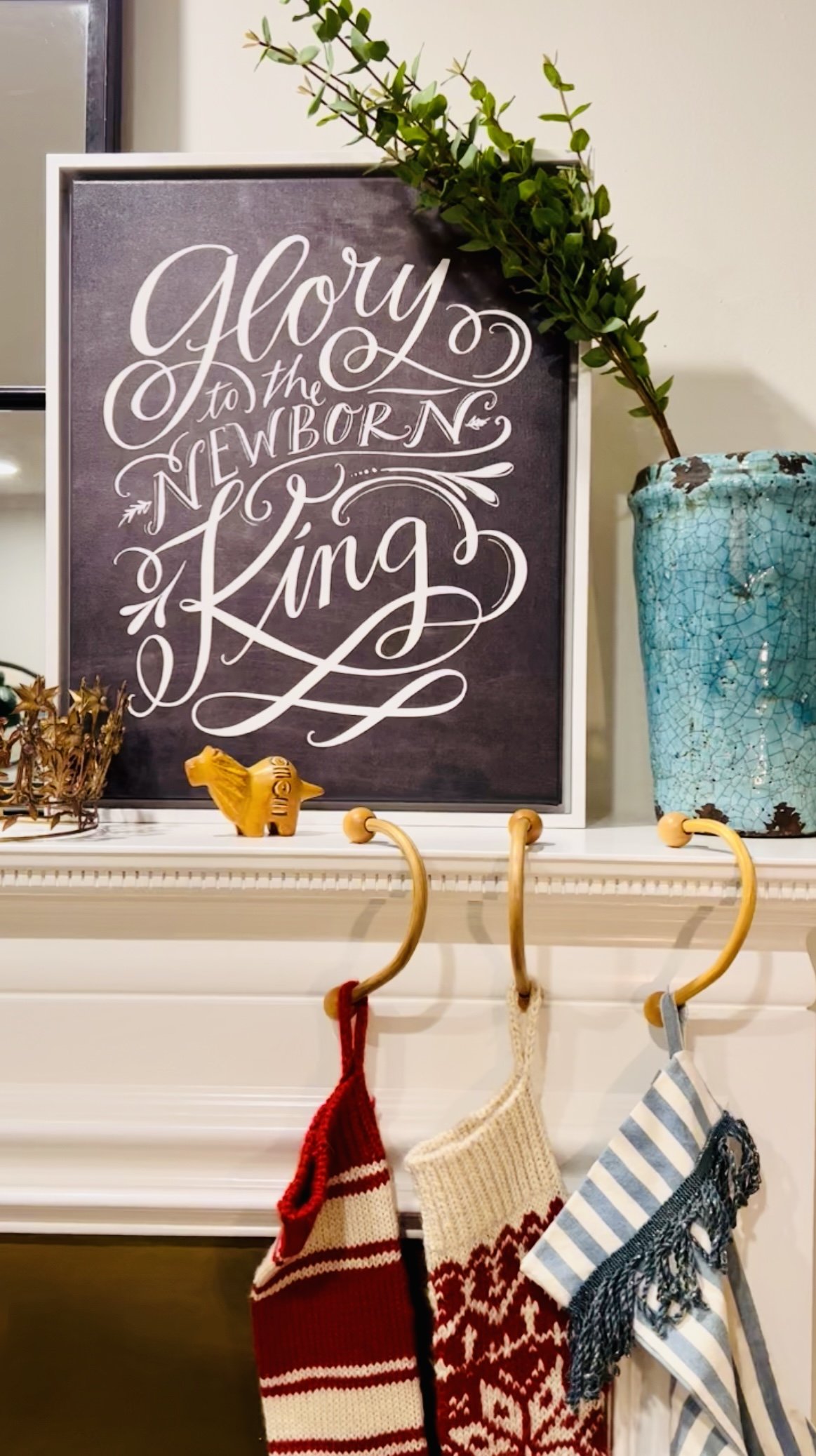 Almost a decade ago, on my previous blog, I wrote a 30-day series of posts that focused on the idea of forgetting myself. The irony wasn't (and isn't) lost on me—writing personal reflective essays on the value of one's focus on God rather than on the self. I did this for the secondary purpose of trying to kill, once and for all, the false self's tiring struggle with comparison, insecurity, and self-condemnation.
How is your heart?
I am okay.
Am I okay?
Trying to come up with the right answer—I mean, to be more accurate, a true answer—to this question is impossible without it being framed for us through the love of God. How we are—how we feel, how we think, how we assume to be—cannot be quantified, described, or, otherwise, at all articulated with any precision without us heeding the voice of God that is tucked away, deep inside ourselves. He is the only one qualified to inform us of what is true and untrue.
Father, how am I? How is my heart?
For when we try to answer these questions for ourselves, we cannot be trusted. Our emotions, our reasoning, our very self-focus and insecurities—make us untrustworthy.
We cannot answer these things on our own.
How we are can only be answered truthfully if we are looking through the lens of Whose we are.
How am I?
I am hurting, and I am loved, and I am okay.
How am I?
I am sick, and I am loved, and I am okay.
How am I?
I am broken, and I am loved, and I am okay.
How we are is a beautiful question to ask our friends—even if they are not sure how to answer it.
How am I?
I am a miracle, astounding in beauty and strength and light because my Father is in me.
How I am?
I am also corrupt, insecure and malcontent in my inability to perfectly release the attraction to the world's whispers of envy and pride, comfort and comparison.
How am I?
I am becoming something beautiful. I can see glimpses of her, hear pieces of her speech, feel the settling within me when I let Him ground me in peace.
How am I?
I am becoming. I am becoming.
And why?
Because He says I am.
So for now, I will leave that answer here.
Dear friend, do you hear Him telling you how you are now? Do you trust it? What will you do in response?
Love,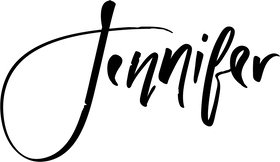 This post appeared originally at jenniferjcamp.com