Renee Davis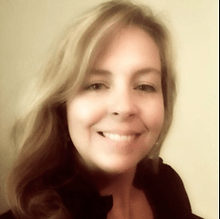 TRUTH TO REMEMBER WHEN THE NEW YEAR BRINGS NEW FEAR
So how was it, friend? How'd your ringin' it in go? Did the word "adieus" roll off your tongue and you never looked back? Welcomed the new year in like an old friend?
Or did you scrutinize the 365 days of last year and make a judgment call of sorts?
Part of you wanna strap on your pointed, pity-party hat and clink glasses of Welch's Sparkling with your old friends, Fiasco and Flop?
Tempted to replay all the things that were hard and went wrong this past year…
things that could've been done and weren't; words that should've popped out; words that should've stayed in…
those assorted offenses, hurts, and failures; the promotion that never came; your healing still hovering on the horizon; that prodigal child who continues to run away from The Father, despite your ceaseless praying…
the numbers that should've added up but didn't; those who made promises and broke them, reminding you that they, too, have feet of clay…
all the phase-outs, the fallouts, the burnouts…?
Yeah, me too. (There; I said it!)
And since I'm being so nosey—
Are you worried about how this year will turn out?
something horrible will happen to a loved one; you'll get a disease; say a bad word in church; your marriage will crumble…
the paycheck will shrink—or, worse, stop coming at all; you'll be rejected, you'll hurt someone; your goals won't be met…
the back of your dress will get caught up in your underwear in public; something horrible will challenge you beyond what your heart can take; you'll be forced to crawl out of your comfy-zone; that you'll fail yet again…
your testimony will be trampled; you'll scar your kid for life; your kid will scar you for life; you'll be falsely accused; accidentally burn your own house down; that there's a big, brown spider lurking under your seat as you read this…?
Yeah, me too! (I hate to admit that.)
FEAR THOU NOT; FOR I AM WITH THEE: BE NOT DISMAYED; FOR I AM THY GOD… ISAIAH 41:10
Some of my fears are just plain crazy. But some are downright real.
This year will be especially hard and uncertain for us here at the Hobbit House.
---
It'll be a year of sacrifice and change. God is going to stretch us in many ways.
And though a part of me is actually excited to face the challenge with Him; see how He'll show up and show off—how He's going to, yet again, do the impossible—
I feel a bit terrified. (And, I really hate to admit that !)
I also feel embarrassed and maybe a bit hypocritical by telling you that I feel terrified. Oh, that four-letter word: feel. (For the way I feel has stopped me from doing what He'd have me to in life so many times and led me to do things I shouldn't.)
So I hate to tell you that just when I thought I'd won the war on fear—blacked both of its ugly eyes, and kicked its fanny down the road—here fear comes again!
Fear. Yet another four-letter word. (And in the slim chance you somehow didn't already know: most four-letter words can really get you into trouble, friend.) And a word (a feeling) the enemy definitely likes for me to focus on.
But, you see, yours truly here, has been asking God to help her be bolder for Him.
So at the risk of being labeled a hypocritical scaredy-cat, I'm going to be bold and fully transparent, confessing to you that this encourager of yours feels fear as I stick a toe in the choppy waters of 2017.
So if you're like me and filled with trepidation, heading into what could likely be a challenging year, I want you to know that I understand.
Because sometimes we just need someone else to let us know that what we're feeling is normal, human stuff. To encourage us. To let us know they 'get it.' That we're in this together.
Here's what I'm saying to you in these meager, rambling, and always-well-hyphenated words of mine: We're fighting a battle, but we're in this together. And He is with us.
A battle that rages and always has since receiving Christ as our Savior.
Spiritual Warfare.
Christian life ain't easy. Spend a fair amount of time in His Word and you'll see nobody said it would be—
But it's worth it!
And so we fight…
this battle between our flesh and spirit—the ongoing war within, between the old (wo)man and the new, between courageously and cowardly, between good and evil, between right and wrong, between light and dark…
As we move through this second week of the new year, I want us both to keep in mind that this is the same, age-old battle, simply repackaged as the fight between faith and fear.
NOW FAITH IS THE SUBSTANCE OF THINGS HOPED FOR, THE EVIDENCE OF THINGS NOT SEEN. HEBREWS 11:1
Will we choose to focus on fear? Will we choose to focus on faith?
Because with just about anything in life…
the one we focus on most appears largest.
The one that appears largest gets the most attention.
The one that gets the most attention—the one we hold hands with, indulge, and feed the most—becomes strongest.
And the one that becomes strongest will win the fight.
Let's make an effort to starve fear this new year!
Click to download your FREE fear-fighting, faith-building printable Scriptures!
I'm not saying we should never look back, but when we do, it's important to focus on the good stuff–the blessings. Because, if you're like me, enough time has been spent perturbing about the past which can lead to fretting over the future.
Let's encourage one another to spend this new year feeding our faith by focusing on the things that are good, reading His Word, and trusting in His sovereign plan. My goal is to stop feeling so much and start trusting much more. How 'bout you?
I'm reminding myself today that though the future looks scary, He's with me.
And He is with you.
He's already there.
And you and I are both more than conquerors. We just need to step out in faith as we trust Him to help us do the scary stuff. To be obedient. To please Him:
BUT WITHOUT FAITH IT IS IMPOSSIBLE TO PLEASE HIM, FOR HE WHO COMES TO GOD MUST BELIEVE THAT HE IS, AND THAT HE IS A REWARDER OF THOSE WHO DILIGENTLY SEEK HIM. HEBREWS 11:6
So whaddya say, friend? Ready to suit up and fight the good fight? To focus on faith, not fear? To please God with our great faith? To trust Him to help us do the scary stuff this year?
It's time we get a revelation, not make a resolution.CLICK TO TWEET
Because…
What if what you and I are about to go through is what we've been waiting for?
What if it's the answer to our prayers, just in disguise?
What if what God's about to do, to reveal, to change, to take away, to make, to give is how we get long-awaited answers?
What if the trying and testing of our faith allows us to become more like Him?
What if our sacrifice gives way to a bountiful blessing?
What if what we're headed into is actually our breakthrough, not our breakdown?
What if He's actually preparing us to be amazed?
What if our faith grows so big that fear shrivels up and fades away once and for all?
Then, my friend…
I'll finally be brave enough–
even to check for something big and brown lurking under my chair…
Finally.
Xo,
Renee
Be sure to grab your free printable PDF: 5 Faith-Filled Scriptures Your Heart Needs HERE.
---
SPIRITUAL TUNE-UP
Christmas is over and the new year is here. I'm thinking that things will slow down a bit. Then again, I think that every year. Do you?
And every year, there isn't much of a slowdown period.
I'm convinced that if I want things to truly slow down that it's up to me. That might be in the form of making sacrifices, saying the word "no" for a change, and setting aside time for that which is truly worthy of my time. Frankly, I'm in need of a spiritual tune-up.
I've just simply been too busy with trying to make things happen in my life lately to even hear what He would have me do to make those things happen.
Maybe that's how things will change for me this coming year–among other things, like getting back to exercising, laughing more, and losing these holiday pounds.
I suppose it could be viewed as a New Year's resolution–to slow down, I mean. Whatever it's called it simply has to happen.
Even those who spend time with The Lord and study The Word each and every day can have trouble "hearing" from God. So how much more difficult is it to learn His will for us and heed His warnings if we're uber-distracted and moving a mile a minute?
I can remember a time when I was complaining to God because He wouldn't reveal His plan for me and my life.
I was frustrated because I wanted to know Him on a deeper level. However, I was so busy and rushed that I wouldn't have heard Him speak to my spirit anyway. These past few months I've allowed this to happen all over again!
I'm reminded of a funny (and true) story I once heard:
The teenage daughter kept bugging her dad to change the oil in her car. Months went by with no such oil change.
Many, many miles and lots of reminders later, she finally expressed her irritation about the situation.
Her father replied with great restraint and patience, "Well, I can't run alongside the car. Hold it still for a few minutes, and I'll change the oil."
Don't know about you, friend, but I sure do need to hold still long enough for a bit of spiritual maintenance, a little TLC. And maybe have a few things tweaked or even completely overhauled (like my perspective?). I'm in need of a spiritual tune-up!
No more expecting God to run alongside me–
well, I am human. So before long, there's a good chance I'll get all caught up in life and forget. Thank God for His mercy and His grace!
Be still, and know that I am God
Psalm 46:10
Even Christ had to occasionally stop what He was doing, pull away from the crowd, and get alone with God. If Jesus Himself did this, how much more must we as mere mortals need to do this?
Could your inner workings need a little spiritual tune-up too? You'll have to slow down and even stop, though.
Are you willing?
Just like any modern day machine, when we're all tuned up and have received His roadmap, will be purring like a kitten and on our way!
I'm going to challenge myself to slow down in my hustle this year. I'm going to purposely set aside time to not only study His Word but to truly stop and listen. I'm vowing to maintain regularly-scheduled spiritual tune-ups!
To truly stop and meditate on what He would have me receive–hear what He wants for my life.
Call it a New Year's resolution? Maybe. I hope it'll be more of a New Life's resolution.
The more I study His word, the more I believe that He actually longs to have communion with us, to guide and direct us, to bless us, and position us so that we're victorious over the enemy. If only we'll be still long enough.
---
TURNS OUT YOU CAN LEARN A LOT FROM A HALF-NAKED CHRISTMAS TREE
LET YOUR LIGHT SO SHINE BEFORE MEN, THAT THEY MAY SEE YOUR GOOD WORKS, AND GLORIFY YOUR FATHER WHICH IS IN HEAVEN.MATTHEW 5:16
The room is cold and my mug is hot, mostly vanilla creamer with a splash of Folgers' finest, the only light coming from the lit tree in the corner of our living room. My eyes drink it in as I sip my java then grab my pen and paper.
I'm feeling reflective this morning as I gaze upon this tree, waiting for moon and sun to complete their shift-change, for my tween to awaken and emerge from his dungeon. I enjoyed it here reflecting, thinking, praying, and…
GAZING AT MY QUASI-CHRISTMAS TREE.
I now sit here, wrapped in love by a quilt that's tattered and torn, churning out random pieces of my heart, recording them onto these wide-ruled lines. As I look at this tree with no decorations but only lights, I'm in awe over its simplistic beauty. And longing for all things simple. A heart's quest to get back to the things that are basic and pure, meaningful and easier.
Simple things—like a tiny lit but undecorated tree that makes a dark room majestic and warms my soul in these wee hours of the morn. And with that I decide…
No ornaments this year. No. Not. One.
For the love of all things right and Christmassy, Renee, what about the dry macaroni noodle thingies that your kid made when he was two, the antique beads, the one-of-kind mementos–no star on top? Not EVEN the Baby's First Christmas ornament?
No.
Not.
One.
Decorations lost in the attic?
No, believe it or not. (Although it took Hubby Magoo a good 30 minutes to locate them.)
Lazy?
Maybe.
Tired.
Definitely.
I pick up my paper and pen, bunch up my quilt, and move closer to this tiny tree with its tiny white lights in the tiny living room of this tiny hobbit house, and my heart is big, almost bursting. He has birthed an epiphany. A message for me—maybe you too, friend.
These branches that look so perfect, so soft yet not, so delicate yet quite sturdy—the way they move and the way the return to remain firm in their position. Oh, Christmas tree—how very lovely are your branches.
I grasp a branch and pull it gently between my two hands and then again.
And as I bring my hands to my face, that fragrance of pureness of aliveness of a time when things were simpler fills me. I'm reminded of when my daddy spent hours taking this once seven-year-old deep into the woods on a quest for the perfect tree.
I can almost feel the cold wind on my face, the sting in my eyes.
A perfect tree, just so we could take it home, prop it up, and blanket its perfectness in worldly globs of gold and garb. I loved that!
For decades I've not seen them—the branches. No, I just used them. Used them and covered them. Hung things on them, things so heavy, things too heavy. Things that bent them over, that broke them. And I cared not.
I'd strategically placed my biggest glass bulbs where the branches were bare—you know—those holes that every tree has that we can't stand—those places of incompleteness and imperfection, the places someone told us aren't pleasing to the eye—the deep, hollowed out parts that must be filled and filled in good.
Not once had I ever really looked—I mean looked—at the branches.
Until today. Until right now.
All of those many intricacies and nuances that work together to make it what it is in its natural state of beauty to be covered in beads and bobbles, in plastic and glass, in memories and wishes—things that no doubt have importance, but things nevertheless.
Why? Because it's what I was told to do…what I grew up doing…what I saw everyone else doing. Nothing wrong with that, I suppose, when you're talking about a tree, my friend.
But…
Oh, the times I've allowed someone to hang something too heavy on me, to bend me past my breaking point. When I've let them cut me down yet try to spruce me up with what they deem would make me appear more valuable.
The times I've believed the lies and thought if I just covered myself with enough shiny stuff I'd be good enough, pretty enough, acceptable enough to those around me—maybe even to God. To fill those bare, hollowed out spots deep inside with the things of the world, pile on enough of what it had to offer to hide my brokenness–Embrace an artificial existence.
I wonder how often He looks at me like I'm looking at this little tree right now.
I wonder if He yearns for me to just get real and stay real with Him—stripped of all the superfluous shiny stuff I've use to deflect from who I really am, who He says I am. The stuff that promises to cover up sin and shame and guilt—make me look like I've got it all together. The stuff I've been too afraid to ask Him to strip off of me. Yeah—that stuff!
THEN JESUS SAID UNTO THEM, "YET A LITTLE WHILE IS THE LIGHT WITH YOU. WALK WHILE YE HAVE THE LIGHT, LEST DARKNESS COME UPON YOU: FOR HE THAT WALKETH IN DARKNESS KNOWETH NOT WHITHER HE GOETH." JOHN 12:35
And, so, my Christmas tree decorations will stay boxed up this year. And they'll be just fine. Next year I'll probably appreciate them all the more. As for this Christmas, my family and I will see our tree for what it really is, every itty-bitty detail and its complexity yet simplicity. We'll see its tiny lights shine bigger and brighter and more beautiful than ever, for they no longer have to compete with anything else.
And, dare I say, my eyes can hardly take it in.
While hot tears stream down this tired, wrinkled, forty-something face of a mom who wants so much to be seven again, I struggle to complete my thoughts. I pray somehow He will make sense of meager words when He sends them to your heart, dear sister.
Because…
Maybe your heart is longing like that tree in our living room. Longing for the simple. Longing to just be what you were made to be—a beautifully flawed creation with light that has been given heavenly approval to shine without rivalry.
To be unencumbered by the weight of what the world has hung on you, that pulls you down—that which must be stripped away to reveal what is real and pure and simple.
To no longer be ashamed of the broken parts and bare spots, to stand before Him totally exposed and feel His love all the more. I wonder, friend, if this year your heart is like mine when I look at this tiny tree in our house for hobbits.
And…
I wonder, friend, what He could do in our lives if we'd finally box up all evidence of our artificial existence, and just let our lights shine bigger and brighter than ever before.
I just wonder, friend…
I. just. wonder.
Xo,
Renee
P.S. My sincere thanks in advance for commenting and/or clicking one of the 'Share' buttons. You're awesome; I'm blessed!
Image courtesy of Pexels. This post may contain affilate links.