Emily Massey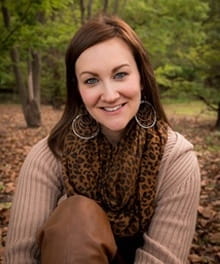 When a tragic, unexpected death happens, do you shake your fist and proclaim "Not today, Satan! We will make the devil pay!" or do you trust God's ways are higher than yours and say like our Lord, Jesus, "Not my will, Lord, but Yours be done" and trust that He will use that trial for your good and for His glory?
Suffering is a reality for everyone on this earth, including believers. To deny that, is to deny reality of the fact that we live in a fallen world and Christians are not exempt from the results of it. Remember, the Apostles suffered greatly and many of them died horrendous deaths as martyrs. But it was all for God's glory and a part of His sovereign plan for their lives.
James 1:12 shares us a beautiful promise about suffering:
"Blessed is the one who perseveres under trial because, having stood the test, that person will receive the crown of life that the Lord has promised to those who love him" (NIV).
God will use all things to conform us to the image of Christ and often in the life of the believer that includes pain and suffering. In times of suffering, we can pray for God's mercy to come and cry out for His help in time of trouble, yes, but we must remember Jesus promised that "in this life, there will be trouble" (John 16:33). Yet, we know that He overcame the world for us and we will one day taste of that victory in full when we meet Him face to face!

That is why we must keep our eyes fixed upon the hope of eternity and not on this life. And that is why faith in God is so important because it is the rock on which we stand when trials and the storms of life come because they will. We must remember that our faith in Him means that because of the cross, we are forgiven and now we can have the hope that He never leaves our side and walks with us through the valley and the mountain top experiences and we have the ultimate hope that there is a glorious eternal life that awaits us in Christ Jesus. That is our anchor…the hope of eternity. There is a day that awaits believers where all pain and suffering will cease. But until then, we continue to declare "And if not…He is still good" and trust our life in His sovereign hands no matter what comes our way.
Father, please help us find your mercy and goodness when trials and the storms of life come our way. If we are prone to grumble and complain, may the Holy Spirit convict our hearts and remind us to be thankful for your promise of eternity because of the cross. May we look for opportunities to comfort those around us who are suffering as well, so we can help hold each other up. We live in a fallen world, and although we cannot escape suffering, we know that heaven is our home and that the crown of life awaits those who stand firm in the faith, trusting that you have overcome the world and there is no reason to fear. We give you praise and thanksgiving that you will never leave us alone to walk through suffering alone. In Jesus' name, Amen.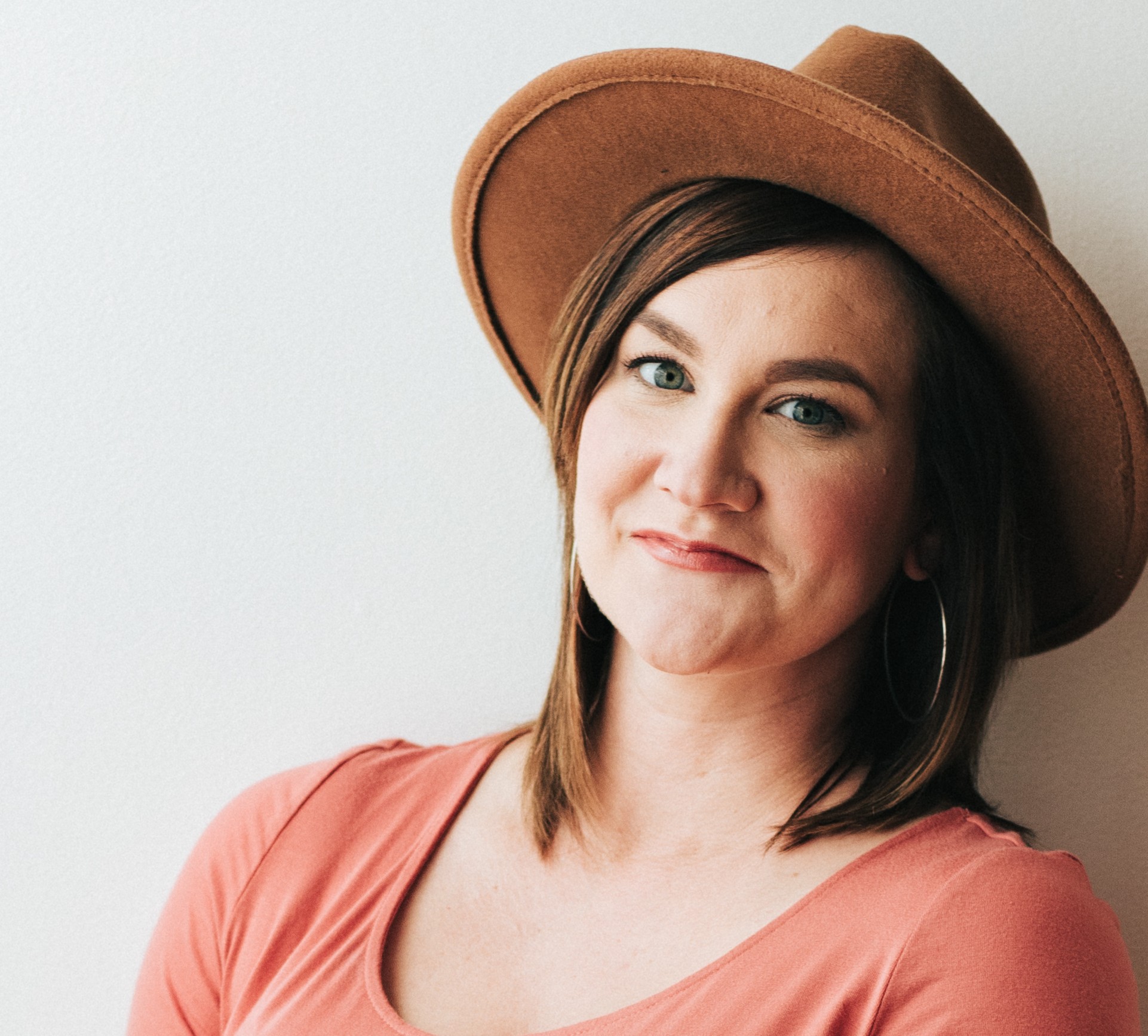 Emily Massey began writing short stories and poetry as a little girl, entered the blogging world in her early 20s, and published her first book in 2015. She enjoys being a stay-at-home momma while still being able to pursue her passion as a writer. Believing she has been forgiven much, she loves much, and desires to point others to Christ and His redemptive and transforming power, especially by sharing truth found in God's written word. If you would like to connect with Emily, you can visit www.emilyrosemassey.com
---
Here in America, we are very blessed to be able to not only freely read the Word of God, but many Christians in this country personally own several Bibles, especially if they have been a believer for many years.
I received my first Bible as a gift when I became a member of my church in high school, which just so happened to be a Bible specifically designed for teens. Sadly, I did not dive into the Word of God much in high school or college, but it remained on my shelf nonetheless. It wasn't until I graduated college that the Lord began to stir a hunger in my heart for reading the Bible.
My second Bible was also a gift; this time from my future husband. In fact, he gave me that Bible on Christmas morning and by nightfall, I received another special gift from him- asking me to be his wife.
A few years later, as I grew in knowledge of the Bible, I was interested in owning another translation, so I purchased my next Bible this time. I have owned that Bible since October 2011…
…I cannot believe it has already been nine years!
But as you can see, it is definitely showing wear and tear after all these years. Recently, I have been finding pink flakes of the cover next to me on the pew at church, which reminds me of something the great British preacher, Charles Spurgeon, once said:
"A Bible that's falling apart usually belongs to a person that isn't."
I truly have been needing a new one, but I was hesitant; There is something special about a Bible that is starting to fall a part like this. It means it has been well-loved. This pink Bible holds a lot of precious memories and testimonies of the times in which the Lord carried me when I did not think I could go on.
But funny enough (or providentially enough), the decision to move forward with a new Bible was actually made for me recently- I received an email from PersonalizedbBibles.comasking:
"Would you be willing to receive a Bible from us and review or mention our website?"
I, of course, said yes!
As I browsed their awesome selection, it didn't take long for my eyes to catch this amazing NASB Thinline Bible with large print (Lord knows I need it as I get older
) in my favorite color…TEAL!
God's timing is so perfect, especially considering I'm entering a new season as a mom of now three boys…
…this beautiful Bible is another great reminder to me to pick up the Word!
Oh, how much I need the truth found in these pages to strengthen me as I learn how to juggle life with a newborn and two other little monkeys who I am homeschooling for the first year as well!
Not only does PersonalizedbBibles.com offer a wide selection of Bibles, both by style and appearance to different translations, you also have the option to add imprinting such as a personal name, study group name, or a short inspirational inscription to personalize your Bible and make it special unique!
Unfortunately, I was not able to get imprinting service on the particular Bible I chose due to prior imprinting issues with the cover texture, but I am so extremely happy with my new Bible nonetheless!
(I just wanted to make you aware of this in case you pick the same Bible, or one with a similar texture). There are some examples of what an imprinted Bible looks like below if case you are interested in choosing the imprinted option to personalize your Bible.
If the Bible you choose does not have the same cover texture, then you can personalize your Bible for only $7.99 for 1 line or $14.98 for 2 lines! Just start by picking a Bible and then follow the instructions on that page to add imprinting.
How to add imprinting for your personalized Bible
Just pick a Bible and when the imprinting window comes up add your inscription.
You can add up to a maximum of 25 characters and spaces in total for EACH LINE of text.
Here is an example of a Personalized Bible: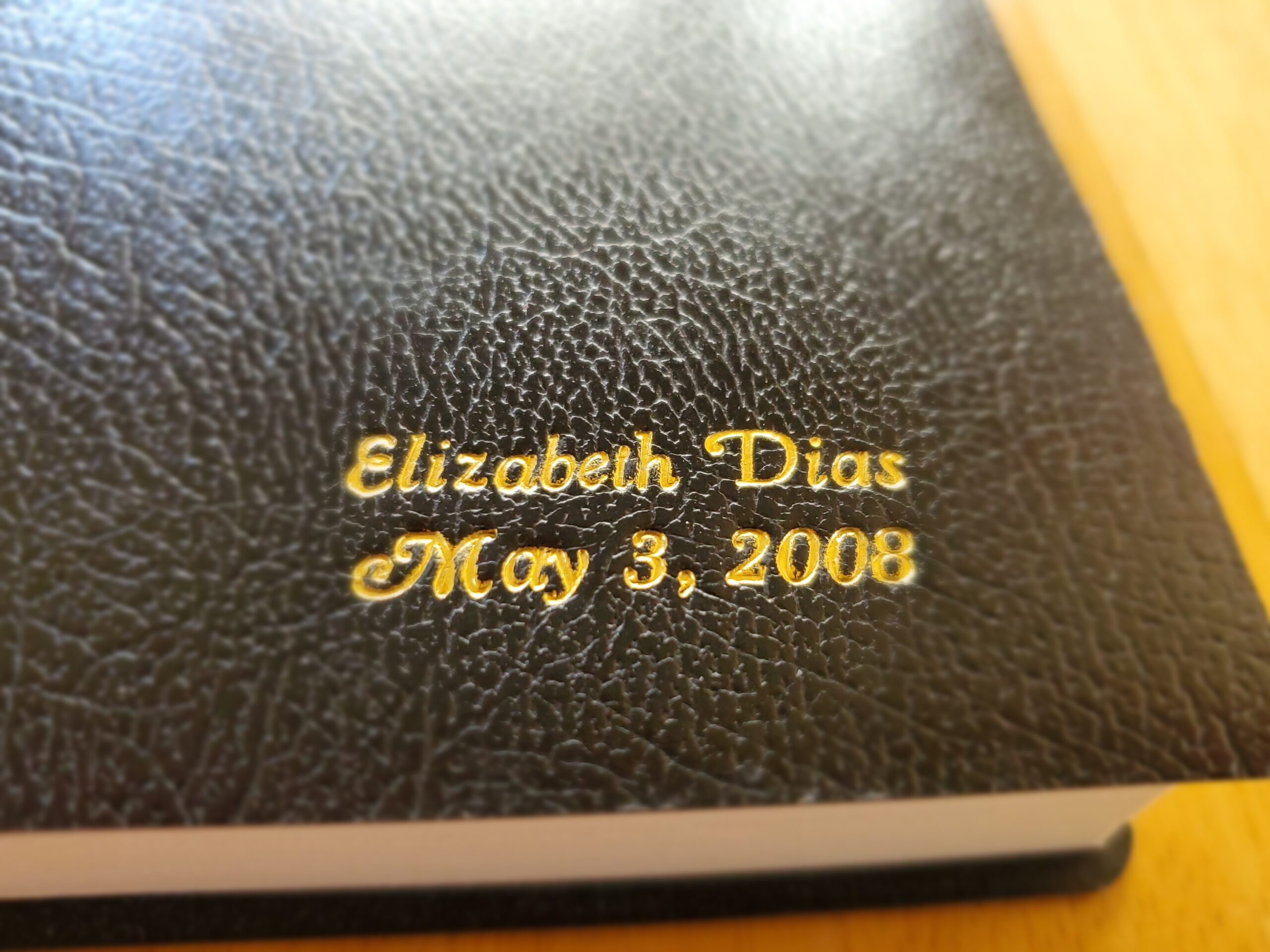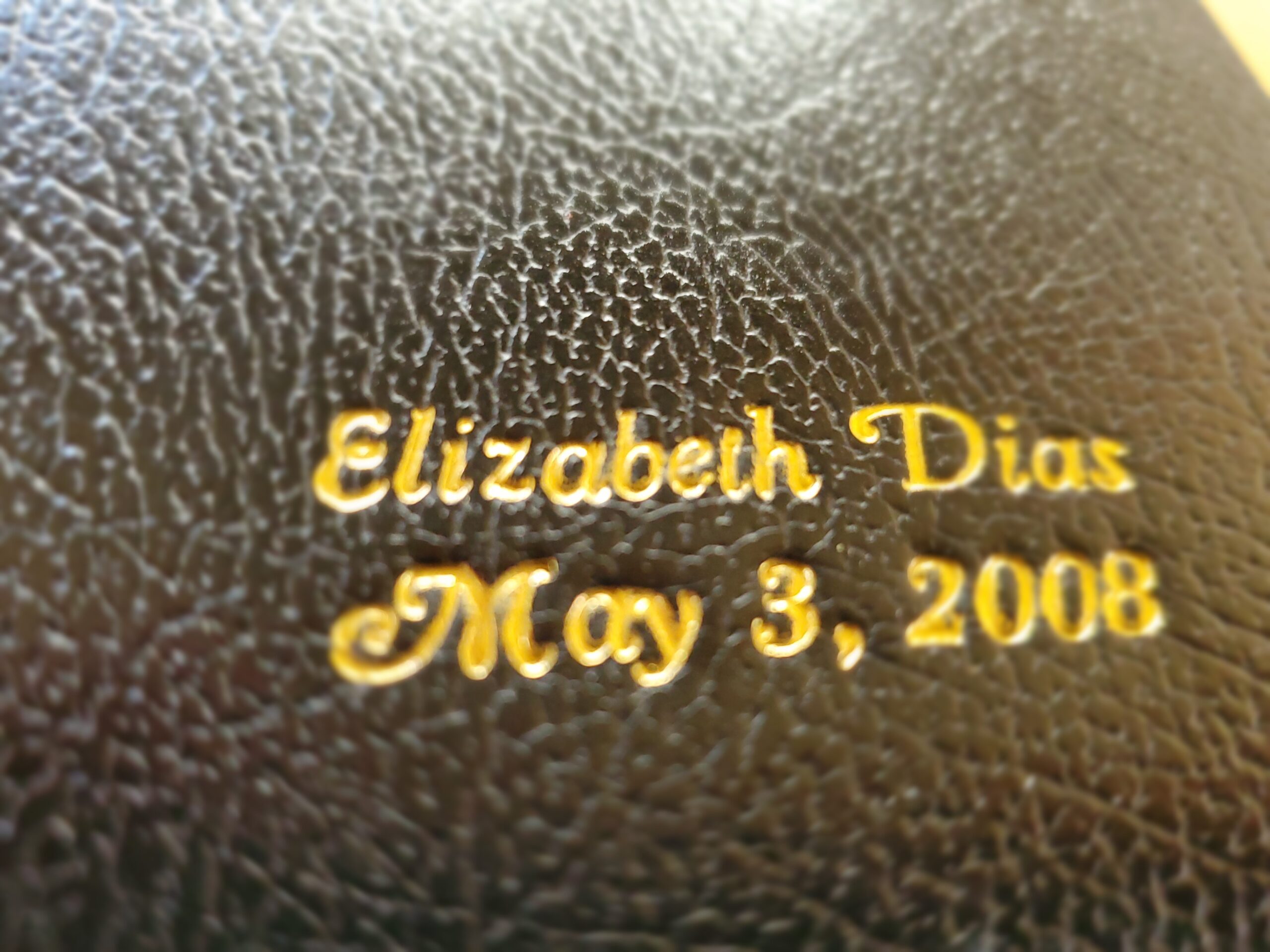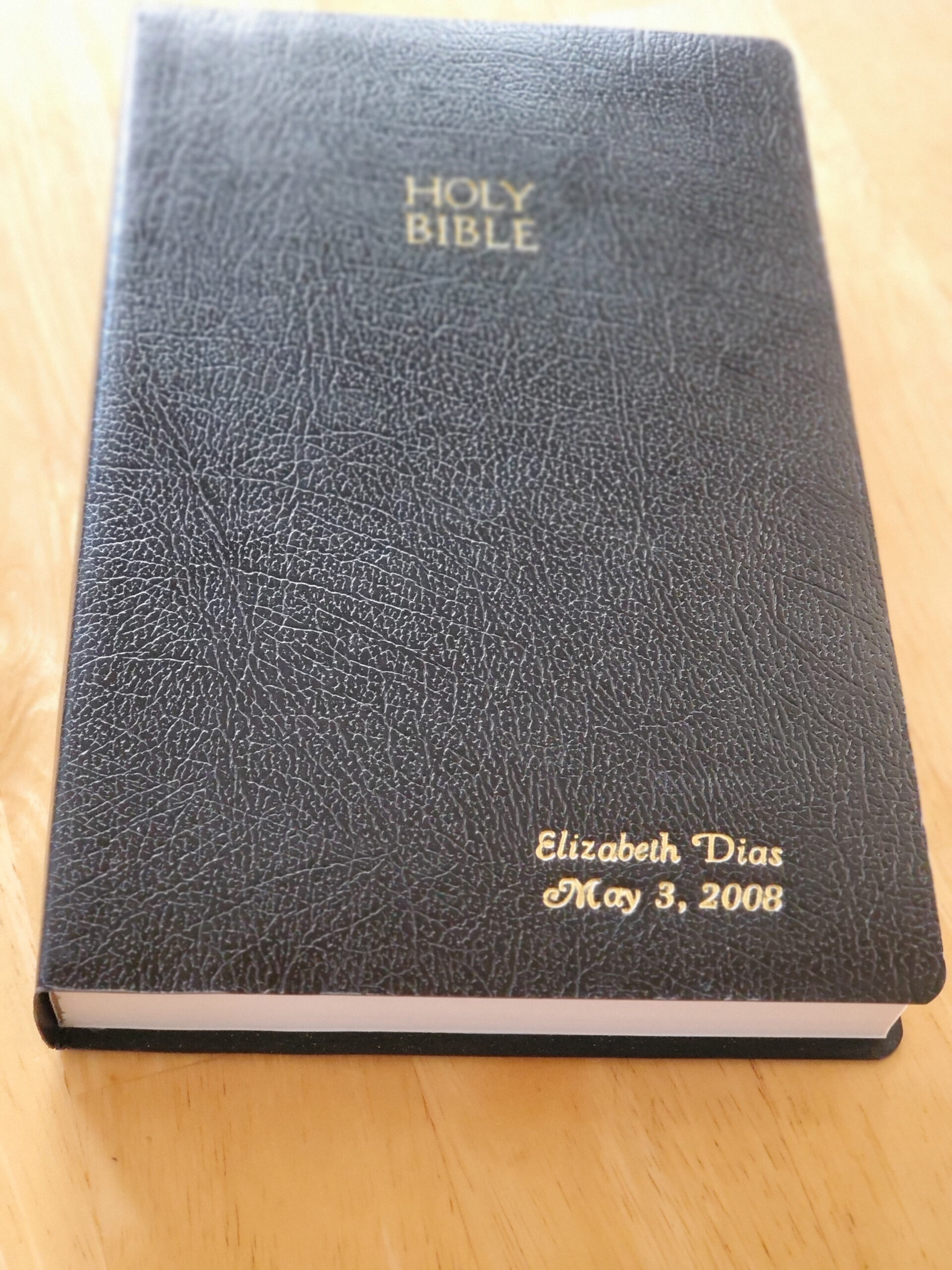 Imprinting Details
Your inscription will be imprinted on the bottom right corner in gold or silver-colored foil to match the Bible printing and page edges.
Snap Flap Bibles are imprinted across the flap if there is insufficient room on the Bible. Zippered Bibles are usually imprinted on a small gold or silver plate which is fixed to the Bible.
If the Bible has a colored hard or paperback cover we will imprint on a small silver or gold plate and stick that on the Bible.
Names on some imitation leather Bibles, particularly European Leather are branded onto the Bible without using foil – this matches the publisher's printing on these surfaces:
The default type is mixed case 18Pt Goudy script:
(The actual length of this name on the Bible = 1 5/8″)
If you prefer all capitals please type the name in capitals and we will use block capital type:
(The actual length of this name on the Bible = 1 7/16″)
Imprinted Bibles are normally shipped on the same or next business day following your order. If PersonalizedBibles.com cannot ship your order out within 48 hours, the company will contact you.
A huge thank you to PersonalizedBibles.com for reaching out to me and gifting me this wonderful NASB Thinline Bible! I am truly excited to use it in my daily reading as I grow in my walk with the Lord and discover more about our great God, knowing that His Word helps keep my life from unraveling.
If you are in a similar situation as me where your Bible is falling apart (but your life isn't
), then I highly recommend that you visit PersonalizedBibles.com! Tell them Emily Rose sent you!
___________________________________________________________________________
*I received this Bible free as a blogger in exchange for a review of the product. I was not required to write a positive review. The opinions I have expressed are my own. I am disclosing this in accordance with the Federal Trade Commission's 16 CFR, Part 255 "Guides Concerning the Use of Endorsements and Testimonials in Advertising."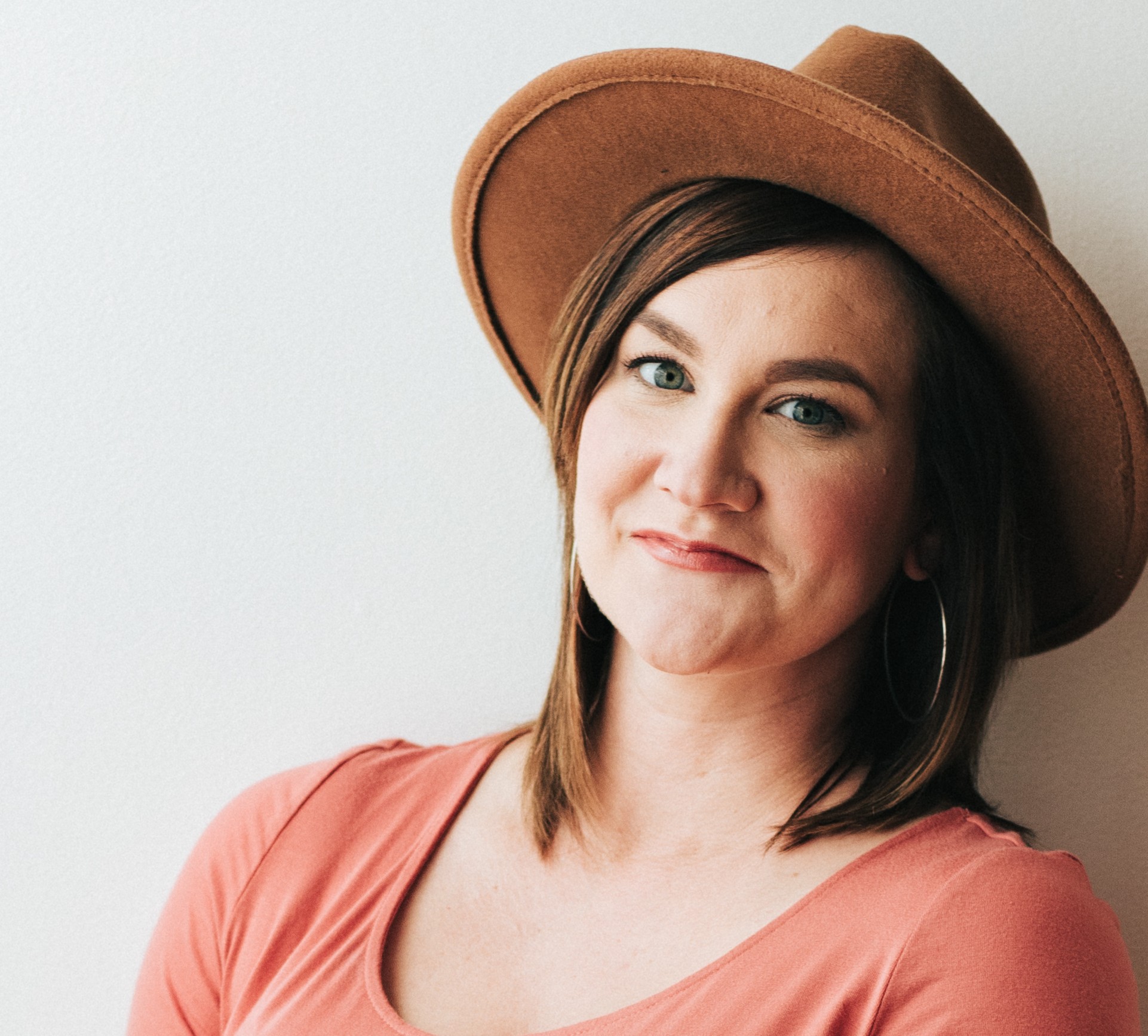 Emily Massey began writing short stories and poetry as a little girl, entered the blogging world in her early 20s, and published her first book in 2015. She enjoys being a stay-at-home momma while still being able to pursue her passion as a writer. Believing she has been forgiven much, she loves much, and desires to point others to Christ and His redemptive and transforming power, especially by sharing truth found in God's written word. If you would like to connect with Emily, you can visit www.emilyrosemassey.com
---
_
For me, one of the hardest things during pregnancy is not so much the morning sickness (although that is pretty rough). It's not the weight gain, back aches, swollen ankles, insomnia, constant potty breaks in the middle of the night, or not being able to bend over to pick anything up without making weird noises. Although all of those things can make life a struggle, especially when you are chasing around two other littles, the most difficult part for me is the last few weeks of pregnancy…
…waiting…
…and waiting…
…and not knowing when the day is going to be.
It takes a level of trusting God and leaning into His sovereignty like no other major life event. He is God. We are not. He is in control of all things. And we are not.
And birth is one of the greatest reminders of that…if you are allowed to let your body naturally call the shots and don't have any kind of medical interventions, of course, and that was my goal this pregnancy just like my previous one with my son, James.
My hospital experience with Isaiah, my first born, was a bit traumatic- my water unexpectedly broke at 37.6 weeks at 1am, contractions stalled and no amount of walking was helping jumpstart labor, so the doctor approached us with the concern that the longer we waited, we risked infection for the baby, so Paul and I prayed and decided to take the doctor's advice and be put on Pitocin to help my body along.
I will just say this: 12 HOURS ON PITOCIN AND NO EPIDURAL was NOT my idea of a natural childbirth, but God gave me the grace and strength to endure those 25 hours from the time my water broke to the time I was holding the baby boy who made me a momma.
God has an amazing way of taking a painful experience and making something beautiful out of it, and because of the chain of events that happened the day Isaiah was born, the Lord brought restoration to an area of my life that was broken. You can read more about that here.
Although difficult, I was thankful for a healthy baby and a safe labor and delivery at a hospital, but from that moment on, I knew I wanted my next labor and delivery to be quite different, so I chose to deliver our next son, James, at a birth center under the amazing care of midwives instead of an OB.
To be completely honest, Jesus brought so much redemption and healing with that experience, and I just remember being so filled with joy after I looked at my amazing teammate of a husband in the eyes who was literally my anchor during it all and scooped up my sweet prince into my arms. My water broke to initiate labor this time too, but there was no delay in stopping that boy from being born; In typical James' fashion, he came into the world like a rocket in just under two hours after arriving at the birth center…as their 1,000th birth since they opened as a facility. You can read more about that birth story here.
When we found out we were pregnant with our third in January 2020 (after only trying once…God is good!), I didn't hesitate to decide where our next baby would be born. I called the birth center and set up my first appointment where the boys were able to hear the baby's heartbeat, and since the birth center had added some new equipment since James was born, we were also able to catch a glimpse of the little peanut growing in my belly. Everything looked and sounded great! What a precious memory for me to experience with my two oldest before the whole world shut down just a few weeks later.
That is the word that comes to mind when I reflect on my entire experience with our third son, baby Jude, as you will see.
Just a few weeks after my initial prenatal appointment, I received a letter in the mail from our insurance company- the birth center was no longer contracted with United Health Care.
My heart sank and tears began to well up in my eyes. I don't want another hospital birth! I cried to Paul. Especially during a global pandemic! I searched and searched the internet to find another option.
What about the birth center at Mercy Hospital? I thought. Two of the midwives at the birth center worked there! This would be great!
Sadly, it was out-of-network with our insurance.
What about a homebirth? Yes, that settles it. I am having a homebirth.
If you know my husband, Paul, you know how that was out of the question. He works with data in the medical community for a living and calculates risk for fun. You will never find us on vacation on a cruise. "It's a death trap! Like being in a giant steel coffin in the middle of the ocean…no thank you!"
But on a serious note, looking back, I see how God had a specific plan for this pregnancy and how He ordained every step of the way even at 14 weeks along. I was able to find a family physician that I had been wanting to see as my own primary care doctor when I was postpartum with James, but she was only accepting patients who were currently pregnant, as she also delivered babies. This doctor was a major contributor of advocating for more natural childbirth at Mercy Hospital and helped their birth center get off the ground before she opened her own practice. She also trained as a midwife's assistant before beginning medical school. AND her practice was in-network with our insurance! And not only would I get to see her during my pregnancy and postpartum, I would finally have a primary care physician for the first time since I was in college!
Providence.
My pregnancy was a rather smooth one once we made it out of the dreaded first trimester nausea and fatigue, and I truly enjoyed getting to form a relationship with my new doctor, but every so often, I would get frustrated that I had to go the hospital route, especially as COVID restrictions kept changing.
As we approached my "guess date" of September 19th, I began to have a similar prodromal labor experience as I did with James. Contractions began to form patterns and they would intensify. I never knew if "this was it" or if the contractions would simply keep me awake through the night only to fizzle out. This in and of itself is pretty exhausting and stressful, especially when others' schedules are impacted by your personal judgment and being terrified that you would run out of time and give birth in the car on the way to the hospital.
The week leading up to Jude's birth was extremely stressful and emotional for Paul and I as our childcare plans continued to fall through and change last minute in addition to having one false alarm that resulted in a hospital trip mid-day to get "checked." My doctor wanted me to do laps in the hallways to see if things would progress, and because of COVID policies, I had to wear a mask at all times and walk alone without Paul only to find out that I hadn't progressed at all. Let's just say I was so over it, that it was hard to hold back the tears by that point.
Contractions continued to come (and go) at various times in the day and night and finally, the day after my "guess date," my water broke just like my other two pregnancies….hat trick!
It happened around 7:30pm as I was climbing into the van to go grab Paul some White Castles. We will remember that story for a long time!
Since it was a Sunday night, Paul's parents were able to come to the house to stay with the boys with no issues at all and on top of that, my mother-in-law Becky was off work the next day. Something I was so worked up and anxious about, ended up working out with ease.
Providence.
I had been listening to sermons that entire week about not being anxious or worried because my Heavenly Father knows what I need and will provide. I simply just needed to trust Him. I'm so glad I prepared my heart with those teachings because I had no idea how much I would need to trust the Lord as I prepared to give birth to our sweet, baby Jude.
As we were admitted into the hospital, we were blessed with an incredibly kind and gentle L&D nurse who helped us remain peaceful; We were almost certain she was a believer. Suddenly as I got up to go to the restroom while contractions were still pretty mild, the nurse notice a unique coloration that indicated that the baby passed meconium in the womb. She calmly informed us that NICU staff had been notified in advance so that they were ready at the time of his birth just in case they were needed for an emergency situation.
Contractions continued to get stronger and I settled into position (which I discovered with James' birth) where I get "in the zone." Paul was an amazing support by my side, holding my hand and encouraging me through each wave of contraction. My awesome doctor arrived just as I began to make vocalizations to handle the pain and she was also encouraging me through the contractions and giving me sips of water. That is usually unheard of when it comes to OBs who mostly just show up at the very last minute to catch the baby.
Providence.
My doctor was only in the room for less than hour by the time I felt the urge to push. I switched to an upright position on my knees with my arms around Paul to bear down as I began to push, which seemed so much more difficult than I remember with James. I heard the doctor tell me that the head was out, but then I kept wondering why it wasn't over yet.
What I didn't know was that Jude's shoulders were stuck in the birth canal.
Suddenly, a swarm of nurses were around me as they turned me onto my back, and everyone did all they could to help Jude out. It was a slow night, so there was plenty of staff to come to the rescue.
Providence.
Finally, there he was, but instead of instant skin to skin like I was promised, they rushed him to the table across the room where Paul met them. The NICU staff worked extremely fast and precise to intubated him to clear Jude's airways because he did in fact swallow meconium and wasn't breathing. As I was waiting to hear his precious little cry, I just kept praying "Please, Father" over and over again as the nurses by my side were telling me to calm my breathing. Finally, Jude cried, and I threw my hands up in worship and kept saying "Thank you, Jesus."
One of the reasons, his birth was so difficult was because he was very unexpectedly two pounds heavier than Isaiah and James. Jude Samuel born at 1:39 am on 9/21/2020, and weighed in at 9.6 lbs- my doctor was absolutely shocked that baby fit inside my little belly. Most often, babies that big result in a C-section, but by the grace of God, Jude entered the world naturally and because of God's grace and mercy and the amazing staff at Missouri Baptist Hospital, he is alive and healthy.
Once the doctors and nurses were able to stabilize his oxygen levels enough before they took him to the NICU for him to receive the care and observation he needed, the nurses swaddled him up in a blanket and put a hat on him for a quick family photo op. I was still trying to grasp what had just happened that I could barely smile. As I look at the photo now, I see that Paul's eyes were welled up with tears and Jude's gaze was locked on his momma.
A couple days after we came home from the hospital, Paul needed to process what he experienced in the whirlwind of events of Jude's birth, and he shared with me that Jude was in fact limp and lifeless for what seemed like an eternity. I know it was a scary several minutes for me not knowing what was happening, but the reality of this news that Paul shared with me hit me like a ton of bricks. So instead of thinking about how awkward I look in this first photo with our third precious son, I will forever remember how I had no idea what God had just done, but I praised His name, knowing that He was faithful to hear my cries and saved my son.
I cannot truly put into words the gratitude that my heart has felt these last two weeks as I continue to process those extremely intense moments leading up to Jude's birth and the moments of seeing my little man with all the tubes and wires on his tiny body when I nursed him for the first time in the NICU (of which his stay was brief at only five hours total). Truly, the Lord was so incredibly merciful to us that day. What the enemy meant for evil, God turned it for good, and our sweet Jude's life was spared all for God's glory.
I can't help but see God's providential hand from the beginning of my pregnancy with the birth center dropping our insurance so that I had to give birth at a hospital instead, to the very end with my water breaking to initiate labor to see that there was meconium in the fluid so that the NICU was ready and on-hand just in case.
Nothing with God is coincidence or happenstance; He is sovereign and in control of every detail in our life, guiding our every step. His work in our lives is providential through and through, and He causes all things to work out for our good and for His glory.
"And we know that God causes all things to work together for good to those who love God, to those who are called according to His purpose."

Romans 8:28, NASB
After this life-changing experience, this verse is having a profound impact upon my heart as I continue to reflect on the goodness and faithfulness of God.
We serve a mighty God who completely is sovereign over all things in our lives. Because of that, He can be trusted.
Thank you, Lord, for our newest arrow, Jude Samuel, who will one day be sent out into the world to tell others of Your great love and share the Gospel wherever You send him. May we raise Him to testify of Your goodness and give You the glory You deserve, all the days of his life.
---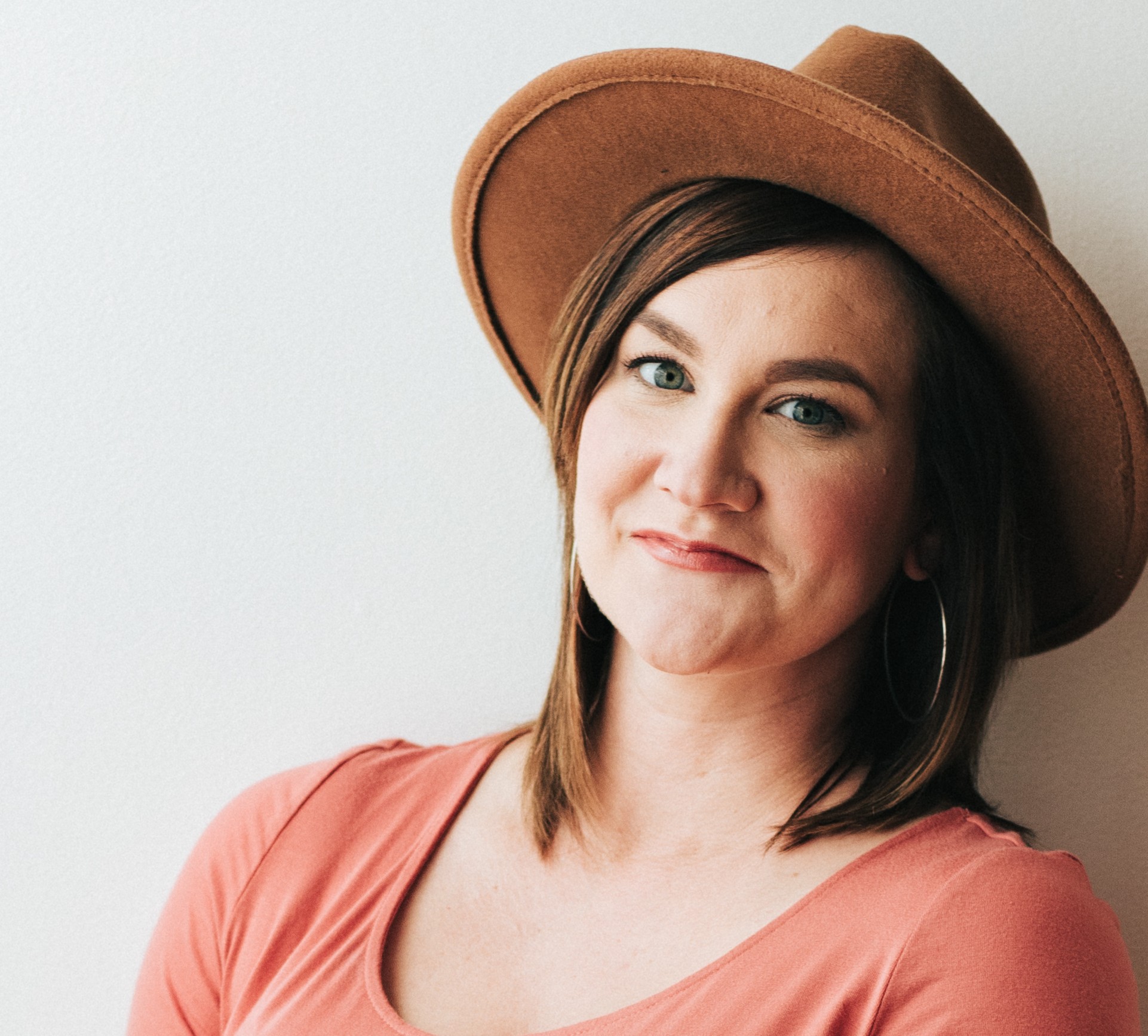 Emily Massey began writing short stories and poetry as a little girl, entered the blogging world in her early 20s, and published her first book in 2015. She enjoys being a stay-at-home momma while still being able to pursue her passion as a writer. Believing she has been forgiven much, she loves much, and desires to point others to Christ and His redemptive and transforming power, especially by sharing truth found in God's written word. If you would like to connect with Emily, you can visit www.emilyrosemassey.com