Emily Massey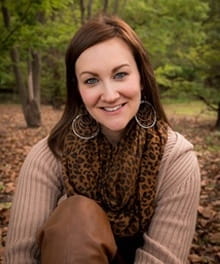 "For I consider that the sufferings of this present time are not worth comparing with the glory that is going to be revealed to us" (Romans 8:18, HCSB).
Even though I have so many wonderful memories during the holiday season, this time of year also holds some painful memories of experiencing the bitterness of death and loss. Sadly, I know this is the case for so many people. For me, November is the month that my dad was murdered and the month my husband and I lost our first baby early on in my pregnancy. Those were times where I had to endure some pretty heavy emotional suffering. Even though I was a Christian during those times, the pain was still very real and I struggled in my faith. I had to constantly press into God's truth and surround myself with other believers who loved me and encouraged me during those dark times.
Pain and suffering is not something any of us look forward to, but while we live here in this fallen and broken world, it is inevitable. It is so easy to get caught up in the storms of our life and lose sight of the hope that is available to us through Jesus Christ. He is the anchor in that storm and promises to never abandon us. The suffering may not disappear, but the good news is that Jesus is right there with us to walk through it together. In the midst of the pain, the temptation is to give all of our focus on the battle we may be facing. I believe it is so important for us to keep a heavenly and eternal perspective when we are in the midst of a painful situation or even a painful season. We have to remember that our life here on earth is not all that there is to our existence.
There is a life to come where we are promised no more pain or suffering when we see Jesus face to face and when He returns in all of His glory. This is the glory that Paul tells us about in Romans 8:12. We will experience God's glory in all of its fullness one day and what a glorious day that will be! Let us hold fast to that hope of eternal life that awaits us, free of all pain and suffering!
Whatever you are facing has an expiration date.
You won't have to live with that pain forever; it cannot overtake you, unless you let it. So take heart!
The suffering you are experiencing cannot stand against God's glory. Let us keep our minds fixed on heaven and fixed on Jesus Christ our Savior, in the midst of our storm. Sadness and grief will come, sometimes like a tidal wave, but you have an anchor of glorious hope and His name is Jesus!
Father, help us to see this life with eternal lenses and embrace the promises of everlasting life with Christ. Help us through our times of pain and suffering as we hold onto the hope we find in Jesus. We will continue to hide ourselves in Christ until we take our last breath here on this earth or until Jesus returns in His glory.
---
Deeper Walk: 2 Corinthians 4:17
---
Check out more of my blogs and contact me on www.wewouldratherhaveJesus.com!
---
---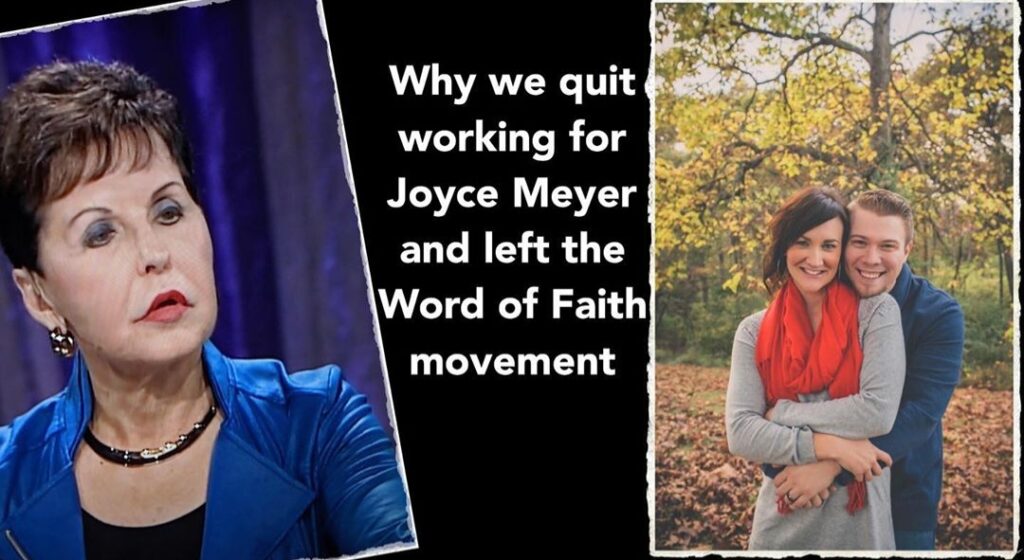 As we were hinting in a previous post, in God's perfect providence, an opportunity to share our testimony of coming of the deception of the Word of Faith/Prosperity Gospel movement presented itself a few months ago.
Emily reached out to Doreen in early September and let Doreen know how much her ministry had been such a blessing and how it had helped us not feel alone in the journey of healing from deception. Doreen was heavily involved in Christian Science/New Thought New Age (all very similar ideologies as Word of Faith) and was a practicing medium. But Jesus saved her and pulled her out of the deception of those movements in 2017! Praise God! Emily shared a little with Doreen of how Paul grew up in the Word of Faith/prosperity gospel movement for the first 25+ years of his life and how at one point, we both began working for Joyce Meyer. Coming out of Word of Faith theology in 2015 and eventually leaving Joyce Meyer Ministries after watching American Gospel in February 2019 has been one of the most challenging, painful, yet beautiful experiences in our 10 years of marriage. Doreen asked us to share our testimony on her YouTube channel. We prayed and set a date for the interview.
We personally know how damaging this theology can be because its twisting of scripture can be so subtle. THAT is what makes it dangerous. You could unknowingly think you are believing the gospel, but could very much be believing a false gospel. Therefore following a false Jesus. A Jesus who promises riches and victory and healing in this life, but never calls you to repentance and faith in God (not faith in faith) alone.
We hope you would take the time to watch the whole video. If you have any questions or comments, we would be more than happy to engage in civil dialogue. We do not want anyone to stay in deception, especially in this dangerous movement. This is all out of a heart of love, and we pray you would see that. Ultimately, we pray Joyce, along with all the other Word of Faith teachers, would repent and trust in the true gospel.
We also want to thank Chris Roseborough of Pirate Christian Media Justin Peters Ministries, Costi W. Hinn, Desiring God, Grace to You, and Ligonier Ministries (among many others) for helping us on this journey of building a strong foundation of truth in the Word of God and having the boldness to call out error. We are grateful beyond words for all that these ministries and men of God have done in our lives. - Paul & Emily Massey**
**After I wrote this blog post, I went to check our Facebook Page and noticed that my "pinned" post wasn't there anymore. As I scrolled down to the date in which it was originally posted, I realized it was gone. Thankfully, a friend had shared our post and copied and pasted the caption. The caption was still there, but the link was missing..."This Content Isn't Available Right Now," it said. Facebook removed our post, y'all! It can only be assumed that enough people reported our post and it was taken down by the Facebook police. Don't you just love censorship...especially at the hand of "Christians" because why would the world care about Joyce Meyer? Obviously, what we said matters. It's because truth matters. And we will continue to defend it.
Soli Deo Gloria

Emily
---
You can read more and contact us at www.wewouldratherhavejesus.com.
---
___________________________________________________________________________________________ This week marks four years since my husband Paul sat down with the pastor of our Word of Faith/Prosperity gospel church to vulnerably and lovingly share his heart on some deep convictions and concerns of error of what was being preached there and what he had believed his whole life.
God used His written Word and other Biblically sound teachers- Thank You, Jesus, for Justin Peters, John MacArthur, Paul Washer, and John Piper to name a few- to open our eyes to see the false teaching we had believed for many years- for me, since 2008, and for him, the first 25 years of his entire life. We could not in good conscious continue to serve in leadership nor attend that ministry any longer, and we sadly had to part ways. Special and dear relationships were greatly impacted because of this decision; We had experienced something similar to losing friendships several years prior when we decided to leave the church Paul grew up at and where we met and got married- it began to become very worldly and performance driven the bigger it grew. This megachurch now has several locations in our city and in another state; it is also associated with some of the biggest names in prosperity gospel theology.
I share this out of a heart of love because there are still so many whom we care about involved in this movement at different ministries and churches around St. Louis and in other cities, including pastors and leaders. We love them with a deep love, but we absolutely hate the deceptive teachings that twist scripture and confuse so many people all over the globe.
As I have shared recently, our journey to understanding what God's Word really says and renewing our minds to replace lies we were believing with His truth has been difficult and painful and lonely. But it also has been one of best things that has happened to us. Our understanding of the gospel and God's sovereignty has brought us such joy and comfort, especially during storms and painful loss we have walked through over the last year or so. To be sure, our children will only know of that teaching we believed for what it is…false. We pray God would use us to disciple them and anyone else who He places in our path.
We have not shared too many major details of our testimony, especially publicly. It is difficult to keep silent when you see false teaching and deception running rampant. I am very cautious as to what and when I speak out against this false teaching and movement on social media. To be completely honest, I want God to use me to see many, many people's eyes open, but I know that when you begin "tipping over sacred cows," people are going to get offended. Our heart is never to push those whom we love in this movement further away from us or build up walls; we want to be a bridge to reach as many as we can. I pray that is evident in anything that is said or done regarding all of this.
We have such an incredible burden to speak out about all of this, and we now ask God to use us to warn others of this dangerous movement and point them to the truth.
With all of this said, in God's absolutely amazing providential timing, He is opening up some doors of opportunity for my husband and I to share our testimony of coming out of the deception of Word of Faith/Prosperity/NAR theology on some larger platforms that have the potential to reach hundreds of thousands of people.
I humbly ask, would you please join me in praying that we would discern the right time to release our story and that if/when we share it, God would give us boldness and wisdom on what exactly to say so that others would be helped and that God ultimately would be glorified? We greatly appreciate your prayers and support!
Thank you, friends!
Soli Deo Gloria