Wynter Pitts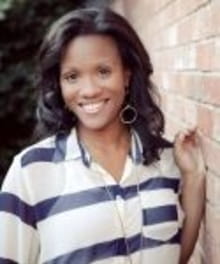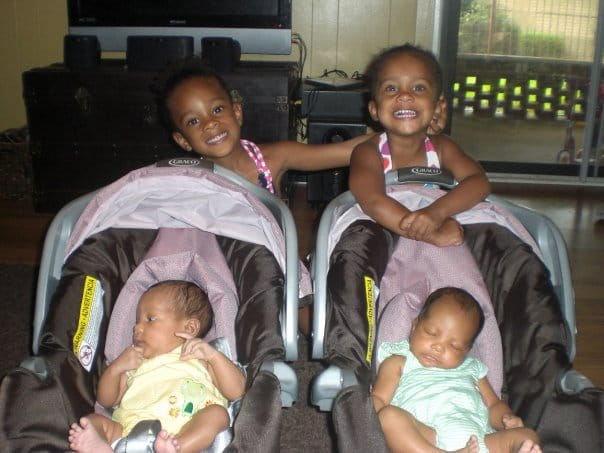 I'm not sure why I was feeling particularly brave this day. Normally, I would carefully adjust my schedule in order to avoid this type of thing. Meaning, normally I waited for my husband to come home before I left the house…..with the kids…..alone.
I'm only slightly joking…keep reading and you will understand why.
However this day I decided I could do it.
I went to Target.
On my own.
With all 4 of my girls.
BRAVERY.
I am not sure what I actually thought I was going to buy or where I would put it, considering my cart was full before I even walked through the doors! But on this day, for whatever reason, I decided I could do it and I could do it alone.
I can only imagine how we must have looked…..A five year old tugging at my left thigh. A three year old waddling on my right and a shopping cart loaded with two infant car seats.
I was that mom. The mom you watch in awe and amazement with a twinge of sympathy and pity.
We were strolling the aisles pretty seamlessly when somewhere between the cereal and toothbrushes it happened.
The moment all mom's dread… "I have to go potty!"
OH NO!
I tried to ignore her 1st three cries. But as I watched her hand intensely cup her bottom, I knew I was in trouble.
We scurried through the aisles back to the front of the store and reached the entrance to the restroom.
A sign read, "No shopping carts allowed beyond this point"
Oh my! I began to play the scenarios in my head:
Scenario 1- Remove my two infant seats and carry my twins one by one into the restroom, while towing along the two older girls. Sit the seats on the floor outside of the stall…line the paper and load the 3 year old….wash hands and head back out to the cart.
Scenario 2 - Leave my cart, my twins, and my 5 year old outside of the restroom…..
….ok clearly I only had one option!
I have been forced to develop the skill of creative problem solving, but I was out of options. Meanwhile my three-year-old's hand was getting tighter and we were all in tears, helplessly standing outside the door.
I took a final scan of the store. I guess I thought one final look before I began the process might give me some new insight….Nothing.
Finally I whispered a desperate prayer, "Lord, help me!"
It was in that moment that out of nowhere I saw a familiar face strolling towards me!
I practically threw my cart in her direction as I yelled, "I'll explain when I get back…."
I'm not sure I've recovered from this experience. However it has surely served its purpose. I often recall this experience to remind myself…..
God answers prayers
…..Sometimes he's just waiting for us to ask.
---
A mom-is a mom- is a mom.
Regardless of our language barriers, varying experiences or even the color of the ground we walk on… our hearts for our children beat the same.
I know this for a fact because today–I felt it beating right next to mine.

This is Florence. We met at a Sole Hope jigger removal clinic in Jinja, Uganda where she is recovering with 6 of her 9 children.
A combination of poverty, hunger, jiggers, maleria and HIV have overtaken their tiny frames and by most definitions they are the forgotten.
I recalled the last time one of my girls had a fever. I thought about the the urgency in my actions as I carefully measured 2 teaspoons of Tylenol, followed by a cold rag on her forehead, a comfortable pillow under her neck and an iPad by her side with her favorite episode of Curious George cued and ready to go.
Florence lives watching her children suffer and there is very little she can do to help.
As I watched her sitting on the ground with two children laying motionless on each side of her lap, my heart crumbled into pieces. I ached for her. The mommy in me wanted her to be able to provide relief and comfort for her children. The women in me wanted her to be free of pain and agony.
And then she spoke these words…
"I prayed for a girl. God gave me three. Then He gave me another. No one can tell me there is not a God because I asked for these children and He gave them to me. People tell me I won't be able to raise them…I tell them with God's help I will. And I am."
Then she looked me directly in the eye and in her Ugandan tongue she said,
"You only have twins, I have triplets. I win."
She wins.
Not simply because she has triplets but because she realizes what a blessing all of her children are.
Is she in pain? Yes. Has she felt hunger? Yes. Are they facing desperate situations? Yes. Is she judged and criticized? Yes.
Can you relate? I didn't realize it but I could.
Friend's don't miss this- Florence is a winner because regardless of her circumstances, she rest solely and completely in the arms of her Creator. His strength. And it just doesn't get any better than that.
And do you know what else? Her children win. They may not have a pillow placed under their weak necks or a brand new…well anything, but resting on the strength of their mother's faith makes them winners.
Their bodies may be full of infection and infliction but they have a mother who reminds them that they are her gift. And that the God she serves and believes in is bigger than the realities they live in.
As you can imagine, I stood there-amazed. Convicted and challenged.
I want to live like Florence. I want to raise winners. I want God's Word, not my world, to be the drive behind my actions and my feelings.
Don't you?
With my words and my actions I want my children to know…
You are not a burden- You are my blessing.
Children are a heritage from the Lord, offspring a reward from him. Psalm‬ ‭127‬:‭3‬
You are not unwanted- you are an answer to my prayer.
I prayed for this child, and the Lord has granted me what I asked of him. So now I give him to the Lord. For his whole life he will be given over to the Lord." 1 Samuel‬ ‭1‬:‭27-28‬
You are not more than I can handle-you are my testimony.
And my God will meet all your needs according to the riches of his glory in Christ Jesus.
Here's the thing, as mothers and daughter's of the King, you and I have have a responsibility to help our sisters, like Florence.
The mother living down the street, sitting next to us at church or living 8,000 miles away. Motherhood is a gift. My children, your children and hers matter to the one that created them.
Are you winning? Do your children know it? Florence helped me change my perspective and we can help her.
Here's how-
You can help provide the relief that Florence, her children and thousands of others need by partnering with Sole Hope as they remove jiggers, provide prevention education and new shoes to those needing to feel relief from the pain of jiggers and the love of the Father we all trust.
What are jiggers? Find out here.
Get involved!
Help Sole Hope in the following ways:
1. Like and share this post.
2. Grab your girls and cut jeans to help make shoes with "Shoe Cutting Party!" Info here!
3. Or give a gift here.
Follow stories like this by using #solestories
Photo Credit : www.garyschapman.com
---
I cannot remember a time in my life when I did not have knowledge of God. But there were definitely seasons of not knowing him.
You know… there is a difference.
I was fortunate to grow up in a Christian home. I am grateful for grandparents who laid a Christ-centered foundation and a mother who led by example. However, no matter how many Bible verses they taught me, prayers they prayed over me or worship songs we sang together, there is one thing they just couldn't give me…
A relationship with Jesus.
I now know that knowledge of God and knowing God can lead to two very different life experiences. But it took me a little while to figure this out and I believe it happens in our own homes more often than we realize.
I often wonder if my children are learning how to move from a knowledge about God to a relationship with Him.
I didn't.
I knew Biblical principles and many stories from the Bible. However, I did not connect how stories like the one found in Matthew 14 of Jesus feeding 5000 people with 5 fish and 2 loaves of bread or David killing a Giant in 1 Samuel 17, could impact my life as a 10-year-old girl.
I just didn't get it.
I knew that the Bible was God's Word. I did not know how it applied to my life.
I knew that God was the Creator of the world. I did not know him as my Father.
I knew that God was Holy. I did not know that I didn't have to be holy first so that He could really love me.
I knew that Christ died to save the world from sin. I did not know how to live like I was a forgiven sinner.
At that age, I was busy trying to fix my friendships, pass my science test and convince my mother I was old enough to wear lipstick! Surely God didn't care about these things. And no way did God speak to these things in the Bible…right?
Wrong. I was wrong and I wish I knew it then. What decisions would I have made had I realized that I didn't need to wait until I was "grown up" to get to know and live for God personally.
It never fully dawned on me that the great big God of the universe knew me, completely understood me, and wanted a relationship with me as a little girl, just as much as He did with teenagers and adults.
Today, I think about this concept often as I parent four growing daughters of my own. I pray that my girls begin a life-long journey of knowing God today, in this season of their lives.
As adults, you and I may not speak the same language as our children. They don't understand how we understand, they don't necessarily care about the things we care about and they don't always think we "get it." However, their Creator does. And He has things He wants to tell them, like why He cares about their friendships, their outfits and even those science tests.
Here are 4 practical ways to help our children connect God's Word with their lives:
1. Be the example.
Let them see you reading and hear you talking about God's word in your daily life.
2. Pray for boldness and confidence with them and for them.
They need to learn early that choosing to be like Christ will not always be popular, and will often come with challenges. They need God's strength as they live for Him.
3. Help them to carve out time.
It is true that many things will not happen during our days if we do not schedule them. Encourage your children to set a time to dig into the Word of God and spend time with Him on their own!
4. Use God's Word as a standard for living.
Study God's word together and teach them how to apply it to their everyday situations. In times of joy, fear, disobedience or encouragement, find scriptures that apply and have them write and post Biblical principles around the house and in their rooms.
I pray that my children, my daughters, know and live for Christ – today and tomorrow, don't you?
Photo credit: ©GettyImages/Prostock-Studio
----------------------------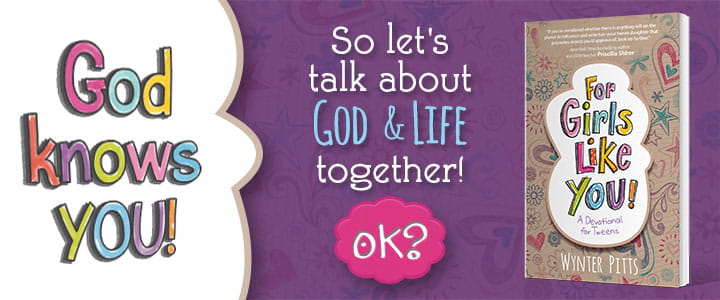 If you have a tween daughter, get a copy of new For Girls Like You Devotional for Tweens--bite-sized pieces of Truth that inspire and encourage her to get to know God and see what He has to say about her life!