Lisa Appelo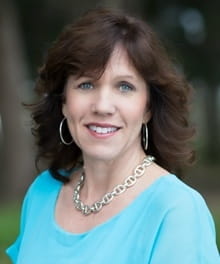 In a few weeks' time, our world has turned upside down.
That's the thing about crises — they come unannounced and settle right over the plans and dreams we'd scrawled into planners and calendars.
Stores have sold out of toilet paper and hand sanitizer and our best plans have cancelled like bad Christmas tree lights – conferences, speaking engagements, church services, ballet lessons, senior class trips, weddings, sporting events, and more.
In the days since, we've seen this virus escalate globally, then nationally and then like a London fog seeping into our towns and cities. We've isolated to protect the vulnerable and ourselves, working from home and schooling from home and we don't know how long this will last.
Both the world at large and our personal worlds have turned upside down.
I hear all around the weight we're carrying in crisis.
We're weary before the day's even over as we prepare for the worst while hoping for the best.
We're grieving that once-in-a-lifetime events won't happen or certainly won't look like we dreamed.
We're adjusting to massive change and upheaval to our day-to-day normality.
We're watching markets tumble, layoffs happen and businesses struggle, wondering what kind of economic repercussions are down the road.
We're overwhelmed with headlines and predictions and anxious for the unknown that lies ahead.
It's all leaving us confused, fearful and vulnerable.
While I've never been through a time like this — none of us has – I've been through the kind of crisis that upends every part of life. Several years ago, I became a sudden widow and single mom to 7 and our world as we knew it completely imploded.
I know despair. I've grieved once-in-a-lifetime events that will never happen for me or my children. I've grappled with massive change to our day-to-day normality and wondered what the future looks like without the single income that supported us. I've feared for my children and worried for the unknown the lies ahead. I've felt confused, fearful and vulnerable.
And here's what I know.
We are not victims in this.
No matter how grim the circumstances, God enables us not merely to survive this season – lots of people will do that.
God enables and intends for us to flourish DESPITE this season and IN this season as he leads us through.
I've put together a FREE and simple workbook called Flourish: Find Your Footing, Tame Your Fear and Bloom in Unexpected Difficulty. This study is based on Jeremiah 17:7-8, where God reveals four steps to flourish in the unexpected.
But blessed is the one who trusts in the Lord
whose confidence is in him.
They will be like a tree planted by the water
that sends out its roots by the stream.
It does not fear when heat comes;
its leaves are always green.
It has no worries in a year of drought
and never fails to bear fruit.
Isn't that what we want? To be stable when the life rocks, to be deeply nourished when life is barren, to disarm fear when we face the unknown and to bud and blossom even in the hard.
Listen the current crisis may have come unnounced but we can stay steady in the unexpected.
This workbook is a short 5-day study unpacking each verse of Jeremiah 17:7-8 to see how God tells us we can flourish in the unexpected.
I pray this blesses you mightily!
---
Fresh hope. New beginnings. Big dreams.
A brand spankin' new year stretches before us and we are teetering on the edge with great anticipation.
This new year may open wide with its great unknowns to us, but not to God. He knows the way we take and he's already there.
But now knowing what lies ahead isn't so bad.
I'm convinced if we'll give God the pen to write the pages of our life it will be a story far beyond anything we could imagine. An unbucket list of details and doors and detours that would make our best plans pale in comparison.
So today as we dream about the year ahead, let's write our goals and plans in pencil. God has the pen and we can trust that his plans are always best.
The Bible has a lot to say about new beginnings and new plans. Here are 21 Bible verses for the New Year.
21 Bible Verses for the New Year
Therefore, if anyone is in Christ, the new creation has come: The old has gone, the new is here! 2 Corinthians 5:17
See, I am doing a new thing! Now it springs up; do you not perceive it? I am making a way in the wilderness and streams in the wasteland. Isaiah 43:19
Create in me a clean heart, O God; and renew a right spirit within me. Psalm 51:10
Because of the LORD's loving devotion we are not consumed, for His compassions never fail. They are new every morning; great is Your faithfulness! Lamentations 3:22-23
He who was seated on the throne said, "I am making everything new!" Then he said, "Write this down, for these words are trustworthy and true. Revelation 21:5
What I have said, that I will bring about; what I have planned, that I will do. Isaiah 46:11
We can make our plans, but the LORD determines our steps. Proverbs 16:9
The steps of a man are established by the LORD, And He delights in his way. Psalm 37:23
Who is the man who fears the LORD? Him will he instruct in the way that he should choose. Psalm 25:1
Commit your way to the LORD; trust in Him, and He will do it. Psalm 37:5
Trust in the LORD with all your heart, and lean not on your own understanding; in all your ways acknowledge Him, and He will make your paths straight. Proverbs 3;5-6
Teach us to number our days, that we may gain a heart of wisdom. Psalm 90:12
You crown the year with a bountiful harvest; even the hard pathways overflow with abundance. Psalm 65:11
I will restore to you the years that the swarming locust has eaten, the hopper, the destroyer, and the cutter, my great army, which I sent among you. Joel 2:25
But blessed are those who trust in the LORD and have made the LORD their hope and confidence. They are like trees planted along a riverbank, with roots that reach deep into the water. Such trees are not bothered by the heat or worried by long months of drought. Their leaves stay green, and they never stop producing fruit. Jeremiah 17:7-8
The LORD Himself goes before you; He will be with you. He will never leave you or forsake you. Do not be afraid or discouraged. Deuteronomy 31:8
Have I not commanded you? Be strong and courageous. Do not be frightened, and do not be dismayed, for the LORD your God is with you wherever you go. Joshua 1:9
She is clothed with strength and dignity; she can laugh at the days to come. Proverbs 31:25
Rather, as it is written: "No eye has seen, no ear has heard, no heart has imagined, what God has prepared for those who love Him. 1 Corinthians 2:9
But seek first the kingdom of God and His righteousness, and all these things will be added unto you. Therefore do not worry about tomorrow, for tomorrow will worry about itself. Today has enough trouble of its own. Matthew 6:33-34
For we walk by faith, not by sight. 2 Corinthians 5:7
*This post appeared first at LisaAppelo.com.
Start your year studying the life of Christ chronologically! Subscribe here and I'll send you my FREE 100 Days with Christ Bible study and journal.
Photo Credit: ©Thinkstock-Kanizphoto
---
Years ago, a girl gave her heart to a boy.
He'd first been a best friend. There'd been laughter and stories swapped on long youth trips, open school bus windows blowing in hot air and legs sticking against vinyl seats.
There'd been summer Sunday fellowships after church with games and swimming and school year lunches when the whole gang squeezed into the birthday booth at Burger King.
When the oldest in their circle got a license and family car, there were weekly day trips to find waves and she'd gone for the sun.
Somewhere in the laughter and bus rides and waves, she'd gotten to really know him and she fell hard.
Months were filled with double dates, flowers at the front door, letters and pictures and ticket stubs that slowly filled a shoebox in her closet.
One day, he wasn't returning her smiles. He walked her to class but left without conversation. Nothing's wrong, he said. But there was distance. And when she pressed, he said he'd been watching her give the smiles that used to be his to another. He'd noted the "harmless" time she spent with another.
It had been an imperceptible shift to her.
He wanted the first love.
Love only for him.
Nevertheless I have this against you, that you have left your first love. (Revelation 2:4)
It's almost undetectable, each day's small move toward or away.
It comes from giving my attention to another.
From giving priority to another.
From "harmless" time with another.
It comes from falling in love with the gifts when it was the Giver who wooed us.
It comes from serving where He's called but losing wonder of the Master.
God's name is Jealous. (Exodus 34:14)
He will have nothing less than our single-minded heart.
After Dan died, emptied of so much that had been life and crushed for what life was now, I fell in love all over again.
The emptying and crushing times help us see that we need God so desperately. We can feel Him intensely in those times. We talk to him constantly and hear Him clearly.
We beg His wisdom for all the scary new and cling to His hope for the unknown ahead.
He is the deepest love at our weakest and darkest.
Oh, how I begged God to never take me from that place of deep love when my heart didn't hurt so much and life looked brighter.
First love can flourish in the sunny days as much as the hard days.
How to keep first love flourishing?
1. First love thrives with reckless trust.
Am I trusting God to step out to places where I need Him desperately? To places where He is my hope?
2. First love flourishes when God's voice is first.
Do I crave time in the Word with God? Do I fit the Word into the leftovers of life or fit life around the Word? Is God speaking to me more loudly anything else?
3. First love deepens when God is all.
Do I want what God wants? Is God enough or do I expect more? Is God my peace and satisfaction or am I looking for that somewhere else?
Today we will either move toward God or away but none of us will stay where we are.
"For I am jealous for you with the jealousy of God himself. I promised you as a pure bride to one husband—Christ." (2 Corinthians 11:2 NLT)
Today Lord, bring us back to our first Love. Our heart is Yours alone.
You are our only all.
This post appeared first at LisaAppelo.com. Lisa is a young widow and single mom to 7. She writes about faith in the hard, grief and hope. If you'd like encouragement in your inbox, subscribe here and you'll receive Lisa's free 100 Days with Christ Bible study and journal.