On becoming His masterpiece - a life resolution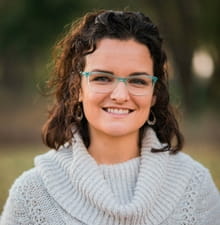 I used to admire the paintings of Jackson Polluck. What one person viewed as a mess, I saw as expression, creativity, a boundless spirit. I was mesmerized.
I remember seeing this picture of him beside a canvas, and longing to be him. I wanted that chance to make art – not just seated nicely by a small canvas – but to be faced with a room-sized canvas, gallons of paint, and the freedom to stretch and bend and move my whole body to create something vivid and alive.
I liked the dimensions of energy and movement necessary in Polluck's work. It was integrated. It wasn't just medium and canvas; his work required full body immersion and expression. And, I wanted to be all in. All engaged. I suppose I've always been an all or nothing type.
And now, here I stand beside a life-sized canvas.
I approached it in faith, trembling – all too aware that He beckoned me to it, and I couldn't move away. And now, time and time again, He chooses colors I've never seen, and He places them in my hands. Each time, I know it could be costly, exhausting, demanding. It won't turn out how I planned. He bends me and stretches me in ways I never requested, yet long for. This painting is coming life, breathed out by His life. There is boundless freedom, this being bound to His will and His creating.
Lately, I've started to pause more often and stand back. I tilt my head just so, trying to make sense of this life He's called me to. It's not clear to me. It looks like a giant, life-sized mess actually-
I can see the places where I've doubled over and face-planted in this process. There are big splats on this canvas of mine. There are places where I collapsed to my knees, broken. There are muddied places where tears washed out the paint, and my human hands tried to fix it all up.
And, I see those broken corners on this canvas, and I want to turn my head away. They reveal those angry smears of paint, shoes marks from my kicking. And I remember the fighting. How I've tried to claw my way free of this calling, away from this canvas. I've wanted out. I've wanted anything but this.
I've stepped away from this canvas and tried to peer through the door at someone – anyone – else's paintings. He gets to use more blue. She has nice small splatters, which would be easier. They get to work together, that's so much better! Why does she get extra help with the paintbrush? Should he be standing on the canvas like that?
Thankfully, He's held me to this room, in front of this canvas, holding these paints.
I'm growing in it.
I'm learning.
This creating, this faith-expressing - it takes my whole life, demands my whole being, integrates my everything with His all-sufficiency. It calls me to use my gifting and passions – along with my kitchen table and vehicle and free moments and tired days and family and everything in between.
It's all being poured out, splattered, flung and slung across this canvas of life to a rhythm and in a pattern only He knows. I hope it's pleasing in His eyes.
Because, one day, He'll ask me to put the paintbrushes away. We'll put the lids back on the gallons. I'll take off this apron and hang it up for good. My work here will be done, and this life-canvas will be complete.
I pray it reflects the beauty of its Creator. I pray it causes people to stop, to tilt their heads, to whisper to themselves about a faithful God that shined so brightly through this one. Maybe they'll pause over the broken corners and knee-marks on the canvas. Maybe they'll understand the tear-stained places. Maybe they'll finally recognize what a dependent, needy artist this one was, and how God was the only thing good in her.
I pray it all points them, points you, to the Great I Am – because only in Him do I live and move and have my being.
And then, when it's all complete and eternity a waits, He'll hand me a pen and show me where to sign this life's work of faith - His display of glory through me.
To think, I'm living today what I'll be signing then.
May that signature of mine be found on a faith that required my whole being, a canvas that took up my whole life. I pray I'll sign my name to a faith that was integrated - that pushed me off my pew, out of the studio, with mind, body, heart, soul, everydays and somedays all engaged. I pray I'll sign my name to a faith that was more than sitting with a straight back beside a manageable canvas and a predictable color wheel.
May my name be found on a faith that was boundless, expressive, rich, and bold –
a faith that called for slinging His glory-paint with everything I had,
as far as I could,
to every corner I could reach.
Amen.
Photo Credit: Jackson Pollock painting, Summer 1950, photo: Hans Namuth
---
---
---