Moses stood up & saved them // Exodus 2:17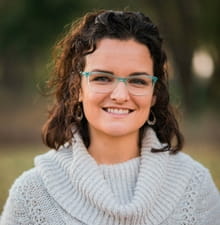 Now the priest of Midian had seven daughters, and they came and drew water and filled the troughs to water their father's flock. The shepherds came and drove them away, but Moses stood up and saved them, and watered their flock. Exodus 2:16-17
After Moses killed the Egyptian, he fled the country and found himself in the land of Midian, sitting by a well. Seven young women, who were daughters of the priest of Midian, entered the scene. They were planning to draw water and fill troughs for their father, but a group of bully shepherds rumbled in and tried to drive them away.
Moses couldn't help himself.
His heart was divinely molded by God to rage against injustice, and here it was again, staring at him now in the form of seven vulnerable women. Moses stood up to the shepherds and saved the women. Then, he went on to help them draw up the water, ironically living out his own name as well as his calling.
First the beaten Hebrew, now the bullied women. Did Moses wonder what was going on? How he kept stumbling into the same scenarios, different settings?
The consistency of God shouldn't surprise us, not in Moses' life or our own. Consider the situations that repeatedly find you. Maybe it's giving encouragement, or teaching, or advocating, or standing up against injustice, or a host of other options. In those scenarios and passions and interests, you encounter purpose.
Coincidence is not a consideration. God's purpose for your life is thoroughly purposeful.
But, the scenarios may seem too routine to be divine, too mundane to be miraculous; Moses was just resting at a regular well, after all, likely surrounded by dirt and bugs and thirsty animals. But may we never forget - everyday settings and scenarios are cultivated soil in which God's purposes flourish. Embrace them.
Everyday moments lived with intentions on God's glory always result in sacred purpose.
Prayer
Jesus, give us eyes today to see your hand and your purpose in our lives. Help us to notice the events and conversations that you divinely orchestrate, ones that point us more clearly into our calling before you. Make us aware of you, and the ways you are working on our everyday moments. In your name, Jesus, amen.
---
31 Days of Purpose: Devotions from the early life of Moses
From a boat-basket to a burning bush, Moses' call to leadership is filled with everyday people and situations, all divinely orchestrated for God's divine purpose. As we study the early years of Moses, we see a consistent theme of God raising up the unlikely and transforming the average with His anointing. That's me, and that's you - common people, yet commissioned for a high calling. Let's step into it this month, together. Click here for the whole series.
---
---
---