How will the People of the Cross respond?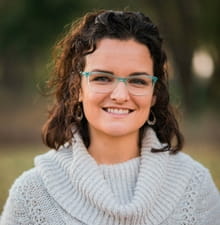 It's been over a week now since the everyday, regular living of those 21 became a threat to the force of evil. Somehow, their routine lives, lived under the lordship of Jesus Christ Almighty, showed up powerful and extraordinary in the heavenlies. And evil raged to be rid of their influence.
21 who wouldn't forsake His name.
21 who wouldn't recant.
21 who took up their cross and followed Him, in a line, along a beach, with dark shadows of souls behind them. Then, with praises on their lips and their knees pressed into sand - they were ushered into Glory, into the arms of Jesus.
People of the Cross, they called them.
And may we not miss this - the message was not sent out to "the people of a certain country" or "the people of a certain political group" or variety of other possibilities. See, it was intentionally labeled as the people of the Cross, as a message to The Nation of the Cross.
Those residing under the life-changing, earth-shaking shadow of the Cross. Like you. Like me.
Look closely, friends. Is that orange you are wearing? Feel the grip of hate on your shoulder? Sand under your knees?
People of the Cross was their identity - and it is ours as well.
And I wonder, does evil understand our identity better than we do?
Does evil somehow quake before its greatest threat, greatest foe – even though we tip our lights under a cupped hand and tip toe on?
Because even the demons believe – and shudder. James 2:19
And so, today? This time? May it not only be evil that believes. May it not only be evil that trembles before the authority of King Jesus.
May the people of the Cross live up to the identity called out over us.
"For we do not wrestle against flesh and blood, but against the rulers, against the authorities, against the cosmic powers over this present darkness, against the spiritual forces of evil in the heavenly places." Ephesians 6:12
People of the Cross, may we show up on this spiritual battlefield. May we show up on our knees, and may our prayers pierce through the insulated bubble that keeps us unaffected and apathetic at the news of 21 lives sliced away and up to 100 more captured this week. May we intercede for those living out our same identity in ways unimaginable to us. (Update 2/26/15 - ISIS now holds 262 Assyrian Christians hostage.)
Because, that message acknowledged our position in Jesus Christ. May we then faithfully respond as no less than People of a powerful, glory-promising, freedom-winning Cross.
And, how can we pray? Let's pray what we say we believe:
People of the Cross, what if our God really does set up rulers and tear them down (Daniel 2:21)? Then, let's pray that our Sovereign God, the one who defends the powerless and advocates for the downtrodden, will ride in and deal justly. Let's pray that He will, in fact, set up rulers and presidents and kings who honor His name and tear down those who cooperate with the forces of hell.
He changes times and seasons; he removes kings and sets up kings; he gives wisdom to the wise and knowledge to those who have understanding. Daniel 2:21
What if there is evidence of a violent, Christian-persecuting man whose heart was captured by the light and love of Jesus? Let's pray, let's beg, for Pauls to emerge from this hate-filled band of Sauls. May we commit to that. May we be given hearts to even ask for it and to believe God for that type of conversion in our day.
For you have heard of my former life in Judaism, how I persecuted the church of God violently and tried to destroy it...And I was still unknown in person to the churches of Judea that are in Christ. They only were hearing it said, "He who used to persecute us is now preaching the faith he once tried to destroy." And they glorified God because of me. Galatians 1:13; 22-23
What if the One in us is greater than the one in the world? Let's pray, knowing King Jesus is greater, already victorious, eternally powerful, and triumphantly declaring the persecuted as "more than conquerors." (Romans 8:37)
and every spirit that does not confess Jesus is not from God. This is the spirit of the antichrist, which you heard was coming and now is in the world already. Little children, you are from God and have overcome them, for he who is in you is greater than he who is in the world. 1 John 4:3-4
Because, if we believe what we claim to believe, our prayers will be saturated in His promises – and what we believe will affect our living and affect our responding.
We are His, and we are called to pray - to put action on our beliefs and apply it all to current events.
And so, while the world may clamor and wring their hands over the force of evil, the People of the Cross will step solidly into battle, on their knees, because we know the One who has called us and bought for us an identity soaked with His sacrifice.
May we not forget that - we, the People of the Cross.
---
resources for awareness and ways to pray
CNN - ISIS now holds 262 Assyrian Christians hostage
Open Doors USA - Syria: Up to 100 Christians Kidnapped by Islamic State
Ann Voskamp - The Call for the next 40 days and The Wake-Up Call that is ISIS
World Magazine - The ISIS war against 'the people of the cross'
The Gospel Coalition - A Prayer in Response to the Martyrdom of 21 Egyptian Christians
The Washington Post - Pope Francis denounces ISIS beheadings: 'Their blood confesses Christ'
Christian Today - Justin Welby on ISIS killings: 'The light of Christ will not be overcome'
---
---