Hope Wins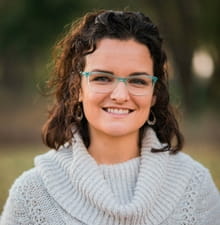 She and her kids walked across her home country. It took them a year. Their village had been burned in the war, so they had to flee for safety.
And, I can't get the weight of those lines out of my mind. I could fill you all in with more details, but at some point, it just seems indescribable. Wordless, I want to hang my head and just close my eyes to the pain she's experienced. I'm not sure I'll recover or that I even should.
But, you know, it is not simply the pain that moves me. Countless refugees living in our community have equally emotional life experiences. So, do you know what really sucks the wind from my lungs?
It's her smile.
It's beautiful. It's alive and full of inspiration and light. And, she laughs.
She, one who has faced the fear of not being able to feed her children, one who has stared down the loss of not one but two spouses without flinching, one who has courageously envisioned a new life for her kids and works with aching muscles to accomplish it. She laughs.
Somehow, the darkness of this life's grief and dread is defeated in her smile. Hope wins.
Because, the truth is, hard times don't always make heroes.
Sometimes hard times just leave people throbbing with bitterness, anger, and resentment. While it may be understandable, it's not inspirational.
I am honored to walk alongside this woman in this lifetime. She has tread the waters of everything I fear and dread. And, she has survived. But, she's done more than survive. She still smiles, she still laughs, and, by the grace of God, she has emerged heroic and saturated in inspiration.
As she left my house the other day, I told her I'd be praying for her and a difficult situation her family is facing. She was already out the door, walking down the steps. After a moment, she turned around and called back to me:
"I will pray for your dad, too, Anne."

"Thank you," I replied, more than a little surprised.
My dad was having an angiogram the next day, and I wasn't sure she'd even remember. I didn't expect her to. To be honest, I wanted to call back, incredulous:
How are you not just completely cynical about the frailty of human life at this point? You still cling to hope, committed to prayer – you who have certainly cried out to God endlessly during that year of walking, or those long years at the refugee camp, or now in the midst of trials again? How are you still breathing… much less praying for my family?
I closed the door behind her and visibly shook my head. What an unsung hero she is.
Her faith has ministered to me consistently; it speaks volumes about the possibility of surviving life's greatest tragedies with hope unharmed and anger disarmed. Praise God, it is possible.
Human strength is notable, but lasting and victorious hope is found in a Source beyond us. Sharing life with refugees like this woman has given me a constant visual of Isaiah 43:1-3, fleshed out:
Isaiah 43:1-3
"Fear not, for I have redeemed you;
I have called you by name, you are mine.
When you pass through the waters, I will be with you;
and through the rivers, they shall not overwhelm you;
when you walk through fire you shall not be burned,
and the flame shall not consume you.
For I am the Lord your God,
the Holy One of Israel, your Savior.
I look into her eyes, and I see one who was divinely escorted as she walked. She has passed through the rivers and was not overwhelmed. She has walked through fire and was not burned or consumed by the flames.
We may not be able to avoid the long, painful walks of this life. We may not be able to sidestep the threatening rivers. Yet, this woman's persistent smile reminds me of the promise of victory through the Lord – victory over the trials but also victory over the destructive reflex of resentment and bitterness.
No, hard times alone don't mold people into heroes. Hard times simply display the tenacious hope that is anchored not in life's circumstances but in the person of Jesus.
For those He has redeemed, He promises His consistent love and comfort. And, with that promise, the waters do not overwhelm, nor do the flames consume. We can emerge victorious through the unexplainable, abiding hope in the One who has claimed us and called us by name.
Fear not, hope wins.
---
---