For all of us who need to know that we can hide in Him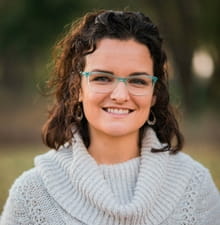 Recently, I had a Skype meeting about my writing with Jonathan Merritt. He's a teacher at the Writer's Bootcamp Conference I attended last spring. Jonathan nailed me from the beginning, saying my writing was too vague; I needed to "make every word tell" and make my point more clear. And so, in a few direct statements, he nonchalantly blew my cover, and the simple truth of it rattled me. Did he not know how dangerous it feels to say, much less write, my opinions and thoughts in a public space? Did he not understand that being vague and flowery and poetic is, in fact, my buffer and my shield?
I prefer to dance gently around my point, throw some flower petals on it, daringly make eye contact with it for just a second, and maybe happen to gesture my arm towards it. This subconscious strategy has been my hiding place, and I had just been found. Game over.
Since that meeting, I keep blinking at the floodlight that's engulfed my little hideaway tendency. I recognize my default more clearly now – I love to hide, and although I may have thoughts and opinions, my fear of being wrong or being criticized sends me darting for cover routinely.
And, really, this has little to do with writing. Truth is, that four-letter, f-word - Fear - has been identified once again in my living, not just my writing. He's been a bad companion.
Do you recognize him too? Are there similar shields and buffers that Fear has handed you with a smirk? He knows we don't need them, but if we accept them, we can be convinced otherwise. We can start living like we are weak and vulnerable. The power, that glory-bursting power of Jesus, can be dwindled down and watered down, and suddenly we are crouched in our corners, just hoping we blend into the wall.
Fear conditions us to retreat when God calls us to stand, to take cover when God says to take ground, to conceal when God commands us to reveal.
Fear edges in and sticks close to our sides, so close we find it hard to determine where we end and he begins. He's a parasite who exists on feeding off our joy and peace. Worst of all, when our identity is so lost in him, we nearly forget the Truth that can save and secure us:
God hasn't called us to hide away but to be hidden away, for He is our hiding place.
"Keep me as the apple of your eye; hide me in the shadow of your wings," Psalm 17:8

"For he will hide me in his shelter in the day of trouble; he will conceal me under the cover of his tent; he will lift me high upon a rock." Psalm 27:5
Yet, somehow we run to the isolation of our corners over the welcoming arms Jesus. Stepping out of our corners mean trusting Him fully to do what He says He will do, although the outcomes may look different than we imagine. When we move instead to His hiding place, we surrender to His will, emptying our hands and recognizing it's His work to accomplish through us.
Today, what is He prompting us to consider, or what steps has He laid before us? Maybe it's a new responsibility to step into, or a conversation that needs to take place. Maybe it's a decision that needs to be made, or an opportunity to pursue. Maybe it has to do with speaking up and not dancing around points that should be made.
Friends, it's time to cast off the weight of Fear and leave our corners. Praise God, the game is over, and the relentless floodlight of His love has found us and settled on us, as we were still crouching in corners. And now, He's asking us to stand up - and then fall into His embrace. As we trust Him with our next steps, may He be our only true hiding place.
Jesus, we confess we are corner-dwellers by nature. We love to run and hide, and no matter how beautifully deep and wide we know your love to be, fear becomes too real, too easily. Please show us where we are disabled with fear rather than mobilized in your love. When we act like spiritual orphans, please remind us gently that You are our Father. Thank you Lord that Your love gathers us in and makes us Your children. Remind us today that Your Father's heart longs to embrace us and to shelter us. Lord, would You be our hiding place? Amen.
---
---