on surrendering our Empty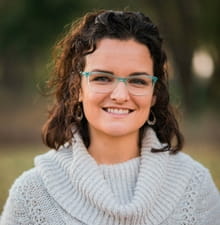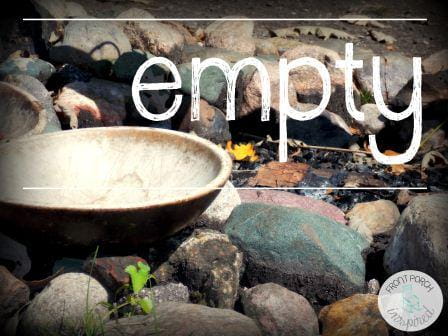 Days and nights I've trudged through this muddied life-path, because He whispered to me about the divine destination. Days and nights, this heart would not quit, because He had set it to the rhythm of His own.
But I've been emptied. Poured out. Every drop exhausted.
And, the truth of it all? This emptying only, only happens through great pain, doesn't it? Maybe it's a diagnosis or a phone call, an accident or conflict, a loss or change – but whatever the catalyst, the emptying begins. And this pouring out is never a simple response to gravity, like water quietly trickling down. No, this emptying – it's searing and crushing and leaves us convulsing. And, it requires tears, messy and necessary, to wash away the remnants of self-reliance and security.
Then, suddenly, I'm hollow, and that's no longer a bad thing. Self has been made powerless, stripped bare. Willingness has won over Wants this time.
So, today, I come empty. I'm bringing my open hands to sit and wait before Him.
Today, I remember the story of this widow who found herself crying out to the prophet Elisha. Her heart was still mourning the loss of her husband and now her children were about to be taken as slaves in order to pay off her late husband's debt. Life had turned her world upside down and the painful emptying ripped it all away.
Husband – gone. Money – gone. Security – gone. Ideal family – gone. Hope – gone.
And somehow in the midst of the stripping away, the tearing loose of everything that mattered, she found the grace to cry out and admit her desperate need to Elisha. His answer – and her response – always amaze me:
And Elisha said to her, "What shall I do for you? Tell me; what have you in the house?" And she said, "Your servant has nothing in the house except a jar of oil." Then he said, "Go outside, borrow vessels from all your neighbors, empty vessels and not too few. Then go in and shut the door behind yourself and your sons and pour into all these vessels. And when one is full, set it aside." 2 Kings 4:2-4
So she did it. She poured oil into the emptiness of one vessel, then another, then another. When the emptiness ran out, so did the oil.
So she went from him and shut the door behind herself and her sons. And as she poured they brought the vessels to her. When the vessels were full, she said to her son, "Bring me another vessel." And he said to her, "There is not another." Then the oil stopped flowing. 2 Kings 4:5-8
Yes, when the emptiness ran out, the filling ran out.
And I wonder, did she ever wish she would've brought more empty? Did she ever wish she'd knocked on a few more doors, found some more empty, and offered it as well? Because, again, when the emptiness ran out, the filling ran out.
So today, friends, I'm gathering up empty. Here I am, the needy widow, knocking on doors and calling out for every empty vessel: Do you have anything empty? And you? Do you have emptiness? You, there – something empty?
An empty pitcher, a broken heart, aching arms, bottomed-out dreams, devastating news – can we bring all those hollow places and just lay them out before Him? Can we show up void of anything contrived or reliable or valid and simply, only acknowledge the Empty?
Yes, friends, the ache and the emptying out gouged us deep and left a vacated hole – but may we discover today that it's just deep enough and just wide enough and finally an ample space, just the exact space, for the only real filling. After all, Spirit-filling always swallows up emptiness with His Purpose.
So, today, may our barren hearts bow before Jehovah-Jireh, the Lord will Provide. May we come empty, trusting the Source. May we come empty, despising our own efforts to mask it.
May we come empty, believing the pouring out was for a greater purpose -one we long to see.
Because surrendered Empty is surely, eventually, intentionally filled with Purpose. Because that pain? It's productive. The searing has a reasoning. The crushing has a calling. And Purpose knows it full well.
Purpose knows that all that empty is the most beautiful, redemption-soaked red carpet that God rolls out to usher in a greater and more glorious filling of His Spirit.
Because He's the Spirit who flows freely in empty places – hallowed places that have been hollowed out and intentionally gathered up for His filling.
---
---