content to dwell // Exodus 2:21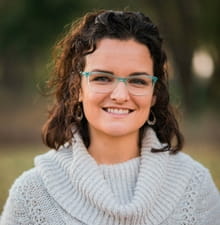 And Moses was content to dwell with the man, and he gave Moses his daughter Zipporah. She gave birth to a son, and he called his name Gershom, for he said, "I have been a sojourner in a foreign land. Exodus 2:21-22
What had happened to Moses? He went from passionate and eager to deliver his people to suddenly "content to dwell" in Midian. Had he given up on his calling? Dreams seemingly laid aside, Moses lived in Midian for 40 years.
But, his years weren't wasted. These were years that trained him and shaped him. Moses became a servant rather than a ruler while in Midian. He put down roots and started a family. Here, the Egyptian prince experienced humble living and everyday obedience in the ordinary life.
Friend, have you ever spent time in Midian, like Moses? Have you ever experienced a season of humble dwelling, in a place far different than your exciting visions?
Maybe today we need to hear all over again that the seasons in Midian are not wasted or even for waiting - they are invaluable for preparing. After all, the passionate, Egyptian-killing Moses without his Midian would never become the Israelite-delivering, Red-Sea-crossing Moses at all.
For in the desert seasons, passion is refined into promise, fueling our purpose.
Today, can we too say we are "content to dwell" in our Midian? We have the choice to embrace the training and growth God offers through this rather unwelcomed season. We have the option to allow it to mature us, grounding our purpose and our calling.
Because God ordains the ordinary in order to bring us into obedience.
And, the good news is this: the path out of Midian led Moses to a burning bush, where he heard the voice of God. Friend, let's stay obedient and "content to dwell," - for soon enough, we'll find ourselves barefoot on holy ground.
Prayer
Lord Jesus, please give us patience to dwell contentedly in our Midians. Would you help us find purpose in the desert seasons? Like Moses, help us to be trained and grounded in these years. Grow us up spiritually. And, when your sovereign hand moves, may we find ourselves more fully in your presence, on holy ground. We pray that our Midian years make us to cling more closely to you and to know you more completely. In your name, amen.
---
31 Days of Purpose: Devotions from the early life of Moses
From a boat-basket to a burning bush, Moses' call to leadership is filled with everyday people and situations, all divinely orchestrated for God's divine purpose. As we study the early years of Moses, we see a consistent theme of God raising up the unlikely and transforming the average with His anointing. That's me, and that's you - common people, yet commissioned for a high calling. Let's step into it this month, together. Click here for the whole series.
---
---
---