and he became her son // Exodus 2:10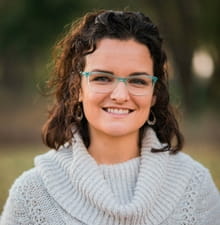 "When the child grew older, she brought him to Pharaoh's daughter, and he became her son." Exodus 2:10
Why did Pharaoh's daughter want to parent a Hebrew baby? Why did she insist on defying her father's orders? After all, her father was the king as well as the soon-to-be adoptive grandpa. Why did this most illogical adoption happen?
And then, between the lines, we can start to see the sovereign hand of God despite the questions. Here is a boy named Moses, taken from his peasant family to dwell among Egyptian royalty. He learned their ways. He was educated and given countless opportunities when he became her son, the son of a princess.
Moses' time in the palace shaped him for leadership in ways only God could have ordained. For, eventually, God's call on this leader would mean physical salvation for his people.
Often that which perplexes us is but the pen stroke of our creative God, writing His purpose into our stories.
If we continue to trace these divine strokes, we find another story. Years after Moses, a baby boy entered the world. His story went in the opposite direction, leaving the royalty of Heaven to sink into a stable of animals and hay. He came to dwell among us and learn our ways. But, instead of being given countless opportunities like Moses, He surrendered every right and every privilege that were due Him when he became her son, the son of Mary. In doing so, He was shaped by God for sacrifice, for nails, and for a cross.
For, eventually, God's call on Jesus meant salvation for all people – for you and for me. It's another improbable, illogical story made wonderful with divine flourishes of God's reasons and plans.
Certainly, the question marks of life leave just enough space for God's pen of purpose.
What about those situations happening in your life, in my life? Why is that most illogical event happening anyway? And why is that person insisting in such a way? Why?
Let's wait and see. Someday, we'll rest near His throne, full manuscript in hand. The "whys" will fade into wonder. We'll understand when we are in the presence of the One who became a son.
Prayer
Lord, help us to trust your greater purpose, especially when the story line of our lives is perplexing and difficult. Thank you, Jesus, for willingly submitting yourself to humanity, for entering this messed up world and then dying to rescue us. Thank you for becoming her son so that we could become children of God. We praise you because someday every day of this life will make beautiful sense. In Jesus' name, amen.
---
31 Days of Purpose: Devotions from the early life of Moses
From a boat-basket to a burning bush, Moses' call to leadership is filled with everyday people and situations, all divinely orchestrated for God's divine purpose. As we study the early years of Moses, we see a consistent theme of God raising up the unlikely and transforming the average with His anointing. That's me, and that's you - common people, yet commissioned for a high calling. Let's step into it this month, together. Click here for the whole series.
---
---
---