finding Purpose | a poem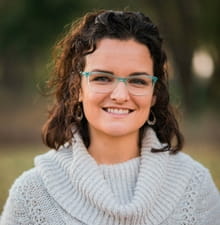 I can see her - my dear Purpose,
bobbing frantic in blackened waters as I skip rocks
on the shore. I'm afraid
to care so I settle in
to pass time with empty lungs, aimless hands.
After all, here on the sidelines
without her it's safer and more
safe, really.
But, I still see her – my dear Purpose,
hanging on out there, straining
because she believes there is meaning in it all.
Minutes or days or years wear on but
I don't count and don't define because
without knowing, it's simpler and more
simple, really.
And then
this Lifeline – too powerful to dismiss, too gentle
to dread - speaks Himself into existence beside her where
He was from the beginning.
And Purpose breathes again, breaths that move
me to my knees and startle my heart into belief.
For she has found salvation
and will not drown. Or, I should say, it
has found her and does not let her go.
I can see her – my dear Purpose,
rising up, stronger now
than the waters that afflicted her,
stepping out of the pit with grace that defies
her past disaster and muddied dress.
I can see her – my dear Purpose,
lifting up her arms in victory,
face, once filthy, now sanctified in the light.
She turns to gaze fully at me. And
I recognize her, finally.
She brushes away my skipping
rocks, dusts me off, embraces me –
"You never lost me, Child," whispers Purpose. "In the presence
of fear and despair, you abandoned me."
I feel her now - her hands on my shoulders, pushing me
toward the path. Her voice repeating the words
I had failed to remember
when those deep waters loomed before us:
"forgetting what lies behind and straining forward to what lies ahead,
you press on
toward the goal for the prize of the upward call of God in Christ Jesus." (Philippians 3:13-14)
---
NEW Book Journey // June 1
We'll be starting a new Book Journey on June 1st at Front Porch, Inspired on the book Interrupted by Jen Hatmaker. Click here for more details, and be sure to purchase your copy of the book!
"Interrupted follows the author's messy journey through life and church and into living on mission. Snatching Jen from the grip of her consumer life, God began asking her questions like, "What is really the point of My Church? What have I really asked of you?" She was far too busy doing church than being church, even as a pastor's wife, an author of five Christian books, and a committed believer for 26 years. She discovered she had missed the point.

Christ brought Jen and her family to a place of living on mission by asking them tough questions, leading them through Scripture, and walking together with them on the path. Interrupted invites readers to take a similar journey."
Click here to learn more about Book Journeys at Front Porch, Inspired.
---
---