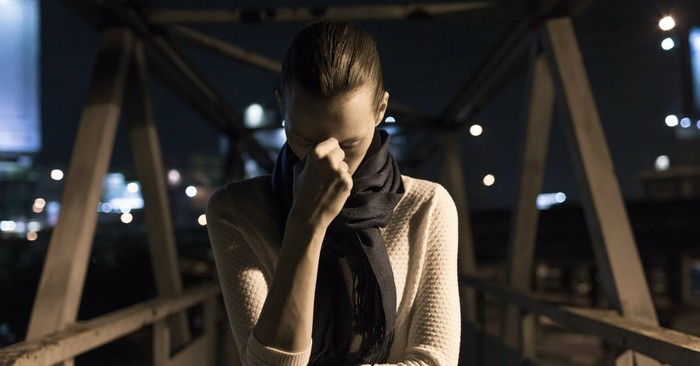 While some people poke fun at the grim reaper, skeletons, and gravestones, others battle internal fears about death.
This time of year naturally brings with it lots of music, decorations, parties, and themes surrounding death. And while some people poke fun at the grim reaper, skeletons, and gravestones, others battle internal fears about death.
There are legitimate reasons to fear death if you don't belong to the family of God because that means eternal separation from Him. As Hannah More said, "No man ever repented of being a Christian on his deathbed." So if we'd rather not fear our deathbed, we must trust Jesus Christ for our salvation.
Christians have no reason to fear death. God has promised wonderful things after death for those who believe in Him.
Jesus shared in our humanity to destroy death and free us from the fear of death.
25 Bible Verses and Quotes to Overcome the Fear of Death
1. "But [God's grace] has now been revealed through the appearing of our Savior, Christ Jesus, who has destroyed death and has brought life and immortality to light through the gospel." (2 Timothy 1:10)
2. "Since the children have flesh and blood, [Jesus] too shared in their humanity so that by his death he might break the power of him who holds the power of death--that is, the devil-- and free those who all their lives were held in slavery by their fear of death." (Hebrews 2:14-15)
3. "When the perishable has been clothed with the imperishable, and the mortal with immortality, then the saying that is written will come true: 'Death has been swallowed up in victory.' 'Where, O death, is your victory? Where, O death, is your sting?'" (1 Corinthians 15:54-55)
4. "When the time comes for you to die, you need not be afraid, because death cannot separate you from God's love." (Charles H. Spurgeon)
5. "We want to reach the kingdom of God, but we don't want to travel by way of death. And yet there stands Necessity saying: 'This way, please.' Do not hesitate, man, to go this way, when this is the way that God came to you." (St. Augustine)
6. "Death may be the King of terrors... but Jesus is the King of kings!" (D. L. Moody)
Facing fear and anxiety now? Download our FREE 30-Day Prayer Guide to fight fear and anxiety today.
Because Jesus died and rose again, Christians will also experience His resurrection.
7. "For if we have been united with [Jesus] in a death like his, we will certainly also be united with him in a resurrection like his." (Romans 6:5)
8. "Brothers and sisters, we do not want you to be uninformed about those who sleep in death, so that you do not grieve like the rest of mankind, who have no hope. For we believe that Jesus died and rose again, and so we believe that God will bring with Jesus those who have fallen asleep in him." (1 Thessalonians 4:13-14)
9. "It is a precious thing beyond all words, especially in the hour of death, that we have a God whose nature is such that what pleases Him is not our work for Him but our need for Him." (John Piper)
10. "Let your hope of heaven master your fear of death." (William Gurnall)
Death for the Christian means glorified bodies.
11. "So will it be with the resurrection of the dead. The body that is sown is perishable, it is raised imperishable; it is sown in dishonor, it is raised in glory; it is sown in weakness, it is raised in power; it is sown a natural body, it is raised a spiritual body. If there is a natural body, there is also a spiritual body." (1 Corinthians 15:42-44)
12. "Not only so, but we ourselves, who have the firstfruits of the Spirit, groan inwardly as we wait eagerly for our adoption as sons, the redemption of our bodies." (Romans 8:23)
13. "For while we are in this tent, we groan and are burdened, because we do not wish to be unclothed but to be clothed with our heavenly dwelling, so that what is mortal may be swallowed up by life." (2 Corinthians 5:4)
14. "Death is no more than passing from one room into another. But there's a difference for me, you know. Because in that other room I shall be able to see." (Helen Keller)
15. "He whose head is in heaven need not fear to put his feet into the grave." (Matthew Henry)
Death for the Christian means an eternity of joy in God's presence.
16. "Jesus said to her, 'I am the resurrection and the life. The one who believes in me will live, even though they die; and whoever lives and believes in me will never die. Do you believe this?'" (John 11:25-26)
17. "'No eye has seen, no ear has heard, no mind has conceived what God has prepared for those who love him'—but God has revealed it to us by his Spirit." (1 Corinthians 2:9-10)
18. "He will swallow up death forever. The Sovereign LORD will wipe away the tears from all faces; he will remove the disgrace of his people from all the earth. The LORD has spoken." (Isaiah 25:8)
19. "For the Lamb at the center of the throne will be their shepherd; he will lead them to springs of living water. And God will wipe away every tear from their eyes." (Revelation 7:17)
20."Death to the Christian is the funeral of all his sorrows and evils, and the resurrection, of all his joys." (James H. Aughey)
21. "Death is the golden key that opens the palace of eternity." (John Milton)
22. "He will wipe away every tear from their eyes, and death shall be no more, neither shall there be mourning, nor crying, nor pain anymore, for the former things have passed away." (Revelation 21:4)
23. "You must not be greatly troubled about many things, but you should care for the main thing — preparing yourself for death." (Ambrose of Optina)
24. "And the Word became flesh!…in order to make us earthly beings into heavenly ones, in order to make sinners into saints; in order to raise us up from corruption into incorruption, from earth to heaven; from enslavement to sin and the devil – into the glorious freedom of children of God; from death – into immortality, in order to make us sons of God and to seat us together with Him upon the Throne as His royal children. O, boundless compassion of God! O, inexpressible wisdom of God! O, great wonder, astounding not only the human mind but the angelic [mind] as well!" (John of Kronstadt)
25. "A man obtains the fear of God if he has the remembrance of his unavoidable death and of the eternal torments that await sinners; If he tests himself every evening as to how he has spent the day, and every morning as to how he has spent the night, and if he is not sharp in his relations with others." (Dorotheos)
If you want to have victory over the fear of death, meditate on Scripture and experience the peace of God that passes understanding! Want to dig even deeper to see what the Bible says about death and dying? Here are additional passages for you to study: Philippians 1:21-25, 2 Timothy 4:8, Romans 14:8, 2 Corinthians 5:8, 2 Corinthians 5:1-2.
Asheritah Ciuciu is the author of Unwrapping the Names of Jesus and Comfort Food: Overcoming Food Addiction with the Word of God. Asheritah grew up in Romania as a missionary kid and then studied English and Women's Ministry at Cedarville University in Ohio. Her passion is helping women find joy in Jesus through a deeper walk with God, and she shares vulnerably from her own life experiences on OneThingAlone.com. She is married to Flaviu, a web programmer and artist, and together they raise their spunky daughter in northeast Ohio.
Photo courtesy: Thinkstockphotos.com
---
The following list provides more Bible verse resources focused on provided Scriptures that will meet you in your need. No matter the circumstance or situation, God's Word can speak healing and encouragement into your life. Read and memorize these verses so you can remember God's promises at the moment you need them!
Bible Verses to Calm an Anxious Soul
Bible Verses for Strength in Hard Times
Marriage Bible Verses to Pray Over Your Spouse
Bible Verses to Help Stop Anxiety and Panic
Bible Verses for Peace in Challenging Times
Victory Bible Verses to Pray Over the Battles
Freedom Bible Verses for Letting Go
Bible Verses for Overcoming the Fear of Death
Spiritual Warfare Bible Verses
Immanuel, God with Us Bible Verses
Related podcast:
The views and opinions expressed in this podcast are those of the speakers and do not necessarily reflect the views or positions of Salem Web Network and Salem Media Group.
So when sin is not being confronted, or even viewed as sin at all, it's time to address it with the hope of gently helping to restore believers caught in its web. Here are 10 sins that often go overlooked in Christian community.
Stock Footage & Music Courtesy of Soundstripe.com Thumbnail by Getty Images
---
---