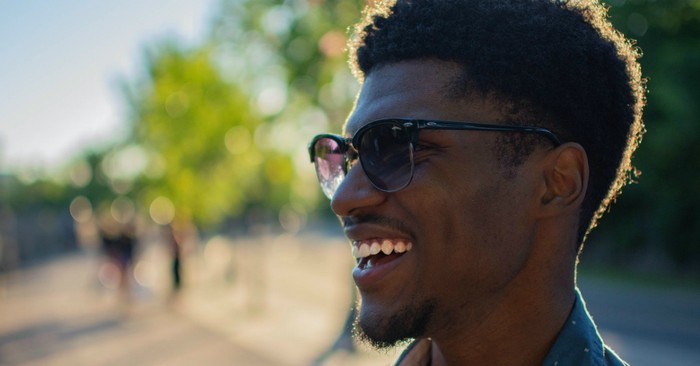 The following quotes, Bible passages, and short words of affirmation can be used daily to remind the men in your life of the full life God wants us to enjoy.
"Words spoken at the right time are like gold apples in silver settings". Proverbs 25:11. You have the power to change someone's day and outlook on life simply by offering encouraging words that lift spirits! If you have men in your life who are facing hard times such as a job layoff, overcoming grief, faced with depression or sickness, or simply want to speak life into every day, these words of encouragement will bring hope and joy!
The following quotes, Bible passages, and short words of affirmation can be used daily to remind others (and yourself!) of the full life God wants us to enjoy. It's our hope that you would boldly use these words in notecards, on post-its or by text to inspire your husband, father, son or friend and to remind them of who God has created them to be!
Photo Credit: © Pexels/Jean-Daniel Francoeur

25 Encouraging Words of Affirmation for Men
I am so proud of who you are.
Thank you for loving me, even when I'm not that loveable.
I love you more today than any day before.
I can't wait to experience the rest of life with you.
Your decisions, hard work, and loving heart make me so proud to be your wife.
You understand me more than anyone. I can't believe how lucky I am to have you.
I can't wait till you get home from work!
I missed you so much today!
How can I make you feel more loved?
How can I try to understand you better?
I'm praying for you today. You've got this!
I feel so safe with your protection.
I will always respect and honor you.
I can't wait to tell my friends how you helped me!
You provide so much for us.
You arms are the only place I want to be.
You can always make me laugh. I'm so happy I have you!
You can trust me.
If that's where you want to lead us, I will follow your decision.
I love knowing that you want me.
I only want you.
I love doing projects together. Hard work and laughter is the best with you!
I admire your integrity and I know others do too.
I still have moments where I am speechlessly thankful for our marriage.
I know we don't always see eye to eye, but it's reassuring to know we are always on the same team.

Encouraging Quotes for Men
1. "Hope begins in the dark, the stubborn hope that if you just show up and try to do the right thing, the dawn will come. You wait and watch and work: You don't give up." - Anne Lamott
2. "What gives me the most hope every day is God's grace; knowing that his grace is going to give me the strength for whatever I face, knowing that nothing is a surprise to God." - Rick Warren
3. "True faith means holding nothing back. It means putting every hope in God's fidelity to His Promises." - Francis Chan
4. "Jesus gives us hope because He keeps us company, has a vision and knows the way we should go." - Max Lucado
5. "Let God's promises shine on your problems." - Corrie ten Boom
6. "If you can't fly, then run, If you can't run, then walk, If you can't walk, then crawl, but whatever you do, you have to keep moving forward." - Martin Luther King Jr.
7. "Continuous effort - not strength nor intelligence - is the key to unlocking our potential." - Winston Churchill
8. "Remember, A moment of pain is worth a lifetime of glory." – Unbroken Movie
9. "I mean, any fool can have courage. But honor, that's the real reason you do something or you don't. Its' who you are and maybe who you want to be." - The Blind Side Movie
10. "Courage is contagious. When a brave man takes a stand, the spines of others are often stiffened." – Billy Graham

Bible Verses to Inspire Men
Isaiah 40:31 - "but those who hope in the Lord will renew their strength. They will soar on wings like eagles; they will run and not grow weary, they will walk and not be faint."
Joshua 1:9 - "Have I not commanded you? Be strong and courageous. Do not be afraid; do not be discouraged, for the LORD your God will be with you wherever you go."
Proverbs 3:5-6 - "Trust in the LORD with all your heart and lean not on your own understanding; in all your ways submit to him, and he will make your paths straight."
James 1:2-4 - "Consider it pure joy, my brothers and sisters, whenever you face trials of many kinds, because you know that the testing of your faith produces perseverance. Let perseverance finish its work so that you may be mature and complete, not lacking anything."
Ephesians 6:11-18 - "Put on the full armor of God, so that you can take your stand against the devil's schemes. For our struggle is not against flesh and blood, but against the rulers, against the authorities, against the powers of this dark world and against the spiritual forces of evil in the heavenly realms. Therefore put on the full armor of God, so that when the day of evil comes, you may be able to stand your ground, and after you have done everything, to stand. Stand firm then, with the belt of truth buckled around your waist, with the breastplate of righteousness in place, and with your feet fitted with the readiness that comes from the gospel of peace. In addition to all this, take up the shield of faith, with which you can extinguish all the flaming arrows of the evil one. Take the helmet of salvation and the sword of the Spirit, which is the word of God. And pray in the Spirit on all occasions with all kinds of prayers and requests. With this in mind, be alert and always keep on praying for all the Lord's people."
1 Peter 5:5-7 - "In the same way, you who are younger, submit yourselves to your elders. All of you, clothe yourselves with humility toward one another, because, "God opposes the proud but shows favor to the humble. Humble yourselves, therefore, under God's mighty hand, that he may lift you up in due time. Cast all your anxiety on him because he cares for you."
Mark 10:45 - "For even the Son of Man did not come to be served, but to serve, and to give His life a ransom for many."
Micah 6:8 - "He has shown you, O mortal, what is good. And what does the Lord require of you? To act justly and to love mercy and to walk humbly with your God."
Jeremiah 9:23-24 - "This is what the LORD says: "Let not the wise boast of their wisdom or the strong boast of their strength or the rich boast of their riches, but let the one who boasts boast about this: that they have the understanding to know me, that I am the LORD, who exercises kindness, justice and righteousness on earth, for in these I delight."
Who are you praying for encouragement for today? Begin using these words of affirmation and see how speaking love can help change someone's heart and thoughts. Share in the comments below how we can join you in prayer for the men in your life!
---
This article is part of our Words of Encouragement series. It is our prayer that these words will bring you blessings while you use the affirmations, quotes, and Bible verses to inspire others to life their life fully alive!
Words of Encouragement for Men
Words of Encouragement for Women
Words of Encouragement for Kids
Words of Encouragement for Friends
Words of Encouragement for Cancer Patients
Words of Encouragement for Teachers
---
---