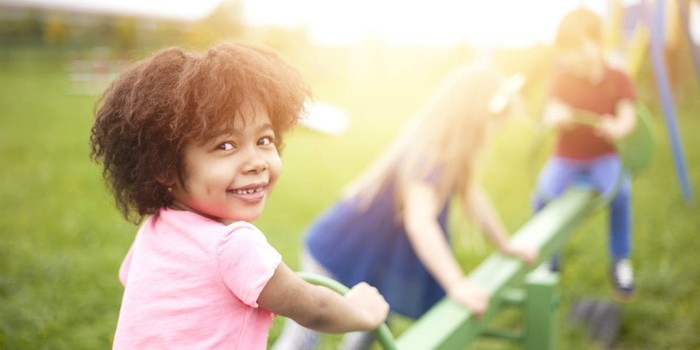 The following quotes, Bible passages, and short words of affirmation can be used daily to remind the kids in your life just how much you and Jesus love them.
As a former educator, I made conscious decisions to build my students' self-confidence while letting them know that none of us are perfect. I strived to make sure they understood they had worth despite their mistakes, carefully balancing my correction with encouragement.
Somewhere along the way, I forgot that my kid is also a work in progress. I forgot that he, too, needs grace. That he's not supposed to be perfect. That I'm not perfect! (That when he makes a mistake it doesn't mean I've failed!) That he, too, needs encouragement, especially in this often scary and quite uncertain world he's forced to feel his way through and call his home.
As part of my own self-reflection, I've put together some encouraging kid-relevant affirmations, quotes, and Scriptures in an effort to help me reach a more balanced approach in my parenting. I hope you'll find my sharing them to be helpful in reevaluating your relationship with your child and that they'll open doors for opportunities to connect with each other in ways like never before. Use these words of encouragement and affirmations to inspire your kids throughout the day. Write one on a post-it for their mirror, in a lunch box or simply send a text if you have older children!
As you strive to remember to balance correction with encouragement, it's my hope that you'll not only notice a difference in your child's self-confidence and how s/he responds to you and others but also gain a newfound passion for parenting—that your spirit would be encouraged too!
25 Heartfelt affirmations and words of encouragement to say to your kid
Remember that I'll be praying for you today.
I love spending time with you.
I really want to hear what you have to say.
You're the kind of friend I would've liked to have had at your age.
Jesus loves you and so do I.
You're such a problem solver!
I'm proud of you and proud of who you're becoming.
You are God's workmanship.
Our family wouldn't be the same without you.
You inspire me in so many ways.
You're brave; so go ahead and try something new today.
You. Are. Priceless.
Thank you for making me laugh today.
I'm your biggest fan!
None of us are perfect—and that's okay.
Your mistakes do not define you.
Your ideas are epic!
My love for you isn't based on your performance or behavior.
You can tell me anything, anytime. Really.
I'll love you no matter what. Really.
You're such a blessing to me when you ask how you can help.
You've got exactly what it takes to be a leader.
I love it when you put others before yourself.
I like the way you think!
I had a bad day too; tomorrow will be better.

Christian quotes to inspire your kid:
"Prayer is the best conversation of the day. It's better to go to God before taking it to someone else." –Sadie Robertson
"A setback only paves the way for a comeback." – Evander Holyfield
"Let God's promises shine on your problems." – Corrie Ten Boom
"Your value doesn't decrease based on someone's inability to see your worth."— TobyMac
"Life is 10% of what happens to me and 90% how I react to it." – Chuck Swindoll
 "What God knows about us is more important than what others think."   —Tim Tebow
"Conflict is inevitable, but combat is optional." – Max Lucado
Comforting Scriptures to read with (and pray over) your kid
For I know the plans I have for you," declares the Lord, "plans to prosper you and not to harm you, plans to give you hope and a future." Jeremiah 29:11
So do not fear, for I am with you; do not be dismayed, for I am your God.
I will strengthen you and help you; I will uphold you with my righteous right hand. Isaiah 41:10
Cast your cares on the Lord and He will sustain you; He will never let the righteous be shaken. Psalm 55:22
For God hath not given us the spirit of fear; but of power, and of love, and of a sound mind. 2 Timothy 1:7
No temptation has overtaken you except what is common to mankind. And God is faithful; he will not let you be tempted beyond what you can bear. But when you are tempted, he will also provide a way out so that you can endure it. 1 Corinthians 10:13
Ye are of God, little children, and have overcome them: because greater is He that is in you, than he that is in the world. 1 John 4:4
He heals the brokenhearted and binds up their wounds.He determines the number of the stars and calls them each by name.Great is our Lord and mighty in power; his understanding has no limit. Psalm 147:3-5
Image Credit: Unsplash.com
About the Author: Writer by day, transcriber by night, Renee Davis is a  boy mom, PPD survivor, recovering fear-a-holic, and former educator. She's a contributor to The Good Men Project, Crosswalk, and, most recently, The Washington Post. You can learn more about Renee's journey and her passion for helping women find their worth in the Word, not the world, at The Stay@Home Scribe.
---
This article is part of our Words of Encouragement series. It is our prayer that these words will bring you blessings while you use the affirmations, quotes, and Bible verses to inspire others to life their life fully alive! 
Words of Encouragement for Men
Words of Encouragement for Women
Words of Encouragement for Kids
Words of Encouragement for Friends
Words of Encouragement for Cancer Patients
Words of Encouragement for Teachers
---
---