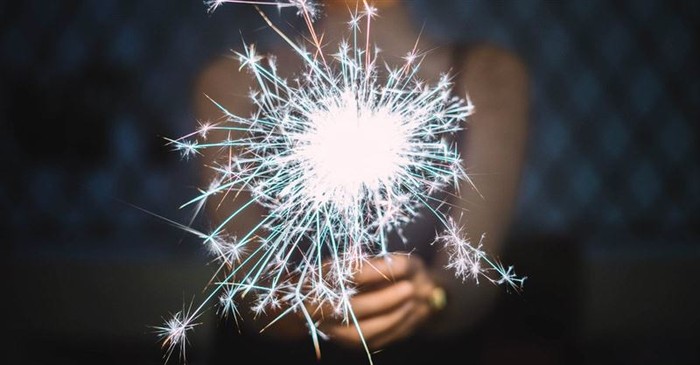 As 2021 comes to a close, let's pray for the year ahead and ask God to direct our steps and hearts.
As one comes to a close and another approaches, before we begin to make all of our plans and set all of our goals for the upcoming year, we ought to take some time to settle with the year we are currently in and tie up whatever loose ends we have. We should desire to go into the new year with confidence, grace, and healed hearts.
One of the most difficult things about changing seasons is leaving the past behind us and moving forward to what lies ahead (Philippians 3:13). This can be hard to do, especially if we've had a hard year and are struggling to feel positive about what might be next. And yet, even when things have been so sweet, we can be uncertain of the coming season – will it threaten the peace and happiness we've come to enjoy? Looking to the future means looking to the unknown.
Either way, I have learned that through Christ, all things are possible. That means that no matter what the past year held for you, Christ is able to walk alongside you to help you to move forward in your life. This doesn't mean that we should push our feelings and thoughts aside in an attempt to hurry and get over them for the sake of a new year. Rather, we have to be willing to let go of control and allow Christ to reign and rule over our lives, submitting to his authority and plan, and trust him to help us in whatever way we need while we move forward.
Take some time between now and the new year to think through your 2020. Take note of the condition of your heart and why it is in the current shape that it's in. Then, in your secret prayer time, go to the Lord and have him survey your heart. Open it wide for him, lay your year ahead at his feet, and choose to walk with him to the place that he has for you.
Here is a small prayer that you can pray as you reflect on this year and prepare your heart and mind for the new year that is coming followed by some of my favorite New Year's prayers from others:
A Prayer of Reflection for the New Year:
My Father Who is in Heaven, Hallowed be your name. I thank you for the caring and keeping of my heart, my mind, and my body this year. I know that many of the events that have transpired over the course of the year may have been a surprise to me, but none of them were a surprise to you.
I bless your name because you are holy and worthy of my trust. Therefore, I rest in your goodness and I ask that you would heal the parts of me that need it, and protect the parts of me that are whole and pure.
I walk into this coming year with open arms, knowing that you have a bright hope and a future for me. I leave this year knowing that you cause all things to work together for my good, because I love you and have been called according to your purposes.
Have your way, oh Lord and wherever you lead me, I will follow! For I pray this in your son Jesus' precious and mighty name, Amen.
A New Year Prayer for Victory
Lord Jesus, I come to you in this brand new year with a desire to move forward, not backward. Last year is gone, and with it all the foolish mistakes I made. I'm eager to put the past behind and to press on toward the mark of knowing you, loving you, serving you, and making Your name known in this coming year. You gave everything for me, so I could have a new beginning—every day of every year. Thank You for Your underserved favor and unlimited mercy—and Your grace, that keeps on giving. Thank You for making me Your child.
I need You, Lord. Without You, I can't meet the heavy demands of life or the unrelenting pressures that I'll face this coming year. I am making a new commitment today—not a New Year's resolution—but a new desire to place You where You always belong, first place in my life. Make the "I will's" of Scripture become my affirmations: "I will trust You; I will praise You; I will follow You." I will replace fear with faith, knowing You are always with me. And with You on my side, it will be a victorious New Year...Amen. (Rebecca Barlow Jordan)
A Short But Powerful Prayer for the New Year
Lord, Today we in complete sincerity welcome You into this new year and new decade of our lives. We know that no good thing comes except by You. We do not seek blessings from a place of pride or selfish ambition, rather, we seek them in order that we may come to know Your heart better and may live an adventurous life blessing the Kingdom. Take us further and deeper than all we could ask for or imagine this year, oh Lord. Bless us beyond what we believe and in the process, instill in us the truth of truths that You are God, and that You love us. In Jesus name, Amen (Cally Logan)
New Year New Story
Jesus, thank you for making me new! You raise me to life, and then you invite me on a grand adventure with you! You redeem my life as I follow you. Jesus, you restore my future! Thank you for never leaving my side as we walk this journey hand in hand. Help me to keep taking steps forward with you. Amen. (Heather Barr)
Related podcast:
The views and opinions expressed in this podcast are those of the speakers and do not necessarily reflect the views or positions of Salem Web Network and Salem Media Group.
Related video:
Read the full prayer here.
Thumbnail courtesy of Canva.com & Stock footage courtesy of soundstripe.com
---
Now available is our new Daily Prayer devotional! An easy way to start your day with prayer: read today's prayer and sign up to receive it by email.
This article is part of our larger Prayer resource meant to inspire and encourage your prayer life when you face uncertain times. Remember, the Holy Spirit intercedes for us and God knows your heart even if you can't find the words to pray.
Prayer for God's Help
Prayer for Strength
Prayer for Protection
Morning Prayers
Good Night Prayers
---
---