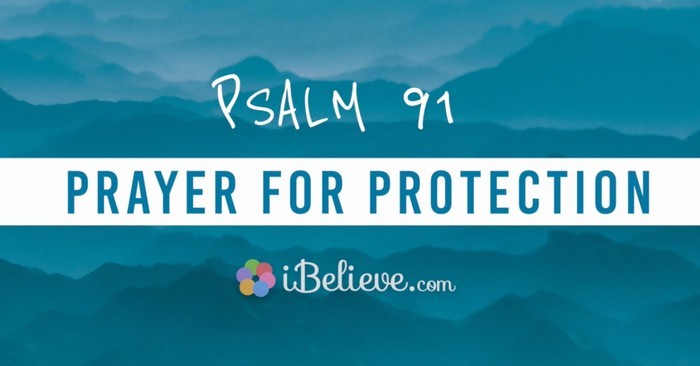 Use the powerful words of Psalm 91 and more prayers from the Bible for protection against evil and salvation from destruction!
Use the powerful words of Psalm 91 and additional prayers from the Bible for protection against evil and salvation from destruction!
My Refuge and Fortress: Psalm 91
He who dwells in the shelter of the Most High will abide in the shadow of the Almighty. I will say to the LORD, "My refuge and my fortress, my God, in whom I trust." For he will deliver you from the snare of the fowler and from the deadly pestilence. He will cover you with his pinions, and under his wings you will find refuge; his faithfulness is a shield and buckler. You will not fear the terror of the night, nor the arrow that flies by day, nor the pestilence that stalks in darkness, nor the destruction that wastes at noonday. A thousand may fall at your side, ten thousand at your right hand, but it will not come near you. You will only look with your eyes and see the recompense of the wicked. Because you have made the LORD your dwelling place-- the Most High, who is my refuge-- no evil shall be allowed to befall you, no plague come near your tent. For he will command his angels concerning you to guard you in all your ways. On their hands they will bear you up, lest you strike your foot against a stone. You will tread on the lion and the adder; the young lion and the serpent you will trample underfoot. "Because he holds fast to me in love, I will deliver him; I will protect him, because he knows my name. When he calls to me, I will answer him; I will be with him in trouble; I will rescue him and honor him. With long life I will satisfy him and show him my salvation."
The Lord's Prayer: Matthew 6:9-13
"Our Father in heaven,
hallowed be your name.
Your kingdom come,
your will be done,
on earth as it is in heaven.
Give us this day our daily bread,
and forgive us our debts,
as we also have forgiven our debtors.
And lead us not into temptation,
but deliver us from evil."
Prayer of Jabez: 1 Chronicles 4:10
Jabez called upon the God of Israel, saying, "Oh that you would bless me and enlarge my border, and that your hand might be with me, and that you would keep me from harm so that it might not bring me pain!" And God granted what he asked.
David's Prayer for Deliverance: Psalm 3
O LORD, how many are my foes! Many are rising against me; many are saying of my soul, there is no salvation for him in God. Selah But you, O LORD, are a shield about me, my glory, and the lifter of my head. I cried aloud to the LORD, and he answered me from his holy hill. Selah I lay down and slept; I woke again, for the LORD sustained me. I will not be afraid of many thousands of people who have set themselves against me all around. Arise, O LORD! Save me, O my God! For you strike all my enemies on the cheek; you break the teeth of the wicked. Salvation belongs to the LORD; your blessing be on your people! Selah
Jonah's Prayer for Salvation: Jonah 2:2-9
"I called out to the LORD, out of my distress, and he answered me; out of the belly of Sheol I cried, and you heard my voice. For you cast me into the deep, into the heart of the seas, and the flood surrounded me; all your waves and your billows passed over me. Then I said, 'I am driven away from your sight; yet I shall again look upon your holy temple.' The waters closed in over me to take my life; the deep surrounded me; weeds were wrapped about my head at the roots of the mountains. I went down to the land whose bars closed upon me forever; yet you brought up my life from the pit, O LORD my God. When my life was fainting away, I remembered the LORD, and my prayer came to you, into your holy temple. Those who pay regard to vain idols forsake their hope of steadfast love. But I with the voice of thanksgiving will sacrifice to you; what I have vowed I will pay. Salvation belongs to the LORD!"
Originally published Friday, 18 June 2021.