9 Important Questions You Haven't Thought to Ask Your Teen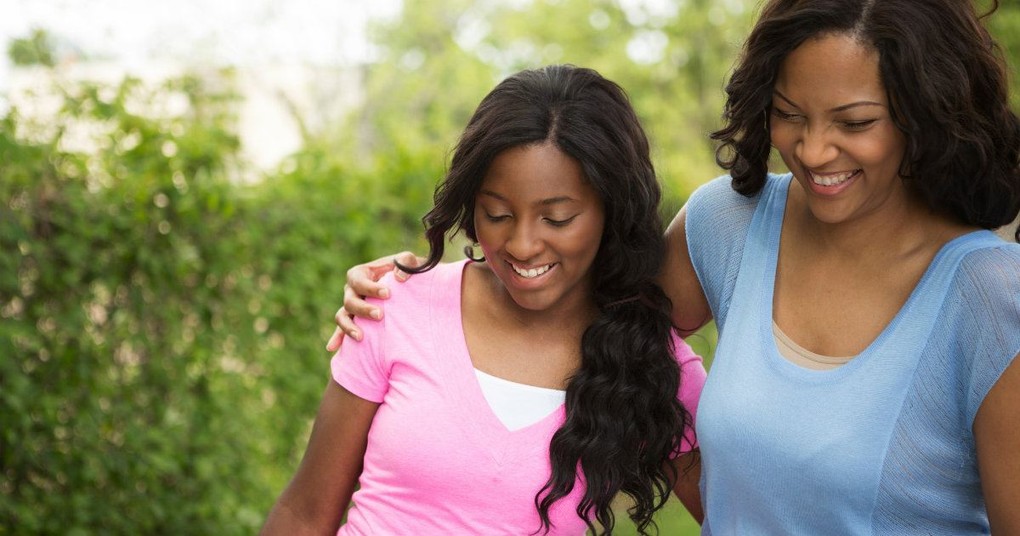 There's no question about it. Raising teenagers is a full-time job that involves homework, school events, friends, and hormones. And, it's during these teen years that it's crucial to keep the lines of communication open.
One of the best ways to interact with your teen is to ask thought-provoking questions that will hopefully get them to think deeply about what they believe and why the believe it. After all, the teen years are a prequel to adulthood, and we, as parents, have an awesome responsibility to prepare them for real life.
Although there are probably endless questions you could ask your teenager, here are 9 important ones you may not have thought to ask:
1. Do you believe God is who He says He is?

Slide 1 of 9

In a culture that heavily promotes the acceptance of all beliefs, it would be wise, (and even eye-opening), to ask your teen if they believe God is who He says He is.

And God said to Moses, "I AM WHO I AM. "And He said, "Thus you shall say to the children of Israel, 'I AM has sent me to you.'"(Exodus 3:14)

Establishing the authority of God is crucial to your teen's faith. Without it, they will be subject to every wind of teaching that comes along. Search the Scriptures for clear descriptions of the Lord and boldly share them with your son or daughter. Reinforce often that God really is who He says He is.

God is not human, that he should lie, not a human being, that he should change his mind. Does he speak and then not act? Does he promise and not fulfill? (Numbers 23:19)

This is the message we have heard from him and declare to you: God is light; in him there is no darkness at all. (1 John 1:5)

Photo Credit: ©Unsplash/timothy-paul-smith

2. What do you know about the Trinity?

Slide 2 of 9

Recently, I asked my 15-year-old what he understood about the Trinity. He said that he had a good understanding of God the Father and Jesus the Son, but didn't know what the role of the Holy Spirit was. What an opportunity that created for a healthy discussion!

Instead of being shocked or offended at our teen's answers, we can use those moments to guide them through the Word to find the answers. Here are some key verses that further explain the Trinity:

In the beginning was the Word, and the Word was with God, and the Word was God. He was in the beginning with God. (John 1:1-2)

And I will pray the Father, and He will give you another Helper, that He may abide with you forever— the Spirit of truth…(John 14:16-17a)

At that day you will know that I am in My Father, and you in Me, and I in you…(John 14:20)

The Helper, the Holy Spirit, whom the Father will send in my name, will teach you everything and make you remember all that I have told you. (John 14:26)

Photo Credit: ©Thinkstock

3. Do you believe there is only one way to heaven?

Slide 3 of 9

This is one important question you probably haven't thought to ask your teen. But in a time when the enemy is seeking whom he may devour, it is imperative your teen knows the answer to this one.

The thing to keep in mind when asking this question, is that their answer may surprise and even dishearten you. Be sure not to overreact, but instead, respond with an openness to hear what they have to say. Then, prayerfully seek opportunities to share with them the Gospel in clear, engaging ways.

Check out this Bible Study Minute post called Why Is There Only One Way to Heaven?

"I am the way and the truth and the life. No one comes to the Father except through me." (John 14:6).

Image Credit: ©Unsplash/sorin-sirbu

 

4. Do you believe God's Word is absolute truth?

Slide 4 of 9

Absolutes tend to be taboo in today's culture. With strong messages that say "Do what feels right," and similar lies, our teens are inundated with wishy-washy theology at best.

When asking your teen if they believe in the absolute authority of God's Word, keep in mind that they might erroneously think that the Bible is an outdated historical book. They may believe that the answers to life's issues aren't answered in the Scriptures.

Look for ways to help them discover the life-giving truths of the Word and encourage them to seek God's answers for themselves. Point out that God's Word is not just a book but a living guide for every aspect of life.

For the word of God is living and active, sharper than any two-edged sword, piercing to the division of soul and of spirit, of joints and of marrow, and discerning the thoughts and intentions of the heart. (Hebrews 4:12 ESV)

Photo Credit: ©Thinkstock-Jonah-Cowie

5. Is your faith in Christ based on your own beliefs and convictions?

Slide 5 of 9

Kids who grow up in Christian homes may, by default, develop a faith that is based on their parent's standards or beliefs instead of their own convictions from the Holy Spirit.

Make sure your teen understands what it means to receive Christ as their personal Lord and Savior. Cultivate an atmosphere of commitment to the Lord, while giving your teen every opportunity to strengthen their faith through worship, prayer, discipleship, and Bible study.

I call to remembrance the genuine faith that is in you, which dwelt first in your grandmother Lois and your mother Eunice, and I am persuaded is in you also. Therefore I remind you to stir up the gift of God which is in you through the laying on of my hands. (2 Timothy 1:5-6)

Photo Credit: ©Unsplash/elijah-m-henderson

6. Are you secure in your God-given identity?

Slide 6 of 9

Never before in history, has there been more confusion about personal identity than at the present time. Kids are bombarded with untruths about who they are and who they were created to be.

As parents, we must do everything we can to cut through the lies and help them establish their identity in Christ. God created your teen in His image. Male and female, He created them. It is so important to instill this black-and-white truth to our teenagers and assure them that they were made to glorify God.

If your teen is struggling with their identity, don't hesitate to call on a trusted Christian counselor to help guide you through this confusing time. Stand firm on God's Word as the true guide, and remind your teen often of their God-given identity.

Your hands have made me and fashioned me; give me understanding, that I may learn Your commandments. (Psalm 119:73)

Photo Credit: ©Thinkstock

7. Did you know that God has a standard of love we should follow?

Slide 7 of 9

Many unhealthy and even harmful things are done in the name of love. It seems that if it can be labeled as an act of love, it is widely accepted. This should not be so! Teaching our teens that there is a holy standard of love, spelled out in the Bible, is an urgent and important message for our teens today.

It's time to rise up against everything that masks itself as love, and instead, hold fast to God's perfect and holy standards. After all, God's love is so perfect, He sent His Son to die for the sins of the whole world!

For this is how God loved the world: He gave his one and only Son, so that everyone who believes in him will not perish but have eternal life. (John 3:16)

"As the Father loved Me, I also have loved you; abide in My love. If you keep My commandments, you will abide in My love, just as I have kept My Father's commandments and abide in His love." (John 15:9-19)

Photo Credit: ©Thinkstock

8. What does it mean to be in the world but not of it?

Slide 8 of 9

Oh, boy, is this an important question to ask our teens! Even we, ourselves, struggle to define the clear lines of separation that God drew when He called us to be set apart. To be in the world and not of it means that we will never quite fit in. It means that God holds us to a higher standard—a holy calling—for the sake of His name.

As our kids strive to fit in, to be accepted, and to make their way in this world, let's show them how to live set-apart for God. Let's assure them of their eternal security in Christ, and not in the things of the world.

For this world is not our permanent home; we are looking forward to a home yet to come. (Hebrews 13:14)

Photo Credit: ©Unsplash/elijah-m-henderson

9. At the end of the day, what is truly most important to you?

Slide 9 of 9

If we were to ask our teens what is truly most important to them, they might say things like friends, social media, or family. Those are honest answers. However, we should always be encouraging the most important thing in our teen's lives—their relationship with Jesus.

Although we cannot force them to have a relationship with the Lord, we can help them connect the dots and provide opportunities to know the Savior. Also, we can be examples to them—living with eternity as our focus.

Life is too short to dismiss these important topics with our teens. The time is now. Which of these important questions will you choose to ask your teen today?

Jennifer Waddle considers herself a Kansas girl, married to a Colorado hunk, with a heart to encourage women everywhere. She is the author of several books, including Prayer WORRIER: Turning Every Worry into Powerful Prayer, and is a regular contributor for LifeWay, Crosswalk, and Abide. Jennifer's online ministry is EncouragementMama.com, where you can find her books and sign up for her Encourage Letter, "Discouragement Doesn't Win." She resides with her family near the foothills of the Rocky Mountains—her favorite place on earth.

Photo Credit: ©Unsplash/augustin-de-montesquiou