10 Phrases Christians Say that Turn Nonbelievers Away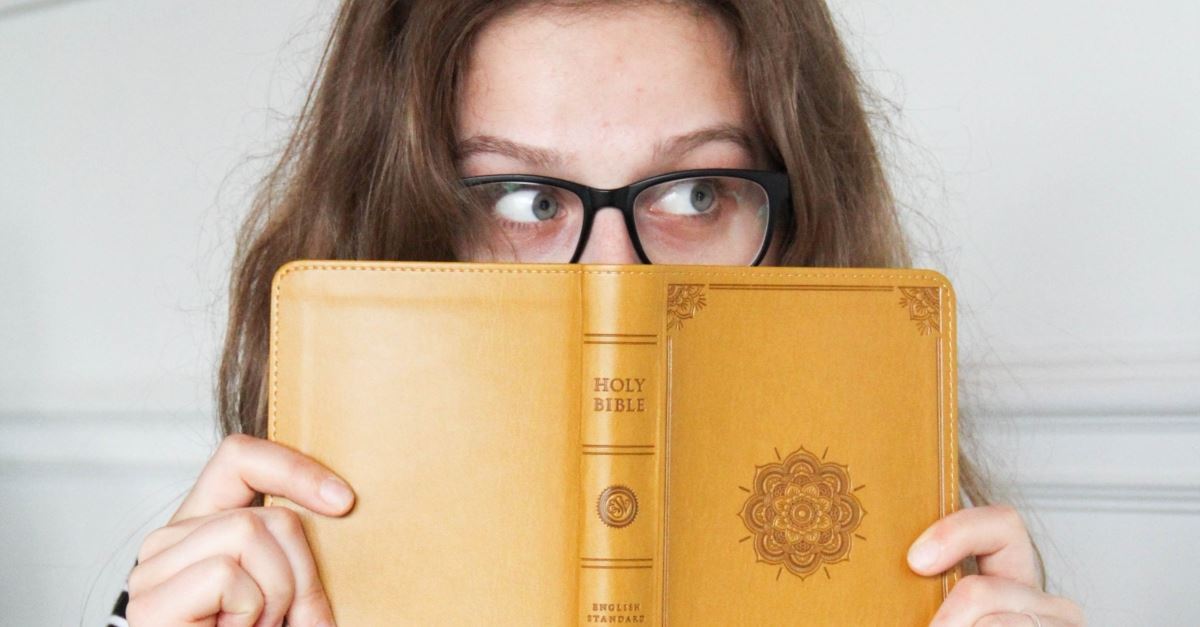 "Watch the way you talk." (Ephesians 4:20 The Message)
People need words that lead to Christ. So naturally, responding to tragic circumstances and everyday realities with the brush of feathery one-liners about faith turns non-believers away.
The Message's paraphrase of Ephesians 4:20 goes on to say, "Let nothing foul or dirty come out of your mouth. Say only what helps, each word is a gift." Yet many times, our words fall short of reflecting Christ and only add pain to the ache that craves Christ's healing hand. We can love the people in our lives well by applying empathy and compassion to everyone and all situations.
Remember, each word is a gift. Use them in grace, compassion, and truth.
Here are 10 Phrases Christians often use that confuse or frustrate non-Christians:
Photo Credit: Sarah Noltner/Unsplash
1. "God will never give you more than you can handle."

Slide 1 of 10

The opposite of this popular saying is closer to the Truth. God surely does allow us to go through things too big for us to navigate on our own. We need Him to get through some seasons in life like we need Google maps to tell us where we are going. 1 Corinthians 10:13 says, "No temptation has overtaken you except what is common to mankind. And God is faithful; he will not let you be tempted beyond what you can bear. But when you are tempted, he will also provide a way out so that you can endure it."  We need God to execute every part of this piece of Scripture. It's by God's enablement that we are able to resist temptation or endure tests and trials (NIV Study Bible Notes). 

Photo Credit: Thinkstock

2. "Share this if you love God."

Slide 2 of 10

Social media is a breeding ground for hypocrisy. We are called to be light in dark places, and social media can definitely be a shadowy space. When we post things like "share this if you love God," we impose an ultimatum according to what we "do." Christianity isn't founded on the basis of what we do, because "we all fall short" (Romans 3:23). Instead of posting things requiring action from others, take action in real life. If someone who lives in close proximity reaches out on social media, go to their house and listen to them. Clicking a share button isn't the most effective way to share God's love.

Photo Credit: Pexels

3. "Everything happens for a reason."

Slide 3 of 10

The last thing anyone wants to hear when they have lost their job or a loved one is "everything happens for a reason." This is true, yes, and God is in control, but it's important to show empathy towards others when they are enduring a crushing time. A serious diagnosis or experiencing a tragedy often puts us in a state of shock. It's better to be there for the people in our lives when things go wrong. What about when things go right? The big promotion at work or earning straight A's? The undeniable element of hard work is important to acknowledge when others have diligently honored the talents and gifts they've been given.

Photo Credit: Thinkstock

4. "I'm too blessed to be stressed."

Slide 4 of 10

"Therefore I tell you, do not worry about your life, what you will eat or drink; or about your body, what you will wear… do not worry about tomorrow, for tomorrow will worry about itself." (Matthew 6:25, 34 NIV)

Stress and anxiety are healthy human functions that allow us to rank tasks in order of importance and exercise appropriate fear of things that are dangerous to us. This phrase misrepresents our faith, because when we follow Jesus we will have stress! The worry in Matthew 6:25 means to care or look out for something; to seek to promote one's interests; to care and provide for (Strong's 3309). Being blessed doesn't make the stress of life disappear. It's not always easy to trust that God will provide for us. We can know fully that He goes before us, but we're not failing in faith to battle fear and anxiety along the way. A little bit of stress has the potential to protect us!

Photo Credit: Thinkstock

5. "Type 'Amen' if you need a miracle today."

Slide 5 of 10

There's nothing Biblical about typing Amen in the comments on social media to grant us a miracle. It's annoying, and it's insulting to those who really have witnessed the touching triumph of a miracle in their lives. God is the God of miracles, not the slapstick healing of every ailment by way of social media comments. Could He? Certainly. God can do anything anytime anywhere. But it's a turn off to others looking in at Christianity to see a people who take their faith so lightly. There are more productive ways to share the Gospel on social media, like pieces of Scripture or articles that help connect the Truth to everyday people and their everyday lives. 

Photo Credit: Milkos/Thinkstock

6. "I'll pray about it."

Slide 6 of 10

Prayer is powerful, but it shouldn't be used as an excuse. Many times, we are afraid to tell someone "no," so we will just say that we will pray about it. I'm a people pleaser, so I am just as guilty of this as the next Christian! I was convicted a few years ago to start answering honestly about why I couldn't say "yes," instead of putting off a "no" with "I'll pray about it." It's true that prayer is an important part of the decision-making process, but it's over-used as an excuse, and in that context we should stop saying it. Prayerful consideration of important decisions should be kept in the confines of our quiet time with God and close circle of prayer warriors.

7. "God helps those who help themselves."

Slide 7 of 10

God does want us to work hard with the talents and gifts that he's given us, but we can't earn God's good favor or provision. Those things are His to give freely as He wills. God made many provisions for the poor and widowed in the Bible. For the orphans and those on the fringes of society. Ruth was one of the beneficiaries of the Old Testament practice of letting those who were in poverty pick up what was left over in the fields. Ruth is in the lineage of Jesus Christ! God surely cares for us beyond the ways we qualify each other as deserving. Job is another perfect example of this. He seemed to be undeserving of the calamities that tested his faith and stripped his of health, fortune, and family. Yet his faith in God endured, and God restored what had been lost.

Photo Credit: Thinkstock

8. "Heaven must have needed another angel."

Slide 8 of 10

When we suffer loss in this life, all one-liners fall on deaf ears. People hurt. Grieving souls need empathetic and compassionate love. Just being there in silence is better than saying something that can wound someone walking through loss. Billy Graham once answered a question about becoming angels after we die in this way: "When we die and go to heaven we become greater than the angels!" "Heaven must have needed another angel" is a charming expression to acknowledge that our loved ones are home with Jesus, but it's not actually true, so we just have to be careful with our words. Is there anything more comforting in a time of great loss than a simple, "I'm so sorry for your loss," accompanied by a hug?

Photo Credit: Thinkstock

9. "Bless her heart/ God love her."

Slide 9 of 10

We have to be really careful with this one, and either make sure we use this phrase in a context fully clear of a precursor to insult, or not at all. I didn't realize what an insult this was until I listened to a Southern preacher break it down. Sure enough, even those three words strung together looks innocent, but many pack them into the punch of an insult. It's used to slight someone for being stupid or dumb, and in some entries of online dictionaries, it meant something that would have us all standing with soap in our mouths like Ralph in The Christmas Story. Christians need to stop saying these things, or be extremely cautions of the context in which they are said.

Photo Credit: Unsplash

10. "Everything is OK in moderation."

Slide 10 of 10

Faith is not OK in moderation. Heroin is not OK in moderation. There are things that are not OK in moderation. This overgeneralization is an attempt to rationalize behaviors we are internally convicted NOT to do. In pressure-filled conversations, it's easier to say everything is OK in moderation than to honestly defend the truth about what God says. We're supposed to be peaceable and gentle when we talk to others, and anything that goes against the grain can be hard to find the words to say. It's OK to say, instead, "I love you, but I don't agree with you," or "I can't go there with you."

"Megs" writes about everyday life within the love of Christ. She stepped out of her comfort zone, and her Marketing career, to obey God's call to stay home and be "Mom" in 2011. From that step of obedience her blog, Sunny&80, was born, a way to retain the funny everyday moments of motherhood. Meg is also a freelance writer and author of "Friends with Everyone."  She loves leading her Monday morning Bible study, being a dance mom, distance running and photography. Meg resides in Northern Ohio with her husband, two daughters, and Golden-Doodle … all avid Cleveland Browns fans. 
Contact Us
Get iBelieve.com