How to Cast a Family Vision for a New Season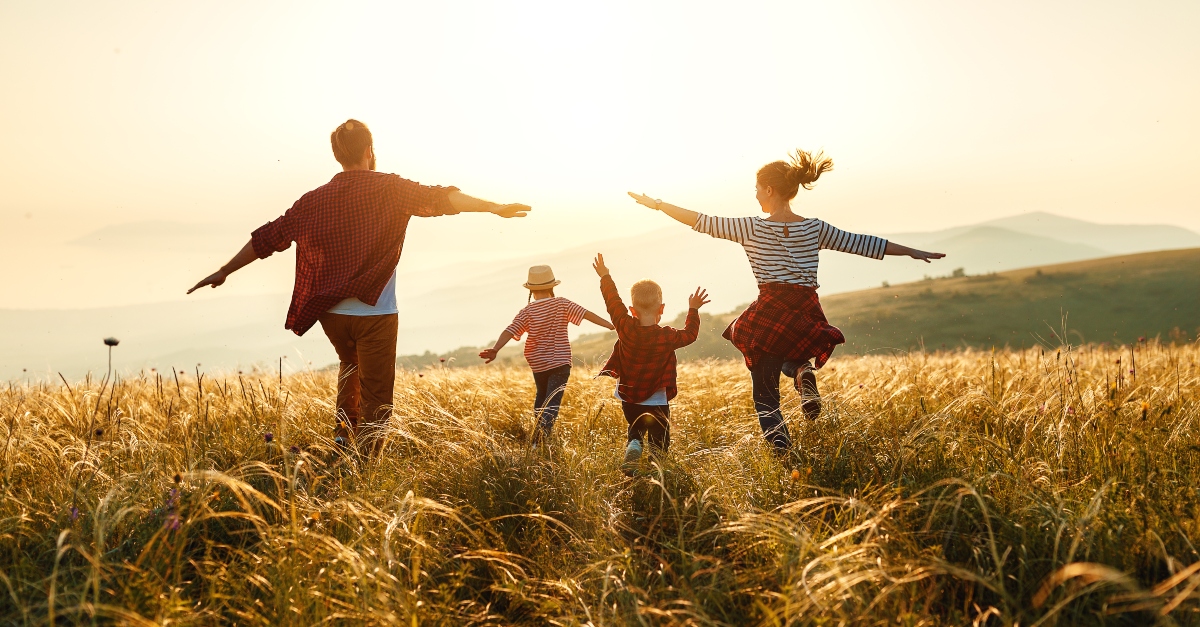 The start of a new year or season can be a time of great reflection. These times are when we assess our health patterns, organization skills, and emotional health. However, a new season also gives us a chance to consider how we can do tangible things to make a shift in our family lives. Whether you are a single mom of one, or married with 4 children, it's never too late to create a plan for your family. One way to create a clear and concise plan is to create a family vision statement.
A vision statement is a sentence or paragraph that describes the overall aspirations of a company or individual. Even more so, one's vision statement provides a clear road map to anyone who may read it. It's been said that the foundation of any great company begins with a vision statement. Much like the verse found in Habbakuk 2:2, there is power when we decide to write the vision and make it plain. When it comes to our families, writing a family vision is a way to be intentional about each person within our homes. It's our personal way of taking ownership of our homes and making a choice to be a place of positive change. As Christians, this statement should be more than a feel-good paragraph. Instead, this statement should be one that directs our homes to reflect the heart of God and empowers each member to live out the life He intended for them. This simple act of crafting the statement and the choice to be intentional in our corresponding actions could be the key in changing the trajectory of our homes.
With this in mind, here are some points to help guide you as you craft a vision statement for your family.
Photo Credit: Getty Images/evgenyatamanenko
1. Evaluate Your Core Values

Slide 1 of 4

Before writing a family vision statement, we must ask ourselves is, what is our mission? What are the goals for your individual children and overall family? Until you know what you are moving towards, you will continually be ineffective. For instance, does your family have a strong stance on wellness and health? Does your family see faith as the foundation? Is creating generational wealth a valuable aspect of your everyday life? Questions like this can help to mold our vision statements.

Consider the following example.

By God's grace, the Idleman family will create an environment that fosters learning, seeks opportunities to bless others, and focuses on using God's resources wisely.

It's clear in the above example the areas that are important to the family. Education, intentional acts of service to others, and being a good steward are values that the family believes are essential. Thus, their entire home should be centered around these elements. Whenever faced with a choice, having a vision statement would allow them to contrast their actions to the statement. For instance, if trying to decide whether they should be a recycling family, it is likely they will choose to recycle. This would easily fall in line with using God's resources wisely. In other words, knowing what you value will help you create a statement that reflects what is of most importance in your home. As Christians, our goal should ultimately be that in all things the Lord would be glorified. Although we all have certain areas we feel passionate about, we should always evaluate honestly whether our core values and plans align with God's word.

"And whatever you do or say, do it as a representative of the Lord Jesus, giving thanks through him to God the Father." (Colossians 3:17)

Photo Credit: Getty Images/Monkeybusiness

2. Consider Areas of Improvement

Slide 2 of 4

Whenever we enter a new season, we should take time to reflect on areas of improvement. This happens often at the start of a new year. People often start to reevaluate what took place in the former years and seek ways to make things better. The same can be true for a family vision statement. It's important to remember that a vision statement can evolve over time. What was of no concern previously may be something that should be brought to the forefront in this new season. In other words, there is always room for growth.

For instance, suppose a family notices that their home is very tense. They notice that their children are argumentative, and the parents are struggling to be kind amidst the frustration. When drafting their vision statement, the family can include phrases like "to honor one another with our words" or "to choose kindness, even when difficult." Although these phrases point out a potential weakness, they are positive and reflective. Remember, the goal of a vision statement is to give direction and be a source of hope for things to come.

Growth-based vision statements allow us to be self-aware of potential traps of the enemy to cause a wedge in the family unit. When creating a vision statement, ask the Lord to increase your insight to see areas He wants to move in your family. Keep in mind, that the changes you make now in your home will possibly impact your future grandchildren.

"And this is my prayer: that your love may abound more and more in knowledge and depth of insight, so that you may be able to discern what is best and may be pure and blameless for the day of Christ, filled with the fruit of righteousness that comes through Jesus Christ—to the glory and praise of God." (Philippians 1:9-11)

Photo Credit: Getty Images

3. What Will Be My Family Legacy?

Slide 3 of 4

Many of us can hear certain last names and immediately have a reaction. The names Rockefeller, Disney, Winfrey, King, and Gates are all recognized for certain contributions to our culture and society. Often, when we think of legacy, we consider what will be remembered after we die. However, as you consider your family vision statement, now is a time to ask yourself what you want your family to be known for now? In other words, if you were to ask anyone to describe the (insert your family's last name), what would they say? Would they describe your family as generous, God-fearing, kind, hardworking, creative, etc.? Would their descriptions be encouraging or discouraging?

Your vision statement should reflect what you want your family to be known for now and in the future. For example, in my home, we desire to be known for showing people God's love and being intentional about everyone we encounter. Thus, when creating a vision statement, we are sure to include these elements. In doing so, everyone in our home is aware of our expectation to love others well. As you create your vision statement consider how you want others to feel when your family enters the room.

Photo Credit: Unsplash/Dennis Acevedo

4. Seek the Lord

Slide 4 of 4

Above all else, we must seek the Lord for guidance for our families. Often, we look to every other source to give us answers. However, there is no one greater than the Creator himself to give insight. Remember, we have a God who has more thoughts about us than the sand of the shore (Psalm 139:18). In other words, for each person in our home God has billions of thoughts about them. Would it be fair to assume He could easily share the way He thinks of them? It would be reasonable to assume He knows the best plan for how our family unit should function. Yet, we often try to make plans on our own, assuming we know best. As my husband, Pastor Joe Riollano often says, "We shouldn't just put God on our list, but seek Him before making the list." In other words, rather than coming up with our vision statements based on methods and what sounds good, what if we sought the Lord in the creation of the vision. He could clearly highlight areas of weakness and what your family's purpose is in this earth, if we are only willing to ask.

"You will seek me and find me when you seek me with all your heart." (Jeremiah 29:13)

When we remember that each member of our family belongs to Him, we recognize that our vision statement is not our own. Instead, we are partnering with the Lord to bring forth who He's called our family to be. As you enter this new season, be sure to align your plans and vision for your home with God's ultimate plan for your family.

"The heart of man plans his way, but the LORD establishes his steps." (Proverbs 16:9)

---

Victoria Riollano is an author, blogger, and speaker. As a mother of six, military spouse, Psychology professor and minister's wife, Victoria has learned the art of balancing family and accomplishing God's ultimate purpose for her life. Recently, Victoria released her book, The Victory Walk: A 21 Day Devotional on Living A Victorious Life. Her ultimate desire is to empower women to live a life of victory, hope, and love. She believes that with Christ we can live a life that is ALWAYS winning. You can learn more about her ministry at victoryspeaks.org.

Photo Credit: Unsplash