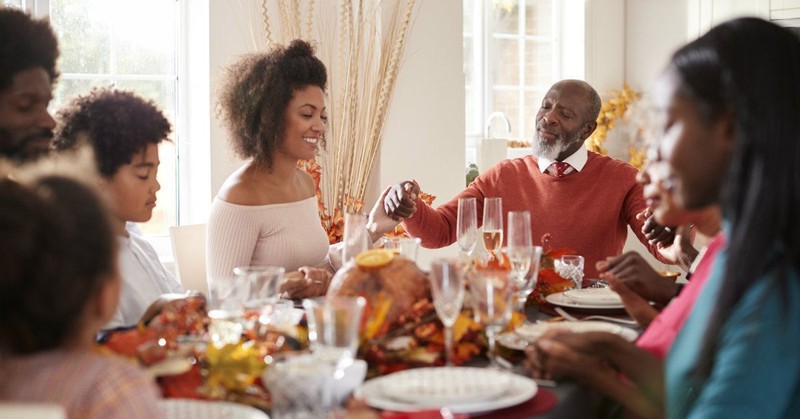 How to Be a Happier Thanksgiving Host

Are you stressed out by holiday hosting year after year? Here are 10 things to know about yourself that might help you be a happier host this Thanksgiving.
It's almost time to locate Grandma's beloved hash brown casserole recipe and those tucked away gravy boats. Soon, we'll gather around tables to celebrate Thanksgiving with family and friends. 
 As the biggest meal of the year approaches, is it eagerness or dread that bubbles up? Have you ever found yourself saying, "Let me just get through this Thanksgiving meal, and then I'll __________?" Yep, me too. "Getting through it" has been my goal more than once. But I want more this year, and I hope you do too. 
We can choose to get through it, or to be intentional about becoming happier hosts.  We can see it as a time to connect, serve, and celebrate God's blessings, or we can be frenzied and miserable, begrudging our time around the table.  This year let's actively move toward joy. 
Here are 10 things to know about yourself that might help you be a happier host this Thanksgiving:
1. Know Your Goal.
Do you want to lovingly serve your family and friends? Do you simply value being together? Or, is your desire to impress with advanced cooking skills? Knowing your goal will help you know what to shoot for. It will either release you from unreasonable expectations or give you something special to shoot for. 
2. Know Your Plan. 
Fill your mug with something warm and grab your cozy blanket. Think through your meal plan and expectantly start the process. Planning will make Thanksgiving week more intentional and less frenzied. Do whatever you can to be well thought out and easy on yourself. Make planning a hopeful and creative process. Bonus points if you doodle a turkey in the margin of your shopping list.
Who do you want to invite? Send a text or make a phone call expressing that you look forward to spending the day together. Is it OK if your niece brings her boyfriend? Would you like to invite someone in the neighborhood whom you suspect has no plan?
If having your family over brings contention, could you break up the group or shorten the time? Could you invite someone fun who will keep conversation light?
Set the tone for yourself by treating yourself to enjoyable planning.
3. Know Your Time.
Feeling stretched by time can zap your joy in no time flat. Think ahead. Will it be crazy busy, or will you have a day off to bake and prep? If time will be short, ask for help, and take short-cuts. Ask people to bring dishes, or ask them in advance, if they'll come to help you make a big salad. 
If people will arrive five hours before the meal, let someone cover appetizers.  
Shop early, try grocery delivery, or order online for curbside pick-up. Don't let the clock make you a grumpy host. 
4. Know Your Limits.
Are you a multi-course, sit down meal, made from scratch style host? Or, the kind that orders side dishes from the grocery deli? Don't change that now!
Ask for help, and don't be afraid to be direct about what is helpful and what isn't. And then, remind yourself in advance that people won't clean or cook as you do. But, you'll have more fun if you plan to release your grip on the kitchen. Tag the guys and tell them with a grin that you'll serve dessert after they wash dinner plates! Let the kids serve drinks or pick up finished plates.  
You'll smile more if you accept grace for your Thanksgiving hosting limitations.
5. Know Your Tendencies.
What tends to bring you stress? What makes you sad? Joyful? You know these things, so plan for it. If you get stressed when too many people are in the kitchen, plan to jokingly tell everyone that you are a happier host when you are solo in the kitchen. Or, ask your husband to guide people into other spaces. 
If you'll be missing someone who won't be around the table this year, think of a way to honor them rather than pretend that you are fine. Are you nostalgic because everyone will miss Grandma this year? Use her tablecloth and let everyone know.  
6. Know Your Space.
The limits of our spaces can make us crazy at the holidays. But only if we let them. Reframe your focus with gratitude. Picture all the people that you love filling your home. What a blessing.  
If your gathering spaces are limited, have things in each room that will draw people. Start a board game in the living room. Have snacks in the basement with football playing. Put drinks and ice in another room or on the back porch to get people moving around.  Use the coffee table for food.  Tell everyone in advance that there will be backyard football.  Winners will earn bragging rights and extra dessert!
Most of all, kick the comparison habit. If seeing streams of photos of other families' twenty seat dining tables, coffee bars, and enormous kitchens will steal some of your joy, stay off social media that week. It is YOU that your family and friends want far more than space. Give them the memory of feeling loved.
7. Know Your Role. 
As you plan, consider your role and don't allow yourself to pile on unneeded extras. Do you want to be a servant? So, serve food humbly, and don't worry about being the entertainer too. Or, are you the life of the party? Then shamelessly pass off cooking duties. Do you want to be a fancy chef or a quick cook who has time to stand and talk to those you love? Never underestimate the beauty of staying in your line.  
8. Know Your People.
Think of your guests in advance. Does your mother-in-law tend to stand close and criticize you? Plan to distract her with questions about her childhood Thanksgivings, to assign her a task in another room, or just to talk to her in advance.
Do your family and friends even noticed time-consuming tablescapes? What would bring them the most joy? A happy, relaxed host? Football and laughs?  Take the pressure off yourself. Time together is the goal. Perfection is forgotten, but making someone feel loved and listened to is memorable.  If connection is the focus, everyone will be at ease and have more fun. 
9. Know How to Have Fun.
Plan for it. Pull out a fun family game that will leave everyone laughing, such as Blank Slate, Five Second Rule, or Sequence. Plan to watch a family-friendly comedian, such as John Crist's Netflix special, releasing on Thanksgiving day. Tell your son to print some goofy Thanksgiving jokes for the kids. Pull out baby books. Suggest a card game or karaoke. Invite kids into the kitchen to make cookies. Whatever it takes to help all of you have some fun.
 
10. Know Your God.
Do the holidays make you feel lonely though surrounded by people? If you tend to feel exhausted and unappreciated as the holiday host, talk to God about it. Let Him be the Father who knows you and is for you, this Thanksgiving. He sees you serving. He sees you serving, even when you are tired. He sees you loving, even when it's hard. 
Hours in the kitchen, relatives in close quarters, and high expectations could be a recipe for disaster unless we mindfully work to be less frustrated and more festive. That special Thursday in November is simply a time to gather in gratitude for all God has given. That is the big, pressure-free goal of the day.   
You know yourself, your people, and your God. Planning and having a bucket of grace ready could be the secret sauce this year. A stash of hidden chocolate might help too. Happy hosts accept what has been given and see it as abundance. Let's make this Thanksgiving a joyful one. 
Image Credit: ©Getty/monkeybusinessimages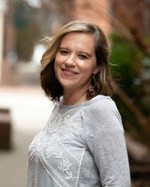 Rebecca Radicchi, her husband and crew of kids, live outside Atlanta, where the summers are hot and the tea is sweet. She's ridden the waves of adoption, breast cancer, and being the mom of kids with complex medical needs. And, through it all, she's seen that abundance can be found in the uncomfortable hard and in the easy beautiful. She's also discovered that whether she's passing bread at the kitchen table, clock-watching in a hospital waiting room, or listening to a neighbor on a porch swing, God always has something to say. It's a wonder really. She encourages others to listen for it too on her website and Instagram, and also connects with adoptive families at No Hands But Ours.
Comments
---
---