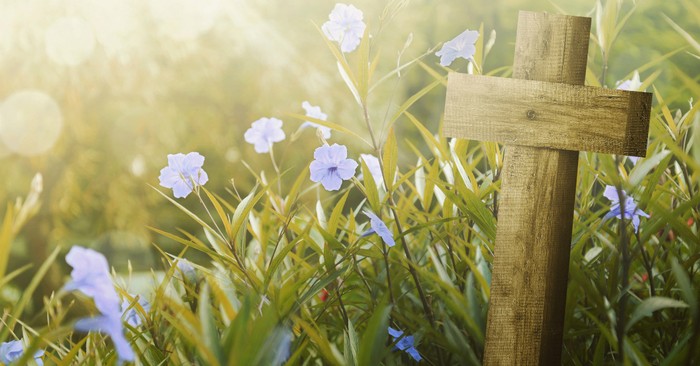 We have freedom through Christ to live free from the power of sin. Without Christ, individuals are enslaved to sin and unable to walk away from its grasp, but Jesus has made it possible for us to be liberated from its grip.
Growing up, Easter was a time of new dresses, new shoes, and a chocolate egg. As a preacher's kid, it was a busy day for our family. Because it was so packed full of preparation for Good Friday service and Sunday morning, my parents were usually wiped out by Sunday afternoon.
At our house, the Saturday evening before Easter Sunday consisted of my dad printing the bulletins on a mimeograph, where I would sit in his study just to see him turning each one out and join him in folding them in two.
Although I knew the story well of Jesus dying on the cross and rising again on the third day, as a child, it was taken for granted. After all, He is God, and I was taught this is what a loving God does to save us.
John 3:16 was my favorite verse as a child: "For God so loved the world that He gave His one and only Son, that whoever believes in Him shall not perish but have eternal life."
Although familiar with the events of Easter, there was much more to grow into, especially in grasping the sacrifice, cost, and depth of God's love for me.
Growing into Wisdom and Stature
During childhood, it's a process of gaining an understanding of Jesus and His sacrifice for us. Luke 2:52 briefly describes His growing up process, too: "And Jesus grew in wisdom and stature, and in favor with God and man."
Because Jesus is God, it is easy to discount His humanness, thinking of Him as the all-knowing God. It's difficult for us to really understand what process He experienced in growing up as the Son of Man.
Yet, from the Scripture above, it seems like Jesus' growing up relates to how I grew up, daily growing in my understanding of God and humans.
Growing into Understanding
Although we're not told much about Jesus' childhood and teen years, Luke 2:41-51 tells us of a specific event in His life. It's a story many of us can relate to growing up and gives us a peek into his twelve-year-old behavior. It begins where Jesus accompanies His parents to the yearly Feast of Passover in Jerusalem.
Sounding similar to the classic Christmas film, Home Alone, Luke 2:43-44 describes what happened: "When those days were over and they were returning home, the boy Jesus remained behind in Jerusalem, but His parents were unaware He had stayed. Assuming He was in their company, they traveled on for a day before they began to look for Him among their relatives and friends."
After searching in their group, His parents returned to Jerusalem, searching for three more days before finding Him in the temple courts, sitting with the teachers, listening to their teaching, and asking them questions (Luke 2:45-46). Luke 2:47 states, "And all who heard Him were astounded at His understanding and His answers."
Although godly in His pursuit, how would most parents react after searching for three days for their child? "When His parents saw Him, they were astonished. 'Child, why have You done this to us?' His mother asked. 'Your father and I have been anxiously searching for You'" (Luke 2:48).
As many of us have done as children, Jesus made a passionate choice without His parents' counsel or permission.
Growing into Obedience
Most of us can't imagine what response our parents would have given us if we had done what Jesus did at age twelve, especially with the answer He gives to their questions: "'Why were you looking for Me?' He asked. 'Did you not know that I had to be in My Father's house?'"(Luke 2:49).
Like many parents' experience in hearing a child's reasoning, Luke 2:50 describes how they didn't comprehend what He was saying to them. "Then He went down to Nazareth with them and was obedient to them. But His mother treasured up all these things in her heart" (Luke 2:51).
As children, we, too, like Jesus, grow and learn obedience to God's calling in our lives while living under the authority of our parents.
Growing into Adulthood
Isaiah 53:2 describes more of Jesus' growing up years, saying, "He grew up before Him like a tender shoot, and like a root out of dry ground. He had no beauty or majesty to attract us to Him, nothing in His appearance that we should desire Him."
As an adult, there comes a deeper understanding of what Jesus was called to do at such an early earthly age as thirty, which seems old to a child. Children don't even begin to comprehend the heaviness of such a task, thinking adults know how to handle everything.
But adulthood brings a discovery and glimpse of what it feels like to seemingly carry the weight of the world on our shoulders—still, nothing like the depth of public scorn, humiliation, and betrayal Jesus faced.
Luke 22:44 describes some of what He experienced, "And being in agony He prayed more earnestly: and His sweat was as it were great drops of blood falling down to the ground."
None of us could have faced all He encountered with such wisdom, insight, and compassion. Only Jesus, who is fully man and fully God, could fulfill this calling. Colossians 2:9 describes, "For in Christ all the fullness of the Deity lives in bodily form."
Growing into Christ's Finished Work on the Cross
Growing up, I learned how salvation comes through the shedding of Jesus' blood but not how through the whipping He received, He suffered humanity's sicknesses for us.
Isaiah 53:5 explains, "But He was pierced for our transgressions, He was crushed for our iniquities; the punishment that brought us peace was on Him, and by His wounds we are healed."
As an adult, I discovered through Jesus' finished work on the cross that we find both healing and salvation. He fulfilled and completed His mission on earth, as John 19:30 describes, "When He had received the drink, Jesus said, 'It is finished.' With that, He bowed His head and gave up His spirit."
Individuals only come to God the Father through the finished work of Jesus on the cross. There is no other way. As John 14:6 records, "Jesus answered, 'I am the way and the truth and the life. No one comes to the Father except through Me.'"
Growing into Freedom in Christ
When I focus on the finished work of Christ, I can walk in freedom. Jesus said to God the Father, "I have brought You glory on earth by finishing the work You gave me to do" (John 17:4).
Jesus' finished work on earth gives us the freedom to live free from sin's control. As Romans 5:19 explains, "For just as through the disobedience of the one man the many were made sinners, so also through the obedience of the ne Man the many will be made righteous."
We have freedom through Christ to live free from the power of sin. Without Christ, individuals are enslaved to sin and unable to walk away from its grasp, but Jesus has made it possible for us to be liberated from its grip.
In Christ, we also have safety and protection from the evil one. 1 John 5:18-19 explains, "We know that anyone born of God does not continue to sin; the One who was born of God keeps them safe, and the evil one cannot harm them. We know that we are children of God, and that the whole world is under the control of the evil one."
Most importantly, His finished work enables us to have the right relationship with God the Father. Ephesians 3:12 describes how "In Him and through faith in Him we may approach God with freedom and confidence."
Photo Credit: ©GettyImages/leolintang
Lynette Kittle is married with four daughters. She enjoys writing about faith, marriage, parenting, relationships, and life. Her writing has been published by Focus on the Family, Decision, Today's Christian Woman, kirkcameron.com, Ungrind.org, StartMarriageRight.com, and more. She has a M.A. in Communication from Regent University and serves as associate producer for Soul Check TV.
---
---