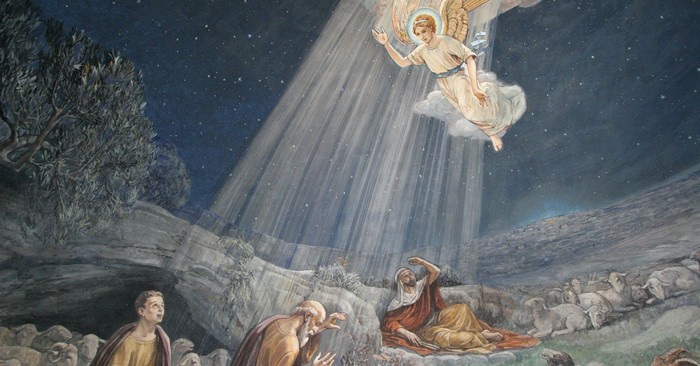 We think that before we can be effective in ministry, we must have a degree or certification or be ordained. Or we believe the lie that we won't ever be good enough. The only necessary qualification is that you are called by God.
Have you ever been the first one to know about something really important? Isn't it a great feeling? The shepherds in Luke 2:8-20 were the first ones to hear about the best news the world has ever known, the birth of Jesus, the eagerly anticipated Savior.
You've probably heard the story of the shepherds since you were in preschool. After all, it's part of the Christmas story we've all grown up hearing. There's even a song written about it, and you've probably sung it - The First Noel:
"The First Noel the Angels did say
Was to certain poor shepherds in fields as they lay
In fields where they lay keeping their sheep
On a cold winter's night that was so deep."
And let us not forget the voice of Linus in Merry Christmas, Charlie Brown, reading the account of the angel appearing to the shepherds. I can barely read this passage without hearing that iconic voice.
But have you ever stopped to consider the deeper meaning of this short story about some shepherds in a field? Are we supposed to read this story, accept it at face value, and keep reading? As we dig a little deeper, we will discover there are some lessons to extract from this age-old story.
According to 2 Timothy 3:16-17 NKJV, "All Scripture is given by inspiration of God, and is profitable for doctrine, for reproof, for correction, for instruction in righteousness, that the man of God may be complete, thoroughly equipped for every good work."
How Did This Story Even Make It into the Bible?
The account of the shepherds only appears once in the Bible, in the Gospel of Luke, as opposed to other stories that appear in multiple Gospels. Luke gathered his material about Jesus by interviewing people that had witnessed these things firsthand, as he never met Jesus in person.
It's possible that Mary recounted the story to Luke about how some random shepherds unexpectedly arrived at the manger where they were staying the night of Jesus' birth. Mary and Joseph probably had some questions and wondered how the shepherds found out about them.
Perhaps, Luke even had the opportunity to speak directly with the shepherds and record their first-person account.
Regardless, Luke felt it important to include this story in his letter to Theophilus, a man Luke had been witnessing to. The Gospel of Luke was specifically written to the Gentiles, and as such, the stories Luke chose to include in his Gospel would've been stories that allowed the gentile to accept that Jesus came to save all of mankind.
What Really Happened That Night?
The night that Jesus was born, the angel of the Lord appeared to some shepherds out in a field taking care of their sheep. It was a dark, quiet evening, except for the occasional bleating lambs breaking the silence. All of a sudden, out of nowhere, an angel appeared and illuminated the sky and field all around the shepherds.
As you can probably imagine, the shepherds were freaking out. They probably had never seen anything like this in their life, so it must've been terrifying:
"And an angel of the Lord appeared to them, and the glory of the Lord shone around them, and they were filled with great fear." Luke 2:9 (ESV)
To dispel their fears, the angel reassured them, saying:
"Fear not, for behold, I bring you good news of great joy that will be for all the people. For unto you is born this day in the city of David a Savior, who is Christ the Lord." Luke 2:10-11 (ESV)
1. God Decides Who's Qualified
When I take time to think about it, I find myself wondering, why shepherds? Why did the angel of the Lord choose to appear to some lowly shepherds?
Besides Mary and Joseph, the first people to see the Messiah were these shepherds - rough, hard-working men just doing what they had to do to survive. Were they truly deserving of this great privilege? After all, the shepherds of that day often had a reputation for being liars and thieves.
The next question I'm led to ask is, do I even deserve to be saved? When I ask this, I then come to the obvious answer that no one is worthy, no one is deserving, and no one is righteous (Romans 3:10-12, Romans 3:23).
Yet, God still chose us.
Perhaps that is why the angels appeared to shepherds, who were not so-called "holy" men like the Pharisees, priests, or rabbis. The shepherds were simple, and they took the angel's message at face value and just believed.
All too often, I think we deceive ourselves into believing that we must be qualified to do God's work. We think that before we can be effective in ministry, we must have a degree or certification or be ordained. Or we believe the lie that we won't ever be good enough.
The only necessary qualification is that you are called by God.
"For God saved us and called us to live a holy life. He did this, not because we deserved it, but because that was his plan from before the beginning of time—to show us his grace through Christ Jesus." 2 Timothy 1:9 (NLT)
2. God Gives Clear Directions
When God tells us to do something, He gives us clear directions so we will know where to go and what signs to look for.
When the angel appeared to the shepherds, the angel said, "And this will be a sign for you: you will find a baby wrapped in swaddling cloths and lying in a manger." Luke 2:12 (ESV)
Oh, how I wish sometimes an angel of the Lord would come down and tell me exactly what sign I need to look for so that I know I'm going in the right direction. But honestly, that's not necessary.
As I mature in my relationship with God, I have discovered everything I need to know is in His Word, the Bible. When I make it a priority to study His Word daily, I have a clear vision of the path I'm supposed to take.
"Your word is a lamp to my feet and a light to my path." Psalm 119:105 (ESV)
God gives us signs, but we must be willing to receive and believe them. It's on us to move in the direction of our Savior.
3. Run, Don't Walk in the Direction God Points You To
The angel never actually told the shepherds to leave their field and find Jesus. The angel told them where to find the baby but left the decision of what to do with that information up to the shepherds.
Even when God points us in a direction, He still gives us free will to decide which way we will go.
After the angels left, the shepherds looked at each other and said, "Let's go find that baby!" They knew the only right thing to do next was to go seek after that which the angel told them about.
"And they went with haste and found Mary and Joseph, and the baby lying in a manger." Luke 2:16 ESV
If the shepherds had decided to stay put, they would've missed out on the blessing. They didn't have to be told what to do, yet they knew they needed to do it right away.
When I feel like God is prompting me to do something, I feel an urgency to hurry up and do it because I know that if it is from God, it will be amazing.
"Every good gift and every perfect gift is from above, coming down from the Father of lights, with whom there is no variation or shadow due to change." James 1:17 (ESV)
So run, don't walk, in the direction God points you to.
4. When God Does Something Amazing, Tell Everyone!
After they saw the newborn Messiah, the shepherds could barely contain themselves. It was exactly as the angel had said it would be.
In awe, they knew they could not keep this secret to themselves. After seeing Jesus, they went out and told everyone the news, and they glorified and praised God for everything they had heard and seen.
"And when they saw it, they made known the saying that had been told them concerning this child…. And the shepherds returned, glorifying and praising God for all they had heard and seen, as it had been told them." Luke 2:17-20 (ESV)
I guarantee you that after they met Jesus, the shepherds' lives were forever changed. When you experience something life-altering, don't you want to tell everyone you know?
When you stand in the presence of God, you can't help but be changed.
"Therefore, if anyone is in Christ, he is a new creation; old things have passed away; behold, all things have become new." 2 Corinthians 5:17 (NKJV)
The right response is to tell everyone else the good news and share the joy of your salvation.
"Come and see what God has done, his awesome deeds for mankind!" Psalm 66:5 (NIV)
Nothing Compares to God's Power
When God sends us a sign and tells us which way to go, we get to decide what we will do. Will we go in the direction that He's pointing?
If you follow God's direction, your life will be forever changed. You will be compelled to worship and praise Him. Once you experience the glory of God in your life, you can't help but tell everyone around you the Good News!
When you embrace the fullness of God in your life, you will be full of joy, find new direction and meaning, and have a renewed purpose and passion for life.
I can say these things because I have experienced what it is like to follow God in my daily life, to move in His direction, and to be so full of his joy that I can't help but worship Him.
Just like the shepherds, I want to go out and tell everyone I know that all God said He would do, He did.
"Our mouths were filled with laughter, our tongues with songs of joy. Then it was said among the nations, "The LORD has done great things for them." The LORD has done great things for us, and we are filled with joy." Psalm 126:2-3 (NIV)
Photo Credit: ©Getty Images/Zvonimir Atleti
Jennifer Jabbour resides in the scenic San Diego countryside with her husband, teenage son and daughter, and their hilarious English Bulldog. Jennifer has a B.A. in Integrated Business Communications and a life-long desire to share her faith with others so they can also experience the joy of having a relationship with God. She has finally decided it's time to go after her lifelong dream of writing and publishing her first book, and hopefully many, many more thereafter. Besides being a writer, Jennifer is also a brown belt in Brazilian Jiu Jitsu, a photographer, and an avid outdoors-woman. She loves camping, hiking, running, and playing the piano in her free time.
You can keep up with Jennifer on her website https://www.jenniferjabbour.com.
---
---