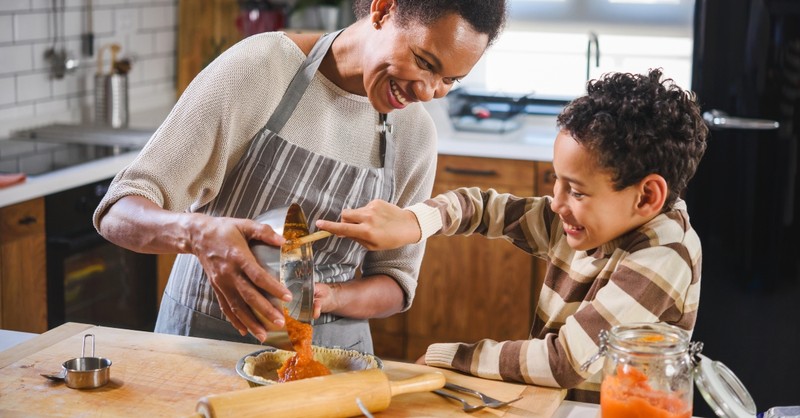 4 Healthy Dessert Recipes to Kick Off Your New Year
Vivian Bricker

Contributing Writer
Whether you chose to eat your dessert first or last, here are four healthy dessert recipes to kick off January!
The start of the new year is a great time to create healthy eating habits. While many people believe desserts should not be included in a healthy diet, I think even dessert in moderation is good for a nonrestrictive diet. As my dad's grannie used to say, "Eat dessert first, so you can make sure you have room for it." Whether you chose to eat your dessert first or last, here are four healthy dessert recipes to kick off January:
1. Vegan Zucchini Brownies
Vegan zucchini brownies are a fun recipe to try on a snowy day! Parents will enjoy the health benefits as zucchini is included in this recipe. (Whether you tell your kids there are veggies in this recipe or not is up to you.) It may be surprising, but you can't even taste the zucchini in these brownies! The brownies taste just like homemade fudge brownies, but with an undetectable healthy twist!
For this recipe, you will need only seven ingredients: zucchini, unsweetened cocoa powder, maple syrup or agave, roasted almond butter, vanilla extract, oat flour or regular flour, and chocolate chips. First, preheat the oven to 350 degrees and spray a 9x5 nonstick pan with nonstick spray. Make sure you spray the pan really, really good because these brownies are known to stick if the pan isn't sprayed. Then, wash one medium-sized zucchini and peel and slice it. Once you have peeled/sliced the zucchini, mix it with ⅔ cup of maple syrup or agave, ½ cup creamy roasted almond butter, ½ teaspoon vanilla extract, ¼ cup superfine oat four (or regular flour), ⅔ cup of unsweetened natural cocoa powder, and ½ teaspoon of salt in a food processor or blender. Continue mixing/processing until the mixture is moist. After the mixture is moist, add the chocolate chips on top, but do not mix them in—just sprinkle them on the top. Once you have added the chocolate chips, pour the mixture into your greased 9x5 pan and spread evenly. Bake the brownies for 22-25 minutes. Make sure to place a fork or toothpick in the middle of the brownies to make sure they are cooked fully.
After you have confirmed the brownies are fully cooked, let them cool for about an hour to make sure they don't fall apart. After an hour, these brownies really firm up and are amazing! Well worth the wait. Try them out and see for yourself!
2. Mommy's Nanner Pudding
This second healthy recipe comes from my mom. This is a fun and fruity dessert that is sure to astound your family and friends. I used to make this recipe all the time when I was a teenager with my mom. Sadly, I haven't made it since her passing because it is too painful to make without her here, but I thought I could share it with you so Mom's recipe lives on throughout the kitchens of families across the world. One bite of this pudding and you'll be begging for more! We are from the south, so we call banana pudding, "nanner pudding."
In this recipe, you will need one large box of instant banana-flavored Jell-O pudding (found on the cooking aisle), a box of non-fat vanilla wafers, nonfat milk, low-fat cool whip, and 3 medium-sized ripe bananas. In a bowl, mix the Jell-O instant pudding with 2 cups of nonfat milk until thoroughly mixed. Then, add in half of the container of cool-whip and sliced bananas. Mix until stirred throughout. After the pudding and cool whip are mixed together, top your pudding with vanilla wafers. My Mom and I used to form them in a circle and then place one vanilla wafer right in the middle of the pudding. If you have any leftover sliced bananas, you can place them on the top of your pudding. Once you have finished decorating, your pudding needs to chill in the fridge for about 8-10 hours. After 8-10 hours have passed, you can scoop out this healthy dessert into 5-6 bowls and enjoy it with your family and friends.
This recipe is a real treat and perfect for any time of the year!
3. Pilgrim's Apple Crisp
This third healthy dessert recipe is perfect for the cold winter months. Since this recipe is low-fat, low-cholesterol, and no-salt, it is the perfect warm treat that won't leave anyone with a sugar crash. For this recipe, you will need oats, sliced apples, brown sugar, cinnamon, honey, unsalted butter, raisins, and pecans. First, heat the stove to 350 degrees and spray a nonstick dish with nonstick cooking spray. Second, take a bowl and mix together 3 cups of oats with two cups of water, ⅓ cup of brown sugar, 2 tablespoons of cinnamon, and a half stick of melted unsalted butter. After you have mixed these ingredients together, stir in the raisins and pecans. Then, add in sliced red apples (or green apples) and mix thoroughly. After the mixture is moist and even, bake it in the oven for 30-35 minutes and then let it cool for 15-20 minutes. Once the dish has cooled down, drizzle honey on top and divide the dessert into 4-6 bowls and top with ice cream and caramel sauce. My family and I personally loved adding a scoop of chocolate ice cream to the top of this dessert; however, you can add a scoop of any flavor of ice cream you would like. If you don't like fancy ice cream, you can add some whipped cream or enjoy it plain. It is entirely up to you!
This is such a fun and easy recipe that your family will adore!
4. Pumpkin Pie Bars
These pumpkin pie bars are gluten-free, vegan, and paleo-friendly, creating a healthy, divine recipe that will have you wishing it was Fall all over again. I am a pumpkin fan, so I'm always looking out for fun and easy pumpkin recipes. I literally lived off of it several weeks following my wisdom teeth surgery. If you ever get your wisdom teeth out, pumpkin purée is the way to go! Anywho, I won't hold you in anticipation any longer:
First, preheat the oven to 350 degrees and line a 9×9 baking dish with nonstick cooking spray. Make sure to spray it thoroughly or these sweet bars may get stuck. Next, mix coconut oil or ghee, eggs, and coconut sugar in a food processor or blender and blend until thoroughly mixed. After this mixture is evenly mixed, add in the almond flour and blend until a dough-type texture is formed. It is best to chill the dough for five minutes in the fridge before proceeding to the next step. Once your dough has chilled, move the dough into your sprayer dish and use your fingers to evenly distribute the dough across the pan. Afterward, place this pan into the 350-degree oven for 8-10 minutes. While the crust is cooking, combine and mix the pumpkin purée, eggs, coconut sugar, maple syrup, coconut milk, tapioca flour, and pumpkin spice seasoning until thoroughly mixed together. After the bottom layer of the pumpkin pie bars has cooked for 8-10 minutes, take the pan out and pour the pumpkin filling on the top. Make sure to spread the filling evenly across the bars. Then, place the pan back into the oven and bake for 35-40 minutes.
Before you deem the pumpkin pie bars done, make sure the top pumpkin filling is no longer jiggly. If the pumpkin pie layer is still jiggly when you bring it out, cook it for an extra 5-10 minutes or until it is no longer jiggly. Once the jiggles are done, wrap your pumpkin pie bars in plastic wrap and stick them in the fridge for at least 2 hours before serving. After refrigerating, take them out and cut them into squares. Whip cream or ice cream is optional but highly suggested!
There you go! Four healthy desserts to get your new year on the right track. In each of these recipes, there is room for creativity. If you don't like a specific fruit or nut that I included in these recipes, feel free to replace it with your favorite mix-ins.
I hope these healthy dessert recipes bring you as much joy as they do me and my family. As always, never forget to be creative in your own cooking! Experiment and try new recipes throughout the year to keep things exciting!
Photo Credit: ©Getty Images/Lordn
---
Vivian Bricker loves Jesus, studying the Word of God, and helping others in their walk with Christ. She has earned a Bachelor of Arts and Master's degree in Christian Ministry with a deep academic emphasis in theology. Her favorite things to do are spending time with her family and friends, reading, and spending time outside. When she is not writing, she is embarking on other adventures.
---