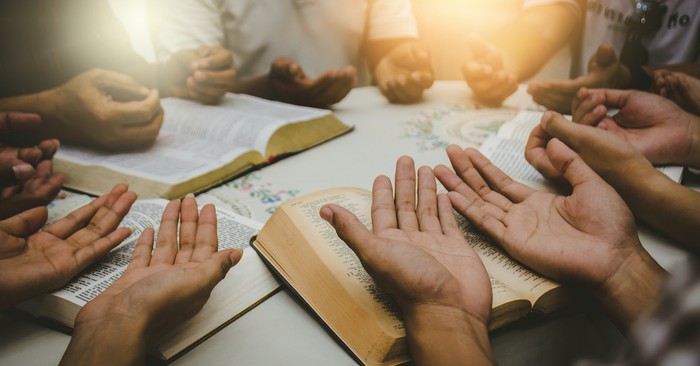 But there is power in the Bible, and this is a power which Americans are failing to see. If we desire to live sold-out lives for God, we must recognize Scripture as THE authoritative voice and allow it to transform the way we live—no matter the cost.
Today, many Christians are at a crossroads in their faith, yet an active, desperate faith in God requires the believer to decide how they define the Bible. Now, more than ever, people are questioning the authority of God's Word. According to a recent study conducted by Gallup, a record-low 20% of Americans claim that the Bible is the literal word of God. In a similar light, a new high of 29% argue that the Bible is only a mere collection of "fables, legends, history, and moral precepts recorded by man." Needless to say, there is a general lack of regard for God's Word among most Americans.
While there is a decline in Americans even reading the Bible, people in other parts of the world are so committed to its teachings that they are willing to face persecution, including martyrdom, for their beliefs. Individuals are threatened by governments, religious leaders, and sometimes their own family members. For many Christians outside of America, verses that speak about losing one's life for God are often a reality. Yet despite these constant threats, there is a faithful remnant who profess the Christian faith and stand firm in the truths found in the Bible.
In order to risk staring death in the face, someone must have full confidence that the Bible and its message are true. As Christians, we should have this same conviction. However, when I look around on a Sunday morning, I notice that many of us are content. At times, I am too. We can sit, hear the Word taught and continue living as if nothing happened. But there is power in the Bible, and this is a power which Americans are failing to see. If we desire to live sold-out lives for God, we must recognize Scripture as THE authoritative voice and allow it to transform the way we live—no matter the cost.
The Bible Has Power
Although there appears to be a general distaste for Scripture among some people, many believers state that they can't stop reading the Bible—that it has a magnetic allure so strong that they just can't put it down. In fact, there are stories of Christians in the Bible who felt the same way. Acts 4:19-20 (NIV) depicts an account of the apostles Peter and John who directly refused orders from rulers commanding them not to speak or teach in the name of Jesus: "But Peter and John replied, 'Which is right in God's eyes: to listen to you, or to him? You be the judges! As for us, we cannot help speaking about what we have seen and heard.'" While disobeying the city's high officials could have resulted in severe consequences, Peter and John couldn't help themselves from telling others about Jesus.
Similarly, in Mark 7:36-37, believers who witnessed the healing power of God couldn't help but share their experiences with others: "Jesus commanded them not to tell anyone. But the more he did so, the more they kept talking about it. People were overwhelmed with amazement. 'He has done everything well,' they said. 'He even makes the deaf hear and the mute speak.'" When we experience the power of the Lord, He will naturally flow out of our being. Without effort, both our words and actions will point back to Him if we direct our attention to the things of God rather than the things of this world.
Seek Him, and You Will Find
Many people might feel that the Lord is absent. When hearing about the power other believers have experienced through Jesus, His Word and Spirit, it is difficult to empathize. Perhaps you experienced an initial excitement to share Jesus with others when you first found Him, but since then, the passion may have died down. Maybe you have attempted to model your life after Jesus but eventually became distracted by other things: worries, temptations, dreams, goals and responsibilities, which all steal our attention. Yet amid these distractions, if we can keep our eyes focused long enough on Jesus, we will find Him. Matthew 7:7-8 states, "'Ask and it will be given to you; seek and you will find; knock and the door will be opened to you. For everyone who asks receives; the one who seeks finds; and to the one who knocks, the door will be opened.'"
After you have found Jesus, acknowledge His spirit living inside you—not a dead spirit, but a spirit that is alive! Even when you do not feel His presence, you can know that He is there. Acts 1:8 testifies to this constant presence and the power He provides: "'But you will receive power when the Holy Spirit comes on you; and you will be my witnesses in Jerusalem, and in all Judea and Samaria, and to the ends of the earth.'" If you have encountered Jesus, He has equipped you with His presence to go to the darkest corners of the earth and share His message with others.
Live All-In for Jesus
I think one hindrance that prevents us from sharing our faith with others is fear. While American Christians might not encounter consequences as severe as believers overseas, there is still inherent risk and sacrifice involved in living a devoted life to God. Are you willing to lose things? Because if you aren't, it begs the question whether you truly belong to Jesus.
What do you cower at? What stops you from living all in for Jesus? I urge you to deny giving power to these fears and to stand firm in your beliefs with boldness and courage. 1 Peter 2:9 declares, "But you are a chosen people, a royal priesthood, a holy nation, God's special possession." We need to remember who we are in Christ, and in return, we should desire to be all in for Jesus. When you realize what you look like through God's eyes, it should help you refocus on the Word of God and the truths it calls us to embrace. We must join our brothers and sisters from across the world in taking the commands of Scripture seriously. If our faith is real, then it should affect the way we live in a real way.
When we read the stories in our Bibles, whether it's a few verses or a few chapters, it inspires us to look beyond the text to the story God is writing in each of us. We share many stories of biblical champions and modern-day heroes of the faith in our new "55:11 Podcast," which is named from the verse in Isaiah stating that God's Word will accomplish His purposes.
While not everyone in the world has access to a Bible, everyone deserves to hear the truth of God's Word. That is why it is our mission at EEM to provide Bibles—for free—to everyone in Eastern Europe who has need of one. Please join us in praying for boldness as we watch for open doors to share the Gospel and to tell the stories of biblical figures who trusted and obeyed God—including believers today who are daily risking their lives sharing the Gospel in places like Ukraine, where we strive to make our tagline a reality: "The Bible, We Want Everyone to Get it."
Photo Credit: ©GettyImages/Kruraphoto
---
Dirk Smith is Vice President of EEM, which has been delivering God's Word to the people of Eastern Europe since 1961, now reaching 32 countries in 25 languages. He and his teammates share powerful stories of what God's Word can accomplish in the new "55:11 Podcast," based on the Isaiah 55:11 Scripture. Learn more at www.eem.org/5511podcast.
---
---