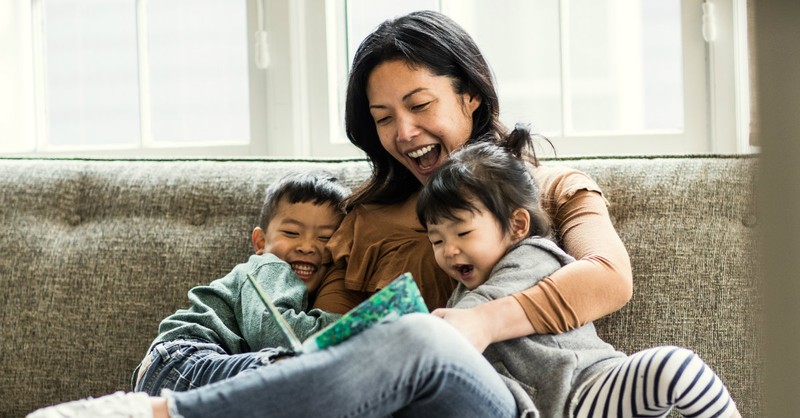 14 Powerful Prayers to Encourage Every Mom
Compiled & Edited by iBelieve Staff

Editorial
For the tired mom who cries herself to sleep at night, you are not alone. To the mom who never feels like she's enough, He is able. To the mom who is overwhelmed with heartache and pain, there is hope. To the one waiting to be a mom, God sees you. God wants to hear your needs and is waiting to speak peace into your situation. May these prayers for moms speak comfort and healing into your heart and mind.
Every mom needs to hear words of encouragement at times. Whether you are saying a prayer for your own mother or you are looking to say a prayer for yourself - these prayers for moms will refresh your soul and strengthen your journey through motherhood. For the tired mom who cries herself to sleep at night, you are not alone. To the mom who never feels like she's enough, He is able. To the mom who is overwhelmed with heartache and pain, there is hope. To the one waiting to be a mom, God sees you.
God has called you into this role and He will provide for your needs. You can let go of mommy shame and guilt and start each day with new mercies and joy. God wants to hear your needs and is waiting to speak peace into your situation. May these prayers for moms speak comfort and healing into your heart and mind.
A Mother's Prayer for Her Family
Dear Lord, You have blessed us mothers with these children, and they are indeed a blessing from you. Thank you for the gift of our family and our children. Some of us did not approach motherhood joyfully, yet in each child we can see your imprint. Then there are those of us who have longed for the privilege of motherhood for as long as we can remember. In either case, it's as if you chose us for this great calling of motherhood. It is finally here, and for both those who longed for it and those who shied it away from it, motherhood is much more than anyone can imagine.
We cling to you because we know that you provide all that we need. So grant us insight and foresight to be wise parents. Grant emotional and physical peace. You told us to be anxious for nothing, and that includes our children. Give us wisdom to parent well; to nip bad behavior in the bud and to encourage our children as they bloom.
Make our home a warm place, not through material goods but through your presence, so we can feel your love in the room. May we be welcoming to the friends of our children no matter what baggage they bring. Help us to be honest and genuine and love our children's friends like we love our own. In our home, may our demonstration of your love be front and center. Help us to live out your love loudly, boldly and correct lovingly when we need to do so. Ultimately may our children come to know you as their own. We can't force them, but as parents, equip us to set such a compelling example that it just makes sense for our children to know the God of their parents. (Nylse Esahc)
Prayer for Moms for Blessings
Dear God, Thank you for the gift of motherhood. Thank you for the blessing it is to be called "Mom." Thank you for the good plans you have in store for those who still wait to be a Mom. Thank you for the numerous spiritual children you have given to so many "spiritual moms" and mentors. We pray that you would fill this day with favor and grace as we honor Moms all around our nation.
We ask for comfort for those who are grieving loss and heartache, especially on this day. We ask for strength for those who wait for children to come back home. We ask for healing for those who have been hurt by relationships that were intended to be loving and nurturing. We ask for faith for those who will someday be Moms, who find themselves on a journey that seems so hard. We ask for great encouragement and grace to cover those who have made a brave and loving choice for adoption. We ask for incredible provision and care over every single parent mom who works so hard on behalf of her children. We ask that you would remind many of those who, though they do not have "physical" children, have the gift of being amazing hope-bringers to many spiritual children they've been blessed to nurture through these years.
God, thank you, for the gift of life. Thank you that your heart is for us, and that you are with us, in all our unique journeys and pathways. Thank you that you are Sovereign over every part of our lives. Thank you that your ways are perfect and you make our footsteps secure. Today we pray for refreshing, for joy, for grace, for wisdom, for great peace...for all moms, for moms to be, and for women who nurture and lead. In Jesus' Name, Amen. (Debbie McDaniel)
A Prayer for the Mom Who is Weary
Dear Father in Heaven, I come before you weary and beat down by this long day. Being a mother can be so hard! I often feel helpless and inadequate. I never know what to expect. I often don't know what to do. The constant change leaves me reeling. The twists and turns of each day is a glaring reminder of how needy and dependent I am.
The book of Hebrews tells me I can come to you in confidence and find the grace and mercy I need. And so I come to you now to lay all these burdens at your feet. I feel so overwhelmed by the details of life. It seems like I can never get ahead. Just when I clean up one mess, another one pops up somewhere else. Just when I think I know what I am doing as a mom, my child enters a new age and stage. Just when I think I have a steady routine in place, someone gets sick or hurt. Some days I wonder if I'm really cut out for motherhood.
I know I failed to glorify you today. I failed to love as you love me. I failed to extend the grace you've given me to my children. Forgive me for striving in my own strength. Forgive me for my fears over all the unknowns of motherhood. Forgive me for putting my hope in things, circumstances, or in my own strength rather than in you. Forgive me for my impatience and for wanting life to go my way. Each of these sins and failures reminds me of just how much I need a Savior. Today reminds me that I need Jesus more than I did yesterday and that tomorrow I will need him even more.
I'm so thankful that there is so much of you to give. You never grow tired or weary. Even while I sleep, you remain at work, ruling and reigning over your Kingdom. Nothing happens outside your knowledge and will. You are never surprised or caught off guard. You're never stretched beyond what you can handle. You're never unprepared. And the well of your grace never runs dry. Because of what Jesus did for me at the cross, I ask that you create in me a clean heart. Renew a refreshed spirit within me. Give me strength each day. Open my eyes so that I see your hand at work in my messy, unpredictable, and often crazy life. Be my constant in my fluctuating emotions. Keep the gospel ever before me and make it a reality in my daily life as a mother.
I pray that tomorrow you would be with me in all ups and downs of my day. Help me to find my joy in you and not in my circumstances. Help me not to fear whatever twists and turns may come. Help me to love my children and serve them well. Help me to enjoy each moment with them and not spend my time worrying about the next moment to come. May I remember that even when it feels otherwise, you are always with me and will never leave me or forsake me. Tonight, may I sleep in peace knowing that even when I lose my grip, you never let go of me. And may I open my eyes in the morning to find mercy, fresh and new, ready for the taking. In Jesus' name I pray, Amen. (Christina Fox)
A Prayer for The Mom Who Struggles with Temper
Father, give me eyes to see you and ears to hear you in the midst of my day. When challenges arise, give me the ability to step out of my emotions to deal with the situation in the best way. And when I make mistakes, give me the courage to ask others for forgiveness, and even more, to forgive myself. Remind me of your promises, of the fact that when you look at my beautiful and unique child, made in your image, it's the same way you look at me—with a Father's love. Amen. (Malinda Fuller)
A Prayer for Moms to Navigate Their Calling with Confidence
Lord, I pray now for the moms who are reading this. I pray you would instill in them a deep hunger for yourself. I pray you would drive them to have a holy hunger for you. Help them Lord – their plates are so full and their schedules are so busy. Give them eyes to see when they have time for you. Give them the energy to spend free moments with you. Help them make time for you through the day, by praying as they live out their days, and by pointing their children to you in awe, wonder and appreciation. Help these moms live out their calling faithfully and joyfully. It's in your name I pray, Amen. (Donna Gaines)
A Prayer for Women Waiting to Be Mothers
Lord, I pray for my friend who is still waiting to be a mother. Would You touch her with special encouragement and strength today? Father, let her know You see her struggle and care about her grief. Give her faith to believe You hear her prayers; reassure her that you have plans to bless her and give her a hopeful future.
Would you reveal Your great compassion to my friend today? Pour out Your love into her heart and heal the wounds she carries inside. Remind her that You treasure her and hold her in Your hand. You have promised to show her steadfast love and faithfulness.
Lord, open her eyes to the greatness of Your power. You are able to do abundantly more than all she can ask or imagine. Give her the grace she needs to seek You first today. Help her to cultivate a strong relationship with You and reassure her that You will complete your purposes in her life.
Father, I ask that You show mercy and grant the desire of her heart for a child. Help her to acknowledge her desire before You and lay it at Your feet, trusting that you will grant it in your timing and in your way. Let her live in surrender to Your plans and purposes for her life. Lord, have mercy.
Draw her close to Yourself today and renew her joy. Open her eyes to daily blessings. Give her a steadfast heart, that she might continually look to You and Your love. Show her that the truest joy comes from your presence and give her the grace she needs today. In Jesus' name, amen. (Betsy de Cruz)
A Prayer for Single Moms
Father God, we thank you for each and every woman you have blessed with the privilege of motherhood. We thank you that every single mother is a Godly steward of each of their children and that they raise them in the ways of the Lord. Father, we pray and ask that You continue to give them the grace to walk out being a single parent with kindness and generosity. We pray that each single mother has a relationship with You, and worships You in spirit and truth.
Help each of your precious daughters to remember that although they are parenting alone, You have not left them nor forsaken them. We thank You that You see each of them and love them. Lord, if they are weary, we pray and ask that You send them a Godly sister in Christ to hold up their arms in the battle, just as Aaron did for Moses. Lord, thank you that You care about every big or small thing that concerns them. Place a hedge of protection around each single mother and her children, Father. We thank you that You alone are their Provider. Where there is lack, Father, we pray that it be Your will, and You will bring abundance. We pray and ask these things in your name, Amen. (Jennifer Maggio)
7 Short Prayers for Moms
Dear Heavenly Father, we lift up the mothers we know in our lives. Bless them. Give them strength, hope, and comfort today. Amen.
Dear Jesus, there is a mom out there who needs to know that you are with her. Reassure her of your presence and love. Amen.
Lord, I know so many moms who feel un-thanked and un-appreciated. Show them how they have blessed so many and make her feel loved and appreciated today. Amen.
Lord, we pray for the moms who have gone through miscarriage and loss. Be with them and comfort them now. Amen.
Merciful God, we pray for those moms who have recently found their nests to be empty. Fill them with your peace and your strength. Amen.
God, we lift up mothers who have recently lost mothers. Comfort them in their affliction and guide them. Amen.
Heavenly Father, bless mothers today as they work hard behind the scenes and share the light of your love with their families today. Amen.
Further Reading
10 Prayers for Mothers for When You Feel Weary and Need Renewed Strength and Purpose
Photo credit: ©Getty/MoMo-Productions
Comments
---
---