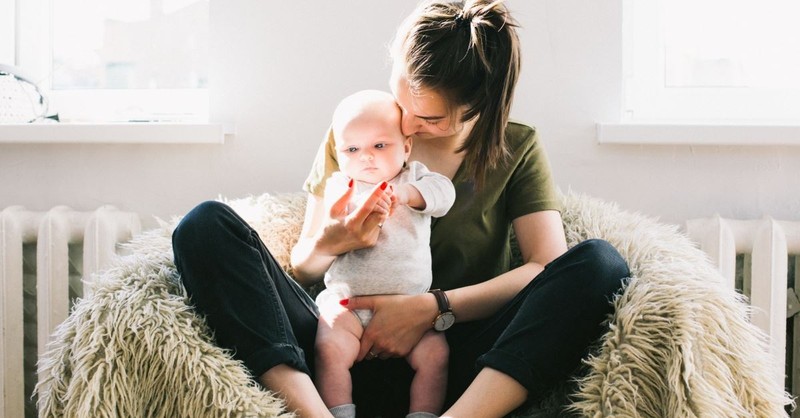 A Mother's Prayer for Her Family and Her Purpose
Nylse Esahc

iBelieve Contributing Writer
Parenting is one of the more difficult avenues we travel, so we need to lean heavily on God, so that He can produce in us good fruit. As a mother, if you are wondering what to pray for your family, or your own purpose, here is what you can say:
A Mother's Prayer for Her Family:
Dear Lord,
You have blessed us mothers with these children, and they are indeed a blessing from you. Thank you for the gift of our family and our children. Some of us did not approach motherhood joyfully, yet in each child we can see your imprint. Then there are those of us who have longed for the privilege of motherhood for as long as we can remember. In either case, it's as if you chose us for this great calling of motherhood. It is finally here, and for both those who longed for it and those who shied it away from it, motherhood is much more than anyone can imagine.
As our tummies grew and bodies changed, life carrying life, you humbled us. With every kick and every sleepless night, we wondered, and we prepared. Finally, our little one appeared, with full force making their presence known. As that little one bawled, signaling new life, we realized that our lives were forever changed. With children comes great responsibility, for to whom much is given, much is required. Male or female, abled or differently abled, black or white, there is much responsibility with each child given to us. We purpose not to take this responsibility lightly as we do not want to be negligent with these precious gifts.
We cling to you because we know that you provide all that we need. So grant us insight and foresight to be wise parents. Grant emotional and physical peace. You told us to be anxious for nothing, and that includes our children. Grant love. Of course we'll have the gooey grateful love that emanates from us every time we see our child. But your love also makes us wise so that we understand there are many facets to loving a child. Give us wisdom to parent well; to nip bad behavior in the bud and to encourage our children as they bloom.
Make our home a warm place, not through material goods but through your presence, so we can feel your love in the room. May we be welcoming to the friends of our children no matter what baggage they bring. Help us to be honest and genuine and love our children's friends like we love our own. In our home, may our demonstration of your love be front and center. Help us to live out your love loudly, boldly and correct lovingly when we need to do so. Ultimately may our children come to know you as their own. We can't force them, but as parents, equip us to set such a compelling example that it just makes sense for our children to know the God of their parents.
Keep us humble, keep us prayerful, keep us wise, so that we can say like Joshua, as for me and MY HOUSE, we will serve the Lord.
A Mother's Prayer for Her Purpose:
Dear Lord,
We know that your ways are best, so part of our children's purpose is to serve you. Our children, like us, were made to glorify you. Lord sometimes our children's direction is not clear to us. Sometimes their gifts and talents lie below the surface waiting to be discovered. Discovery of their gifts may lead them along an unconventional path, or one that's tried and true – but either way, reassure our children that you are there with them in each step they take.
May we train them in the way they should go, in their natural leaning, and may we give them wings to soar. At other times we can see who they are meant to be, but we have no idea how to direct them. In these moments, we rely on you for clarity, for wisdom, for insight. When our children struggle with belonging, with identity, with internal conflict, grant them knowledge so that they know they have a resource in you and your word. As parents, may we embody the truths of your word as our children discover their purpose. May we always point them back to you.
As our children refine and seek out their purpose for their lives, may they seek you first knowing that all these things – peace, provision, practical insight, praise, and prayers will be theirs also. May they understand the blessing of knowing you as they navigate this life. We know Lord that you can be glorified in their life choices. May each choice they make be a stepping stone to greatness. Once they know you, may you be the beacon that guides every choice. May they be the start of Godly legacies within their families and circle of friends. Sometimes we make big plans for our children, but they don't align with who you made them to be; with who they are. Forgive us for being presumptuous in planning their lives. Even in this area may we seek your will for their lives and ours.
Help us not to be prideful with their lives. Even though we mean well, even in this area may we be willing to let go so that they can be who you've made them to be. May we do nothing to harm them. If we'd said an unkind word or punished harshly, may we as parents be able to speak with our children and right wrongs. Lord we see in you the perfect example of parenting – you allowed your son to live out his purpose at great cost to you, yet the result was worth it. May we love our children yet let them be who you made them to be. Enhance their talents and abilities so that they make a difference in this world. As our children grow, regardless of their career path, may they come to know you, grow in relationship with you and immerse themselves in your love.
Parenting is one of the more difficult avenues we travel, so may we lean heavily on you so that you can produce in us good fruit. You are Emmanuel and are always with us. Hear our prayers for our children dear Lord. Bless and minister to them in ways that exceed our expectations.
Amen.
Nylse is a Christian wife and a mother of four who loves life and inspiring others. She likes to have fun but is very clear on who she is and Whose she is. A prolific thinker, she blogs to encourage others from a Christian perspective at www.lifenotesencouragement.com. She can be found online on Facebook, Twitter, and Pinterest.

---
This article is part of our Prayers resource meant to inspire and encourage your prayer life when you face uncertain times. Visit our most popular prayers if you are wondering how to pray or what to pray. Remember, the Holy Spirit intercedes for us and God knows your heart even if you can't find the words to pray.
Serenity Prayer
The Lord's Prayer
Irish Blessings & Prayers
Morning Prayers
Good Night Prayers
Prayer for Healing
Prayer for Protection
Photo credit: DariaShevtsova/Pexels
Comments
---
---