A Prayer for a More Meaningful Life
At the end of their days, who doesn't want to say that they lived a meaningful life? But being confident that our life has meaning and purpose can only truly come from the One who knew us before we were created and set each of our days with purpose. If you're struggling to find your purpose and meaning in life, here is a prayer you can pray, today and regularly, for a meaningful life.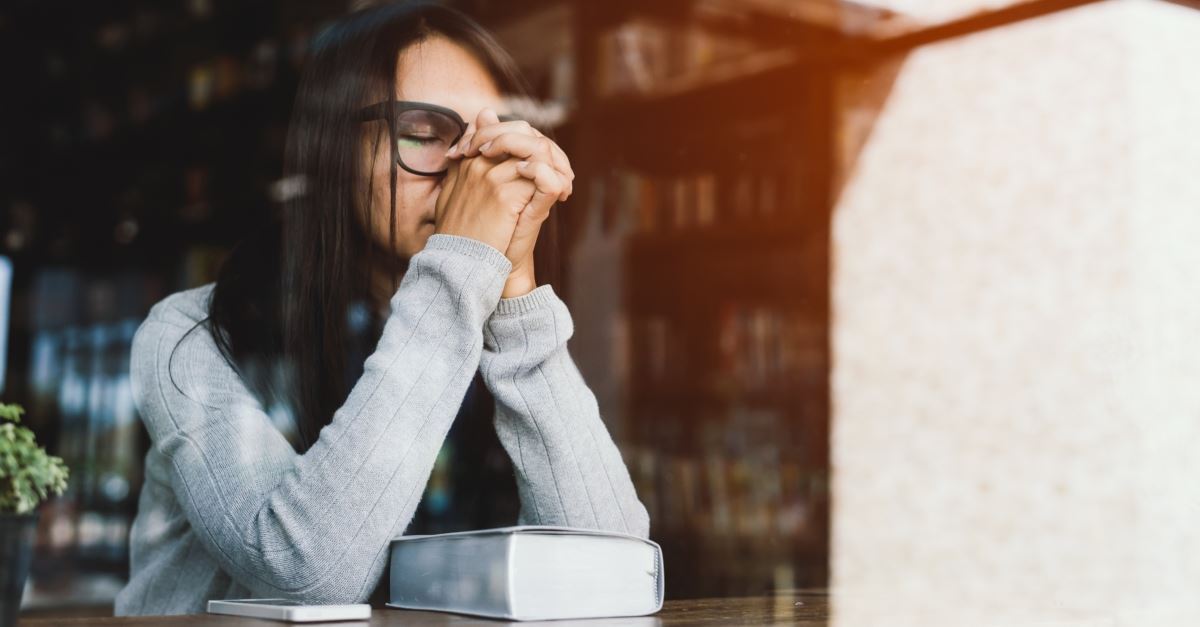 The turn of the New Year often sparks a wave of resolutions and goals with the intent on improving our quality of life. Whether it's getting our physical bodies in better shape or determining to further expand the horizon of our knowledge, bucket lists and full calendars usher us into the hope of a new year and a new us. But none of this will lend us lasting peace, if not faithfully rooted in Jesus Christ. We cannot do anything good apart from Him.
What Does the World Call a Meaningful Life?
The world has us chasing after all kinds of happy endings, comparing ourselves to each other so candidly on social media instead of seeking more of the One who laid his life down so we could live life to the full. Perhaps it's harder to follow Jesus because it's not as tangible as worldly achievements and rewards. It's relationship-based, and relationships are difficult. They take persistence, patience, and staying power. When Christ was crucified, the lines of communication between us and our great God were swung wide open. Yet, instead of yielding to the Creator of the Universe, we set our own goals and resolutions.
What God Calls a Meaningful Life
We will undoubtedly be blessed in this life by our loving Father in heaven, when we seek him daily with submissive hearts. The Author of our Dreams has more than we can ask for or imagine waiting for us in this life. It won't come without pain or sacrifice, hard work or disappointment. But when we resolve to honor to him with our lives, our perspective begins to align with his, allowing us to see beauty and achievement in places the world overlooks.
For a more meaningful life … we must seek more of him.
A Prayer for a More Meaningful Life
Father,

We praise you, our God and Creator, for the wonderful plans you have for our lives. When we are tempted to compare, and become dissatisfied with our status in this life, may we seek you first before wallowing in what we wish to achieve and accomplish in this world. Protect our minds and guard our hearts against the battlefield of comparison. As we search for a more meaningful life, let us seek more of you.
Thank you for the breath in our lungs that woke us this day, and the purpose you have for it. This is the day you have made, and we will rejoice and be glad in it. Open our eyes to see each other and the world through your perspective, Lord, not ours.
Father, you promise when we seek you with all of our hearts we will find you. Remind us where to look. In the midst of your Creation, we can experience your presence. In reading and studying your Word in the Bible, we receive directives and encouragement, inspiration and understanding. As we follow Jesus, through the power of the Holy Spirit dwelling in the heart of every believer, we see and experience life through a different lens. One rooted in your perspective.
The key to a more meaningful life is to filter all of it through you. Every day we wake carries a specific purpose, every life is crafted with care by you, our Creator. When it doesn't "feel" that way as we walk out the days of our lives on this earth, we know you will be faithful to remind us if only our ears will hear and eyes choose to see.
The effects of sin continue to wage war on this world. Father you see the disaster, pain, terror, anxiety, injustice, and intolerance haunting our days here. You assure us there is meaning amidst the mess …beauty even. Through our Savior, Jesus Christ, the very Word of God made flesh to walk among us, we are assuredly never alone. Give us the godly confidence and strength to follow him, so our lives accumulate more meaning not by what we do, but who he is.
Jesus, you are the way, the Truth, and the Life. A more meaningful life is rooted in the greatest commandment you are so faithful to remind us of… love. Bless our hearts to live not out of selfish gain, but fueled by love. Let all we do honor you, and may we find a more meaningful life as we seek more of you.

In Jesus' Name,
Amen.
Image Credit: ©Getty/palidachan
Meg writes about everyday life within the love of Christ as an author, freelance writer, and blogger at Sunny&80. Her first book, "Friends with Everyone," is available on amazon.com. She earned a Marketing/PR degree from Ashland University but stepped out of the business world to stay at home and raise her two daughters. Besides writing, she leads a Bible Study for Women and serves as a Youth Ministry leader in her community. She lives in Northern Ohio with her husband, Jim, and two daughters.

---
This article is part of our Prayer resource meant to inspire and encourage your prayer life when you face uncertain times. Visit our most popular prayers if you are wondering how to pray or what to pray. Remember, the Holy Spirit intercedes for us and God knows your heart even if you can't find the words to pray.
Serenity Prayer
The Lord's Prayer
Irish Blessings & Prayers
Morning Prayers
Good Night Prayers
Prayer for Healing
Prayer for Protection
Prayer for God's Help
Prayer to the Holy Spirit
Prayer for Strength
Comments