A Prayer for Enduring with Hope
By: Kristine Brown
"But the one who endures to the end will be saved." (Matthew 24:13 ESV)
The disciples gathered around Jesus one day and asked how they would recognize the end of time. Jesus explained what the world could expect to happen in those days, so they would not be alarmed. Surely talk of impending wars, famines, and earthquakes would cause people to panic. But Jesus reassured the disciples, saying, "See that you are not alarmed, for this must take place, but the end is not yet." (Matthew 24:6)
Even today we may be tempted to lose heart when we read Jesus' words regarding the end times. Hearing that many will suffer or be led away from God? It doesn't sound like something to look forward to. But in Matthew 24:13, Jesus offers unmistakable hope to sustain us through the hardest days: "But the one who endures to the end will be saved."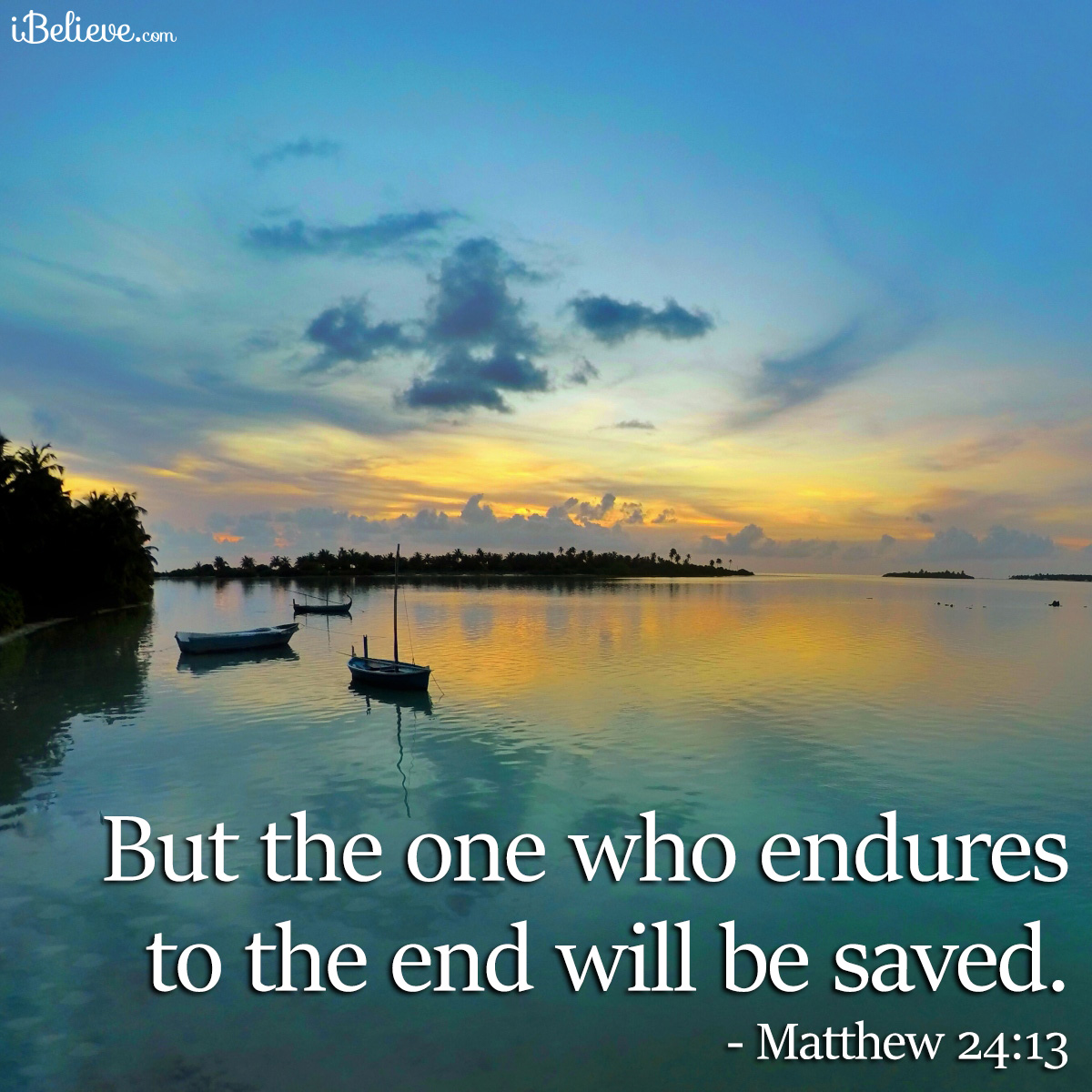 God calls us to endure. Romans 5:3-4 encourages believers to "rejoice in our sufferings, knowing that suffering produces endurance, and endurance produces character, and character produces hope." So as we persevere through whatever trials we face, God replenishes our hope with the promise of eternal life with Him.
Jesus came and suffered because of his deep love for us. Knowing nothing can separate us from that love gives us reason to press on. We can step into each new day with anticipation instead of panic, thanks to this amazing promise. We will "see the Son of Man coming on the clouds of heaven with power and great glory." (Matthew 24:30)
Let's keep this promise in mind as we pray and ask God for the strength to endure with hope.
Dear Heavenly Father,
Thank you for your Word. When I look around at the world today, it's hard to stay encouraged. Yet in those times when I begin to lose heart, I can always turn to Scripture and find renewed hope.
Your son Jesus spoke to his disciples, explaining how important it was for them to endure with hope, even in the end times. Through their conversation, Jesus gives us all a reason to press on today. Lord, help us to endure when we're tempted to give up. Help us focus on your love as we face difficult times.
Thank you for not only calling us to walk in freedom from panic because of Jesus, but also giving us the strength to endure until we see Him again. We can rejoice as we persevere because of His promised return.
In Jesus' name, Amen.
---
For more spiritual growth resources, check out this free email study from Kristine Brown, Walking with Rahab: A 5-Day Challenge to Better Decision-Making. You'll find weekly encouragement to help you "become more than yourself through God's Word" at her website, kristinebrown.net. Kristine is the author of the book, Over It. Conquering Comparison to Live Out God's Plan, and the companion devotional for teens.
We want to experience God through the Bible… we really do!
But our good intentions fall flat when reading the Bible just doesn't seem to help us experience God in a real way. What should feel alive often feels confusing and boring and irrelevant. But it doesn't have to.
In the How to Study the Bible podcast, pastor and Bible teacher Nicole Unice brings life back to reading the Bible by walking listeners through her Alive Method of Bible study, helping us personally encounter God through his Word by giving us a practical, clear road map for understanding, interpreting and applying Scripture to our lives. Just click below to start listening now!
Originally published Monday, 23 August 2021.