Why Did God Make Us So Different?
By: Gina Smith
"Then God said, "Let us make man in our image, after our likeness… So God created man in his own image, in the image of God he created him; male and female he created them." - Genesis 1:26-27
She is emotion driven and feels everything very deeply. At times the way she feels can be all-consuming and she can't move forward unless she is able to process everything out loud. She needs him to listen, to allow her to cry, to hear her heart.
He is very objective and compartmentalizes everything. If you will objectively tell him what you're thinking, he will process it and help to fix things. Just don't begin to cry. Don't emote, because that's when he will stop hearing what she has to say.
He can seem to be insensitive. She can seem to be over-emotional. Misunderstanding and conflict erupt.
Why did God make men and women to be so different? How is a marriage supposed to be successful when the way we are made is so opposite of each other?
God made us the way that we are for some very important reasons, reasons that reach far beyond marital success and individual happiness. With that in mind, I think that if we can come to some understanding of the "whys," it will help us to see each other in a new light and will help us to love and appreciate each other in a deeper way. In the way God intended us to.
In Genesis 1:26-27 we read the following: "Then God said, "Let us make man in our image, after our likeness… So God created man in his own image, in the image of God he created him; male and female he created them."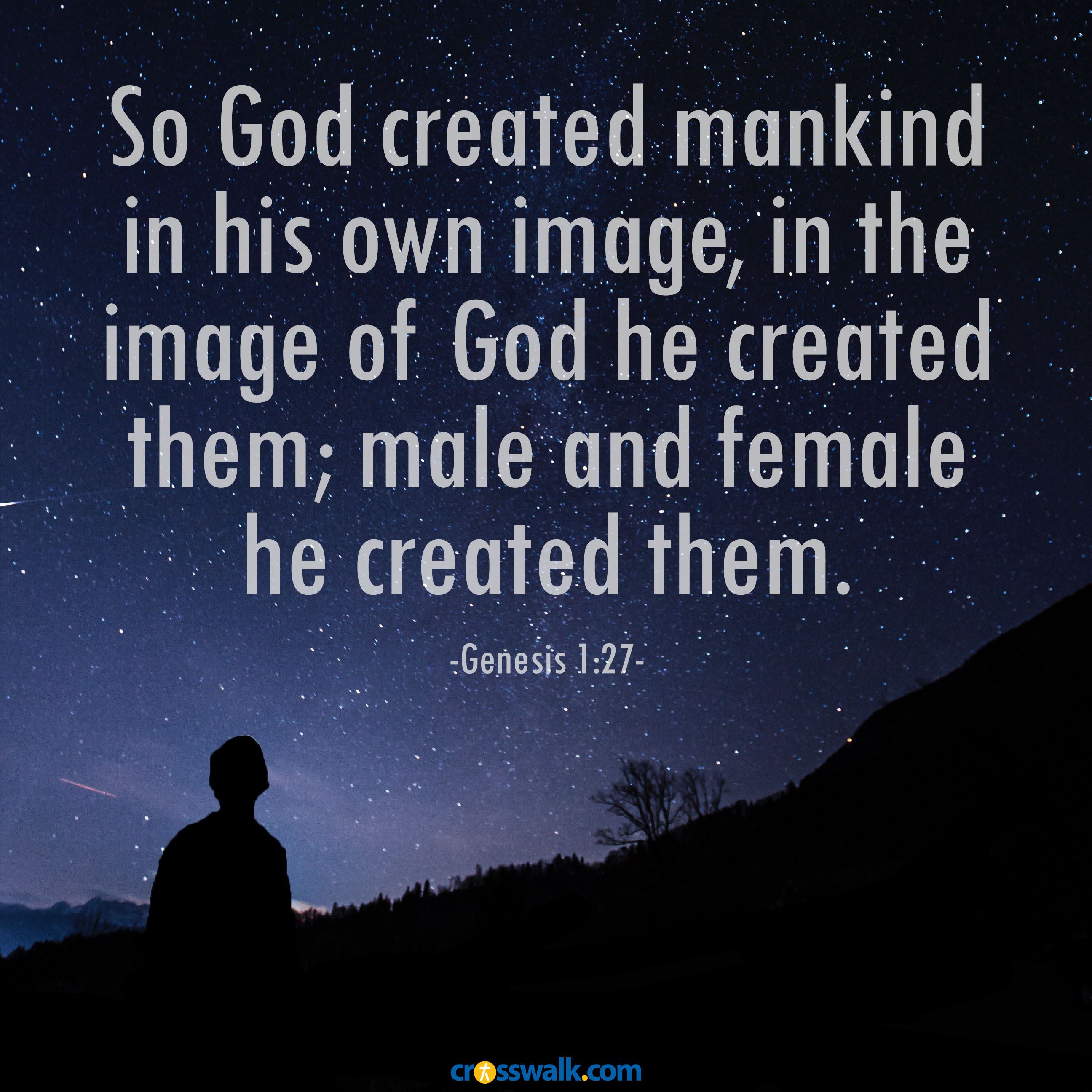 God was intentional when he made us the way that we are made. When he says he made us – male and female – in "our" image and after "our" likeness", he means the Trinity. The Father, Son, and the Holy Spirit. This means that when we look at each other and see all those qualities that make up who we are, we are actually seeing a glimpse of God the Father, as well as the Son, and the Holy Spirit!
God created us mindful of the relationship that he had with the Son and the Holy Spirit. He created us to work together, appreciating and benefitting from all the unique and different qualities we have to offer. This sets us apart from the animal kingdom and suggests a visible representation of God himself! How amazing is that?!
When a husband and wife begin to learn to look at each other with this in mind, they will begin seeing each other in the way God desires them to view each other, because they realize that they are actually getting a glimpse of what God is like.
We can value and appreciate the way our spouses are made and see each quality as a quality that God himself possesses. These qualities are meant to help us and point us to God.
When we become impatient with, or insensitive toward, each other, or we allow our emotions to control us, we see evidence of how these God-given reflections of himself can become altered by sin. Sadly, when that happens, our relationships can be hindered and we realize that in those moments, we are not accurately reflecting the image of God.
Our differences should point us to God and draw us closer to each other as he allows us to get to know him better. If we can work to see each other and how we are made as literally a snapshot of our Father, it will change the way in which we interact and treat each other.
And God will be glorified.
---
Gina Smith is a writer and author who has been married for 31 years to Brian, a college professor and athletic trainer. For the past 20+ years, Gina and her husband have served on a Christian college campus as the on-campus parents, and her husband has been a professor and dean of students. They have lived on the campus where they raised both of their now married children. In her spare time, she loves to write, writes for several websites, and recently authored her first book "Grace Gifts: Practical Ways To Help Your Children Understand God's Grace". She also writes at her personal blog: ginalsmith.com.
You want a happy family who's growing closer to God and each other every day. But how do you break down the barriers to a loving marriage? How can you connect with your kids and help them in their struggles? How does your faith make a real difference in your family's life?
Rob and Joanna Teigen are here to support you with encouraging wisdom and honest interviews with overcomers who battled the same challenges you face. The Growing Home Together Podcast will give you hope and help to care for the soul of your family today.
You can listen to an episode now by clicking the play button below!
Originally published Monday, 14 November 2022.