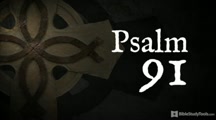 You just can't go wrong with the power of Psalm 91. But even we weren't prepared for how many times we'd watch this sensational version. You've gotta see this.
Psalm 91:1-9
He that dwelleth in the secret place of the most High shall abide under the shadow of the Almighty.
I will say of the Lord, He is my refuge and my fortress: my God; in him will I trust.
Surely he shall deliver thee from the snare of the fowler, and from the noisome pestilence.
He shall cover thee with his feathers, and under his wings shalt thou trust: his truth shall be thy shield and buckler.

Thou shalt not be afraid for the terror by night; nor for the arrow that flieth by day; Nor for the pestilence that walketh in darkness; nor for the destruction that wasteth at noonday.
A thousand shall fall at thy side, and ten thousand at thy right hand; but it shall not come nigh thee.
Only with thine eyes shalt thou behold and see the reward of the wicked.
Because thou hast made the Lord, which is my refuge, even the most High, thy habitation;
Did you enjoy this video? Visit some more of our most popular must-see Bible Verse Videos!
5 Verses on Strength for When You Feel Weak
5 Psalms for Fighting Depression
This Beautiful Version of Psalm 23 Had Me in Tears
5 Healing Bible Verses for You and Your Family
Originally published Thursday, 08 July 2021.