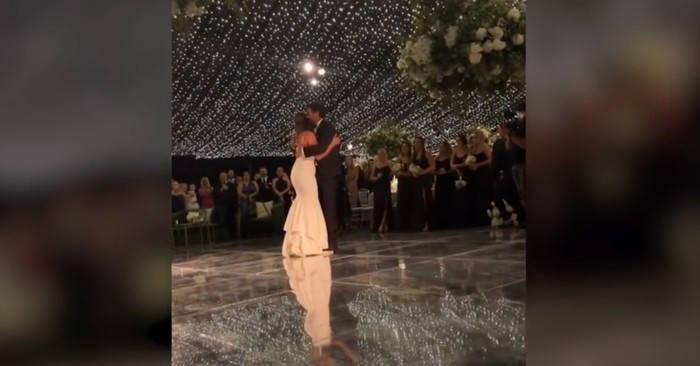 In a beautiful wedding celebration, Luke Bryan walks his niece down the aisle and shares a dance at the reception.
On Sunday, September 5, Luke Bryan and his family gathered together to celebrate his niece, Jordan Cheshire, marrying her love, Clint Eudy. The wedding took place in Tennessee and it was absolutely beautiful!
Luke's niece Jordan is the oldest of three children born to his sister, Kelly. She died in 2007, and seven years later, her husband, Ben, died of a heart attack.
With Kelly and Ben's children now orphaned, Luke and his wife, Caroline, have stepped in to help raise Jordan and her siblings.
The 26-year-old bride made sure that her wedding was filled with remembrance for her parents and honored them in many ways. At the ceremony, the two seats where the bride's parents would have sat were full of breathtaking flowers. And at the reception, the couple had a "family tree" displayed. It was a wall full of photos around a floral tree of family members who have passed away.
Before saying "I do," Luke Bryan walked his niece down the aisle. It is so sweet to see him fixing her veil and holding her hand as the two walk down to the altar full of beautiful flowers.
Luke also filled another role that Jordan's dad would have done at the wedding reception – Luke danced with her during the father-daughter dance. The pair swayed back and forth to "You'll Be In My Heart" by Phil Collins. What an emotional moment that must have been for everyone there.
"How wonderful!" comments someone on YouTube. "She's a beautiful bride and blessed to have an uncle & aunt to step in and provide a blessed life for those three. Kudos to the wedding planner too, stand up job!"
"What a wonderful uncle, so sweet," writes another person online. "Congratulations to the newlyweds, may the life you create together be amazing!"
What a beautiful occasion full of love and celebration. And Luke Bryan is such a great uncle and stand-up guy!
Credit: Godtube
Source: Taste of Country
Originally published Friday, 28 April 2023.