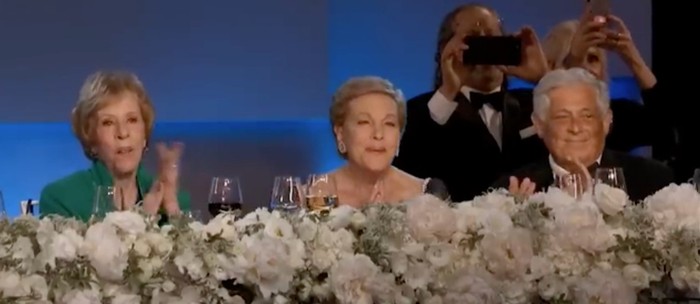 In this precious video, we see Julie Andrews being honored in a unique way. Julie Andrews sings "Do-Re-Mi" with the former Von Trapp children.
*Content originally created by GodTube; used with permission.
At the start of this clip, Julie Andrews is being honored for the 48th AFI Life Achievement Award. She is pleasantly surprised to see five of the actors who played her children in the Sound of Music be introduced on stage. As Nicholas honors Julie, he tells the audience that they are going to do a sing-a-long with Julie. The video begins to play the clip of "Do-Re-Mi" and the audience starts singing along with Julie Andrews.
The former child actors walk through the audience singing as they make their way to Julie. The video plays the original clip from the scene in the movie. They arrive at the seat of their former "mother" from the movie and all shake hands and sing together. Julie sings along, sharp as a whip. This memorable award will go down in the books for a woman of class and great character.
Julie Andrews reminds us of the impact that we have on others even if we have a short time with them. Clearly, all of the actors who played her children years ago adore her. This serves as a precious yet heavy reminder to us that we never know the impact that we too make on people. This impact, whether in word or deed, whether good or bad, has the incredible power to last throughout generations. After all, time has yet to erase the way Julie's kindness stayed with the children through later adulthood.
Christ gives us the ability to love in word and deed with His Holy Spirit. We can encourage those around us and motivate them through our words and actions. Remember that something as simple as a smile or kind compliment can make the difference of a lifetime in someone's life. Now is not the time to give up on making a difference in another person's life. More than ever, our culture needs Christ's love permeated to the masses.
We each have a unique purpose in sharing the gospel with the world.

"And over all these virtues put on love, which binds them all together in perfect unity." Colossians 3:13
Photo Credit: ©SWN
Originally published Tuesday, 12 July 2022.