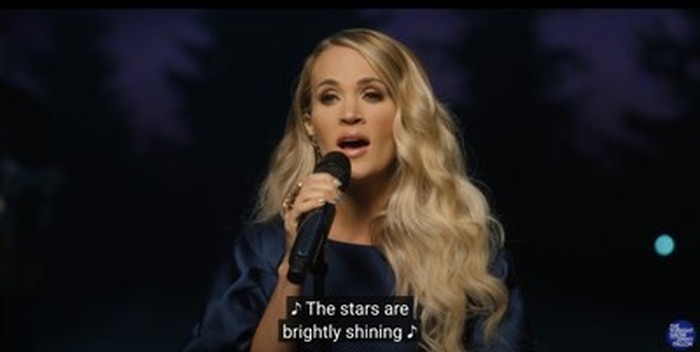 Country superstar Carrie Underwood praises our Lord with this powerful rendition of 'O Holy Night' on The Tonight Show. As you hear this Christmas classic, be reminded of the incredible gift God gave when He sent His only Son down to Earth.
"O holy night the stars are brightly shining
It is the night of our dear Savior's birth
Long lay the world in sin and error pining
Till He appeared and the soul felt its worth"
Carrie became a household name after winning the fourth season of American Idol back in 2005. She won over the hearts of America with covers of songs such as Bonnie Raitt's "I Can't Make You Love Me" and "Bless The Broken Road" from Rascal Flatts.
After her win, she quickly climbed the country charts and made a solid name for herself in the country music world. It's been nearly 15 years since that momentous audition and Carrie is still touching hearts all around the world. Today, we're hearing a very special performance of 'O Holy Night' as Carrie sings on The Tonight Show with Jimmy Fallon.
"Fall on your knees
O hear the angels' voices
O night divine
O night when Christ was born
O night divine o night
O night divine"
You can hear this classic hymn and more on Carrie's first full-length Christmas album, My Gift. These songs from the heart are sure to be Christmas staples for years to come.
Luke 1:35 "The angel answered, "The Holy Spirit will come on you, and the power of the Most High will overshadow you. So the holy one to be born will be called the Son of God."
Source: GodTube
Credit: Carrie Underwood
Originally published Friday, 17 December 2021.