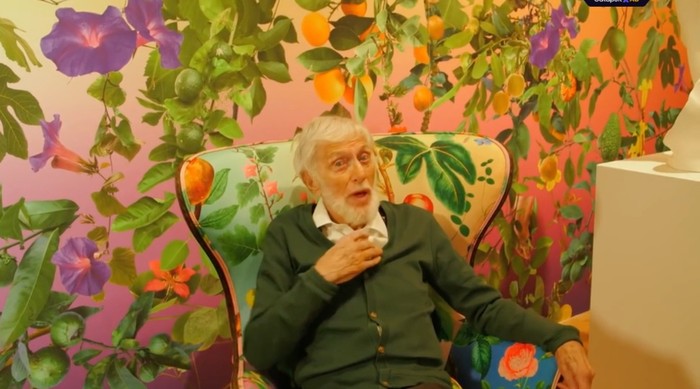 Check out 96-year-old Dick Van Dyke as he dances and sings with his beautiful wife in a new music video. You may begin to see aging in a whole new light!
*This content originally appeared on GodTube; used with permission.
Most of us don't love the idea of getting old. We've witnessed the downside of aging that can include poor health, declining energy levels, feelings of loneliness, and depression, and it doesn't sound all that fun. But, the talented Mr. Dick Van Dyke, who really is the total package in terms of his performing gifts—acting, comedy, singing, and dancing—looks anything but sickly, sluggish, or sad!
The video opens with a performance title, which looks a bit vintage with regard to font and style. And, we then make our way into a large room decorated with statues that look Roman or Greek, naked figures like we expect to see in museums. There are bold wall coverings in floral and fruity patterns. And, mirrors. There are mirrors of various shapes and sizes.
Next, we meet Arlene Silver, wife of Dick Van Dyke, as she struts up to an orange mirror. She's wearing black slacks, a black top, and a green sweater, which pulls out the jade of another colorful wall in view. She sings Doris Day's 1958 hit single "Everybody Loves a Lover" as she checks her make-up and hair in that mango-colored looking glass.
The first four lines of this fun and flirty song go as follows:
Everybody loves a lover
I'm a lover, everybody loves me
Anyhow, that's how I feel
Wow, I feel just like a Pollyanna
Arlene continues singing as she twirls, snaps, and saunters her way across the room to her husband, seated in a chair that is also very bright and vibrant! Dick Van Dyke takes his turn and sings a verse. The song seems to be a simple message about how being in love can make a person feel pretty darn special in general!
Dick Van Dyke is just so on point! His gestures complement the lyrics, and his smile seems as young as it ever did. He rises easily from his chair and dances with Arlene, as others enter the scene. Three gentlemen singers, known as The Vantastix contribute background vocals, and the famous jazz trumpeter Tony Guerrero spices up the number. The video is a delight, both visually and musically!
The couple sings together, embrace, and stroll over to sit on a loveseat as the song ends. There are glimpses of the nonagenarian as he playfully covers the nude figures with pieces of sheer fabric before he and Arlene share a quick kiss. The final perfect wink to viewers at least half as old as Mr. Van Dyke is when he almost stumbles over an ottoman, which is what he did during every opening of the classic television show that bore his name.
"They will still bear fruit in old age, they will stay fresh and green," Psalms 92:14
Photo Credit: ©SWN
Originally published Monday, 13 June 2022.