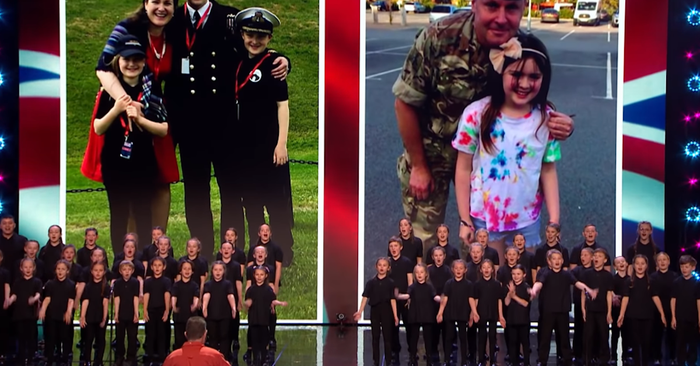 Check out this touching video of the Voices of Armed Forces Children Choir singing an original song on Britain's Got Talent that left everyone in tears!
The video starts off with Simon walking into a church to see the children's choir practicing. When the kids see him, they go wild and start jumping around and smiling from ear to ear.
"I know a little bit about you. I hear that you're a choir," said Simon. "I hear that you're a very good choir. And all of your parents have either served or are serving in the Armed Forces. And somebody told me you might be the best choir in the world."
The kids show off their big grins and enthusiastically respond with "Yes!" Then Simon lets them know that their choir director filled out an application to be on Britain's Got Talent and Simon asked them if they'd like to be on the show. To which, they all said yes!
Later in the video, the choir is coming out on stage to see Simon again and perform a song. The song is called 'Welcome Home' which two of the choir members wrote during the coronavirus lockdown.
When Simon asked what inspired the song, here is what one young man said: "Our families were out on deployment and we wanted to bring everyone in the Armed Forces together by being able to sing an anthem of 'welcome home.'"
As the Voices of Armed Forces Children Choir sing the touching song, photos of their family members flash across the screen and show them being reunited with their parents after getting back from deployments. How heartwarming! And the whole performance doesn't leave a dry eye in the house! What a sweet and talented group of kids! God bless them and their families as they serve their country!
Related:
A Prayer for Our Soldiers and Troops
10 Words of Encouragement for Christian Parents with Military Children
10 Great Ways to Show Support for Military Families
Photo Credit: ©SWN
Originally published Monday, 23 May 2022.