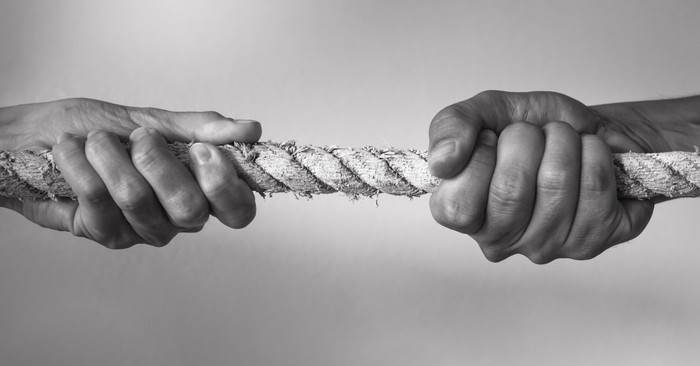 When we seek from others what we can only find in the arms of Christ, our ache only increases... When we turn to Jesus, however, He fills our souls with peace and calm, allowing us to love unconditionally.
A while ago, I reached out to someone I longed to spend time with and their response was disappointing. I felt rejected and deserted as I read their text. My mind began to add up all the ways I'd felt disregarded, and sadness filled my heart.
Sometimes life doesn't go our way and it seems like the world is against us. Maybe we face opposition at work, people ignore our attempts to reach out and connect, or family members disappoint us.
We frequently crave unconditional love, desiring others to meet our emotional needs and give us grace when we mess up. We're all seeking, thirsty, and hoping to fill our cup. Yearning to be known. We often expect life to match the picture in our heads, yet, we're reaching for what's impossible. We all hunger for what only God can provide.
Occasionally, others appear to have found the acceptance we covet. But if we could peek into each heart, we'd recognize everyone has empty places and unfulfilled longings. Feelings aren't right or wrong—they just are. It's how we respond to them that either binds us or sets us free. When we seek from others what we can only find in the arms of Christ, our ache only increases. We might become possessive or resort to manipulation, which pushes people away instead of drawing them close. When we turn to Jesus, however, He fills our souls with peace and calm, allowing us to love unconditionally.
God created us for relationship with Him and others. We're wired for connection and community. Our desire for affection, friendship, and communication is good and healthy. The problem comes when we expect humans to meet all our needs or give us perfect love.
According to Romans 8:23, "...we ourselves, who have the firstfruits of the Spirit, groan inwardly as we wait eagerly for our adoption to sonship, the redemption of our bodies." In other words, we hope and wait patiently for the guaranteed perfection we don't experience yet" (Romans 8:25).
We walk by faith believing this promise from Romans 8:28: "And we know that in all things God works for the good of those who love Him, who have been called according to His purpose." God uses everything that happens to us, including our disappointments and rejections, for our ultimate benefit, which is to make us more like Christ. We remember: "If God is for us, who can be against us?" (Romans 8:31).
When we feel rejected, God gives us complete acceptance.
When others fail to love, God's love is unfailing.
When we're ignored, God always sees.
We may be misunderstood or hated, but God always gives us grace.
He gave His Son, the best gift He could give to me and you. Therefore: "…how will He not also, along with Him, graciously give us all things?" (Romans 8:32). Scripture tells us that nothing can separate us from the love of Christ (Romans 8:35)! I find what I'm desperately searching for if I keep my eyes and heart on my Savior.
When I continually look to Jesus for acceptance, unconditional love, and understanding, I discover I'm wanted, cherished, secure, forgiven, desired, and sought after. He not only created me but wants to make me the best version of myself possible. He knows better than I do what's good for me. Recognizing this, I'm able to rest in Him, stop striving, and find peace. As I yield to Him, He enables me to show grace to others.
He empowers me to let go of desperately looking to others to meet my needs, unrealistic expectations, and wanting to control outcomes. As a result, I can release the sorrow of disappointments and instead embrace with joy all the good gifts God has given me.
I can know God graciously provides all I need, having already given me everything in Jesus.
How Should We React When We Feel Rejected?
We look to God first to meet our needs. When we put people before God, they become idols. Jesus instructed us to love God with all our heart. He promised His Spirit in us would then enable us to love others. God uses us to help and encourage each other, but, ultimately, He's the one our hearts long for and are created to know.

We give others grace when they make mistakes and hurt us. Even at our best, our attempts at relationships will be messy, and we all walk in need of forgiveness and compassion. My pastor says, "When others disappoint you, instead of assuming the worst, believe the best." If it seems like someone ignored you, was rude, or hurt your feelings, believe they had a bad day instead of assuming they are intentionally wounding you. Aim for understanding instead of withdrawing or seeking revenge.

God commands us to forgive others as we've been forgiven. That doesn't mean the offense isn't important or that we forget, but we are called to release the anger. We don't hold a grudge or keep rehearsing what happened in our minds or with our words. We cancel their debt as God has canceled ours.
Scriptures for When You Feel Rejected:
"Though my father and mother forsake me, the LORD will receive me" (Psalm 27:10).
"The LORD is close to the brokenhearted and saves those who are crushed in spirit" (Psalm 34:18).
"Can a mother forget the baby at her breast and have no compassion on the child she has borne? Though she may forget, I will not forget you!" (Isaiah 49:15).
"Cast all your anxiety on Him because He cares for you" (1 Peter 5:7).
"God has said, 'Never will I leave you; never will I forsake you'" (Hebrews 13:5).
"And my God will supply all your needs according to the riches of His glory in Christ Jesus" (Philippians 4:19).
"He heals the brokenhearted and binds up their wounds" (Psalm 147:3).
"Yet this I call to mind and therefore I have hope: Because of the LORD's great love we are not consumed, for His compassions never fail. They are new every morning; great is Your faithfulness" (Lamentations 3:21-23).
"I pray that out of His glorious riches He may strengthen you with power through His Spirit in your inner being, so that Christ may dwell in your hearts through faith. And I pray that you, being rooted and established in love, may have power, together with all the Lord's people, to grasp how wide and long and high and deep is the love of Christ, and to know this love that surpasses knowledge—that you may be filled to the measure of all the fullness of God" (Ephesians 3:16-19).
"Let them give thanks to the LORD for His unfailing love and His wonderful deeds for mankind, for He satisfies the thirsty and fills the hungry with good things" (Psalm 107:8-9).
Ask Our Father for Help
Father, I want to release all I strive and long for, trying to make these things happen in my own strength. Help me accept my reality while fully embracing all the countless gifts you give me each day. Enable me to live in the moment while releasing past disappointments and unrealistic views of tomorrow. Please give me the power to forgive as I've been forgiven. I love you, Lord! Thank You that You welcome me and never turn me away or reject me. Thank You that in heaven I will find wholeness.
You might also find encouragement from this lyrical video.
Photo Credit: ©GettyImages/kieferpix
Susan Aken writes devotions and articles for Wholly Loved Ministries, is an Oklahoma native who's lived in Nebraska since 1987 and has been in public education for over thirty years. She and her husband have one son and a wonderful daughter-in-law. Besides writing she has a passion for special needs and prayer ministries. She enjoys time with family, reading, photography, movies, walking in nature, and a nice cup of tea. She believes life is a journey and we're all in different places. Jesus is everything to her and it's all about grace. Visit her at susanaken53.wordpress.com or on Facebook.
---
---