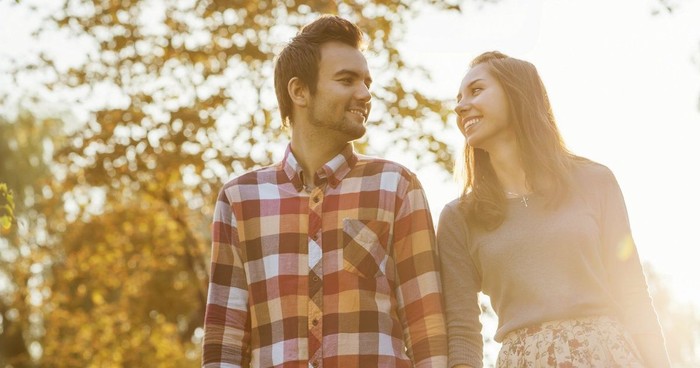 Here are two pieces of marriage advice that I've clung to in the past 10 years of marriage.
In the weeks leading up to my wedding day, a number of people offered well-intentioned nuggets of advice for the upcoming journey. Some tips were conventional, others unexpected. Some snippets were mulled over, others pretty much dismissed.
Ten years later, however, two pieces of advice in particular have withstood the test of time.
The first wise tip came from my mom, who told me that one of the most important things to do in a relationship is this:
1. Don't expect to change them.
She told me time and time again that I shouldn't plan on being able to change my future spouse. I should be content with the way he was from the very beginning.
In her book, Fierce Women, Kimberly Wagner admits that she struggled with this very issue in her own marriage. After discovering that the romanticized version of her husband that existed in her mind was not compatible with reality, she confesses, "I determined to change him!"
However, as my mom's advice predicted, Kimberly found that "the more energy I poured into pressuring him to change, the further we grew apart." She goes on to say how she realized, "I'd punished him for being different from me."
Then one day, the Lord convicted Kimberly with a passage of Scripture related to God's acceptance of His people — His flawed, imperfect, sinful people. Kimberly was cut to the heart, and considering God's acceptance of her, she asked herself, "Who am I to withhold acceptance from my husband based on silly personal preferences?"
Kimberly purposed to change, determined to accept her husband and learn to enjoy him for who he is. I should add that Kimberly does include this explanation in her book:
"When I talk about 'acceptance' of your husband, I'm not meaning ignoring or tolerating sin, but acceptance of his individual quirkiness, his unique personality and preferences. Learning to value differences in taste, interests and personality traits."
In her book, Team Us: Marriage Together, author Ashleigh Slater records similar experiences. She writes,
"As Ted and I have encountered these realities, they've served as a great reminder to us of why marriage needs team work. We're finding as we band together for the common good of our relationship, instead of focusing on the places where we feel disappointed or our likes rejected, it becomes easier for us to remember to appreciate, not despise, the other's uniqueness."
Ashleigh goes on to point out, "It's fine that we don't always favor the same things since we are confident in our connection at a deeper level. While we may have day-to-day differences, we're on common ground heart-to-heart. We've learned to respect, not ridicule, the other's interests."
I'd say this advice could go a long way, not only in preserving a relationship, but in giving it new life.
2. Extend grace.
This second piece of advice came packaged in an unusual way.
It came in a handmade collection of recipes, compiled and assembled by several friends as part of a bridal shower gift. On each page, friends wrote verses from Scripture to encourage me in my marriage.
On one sheet, scrawled next to a recipe for chicken pot pie, was Colossians 3:12-14 —
"Therefore, as God's chosen people, holy and dearly loved, clothe yourselves with compassion, kindness, humility, gentleness and patience. Bear with each other and forgive one another if any of you has a grievance against someone. Forgive as the Lord forgave you. And over all these virtues put on love, which binds them all together in perfect unity."
Obviously, this is not a text directed solely for the purposes of marriage, but for all relationships — and yet it has been so useful to me throughout the past decade.
If you read the passage carefully and really think about it, the commands in these three verses pretty much cover every possible issue in a marriage relationship.
Has your spouse offended you? Forgive as the Lord forgave you.
Has he or she angered you? Clothe yourself with gentleness and kindness. Bear with him or her.
Is he or she frustrating you? Clothe yourself with compassion and patience.
Do you feel lonely or undervalued? Clothe yourself with humility and put on love.
See what I mean? Virtually any conflict or grievance is covered by the Scripture above. Notice that the behavior to which we are supposed to aspire "as God's chosen people," doesn't point fingers at the shortcomings of others.
It focuses on our own hearts.
If I were to summarize the Colossians passage quoted above, I'd say we would do well to extend grace.
In Team Us: Marriage Together, Ashleigh mentions how grace is vital in the life of any relationship, and particularly in marriage.
She writes, "When I grasp this truth that God's grace — His kindness and clemency — has been given to me, it should make a big difference in my relationships with others, specifically with Ted. … We decided that we wouldn't withhold it from one another or force the other to earn it. We'd give it freely to each other, just as we'd received it from the Lord."
Extending grace, showing kindness, and forgiving is hard work. It certainly doesn't come naturally, but it's so crucial — and will reap an abundant harvest in the end.
What about you? What morsels of marriage advice have withstood the test of time in your mind?
Kate Motaung grew up on the shores of Lake Michigan before spending ten years in Cape Town, South Africa. She is married to a South African and together they have three children. Kate is the author of the e-book, Letters to Grief, hosts the Five Minute Friday blog link-up, and has contributed to several other online publications. She blogs at Heading Home and can be found on Twitter @k8motaung.
---
---